Also: Duolingo offers a tongue-in-cheek message for April Fool's Day.
Hello, communicators:
Have you been threatened or suffered injury after you didn't complete your foreign language lessons on time? Has Duolingo hurt you?
Luckily for you, me and anyone else who shakes in their boots at the sight of the Duolingo owl, there's now a path to financial compensation for the emotional damage caused by those aggressive notifications:
Just kidding.
The language learning app's April Fools' Day joke does go the extra mile, though — try calling 781-STOP-OWL and see what happens.
Duolingo's activation is an example of a harmless, victimless prank that will surely get the brand some extra attention on social media today.
Here are today's other top stories:
Meta's spokespeople respond to week of crises
Facebook and its parent company, Meta, are in hot water once again this week. Reports from The New York Times, Washington Post and The Verge show a range of issues and inconsistencies with the platform's content moderation systems:
Meta instructs moderators to "err on the side of an adult" when determining the age of a person in a sexually explicit photo posted to Facebook, potentially underreporting child pornography and abuse on its site (via The New York Times).
A "massive ranking failure" led to an increase of views on posts containing misinformation by as much as 30% on Facebook News Feed (via The Verge).
Meta was revealed to have hired a political consulting firm to craft a targeted smear campaign against video sharing app TikTok (via The Washington Post).
Meta's head of safety, Antigone Davis, confirmed Meta's policy on images where a subjects age is in question in an interview with the Times, saying it "stemmed from privacy concerns for those who post sexual imagery of adults."
Meta spokesperson Joe Osborne confirmed Facebook's News Feed failure to The Verge, asserting that the issue "'has not had any meaningful, long-term impact on our metrics' and didn't apply to content that met its system's threshold for deletion."
And Meta spokesperson Andy Stone defended the TikTok smear campaign, telling the Post, "We believe all platforms, including TikTok, should face a level of scrutiny consistent with their growing success."
Why it matters: The social media giant's reputation continues to be threatened by these revelations and news items, and its struggling share price reflects stakeholders' concerns. However, there could be a strategy to bunching bad news into one poor news cycle. With the speed at which media outlets often go to the next story, Meta's painful week could quickly become a distant memory amid the cacophony of today's global news.
---
MEASURED THOUGHTS
A new report from Muck Rack underscores the importance of brand social media accounts in media relations.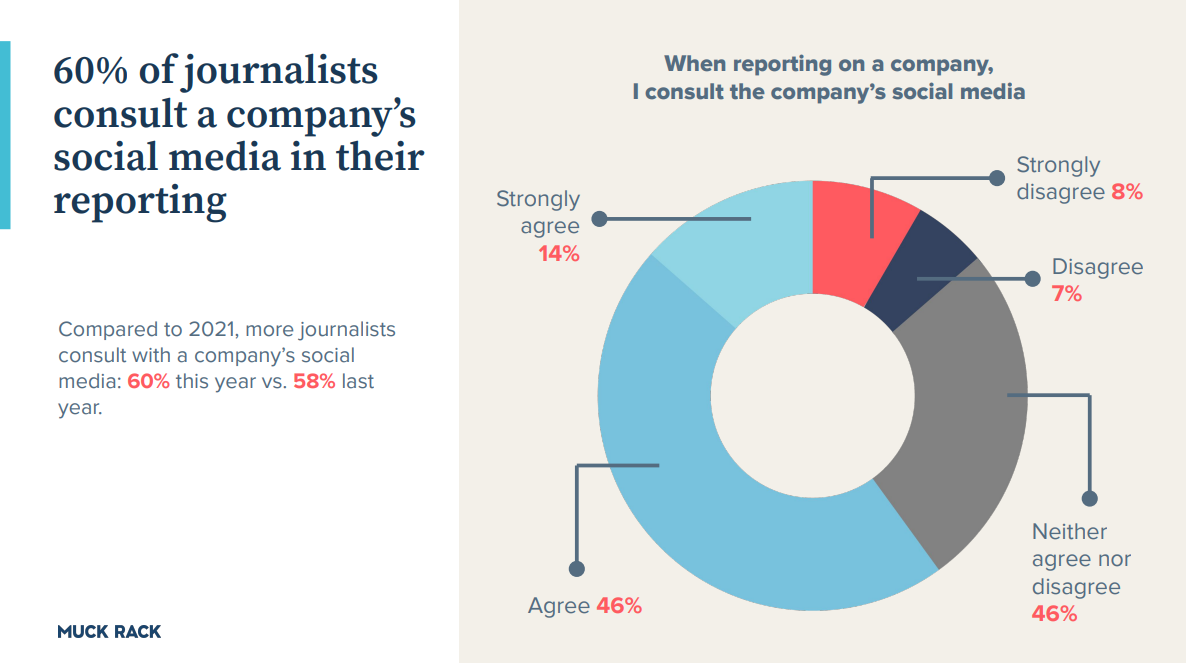 The survey of more than 2,500 journalists found that 60% of reporters consult a company's social media in their reporting, an increase of two percentage points year over year.
Additionally, the poll found that journalists plan to spend more time on Twitter, LinkedIn and YouTube in 2022.
It's a good reminder to PR pros that your social media presence isn't just about appealing to your customers and clients. It's a crucial part of your media relations strategy as well.
Read more from The State of Journalism 2022 report from Muck Rack.
---
TAKE OUR SURVEY
We want to hear from our community about how their thinking has changed on media relations and its value inside their organization. If you work in communications, please take our short survey to help us chart the value of media relations for 2022.
The survey will take less than 10 minutes to complete and participants will be entered in a drawing for a $100 credit toward a Ragan event. All individual responses will be kept confidential.
Results from the survey will be shared at PR Daily's Media Relations and Measurement Conference in New York City on May 11.
Skippy Peanut Butter provides images with recall announcement
The company behind Skippy Peanut Butter is voluntarily recalling nearly 10,000 cases of product due to the possibility of small fragments of stainless steel mixed in with the peanut butter.
Skippy Foods announced the recall on its social media pages:
Skippy Foods is voluntarily recalling a small quantity of SKIPPY® Reduced Fat Peanut Butter Spread and SKIPPY® Creamy Peanut Butter Spread Blended With Plant Protein. No other varieties are impacted. To see if your product is part of the recall visit https://t.co/efxmN5Vasc pic.twitter.com/bJqgXYcVVk

— SKIPPY Peanut Butter (@Skippy) March 30, 2022
The company's recall press release includes a variety of clear images of which labels and numbers to look for when trying to determine if your peanut butter is part of the recalled batch.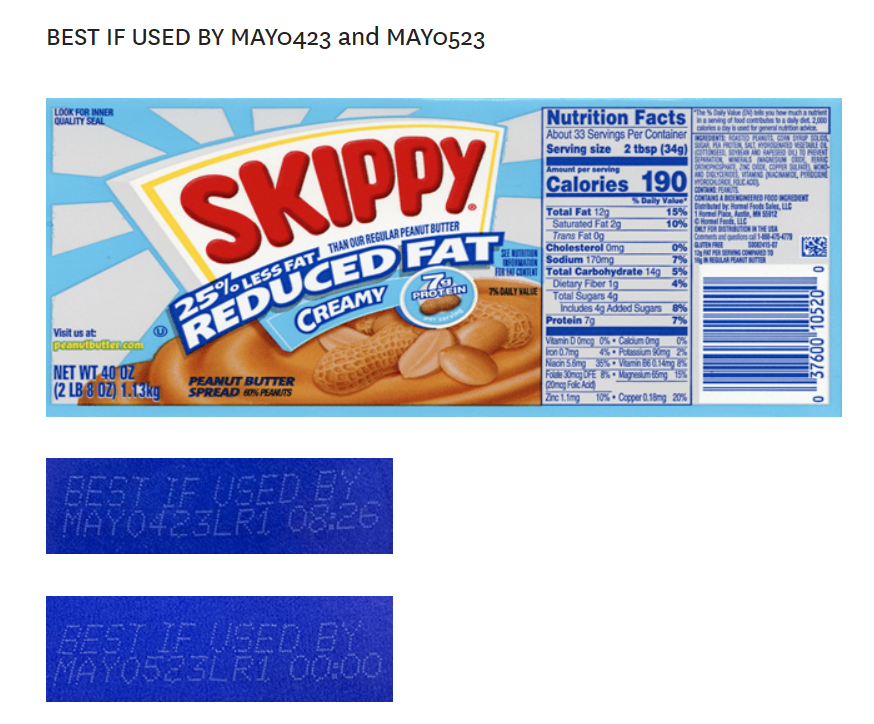 What it means: An picture is worth a thousand words, and in your crisis response, it could be worth even more. The recall press release offers added value with the images of exactly what to look for on the jars themselves.
It addresses concerns for people who don't know where they should be looking for batch information — and offers an educational tool for media outlets looking to help readers protect themselves.
The post Meta roiled by week of bad headlines, 60% of reporters say they check companies' social media pages and Skippy Peanut Butter issues recall appeared first on PR Daily.