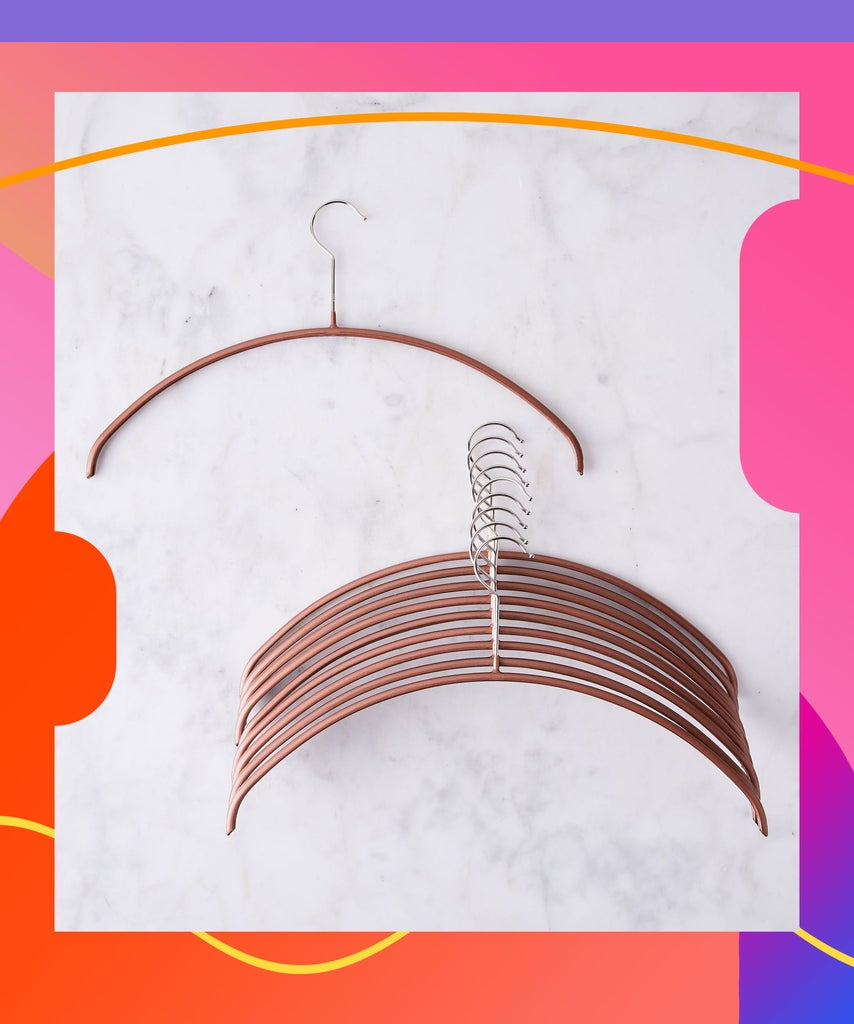 It's a new year, it's a new you, but before you start buying a whole new wardrobe, consider how you can take care of clothing you already own. For people who kinda-sorta have way too many garments (a head nod to you), one important aspect of acquiring (or hoarding) new or expensive clothes is figuring out how to maintain good closet habits so that your beloved wares are in tip-top, wearable shape for years to come.
In the past, this fashion collector has mistaken hanger bumps and collar discolorations as signs that my clothes were ruined — when, in fact, I could have made simple, affordable purchases to help me eradicate or avoid those nuisances. Ahead, we're sharing a few of those miracle workers that'll help upkeep your wardrobe. Some of these products have been culled from Manhattan Wardrobe Supply, a New York-based resource for professional costume designers and makeup artists. Other items have been recommended from the world of CleanTok (a.k.a. neat-freak TikTokkers). I've personally test-driven several of these picks as well — and you can be sure that all of these organizational and clothes-maintenance gems come highly rated and highly recommended by fashionable folks who truly care.
The Best Laundry Detergents & Stain Removers
The Laundress Wash & Stain Bar, $6.50
Folks swear by this spot-cleaning miracle bar. You just rub it in gnarly areas that need extra love (i.e. the armpits, ring around the collar, period-stained undies, the underboob of bras, food spillage, etc.) and follow it with a standard wash. The results are bound to astound as attested by reviewers who have said things like, "It gets out EVERYTHING. Blood, poo, baby puke, sauces, greases, you name it! I once had a pair of blue jeans leak dye on a brand new blush-colored shirt. I thought it was hopeless, but I scrubbed that shirt and the dyed spots disappeared!" One reviewer claims it lifts old stuff, too: "Even if clothes have been through the dryer and the stain is set, this miracle worker gets it out."
Shop The Laundress
Soak 12oz Laundry Soap, $14.99
Soak is a gamechanger when it comes to hand washing delicates, workout gear, swimwear, knitwear, and more (you can also pour this into a machine on the delicate cycle). But, if you do hand wash, there's no rinsing involved. All you do is pour in a capful per every gallon of cold water, let your clothes soak, and in 15 minutes you're ready to carefully wring and dry. Writes one convert: "I had always used Woolite for hand wash items but after doing some Googling to see if there was a better option I was excited to hear that no-rinse detergents existed! I started with delicates (it worked great), then (skeptically) moved onto sneakers I had worn to hike through the Badlands in South Dakota — after a good soak and a very quick scrub with a shoe brush they were as good as new!!"
Shop Soak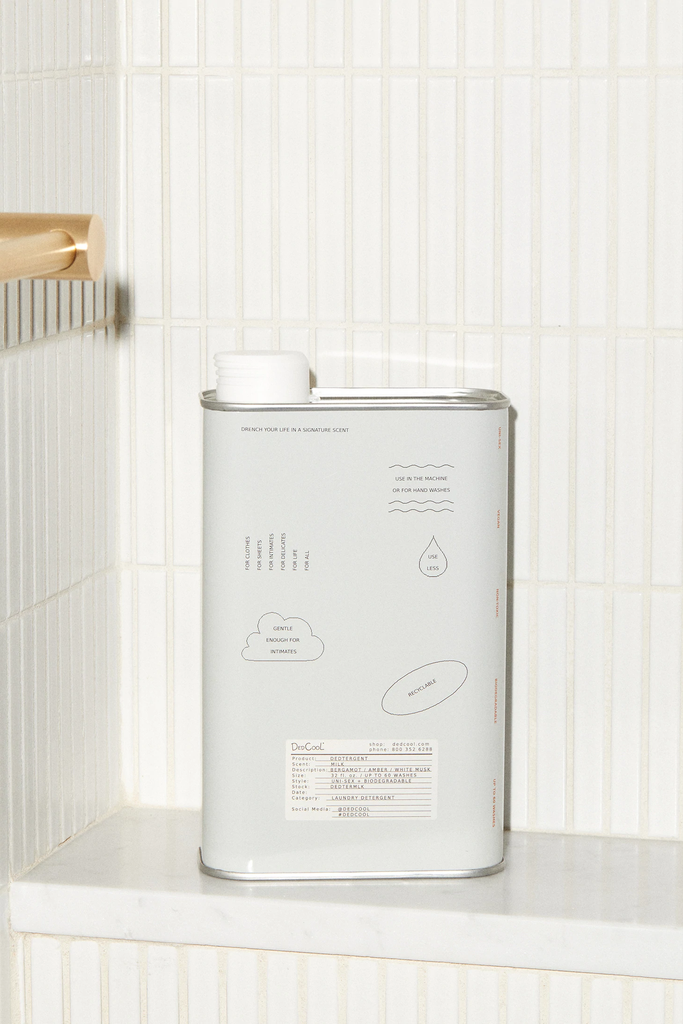 DedCool Milk Dedtergent, $35
DedCool is an eco-friendly fragrance brand that makes sweet-smelling detergents (excuse us, dedtergents) made from organic extracts that promise a longer-lasting linger on your bedsheets, intimates, and more. "I look forward to laundry day now," writes Maggie M., dedcool.com reviewer. "My pillowcases have never smelled so good. Washing my cloth masks in Dedtergent has drastically improved my life."
Shop DedCool
The Best Closet Organizers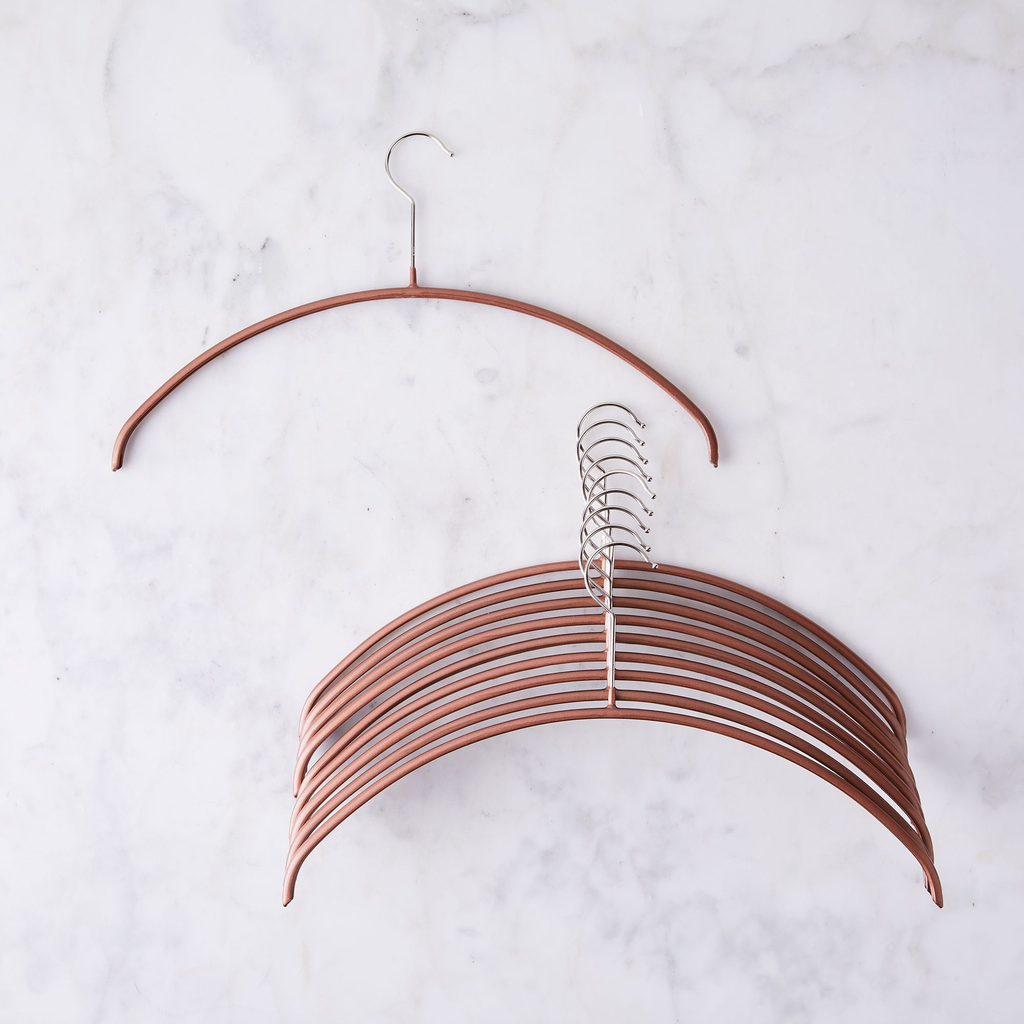 MAWA European Space-Saving Hangers (Pack of 10), $34
If you're endlessly frustrated by pesky hanger bumps on all your favorite sweaters and tops, you'll want to upgrade your closet with these German-made MAWA hangers that are specifically designed to keep your sleeves smooth. "I've been using these for six months now and they've been a game changer for my delicate hanging clothes," writes one food52.com reviewer of this 4.8-starred item. "No more awful shoulder bumps in silk or cashmere, such an elegant solution. Plus they are slim and the material doesn't allow slipping." Other alternatives include satin padded hangers or folding your knits over sturdy wooden hangers.
Shop Food52
Open Spaces Entryway Rack, $174
Organizing shoes is tricky because there are so many factors involved, including how many shoes you have, how tall the styles are, and if you prefer them tucked away or visible to all. For those who like to see all their footwear options, this multi-purpose rack from Open Spaces is an attractive solution. It's also currently ranking 4.8 out of 5 stars, pulled from 529 reviews. Writes one reviewer, "This entryway rack is amazing! It looks so sleek, fits so many shoes & baskets, and adds some character to an otherwise drab entryway." Or, if you prefer to keep things out of view, this Winston Porter 12-pair shoe cabinet from Wayfair (on sale for $122!) is so well-designed it doubles as decor.
Shop Open Spaces
The Container Store Natural Cotton Gusseted Hanging Bags, $17.99+
Though it seems counterintuitive to use non-plastic storage, the thing to know about organizing clothes in garment bags is that they need to be breathable — otherwise, you run the risk of mildew, fading, or mold. (Word to the wise: Don't vacuum pack your goods!) Luckily, these natural cotton garment hanging bags have a 99% customer rec rate and 4.8 out of 5 stars from The Container Store. "I bought these bags for my leather, fur, and good wool coats and jackets. I am very satisfied," writes a reviewer. "I added keychain I.D. tags identifying what item is in each bag so I don't have to open and close each bag to find out what is in it. This works very well. The product description was accurate and I am very happy to have purchased these bags. I will continue to buy them."
Shop The Container Store
Elfa Platinum Wide Drawer Solution, $169.99
A simple way to declutter your closet and still have your stuff easily accessible is to snuggle in a set of organizational drawers (depending on if your space allows it). This mesh structure from The Container Store stows clothes, linens, accessories, or whatever else you need stashed away for the season. "You can use these anywhere. I have had two of these for about 10 years, and have easily fit them into three small NY apartments," writes one longtime fan. "They hold a surprising amount and are nice looking. I consider them to be staple storage pieces."
Shop The Container Store
The Best Fabric Care Tools
Magictec Rechargeable Fabric Shaver, $11.99
While there are plenty of affordable fabric shavers on the market, you may as well invest in a rechargeable gadget rather than a battery-operated one. This handy gizmo — which is so sleek it has an aesthetic similar to a luxe vibrator (lol) — has an impressive 4.6 out of 5 stars and a whopping 36,577 reviews on amazon.com. "BUY A DE-PILLING TOOL AND IT'LL CHANGE YOUR GD LIFE. This product is like the dermaplaning tool of fabrics," writes one avid reviewer. "De-pill your couch and curtains since your cat is too good for all the expensive cat-scratching towers you bought her. De-pill your dumb expensive designer leggings because athleisure wear is LIFE. Just buy the dang thing. This one works, charges with a plug-in cord (yay no disposable batteries!), and is easy to use. Pro-tip: put cardboard inside clothing to give you a more even, taut surface to de-pill."
Shop Magictec
Amazon Basics Foldable Laundry Rack, $34.99
One of the best ways to keep your clothes in top-notch shape (while being more environmentally conscious) is to hand wash them, especially when it comes to delicate knitwear, synthetic activewear fabrics, expensive intimates, and swimsuits. (Scroll above for handwashing detergent options!) I wouldn't know where I'd be without this non-fussy but sturdy drying rack that conveniently folds up when it's not in use. It's currently the number one best-selling clothes drying rack on Amazon and it boasts a 4.7 out of 5 stars and nearly 40K ratings.
Shop Amazon Basics
Earthkind Stay Away Moths, $7.99 $6.29
One of the biggest annoyances (and heartbreaks) is seeing your beloved cashmere and knits chewed up by moths. How dare they. But, there's at least an all-natural way to repel those critters! Enter: Earthkind Stay Away Moths. Place a pouch wherever you need knitwear protection — closed-in spaces like drawers and closets work better than wide-open garages or attics. "MY husband is paranoid about moths eating his wool yarn, but we never wanted to get regular moth balls because of the chemicals and the bad smell," writes one thrivemarket.com reviewer. "These natural moth balls have better ingredients and smell way better. Most importantly we don't have any moths!"
Shop Thrive Market
At Refinery29, we're here to help you navigate this overwhelming world of stuff. All of our market picks are independently selected and curated by the editorial team. If you buy something we link to on our site, Refinery29 may earn commission.
Like what you see? How about some more R29 goodness, right here?