by Aimee
A simple, stir-together holiday cookie that yields delicious results in under 30 minutes.
I hosted my first cookie swap in 2006 and decided it was my favourite holiday party. It was a low-key, easy-to-plan gathering for this busy young mother.
I loved how the swap brought my friends together over coffee or punch, and had a practical side, too: a wide assortment of gorgeous, homemade Christmas cookies.
Today I'm sharing an updated version of a cookie that was ever present at those swaps: the beloved Gingersnap. With crispy edges, a chewy center and a deep, dark flavour, these Molasses Rye Spice Snaps are everyone's favourite holiday treat.
Last year we were in a tight 1ockdown and had to cancel all of our holiday gatherings. Giving up the swap was harder than I thought, not just for the cookies I'd score, but the opportunity to catch-up with friends over a glass of mulled wine.
This weekend, my cookbook club is getting together after many months off and I'm co-hosting a swap with a friend. I'm so excited to bring back a tradition 15 years in the making. I'll be making my dark and delicious Molasses Rye Spice Snaps, of course!
These cookies might also be known as Molasses Crinkles or Gingersnaps or some combination of the two. They were always my favourite cookie as a kid, the Joy of Cooking's 'Gingersnaps' being my go-to recipe.
In recent years, I've worked to develop a more grown-up, deeply flavoured cookie. I call it a Spice Snap because along with ginger, I include freshly grated Tonka bean, cloves, nutmeg, cinnamon and freshly ground black pepper.
Let's get to the recipe and my notes!
Molasses Rye Spice Snaps: The Notes
Note on ingredients
Let's talk about the rye flour first. My friends at Flourist have helped me to fall in love with organic flours milled from ancient grains. Now our favourite chocolate chip cookies are made with spelt, our brownies have buckwheat, and our classic holiday gingersnap is half rye.
In these Molasses Rye Spice Snaps, the rye flour makes them slightly darker and a bit crispier around the edges. The slightly bitter rye also balances out the deeply sweet molasses in a beautiful pairing. You can also swap in spelt or whole wheat flour for the rye, in a pinch.
Another surprise ingredient: a splash of Balsamic vinegar adds a touch of tart to balance out the sugars.
Note about spices
Use the freshest spices available for this recipe. If you are pulling out ground ginger from last Christmas, toss it and start again. Review What You Need to Know About Buying, Storing, and Cooking with Spices.
If you're really are a fresh spice fiend, level up with sumac sugar. Add a half teaspoon of ground sumac in with the rolling sugar. It adds a wonderful tang and a pretty pink colour.
A note on size
This recipe yields 48 2-inch cookies – quite small and thin, perfectly two bites. I make them this size because I then turn them into sandwich cookies.
If you want a larger cookie, roll this recipe into 36 balls or even 24 for a huge, 4-inch cookie. These monsters will bake for a good 10 minutes.
If you're looking for a fatter, chewier gingersnap, try these Pumpkin Spice Snaps from the Simple Bites archives.
A note on baking
The length of time in the oven is the only factor in baking soft and chewy cookies OR crisp snappy cookies. I like a combination of both. Check on your cookies around 7 minutes, they should be puffed and starting to crack.
You may have heard of "pan banging" cookies…it works! I do like to drop my pan once or twice to help them flatten and form cracks. I do this around the 6 minute mark and again when they come out of the oven.
A note about fillings
Marshmallow or buttercream. Jam or ganache? I adore a filled sandwich cookie, like these maple-filled Butter Pecan Shortbread. They are over the top and perfect for a special event like a cookie swap.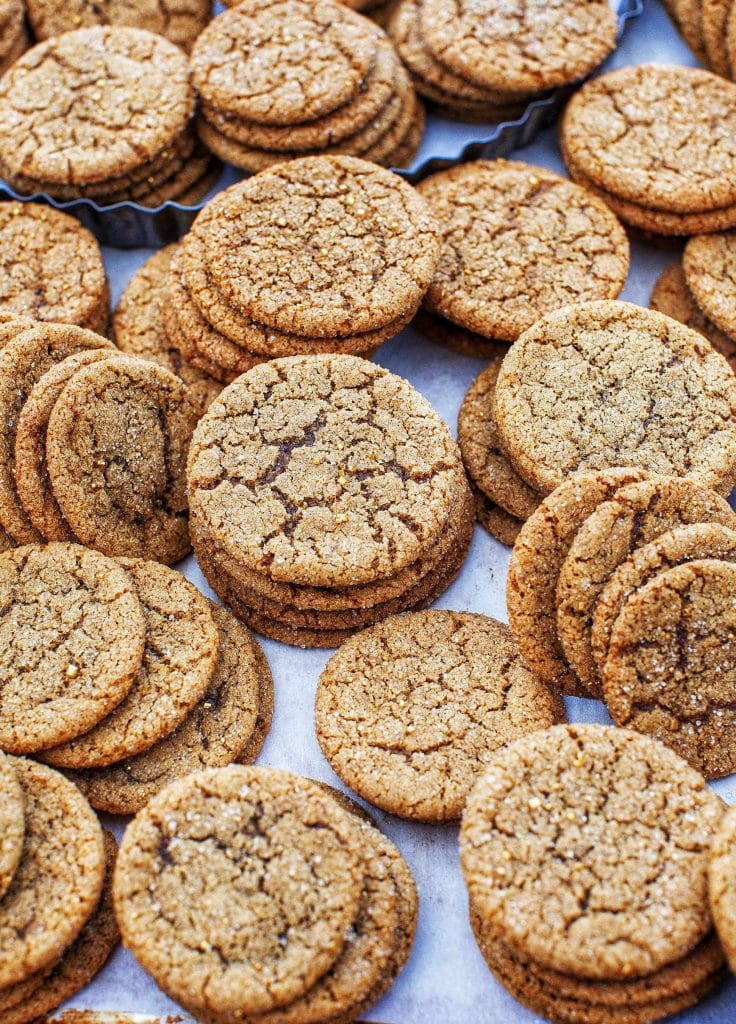 As I shared in my Fall 2021 Cookbook Recommendations, I've been heavily influenced by exciting new baking books. Camilla of Jam Bake swears by sandwiching raspberry jam in her gingersnaps. While Jesse of Cookies: The New Classics, swirls a blood orange marshmallow between his cookies.
I'm partial to a creamy filling, something with whipped mascarpone and vanilla bean…and so, I will be testing them all. I'll be posting the results on Instagram, so be sure to follow along.
Happy December and happy baking!
Print
Molasses Rye Spice Snaps
A simple, stir-together cookie recipe that yields delicious results in under 30 minutes. Make them soft and chewy or crisp and snappy.
Essential Ingredient
ginger
Ingredients
1

cup

rye flour

1

cup

all-purpose flour

2

teaspoons

baking soda

1/2

teaspoon

fine sea salt

1/8

teaspoon

freshly ground black pepper

2

teaspoons

ground ginger

1/2

teaspoon

ground cinnamon

1/4

teaspoon

ground cloves

1/8

teaspoon

ground cloves

1/8

teaspoon

ground Tonka bean

optional

1

large

egg

2/3

cup

canola oil

1 1/4

cups

granulated sugar

divided

1/4

cup

fancy molasses

1/2

teaspoon

Balsamic vinegar

optional

1/4

cup

raw cane sugar

for rolling
Instructions
Preheat the oven to 350°F and line two large rimmed baking sheets with parchment paper.

In a medium bowl, combine the dry ingredients: both flours, baking soda, salt, pepper, and all the ground spices. Use a whisk to ensure it is well mixed.

In anther medium bowl, whisk together the egg and the oil. Stir in 1 cup of granulated sugar, followed by the molasses. Pour in the vinegar, then whisk until smooth. Pour in the dry ingredients.

Grab a silicone spatula and mix the wet and the dry ingredients together until well combined. You are now ready to roll!

In a shallow bowl, combine remaining 1/4 cup granulated sugar and 1/4 cup raw cane sugar – for extra sparkles! If you like, you can add gold pearled sugar for even more glitter. Roll dough into very small balls, about the size of a grape, then roll in the sugar. I like to use a small melon baller tool to help scoop the dough; a tiny teaspoon will also be helpful.

Place sugared dough balls 2 inches apart on the baking sheet. Flatten them slightly with your hand; sprinkle a little more sugar on top (this is where it's great to have a helper!). Repeat until the tray is full.

Bake cookies one try at a time for 7-8 minutes, banging the tray around the 6 minute mark to help them crack and spread. When the cookies are flat and cracked, and slightly golden around the edges, remove from the oven.

Let the tray of cookies cool for 2-3 minutes, then carefully transfer the cookies to a wire cooling rack. They will be very soft and delicate, but they will crisp up as they cool.

Roll remaining dough into balls, coat in sugar, and bake until golden. You will have about 4 dozen cookies.

Enjoy cookies warm from the oven. Store them in an airtight container for up to one week, or freeze for up to 3 months.
Notes
Yields 48 2-inch cookies – quite small and thin, perfectly two bites. I make them this side for sandwich cookies. If you want a larger cookie, roll into 36 balls or even 24 for a huge, 4-inch cookie.
Original article: Molasses Rye Spice Snaps.