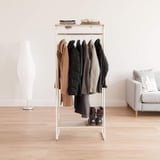 After years of living with roommates, I finally moved into my very own dream apartment. It even has a dishwasher and a parking space, which is almost unheard of in a busy city. It is lacking one thing though: closet space. My large bedroom is dreamy, but I only have one of those old sliding-door closets. Once I moved in, it was stuffed full of coats, shoes, bags, suitcases . . . you name it. My morning routine of picking out outfits started to turn into a mess. So I decided to make the most of my space by investing in this Iris USA Metal Garment Rack With 2 Wood Shelves ($51).
I placed the minimal rack next to my dresser, right outside my closet, and filled it with pieces I wear regularly. Not only did it free up a ton of room in my closet, it also made it easy to access my favorite everyday clothing items. The top and bottom shelves are great for storing my bags and shoes, too. I was sold on this choice not only because it's minimal and sleek, but because it has tons of great customer reviews.
If you're also looking for more closet space, this choice is a total winner. It also comes in a darker wood and metal finish, if that matches your style more. Not only is it great quality and stylish, you can't beat the affordable price, either. Keep reading to check mine out and shop all the options.