With inflation rate hitting a 40-year high, here are some tips on how to cut costs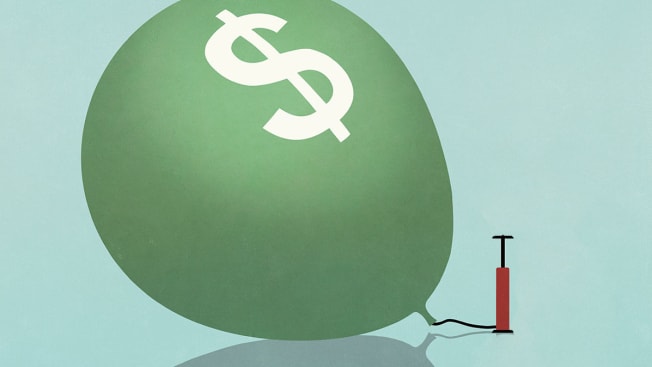 By Penelope Wang
If you thought inflation couldn't get any worse, the latest numbers clearly show that it can.
The country's main inflation gauge, the Consumer Price Index (CPI), rose a bigger-than-expected 7.5 percent in January from a year earlier, the government said Thursday.
That's the highest inflation rate in 40 years. Compare that with the average inflation rate of just 1.4 percent two years ago. What happened? Prices have soared in the past year or so because of an economy flush with cash, surging consumer demand and COVID-related bottlenecks in the supply chain.
As most consumers know, food and energy costs have skyrocketed. But last month's numbers show that core inflation, which strips out those two volatile categories, climbed 6 percent on its own.
Consumers certainly have been feeling the pinch. According to a nationally representative survey by Consumer Reports (PDF) of more than 2,000 U.S. adults in October, some 92 percent say they have seen higher prices when shopping for gas, with more than 6 out of 10 saying the increases were "large."
More than 80 percent of those shopping for groceries say prices have gone up, with 53 percent reporting "large" increases.
For shoppers, these larger price tags require more planning, and perhaps a budget overhaul.
"Maintaining a cash reserve can be helpful if larger bills or unexpected expenses come in," says Douglas Boneparth, a certified financial planner and president of Bone Fide Wealth in New York City. "Keeping track of your cash flow is helpful in navigating any financial environment."
Here's what to look for in several key spending categories, with tips for reining in your costs.
Food
Food prices surged an average 7 percent last month, the CPI data show, with costs for meat, poultry, fish, and eggs soaring 12.2 percent.
To help keep your food budget under control, take full advantage of any promotions to stock up your freezer and pantry.
You can also save significantly by sticking with discount stores, such as Costco and Trader Joe's, as well as private-label brands, says Burt Flickinger III, managing director at Strategic Resource Group, a retailing consulting company.
Another strategy is to scout for food bargains at drugstores and convenience stores. These outlets are expanding their variety of fresh foods, and some may offer lower prices than traditional stores.
Energy
As drivers know, retail gasoline prices have skyrocketed. The latest CPI report shows that they've jumped 40 percent in the past year.
Prices are spiking as a result of surging demand, as more people have resumed driving, complicated by supply chain bottlenecks, says Patrick De Haan, head of petroleum analysis at GasBuddy, a website and smartphone app that helps drivers find the best deals.
As consumer demand has come roaring back, oil production has lagged, leaving consumers to watch gas prices rise to fresh seven-year highs, De Haan says.
If you're planning a spring break road trip, try to fill up in states with lower gas taxes.
"If you check gas prices ahead of time to find lower-cost options, you could save $5 to $10 a tank," De Haan says.
You can also squeeze more mileage out of your tank of gas by driving evenly, sticking to speed limits, and removing your roof rack, which can create drag.
Major Appliances
The production and supply chain slowdowns during the pandemic pushed up major appliance prices by 9.9 percent, while a major shortage of appliances to buy has consumers scrambling to find washing machines, refrigerators, and freezers.
Although prices will eventually stabilize as the pandemic eases and supply returns, you aren't likely to see big discounts anytime soon, says Nish Suvarnakar, senior market analyst at Consumer Reports.
Before you shop, make sure you figure out which appliance features you must have vs. those that are less essential, Suvarnakar says. For example, consider opting for basic stainless steel—a popular finish that is widely available—rather than a specialty finish.
If you're looking for a new appliance now, be sure to comparison shop at independent retailers—which may offer comparable bargains and perhaps better service—not just at big-box stores. And consider substitutions if your first-choice model is unavailable.
Telecom and Internet Services
Earlier in the pandemic, telecom consumers had a bit of a break, with prices for telephone and wireless services rising only slightly, while some providers suspended data caps and provided other consumer breaks.
But providers have started to raise prices and impose data caps once again, with internet service costs up 2.6 percent and residential phone service rising 6.2 percent.
To keep a lid on those costs, consider switching to a lower-cost cell phone plan, perhaps one from your internet provider. (And consider joining CR's Let's Broadband Together initiative to investigate the state of internet availability and affordability.)
And although prices are also rising for streaming services, you can still trim your costs by cutting the cable-TV cord.
You also might try haggling with your provider. As a recent CR survey of our members found, many have been able to lower their bills by negotiating with their cable or internet company.
Cars
Prices for new cars and trucks are up 12.2 percent over the past year, driven by pandemic-related factory shutdowns, as well as a shortage of computer chips. Used-vehicle prices have climbed 40.5 percent.
That doesn't mean you can't find an affordable option, because prices of individual models vary widely. Take a look at our articles "How to Buy a Used Car" and "How to Navigate Surging Used-Car Prices."
With so few vehicles on dealership lots, the balance of supply and demand favors the seller, although a few models do have traditional incentives available.
Be aware, although you may get a higher-than-expected value on your trade-in car, those gains may be erased by the higher price you'll pay for a replacement. Given the shortage of available cars, many people are paying well over sticker price.
"In today's market, shoppers should be looking for a fair price, rather than a great deal," says Jeff Bartlett, cars managing editor at Consumer Reports. "Big discounts are a distant memory."
For a useful benchmark on car costs, check out CR's Build & Buy Car Buying Service and online research tool, which allows shoppers to check the current transaction prices for different models.
And to avoid breaking your budget, check out CR's advice on the most discounted new cars, as well as our recommended bargain SUVs and affordable used cars.
Televisions
Consumers enjoyed a break on TV prices last year, with costs dipping slightly. But the latest numbers show prices moving up 2.4 percent.
Generally, the best time to buy TVs tends to be between fall and early winter, when holiday sales begin and the release of new models in January, says Samantha Gordon, deals editor at Consumer Reports.
But if you shop around, you can still find affordably priced TVs, such as these bargain 70-inch screens.
Consumer Reports members can get more details about finding the best TV for your money in CR's TV buying guide.
Smart Shopping
There are plenty of other ways to save money, and Consumer Reports can help.
For instance, we've found that some laundry products—washers, dryers, and detergents—waste money. So here are some tips to avoid them.
We also have a CR Deals site, which lists sales on products we recommend, as well as a monthly column on products that are on deep discount. In February, for instance, you can find sales in eight product categories, including smartphones, mattresses, and dishwashers.
And Consumer Reports members can find out when to buy a whole array of products by using CR's Best Time to Buy guide.
Editor's Note: This article has been updated with the latest government inflation numbers.
Consumer Reports is an independent, nonprofit organization that works side by side with consumers to create a fairer, safer, and healthier world. CR does not endorse products or services, and does not accept advertising. Copyright © 2022, Consumer Reports, Inc.