How To Make Potpourri – There are several ways to make homemade potpourri. Dry flowers, roses, rose petals… Take the dried flowers keep them natural or add essential oils to add a fragrance to them…
I live where it's hot and dry, so this makes making homemade potpourri for gifts easy. But, even if you don't live in a hot, dry climate there are easy ways to dry your flowers. I've listed a few resources for you below and ways to dry flowers.
Affiliate links may be included in the post. By clicking the links for qualifying purchases we earn a small commission. This is at no additional cost to you.
How To Make Potpourri
Use flowers that are fresh-cut, flowers from your garden, flowers from bouquets, or flowers from celebrations… Take the flower heads and cut them off the stems. Roses, rose buds, lavender, calendula, geranium, rosemary, thyme, and other flowers*…
Steps For How To Make Potpourri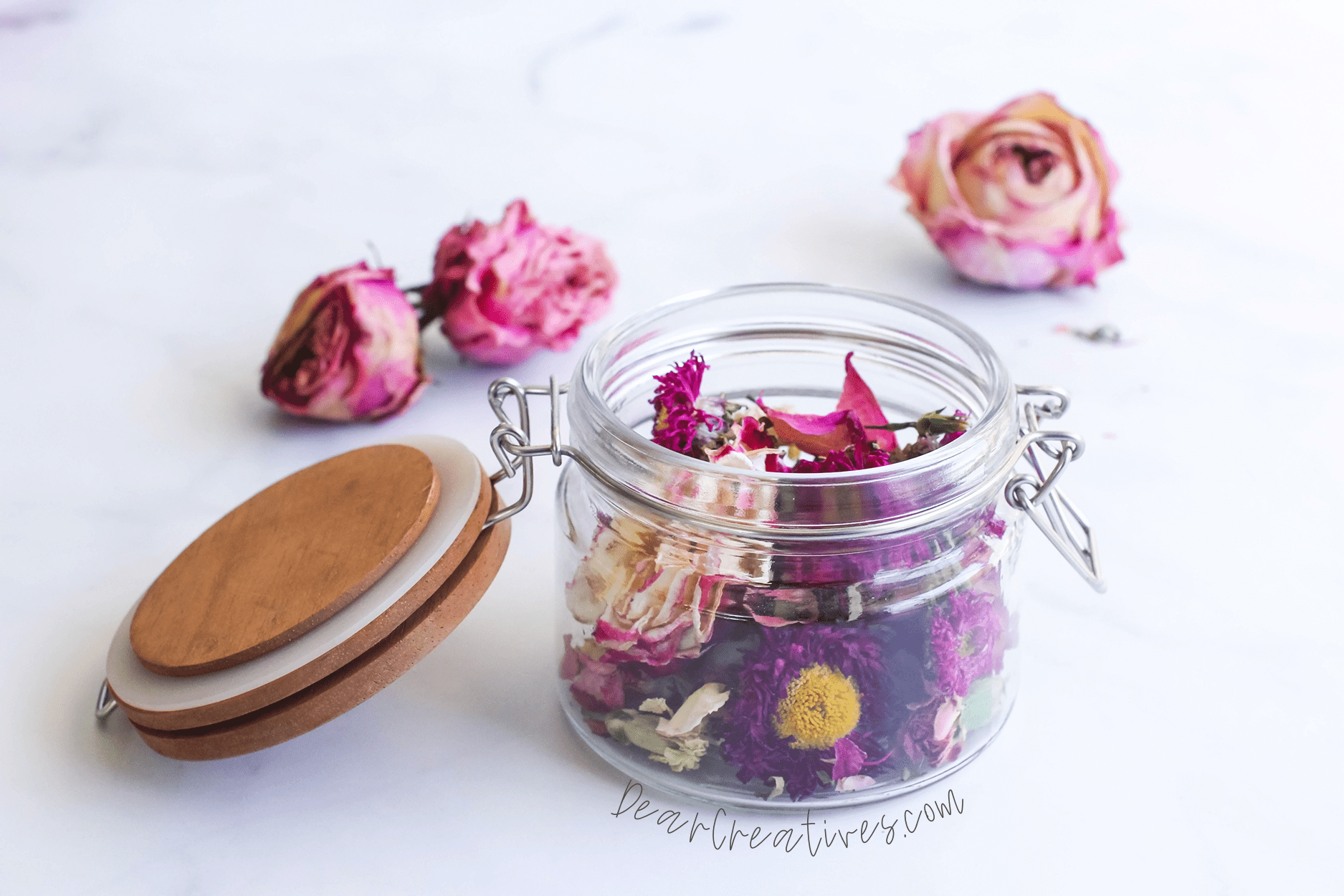 Supplies
Drying flowers naturally
Cut the heads from the stems (make sure there is no dew or water on the flower head if you are picking fresh flowers to use) and dry your flowers on a window sill. Rotating them daily. Or dry them by bunching them up and hanging them upside down in a dry, dark space (this method takes longer. Or get flower-drying silica gel and use this technique (Scroll down the page to see all the ways for how-to dry flowers).
Make sure your jars are clean and dry!
Add the dried flowers to pretty jars or mason jars. (Once the flowers are completely dried). Add the dried flowers and dried rose petals, rose buds, and leaves… into the clean dry jar.
Before adding to jars add essential oils be sure to add a little orris root powder sprinkled in. To preserve them longer use orris root and use orris root powder as the carrier for the essential oils(more about this below).
Assemble and arrange them to be visually pretty.
If you are giving them as a gift add a homemade gift tag (see below) or purchase a cute tag.
Decide if you are adding essential oils to the potpourri. Below, I have outlined the steps for drying the flowers and adding fragrance to them.
How To Store Potpourri
You will need something to put your dried flowers into. Store your potpourri in glass jars like the ones listed below or add the potpourri to sachets. Keep the glass containers with potpourri out of direct sunlight. Add sachets to drawers with clothes or closets.
Notes: No matter what method you use to dry flowers they will lose at least some of their color. Also keeping the dried flowers out of direct sunlight after they are dried will help them keep the dried flowers from fading further.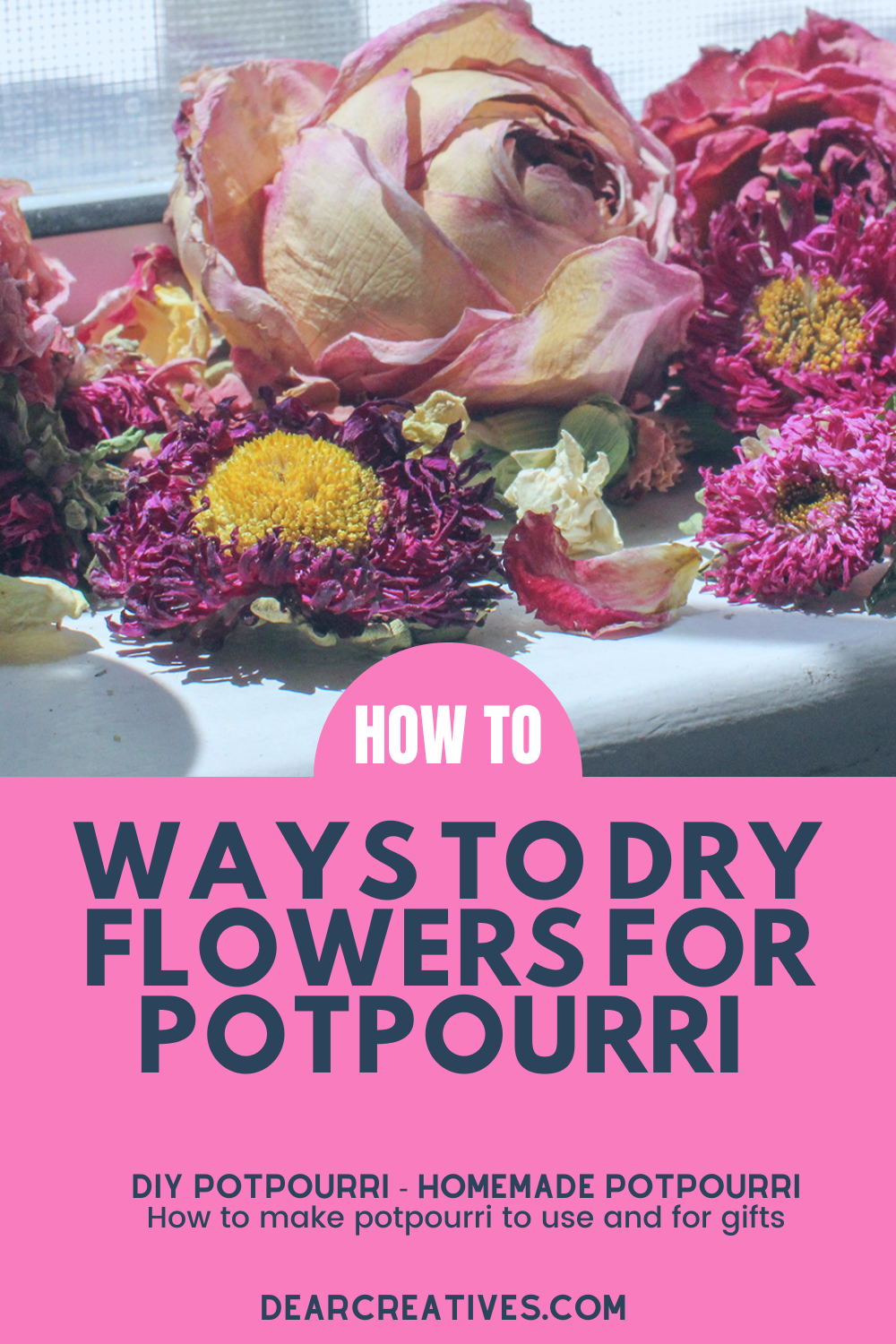 How To Dry Flowers For Potpourri
Live in a dry climate? Dry them on the window sill and rotate the flowers (to keep the flower heads from molding). You can also do this by laying the flower heads or petals single in a glass dish with no lid.
(Note: my window sill doesn't get direct sun all day long.)

Dry the flowers in the oven on a baking rack with parchment paper under it or on parchment paper.
Hang flowers bunched up (with a rubber band or twine) and hang them in a dry, dark place.
Press flowers to dry them by using a flower press.
Select the best drying process for you in your home. This can be trial and error to get the best results.
Save your flower bouquets, wildflowers, and flowers from your yard, walks, or hikes. I love preserving flowers and making potpourri! Have you tried making your own dried flowers? Here are two helpful videos for how to dry flowers (How To Dry Flowers 5 Ways) and (How To Dry Flowers 4 Ways).
How To Add Essential Oils To Potpourri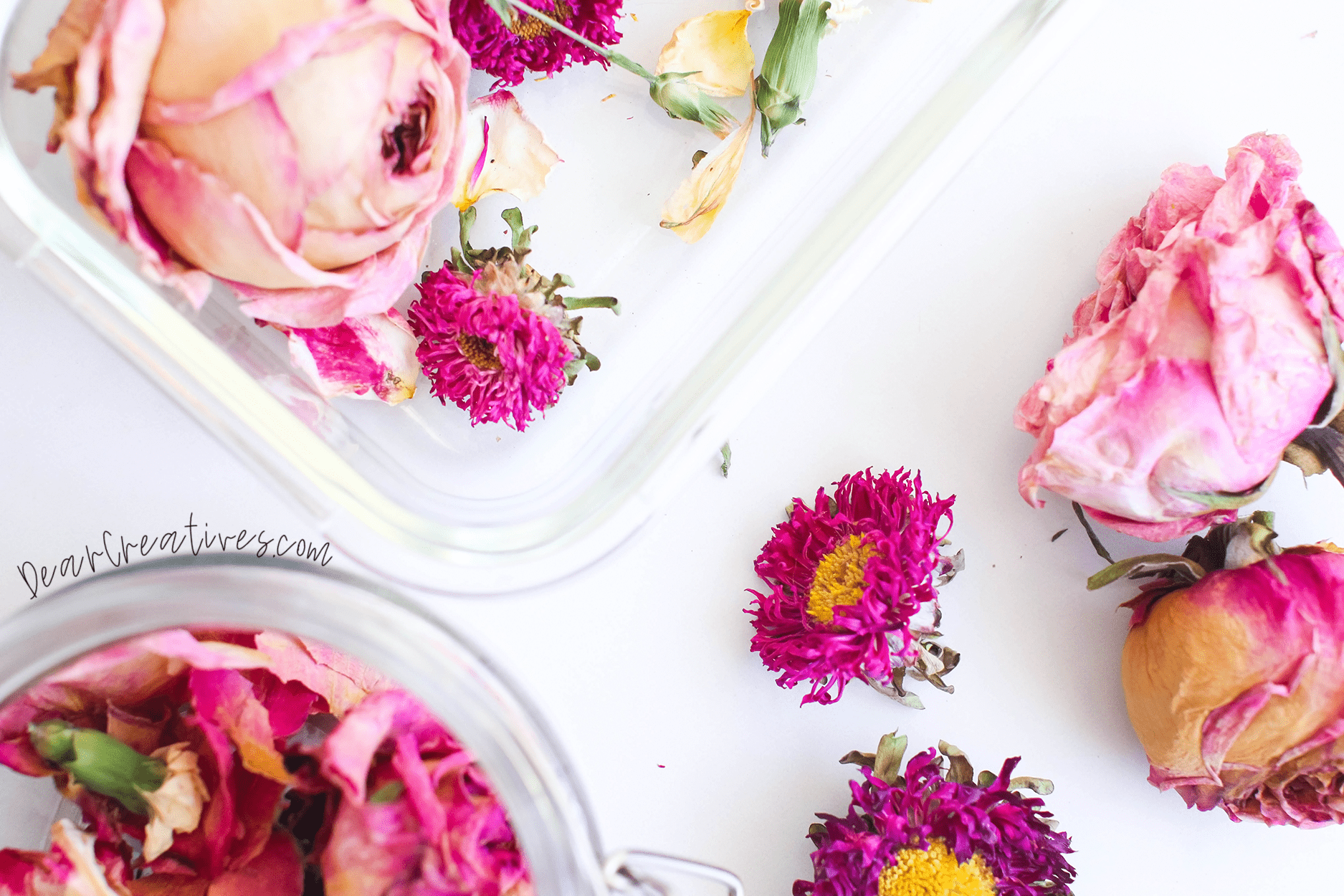 You can add fragrance to the flowers by adding drops of essential oils to the dried flowers.
Use a carrier for the essential oils such as the tiniest bit of water or orris root powder.
(My Preference) -Use the orris root powder as the carrier.
Take a teaspoon or tablespoon (depending on the number of flowers) of the orris root powder and drop a few drops of the essential oils into it and mix.
Then sprinkle the mixture on the dried flowers.
PRO TIP: Do this prior to adding the dried flowers into the jars or sachets. This way you can coat the dried flowers without damaging them. Gently toss the coating over the flowers and mix them wearing

rubber gloves

or a large spoon.
Notes: The reason the non-wet method is my preference is it is not adding extra moisture to the flowers which could cause them to mold. What is orris root powder? It's a fixative that extends the scent and life of dried flowers.
Use Your DIY Potpourri To Make A Potpourri Gift
I dried my flowers naturally. You can use drying agents such as silica or different techniques, as mentioned in the post. Use the dried flowers to make decor for your home or use it as a DIY home decor gift idea.
Homemade Potpourri For Gift
Here's how to make a gift in a jar using potpourri. DIY Potpourri gifts are great to make any time of the year. Use them for homemade gifts for birthdays, graduations, take-away gifts, bridal showers gifts or baby showers gifts, hostess gifts, and Christmas gifts…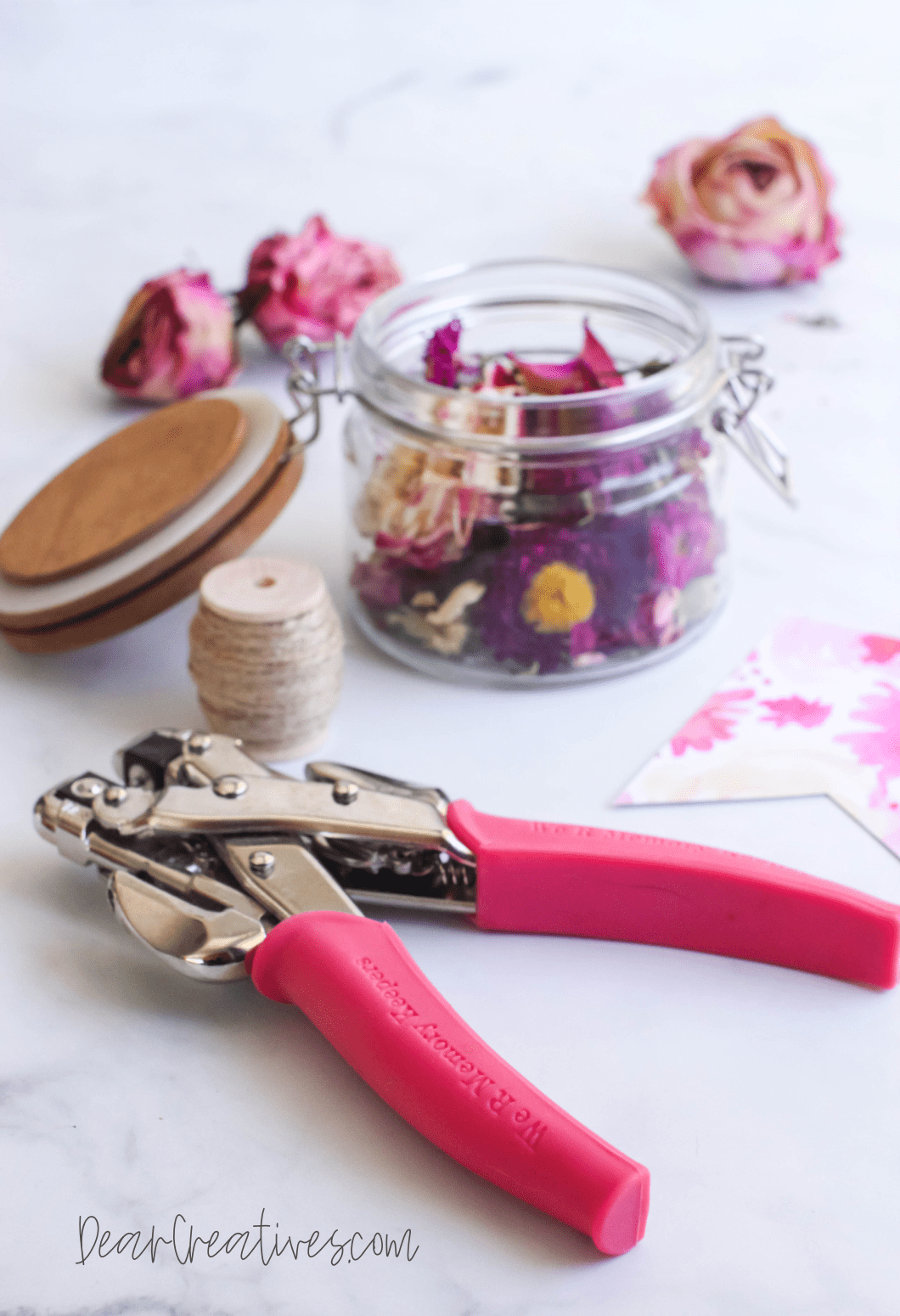 Glass jar with wood lid (similar) | Twine | Cropadile | Cardstock Paper
Want to make potpourri gifts? Add the dried potpourri flowers into pretty jars, mason jars, or other glass jars with lids. Or even put them into organza potpourri sachet bags like this or muslin sachet bags like this.
Make one, several, or dozens of gifts by varying the size jars you use… Use smaller jars (4-ounce round jars with lids), mini mason jars, and spice jars like this for takeaway gifts.
Potpourri Gift DIY Steps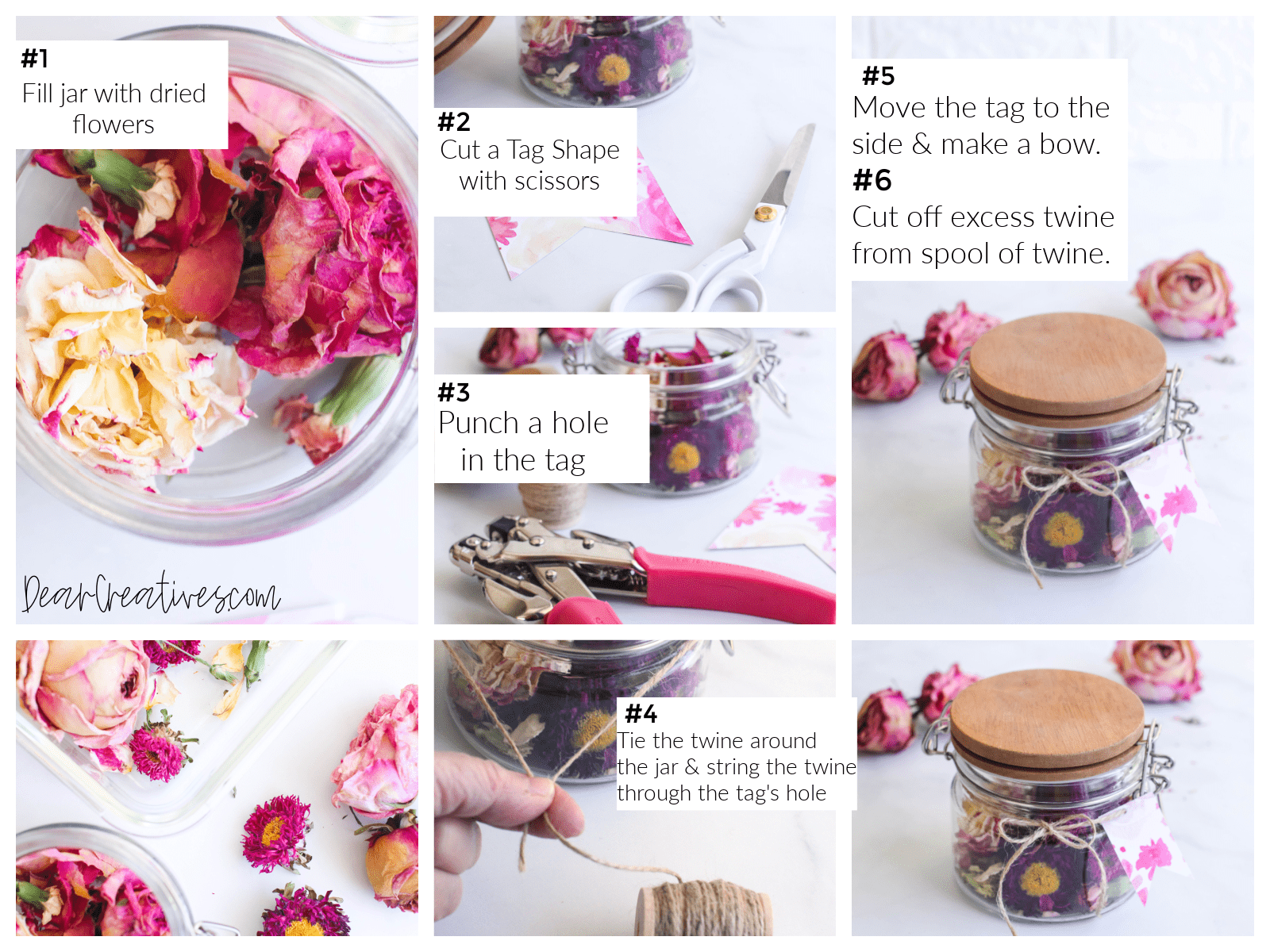 Make a gift tag with pretty cardstock using scissors. Download and Print the template or draw your swallow tail template.
Use a free swallow tail flag template like this (cut it down to the size you need for your jar).
Punch a hole using a paper punch or

cropadile

(my favorite tool for paper crafts and…).
Next, tie the tag on with twine by stringing it around the jar and through the hole tying it on with a bow!
Then cut off excess twine from the spool.
Tada! Now, you have a pretty gift to give someone or keep your homemade potpourri with dried flowers.
DIY Stovetop Potpourri
You might remember when I made this DIY Stovetop Potpourri for the holiday season. This is a different way to make potpourri and potpourri gifts. Bookmark this post for Christmas it includes a printable tag! These make nice hostess gifts and homemade gifts for the holidays.
New here? Be sure to Subscribe.
Pin it for Later
Need more help? Maybe these videos on YouTube and resources will help you.
Pin it for Later!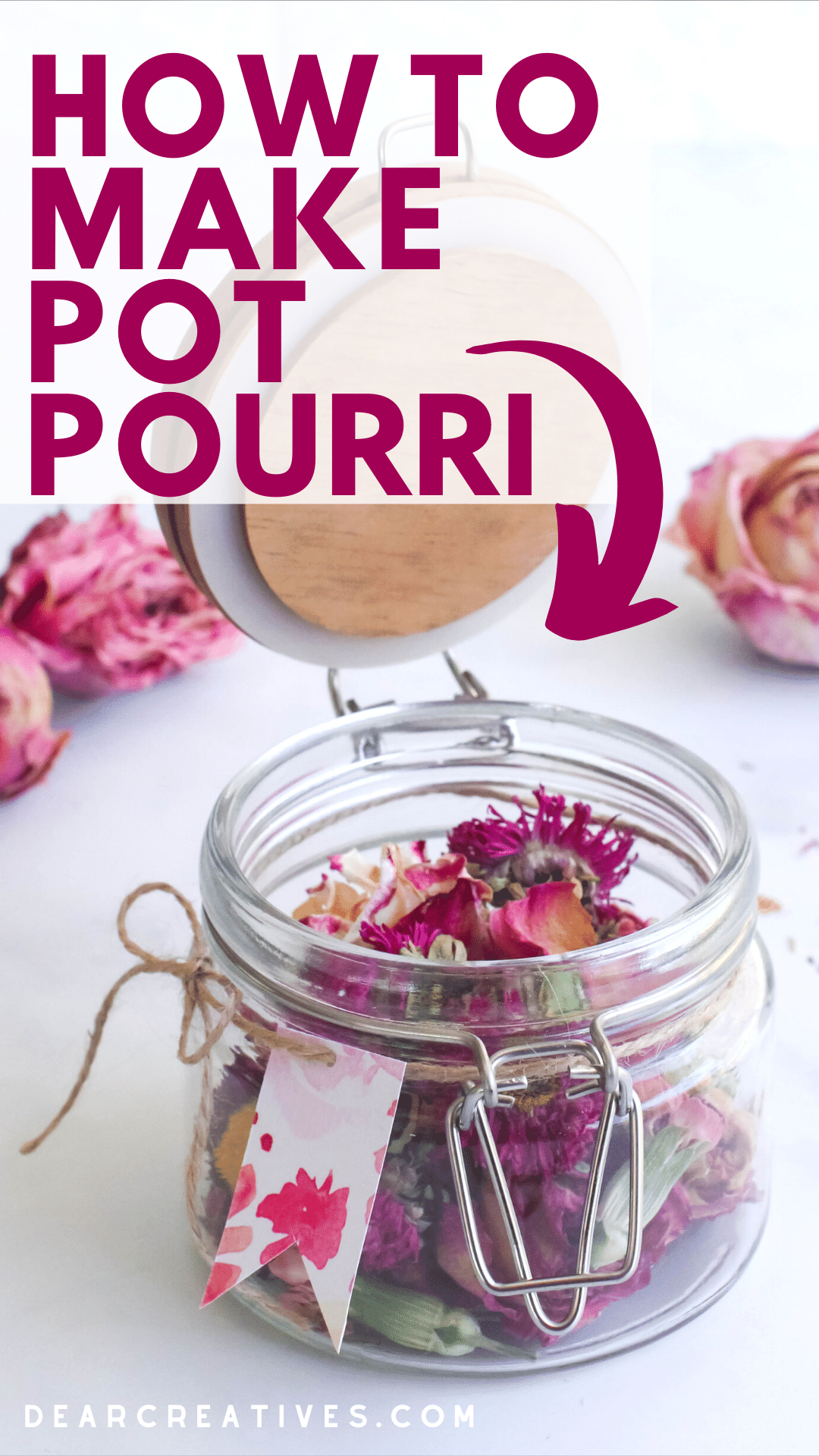 Happy Crafting!
The post How To Make Potpourri + Potpourri Gift DIY appeared first on Dear Creatives.