You've probably seen the Gladiator Garage storage system display at your local Lowe's or Home Depot dozens of times.
You might be wondering how good they really are.
I've used Gladiator GearTrack and GearWall in my garage for several years. I found them to be an excellent way to organize your tools, accessories, and sports equipment. 
In this article, you'll learn:
Overview of the Gladiator wall system
GearTrack vs. GearWall: What's the difference?
My setup
Recommended accessories
How much weight can it hold? (table)
Installation Overview
Wrapping it up
Let's get started.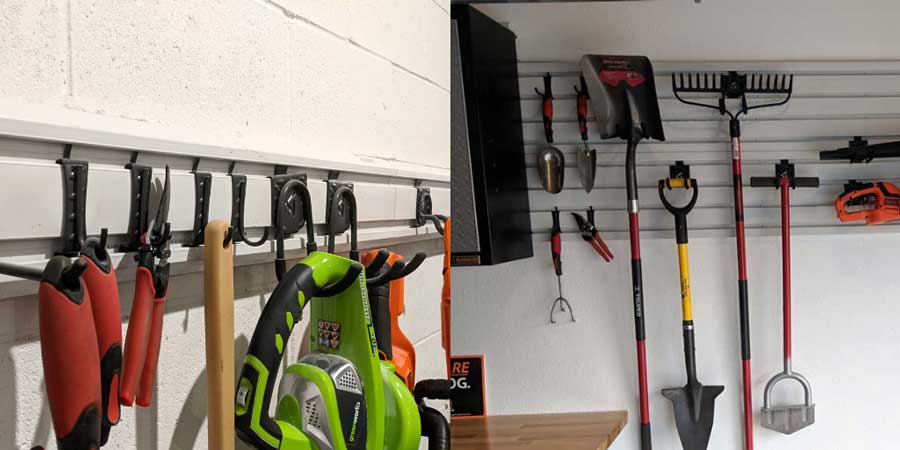 ---
Gladiator Wall System: Overview
As I mentioned, Gladiator makes one of the most popular garage storage systems in America today. GearTrack, as the name implies, is Gladiator's track system, and GearWall is Gladiator's take on PVC slatwall.
They've designed a dizzying number of hooks, baskets, and accessories for hanging tools. Each is compatible with GearWall and GearTrack, so you can move them between different panels as needed.
In addition to the wall storage system, Gladiator makes cabinets, workbenches, tool drawers, and freestanding shelves. They even make a garage refrigerator in the same diamond-plate finish so it blends in with the rest of your garage.
In this article, we're going to ignore all of their other products and focus on the Gladiator wall system (GearTrack and GearWall). 
Here are some of what I feel are Gladiator's biggest selling points:
Clean, simple design
Easy installation: Gladiator wall systems mount to concrete, drywall, or bare wood studs with simple screws.
Start small and grow: You can start with as little as one GearTrack rail and then build as you need.
Gladiator is sold everywhere. Gladiator is sold in most big box stores like Lowe's and Home Depot and online through Amazon and their manufacturer's website.
Tons of accessories: Gladiator has over two dozen hooks, bins, baskets, and storage accessories to help organize your garage.
I found that the Gladiator wall system checked all the boxes I was looking for. 
In my garage, I have one section of GearWall for my lawn tools inside my garage door. I also have two sections of GearTrack. One on the opposite wall above my large workbench and the other on the back wall to help mount a small RTA cabinet and some baskets.
What are the differences between GearTrack vs. GearWall? Why would you use one over the other?
---
Gladiator GearTrack vs. GearWall
At first glance, the Gladiator GearTrack and GearWall look almost identical, so I wouldn't blame you for thinking they're the same product.
Both are excellent ways to use your wall storage capacity for hanging items and free up valuable floor space.
However, there are subtle differences between the two.
Although both look great in your garage, some applications will be better with GearTrack vs. GearWall and vice-versa. It helps if you plan out your garage and pick the right one for your application.
Every Gladiator hook, bin, basket, and accessory will work on both GearWall and GearTrack channels. 
GearTrack channels are 6″ high and 4′ in length, and you can't stack them or link them in any way. Each GearTrack channel gives space for only one hook or accessory per row.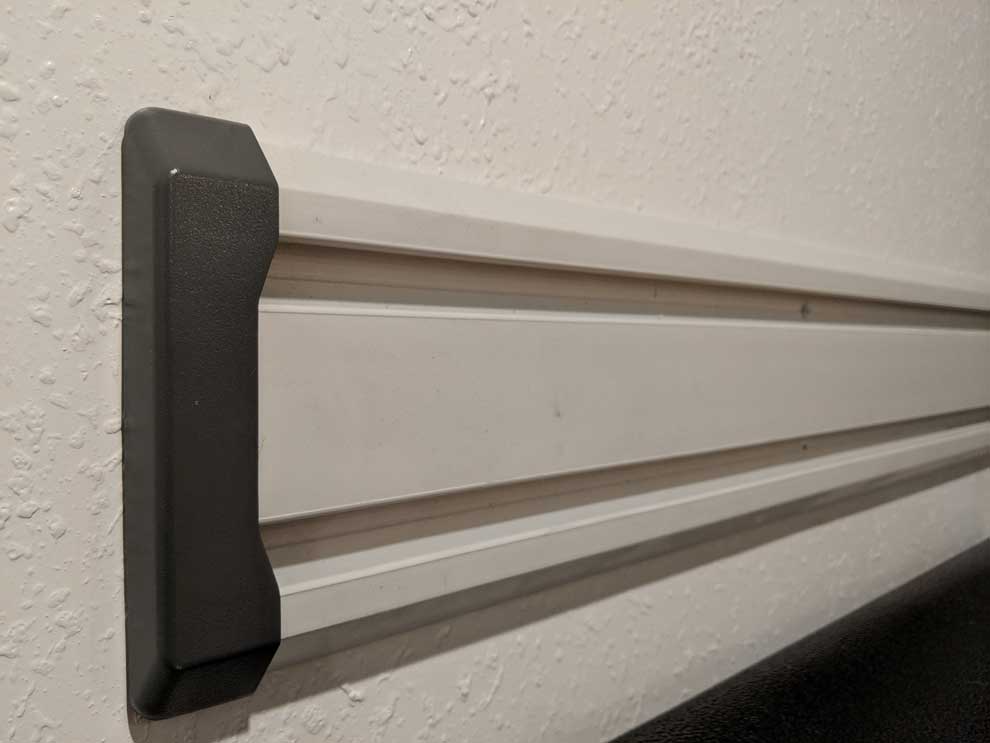 By contrast, GearWall panels are 12″ high and come in 4′ or 8′ lengths. Unlike GearTrack channels, they're designed to be stackable with interlocking channels at the top and bottom.
An individual GearWall panel allows for three hooks or accessories.
However, when you stack two panels on top of each other, you get an extra row, giving you space for seven rows of hooks and accessories.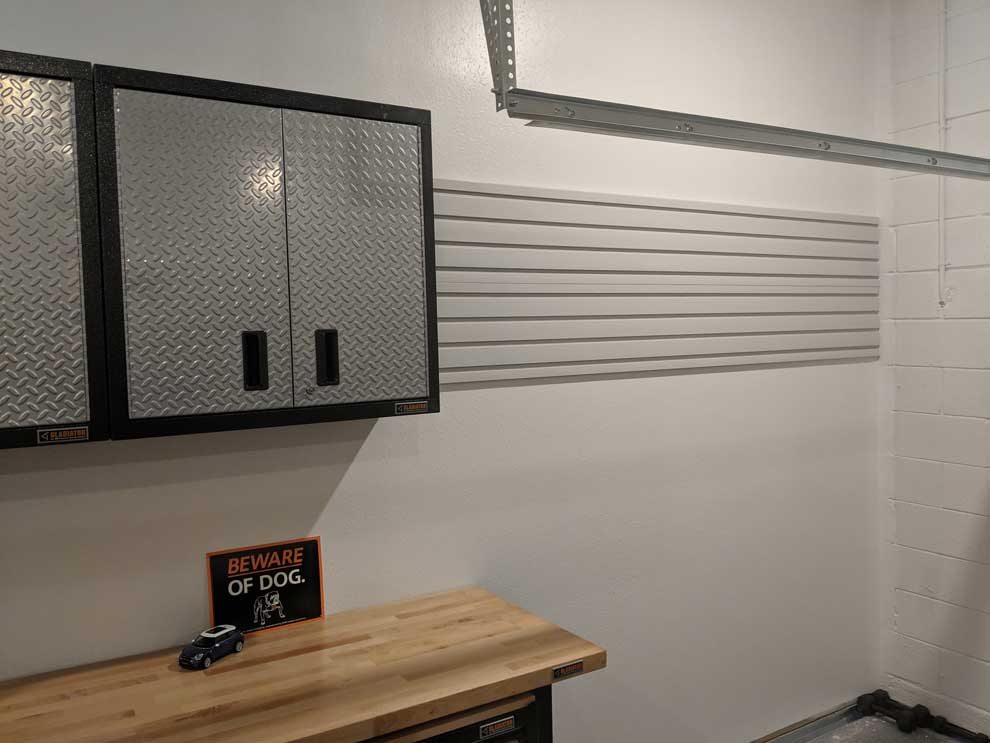 The weight capacity changes slightly between the two products as well.
The GearWall only holds a maximum of 50 lbs. per square foot, but each GearTrack rail can hold a maximum of 75 lbs. per linear foot. This assumes both are mounted to three wall studs underneath.
This means it's safer to hang heavy items on Gladiator GearTrack channels rather than on a GearWall panel.
Finally, both come with a 10-year warranty from Gladiator.
When should you use GearWall?
GearWall is perfect for storing and organizing large tools, bikes, and sports equipment. Gladiator also makes shelves that are specifically designed to work with GearWall panels.
In my garage, most of my tools are organized with Gladiator GearWall instead of GearTrack. I like being able to stack the panels on top of each other and get more storage space.
I've organized my lawn & garden tools on two rows on 8′ GearWall panels. It allows me to keep them near the front of my garage, hanging directly above my lawnmower.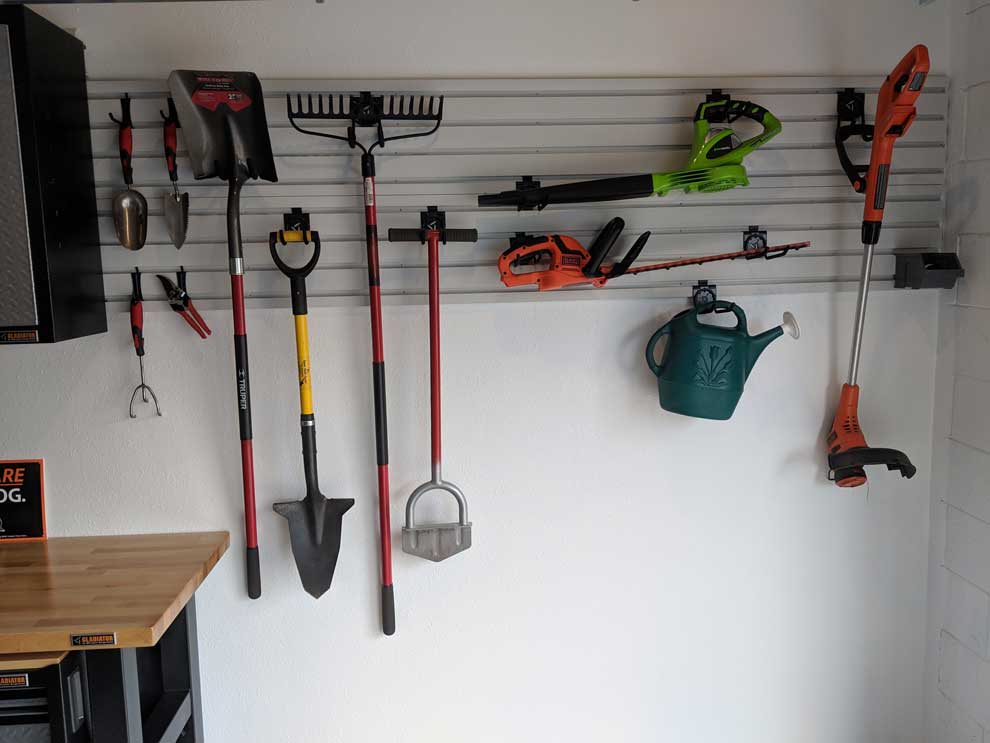 I'm using a combination of L-Hooks, Twin Hooks, and Scoop Hooks.
The L-Hooks hold my smaller hand tools, while the larger Twin Hooks hold my leaf blower and hedge trimmer. My shovels, rakes, and other larger tools hang on Scoop Hooks. Finally, there's a small bin to store extra wire for my trimmer.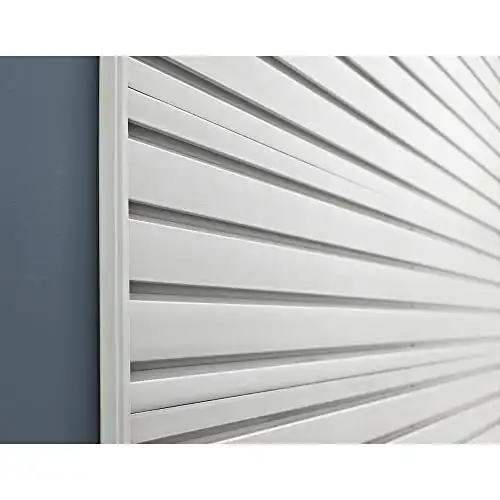 When would you use GearTrack?
If you only need to store a few items, GearTrack is the better option – especially if those items are oversized.
My garage has two sections of GearTrack. The first section hangs directly above my 8′ workbench, holding my ladder and step stool.
This was the first section of GearTrack I installed. It let me try out the Gladiator wall system for only a few bucks at Lowe's and see if I liked it.
Although you can get dedicated ladder hangers, I chose to use two Gladiator Twin Hooks instead. I discuss why and some other options in my article on storing a ladder in your garage the right way.
The second place I use GearTrack is to mount my Gladiator cabinets.
I found this an excellent way to mount the cabinets because it allows you the flexibility to move cabinets around while still looking like a professional installation. 
I've got Premier and RTA cabinets (more on the differences here). They all have brackets on the back that slide into GearTrack or GearWall channels.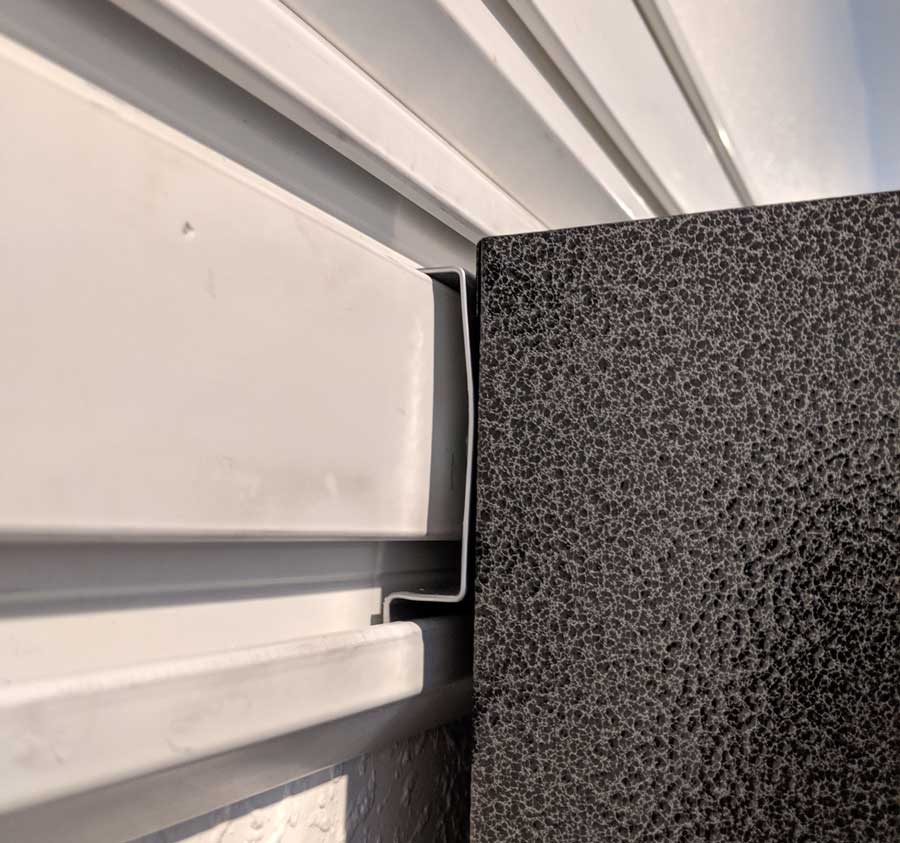 The GearTrack channels hide easily behind the cabinets, so they appear to be mounted directly to the wall. Attaching each channel to three wall studs makes everything more secure and increases your maximum storage weight.
After everything was mounted and I liked how it looked, I cut away the excess GearTrack channel so the cabinets would look like they were floating on the wall.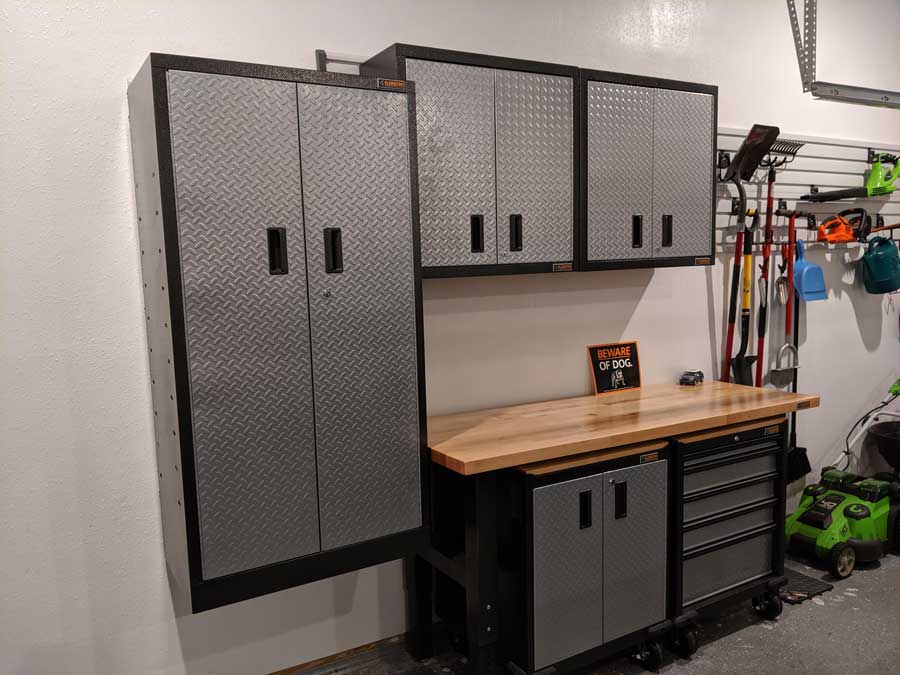 Finally, I've mounted a ¾ door RTA cabinet on the back wall of my garage, next to the door to my kitchen. When we get home, we toss our keys here instead of throwing them on the kitchen table.
This particular section isn't permanent.
I use that wall section to mount any other garage storage options I'm testing. You'll notice it in my review of the Rubbermaid FastTrack system.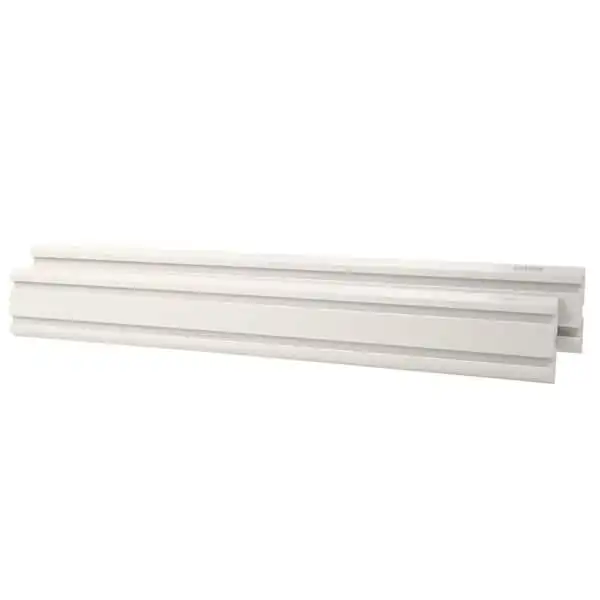 ---
Gladiator Wall System Accessories
Now for the fun part.
Gladiator makes around two dozen hooks, bins, shelves, and baskets that work with the GearTrack and GearWall.
If that sounds overwhelming, it's really not.
I've found one or two that I like, which form the bulk of my garage organization plan. I'll give you some ideas on how I use some of them.
In a later section, I'll go into all their essential details, like weight limit and dimensions.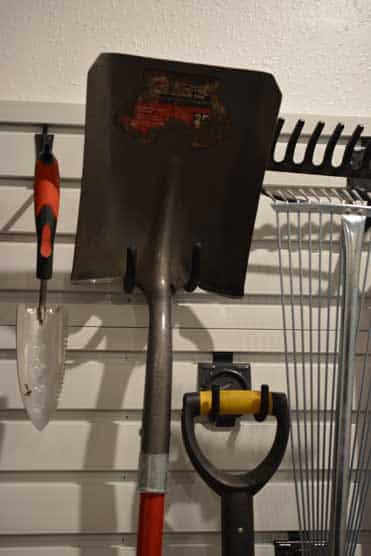 Most of my larger tools hang vertically using Gladiator's Scoop Hook. It has a weight limit of 25 lbs., so it can hold most things lighter than a sledgehammer. I like that it keeps the tool close to the wall so it doesn't stick out too far.
My flat-head shovel is a little bigger, so I opted to use a Utility Hook. The Utility Hook is almost identical to the Scoop Hook, except that it's slightly deeper and has a higher weight limit of 50 lbs.
These two have to be my favorite hooks because they are so versatile.
I'm not a fan of the S-Hook. However, I wanted to try it out, so I hung my hard-bristle broom on it as a test.
The way it's supposed to work is the padded part of the hook holds the broom's handle in place with friction. In theory, there will be space between the broom's head and the hook itself.
In my experience, there wasn't enough friction to hold the broom in place, and it quickly slid down so that the head rested on the hook.
This could be because of the broom's plastic handle, but I feel that's a design flaw. If it's supposed to work with friction, then it should work with any handle you hang on it.
I use the L-Hooks for smaller tools. These come in a combo pack with J-Hooks, but I wish they'd come separately.
The J-hooks are far too small, and I still haven't found a use for them. The combo pack is cheap enough, but I'm wasting half of it.
The L-hooks are passable, but they feel really cheap. I wish they had a version that felt more solidly built and included a padded hook.
Another really great hook is the Twin Hook.
In contrast to the 'U' shape of the Scoop Hook, the Twin Hook sticks out a full 6.5″ from the wall so you can hold bulkier items. It still only has a weight limit of 25 lbs, so you'll need to be careful not to put too much weight on it.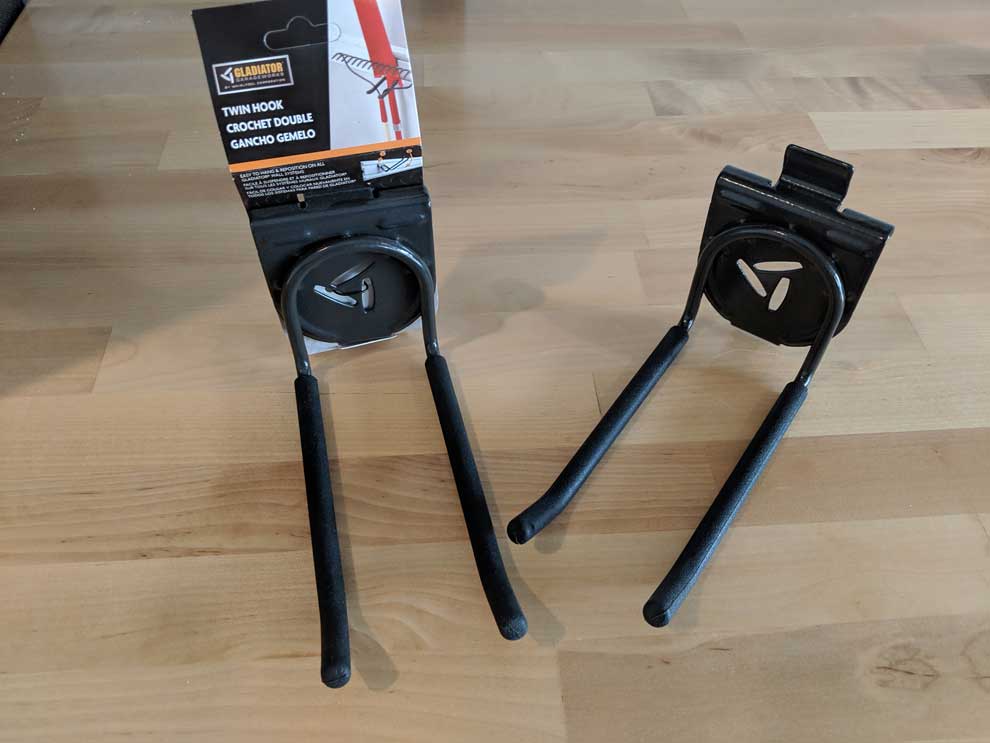 I use two Twin Hooks to store my 6′ step ladder and another to hold a coiled extension cord. I'm happy with how it supports the ladder, but I wish there was a better option for the extension cord.
Finally, I've got a small step stool hung on a Tool Hook. It's designed to hold two tools on the same hook.
For example, two rakes or shovels.
Initially, I stored my stepladder vertically on this hook and the step stool on the inside hook. However, it looked like I was overloading the hook, so I moved each to its own hook.
Eventually, I put my extension cords on the stepladder hook, and it worked perfectly.
Finally, I love the small item bins that come in a three-pack. They're great to mount on your Gladiator GearTrack channel or even leave them freestanding on your workbench. I do both.
They're sometimes hard to find, but once you have a set, you'll find a bunch of uses for them throughout your garage.
---
Weight Limits (for track, wall, and hooks)
Because there are so many different accessories, hooks, bins, and baskets for the Gladiator wall system, I took the time to try to organize them here for you.
The chart below will show some basic dimensions of whatever accessory you're looking at, including how much weight it can hold.
Important Note: Remember to consider the maximum weight of the GearTrack or GearWall panel as well. 
Each GearWall panel can hold a maximum of 50 lbs. per square foot, and a GearTrack section can hold a maximum of 75 lbs. per linear foot.
This assumes they're screwed into three wood studs (or three screws into concrete).
Specifications: Gladiator Hooks
| | | | | |
| --- | --- | --- | --- | --- |
| Name | Model Number | Width | Depth | Weight Limit |
| J-Hooks | GAWAJL8PPH | 1″ | 1″ | 5 lbs |
| L-Hooks | GAWAJL8PPH | 1″ | 4″ | 5 lbs |
| Dual Hook | GAWUXXWHRH | 10.75 " | 2.75 " | 50 lbs |
| Tool Hook | GAWUXXTHRH | 3.25″ | 10.5″ | 25 lbs |
| Wide Hook | GAWUXXWDRH | 2.75″ | 5.5″ | 30 lbs |
| Big Hook | GAWUXXBHRH | 4″ | 7″ | 50 lbs |
| Twin Hook | GAWUXXTWRH | 2.75″ | 6.5″ | 25 lbs |
| S-Hook | GAWUXXSHRH | 2.75″ | 1″ | 25 lbs |
| Scoop Hook | GAWUXXSCRH | 2.75″ | 4.25″ | 25 lbs |
| Utility Hook | GAWUXXUHRH | 3.75″ | 4.5″ | 50 lbs |
| Cradle Hook | GAWUXXCLRH | 4.5″ | 6.5″ | 25 lbs |
| Deep Hook | GAWUXXDHRH | 7.5″ | 11″ | 30 lbs |
| Loop Hooks | GAWALP8PPH | 1″ | 2″ | 5 lbs |
Specifications: Bins & Sporting Good Storage
| | | | | |
| --- | --- | --- | --- | --- |
| Name | Model Number | Width | Depth | Weight Limit |
| Fishing Rod Hook | GAWVXXFHTH | 2.75″ | 5″ | 10 lbs |
| Vertical Bike Hook | GAWUXXVBRH | 2.75″ | 5.5″ | 30 lbs |
| Horizontal Bike Rack (2 pack) | GAWUXXHBTG | 2.75″ | 20.5″ | 50 lbs (pair) |
| Advanced Bike Storage | GAWUXXCPVK | 6″ | 8″ | 50 lbs |
| Storage Bin Holder | GAWUXXBMTH | 4″ | 12″ | 25 lbs |
| Small Item Bins (3 pack) | GAWESB3PGC | 4.5″ | 7″ | 10 lbs |
| Wire Basket | GAWU18BKBH | 18″ | 13″ | 35 lbs |
| Mesh Basket | GAWU24MBBH | 24″ | 12.5″ | 35 lbs |
| Ball Caddy | GAWUXXBLTH | 24″ | 12″ | 25 lbs |
---
GearLoft Shelf and Bin Hooks
Even though Gladiator makes some great accessories for their GearWall and GearTrack wall system, not everything is a home run. 
For example, take the GearLoft shelf and the Storage Bin Holders.
Both are designed to get bulkier items off the garage floor and onto the wall.
Great! I'm all for it, but I don't think these are good ways to do it.
Most garage ceiling racks will run you about $200 for a 4′ x 8′ mesh shelf that you attach to your ceiling and holds at least 500 pounds. 
By contrast, a Gladiator GearLoft shelf will set you back about $100. It's got fewer square feet of space (45″ x 20″) and a lower weight limit in general (100 lbs).
Plus, you've got to factor in the cost of the GearWall panel that you're mounting it on. Then you have the space the shelf is taking up so that you can no longer store anything.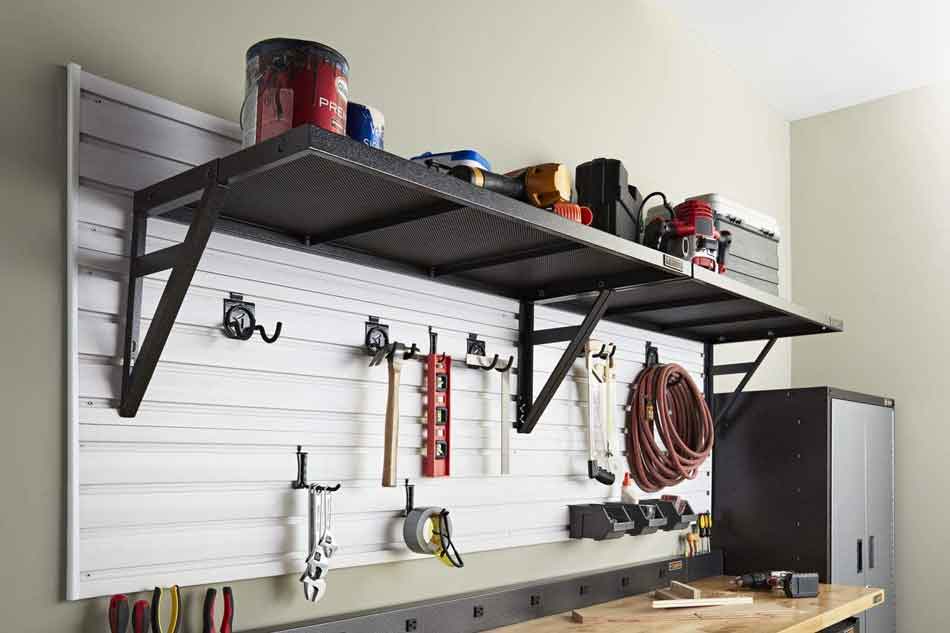 The same goes for the Bin Hooks. The idea is that hooks cradle a single plastic storage bin on your GearWall panel. Personally, I can't think of a bigger waste of space. 
Unless you're finishing your garage walls entirely in GearWall panels, skip these two accessories and use different storage solutions instead.
---
Gladiator Wall System Starter Kits
The best way to get into either the Gladiator Gearwall or GearTrack wall system is to grab one of their starter kits.
You won't usually find an accessory starter kit with everything you're looking for. Still, you might find a kit with something you can't get anywhere else.
For example, I picked up a starter kit with pre-cut 3′ GearTrack shelves. It's not a big deal to cut a regular GearTrack shelf if you have a table saw, but it's a massive time-saver if you don't.
They have specific starter kits for gardening, sports, biking, golf, and several muti-purpose versions.
---
Installation
I've written a much more detailed article covering how to install Gladiator GearTrack into both drywall and concrete, so I'll be brief in this section.
Both the GearTrack and GearWall panels install into your walls with simple screws.
Gladiator sells a matching white Phillips-head screw, but I wouldn't recommend using them.
Like many other reviewers, I wasn't impressed with the quality. Several screws stripped before I could get them into the garage wall.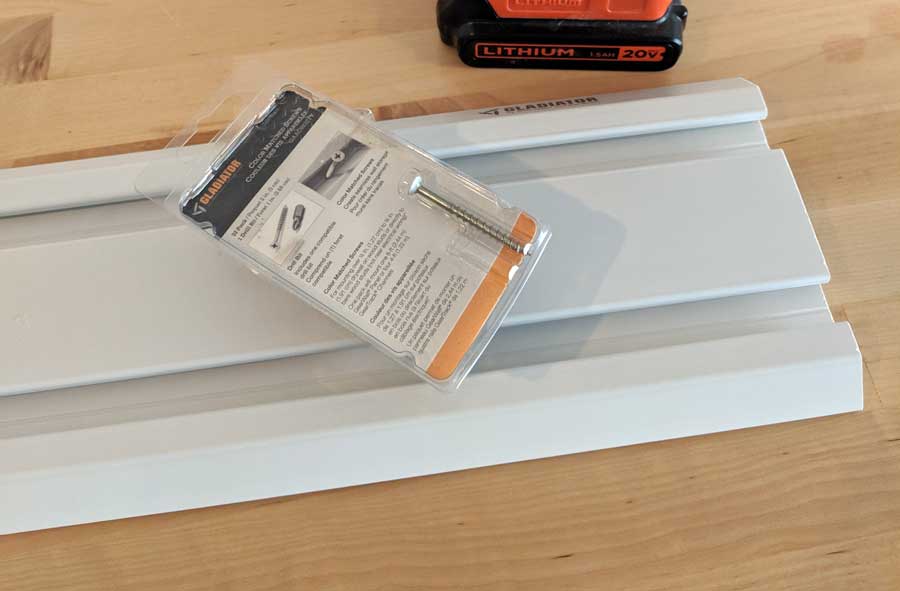 Thankfully, I could get them all out, but it caused a lot of wasted screws in the pack. Choose a higher-quality screw instead.
I recommend WoodPro star-pattern screws for drywall or OSB wall panels. Use Tapcon concrete screws if you're going straight into a concrete garage wall.
---
Can You Cut Gladiator GearTrack and GearWall?
You can easily cut GearTrack and GearWall panels to size using a table saw, or even a hand saw. A table saw is much easier than a hand saw and makes quick work of each panel. It also guarantees a straight cut every time. 
The GearTrack rails have grey plastic endcaps to finish off the look. Although you won't be able to use the endcaps if you're mounting a cabinet on the track and pushing it right up to the edge of the track.
All of my exposed GearTrack edges have endcaps, and I really like them. They give a more finished look to my setup.
The GearWall panels have white edging trim to help give them a cleaner look. It's nothing more than inexpensive plastic trim, but it does the job and doesn't look out of place.
I opted not to use them in my garage, but you may like the look.
---
Wrapping It Up
I've put a lot of thought and research into choosing a garage organization system, and I'm thrilled with the Gladiator wall system. The more I look at and test other products for reviews on this site, the more I know I made the right choice!
I like the Gladiator GearTrack and GearWall's clean, functional, and durable design.
My garage is a working garage, not a showpiece, and I need a storage solution that can take a beating and keep looking great.
With only a couple of exceptions, the accessories are top-notch. There were a few sore spots earlier that weren't up to standards, but they're the exception rather than the rule.
My only gripe is that I wish Gladiator had more options for sports storage. They have fishing pole hooks, a mesh basket, and a golf caddy, but that's it. That's a bit of a missed opportunity that I hope they correct.
In conclusion, I highly recommend Gladiator GearTrack and GearWall. They've held up incredibly well since I installed them, and I expect to use them for years.
If you're trying to decide between the Gladiator GearTrack and Rubbermaid FastTrack, I put together a handy article comparing the two wall systems.
Check out the entire Gladiator wall system lineup on Amazon.com.
The post Gladiator Wall System Review: GearTrack & GearWall appeared first on Garage Transformed.