This classic gluten free birthday cake is a funfetti vanilla layer cake filled with chocolate sour cream frosting and topped with chocolate icing. It's your new go-to birthday cake.
This is my go-to birthday cake combination
My oldest child just turned 17 this week, and she's as indecisive as she was at 7. She loves any and all cakes, especially chocolate. But she's also mindful that not everyone loves a deep, rich chocolate cake.
So when we were planning her the sweetest low-key, home-based birthday party, she simply couldn't decide on what sort of birthday cake she wanted me to make. I went with my go-to combination which I finally decided to share it with you here: a Funfetti-style vanilla cake with sour cream chocolate frosting and a richer chocolate icing.
Why this is the best gluten free birthday cake
The yellow cake is adapted very slightly from my very best gluten free vanilla cake, which has long been one of the most popular recipes on this blog. It's incredibly moist and tender, and even though you do have to sift some flours, it is as easy as can be.
The edible confetti that makes the cake into "Funfetti" has no real taste (although I'm sure it's mostly sugar), but it make everything more fun. It's like dressing like normal on your birthday but wearing a party hat. You're instantly festive.
For what it's worth, when our 17-year-old party guests saw me cut into this birthday cake at my daughter's party, there was an audible gasp over my left shoulder. And an "ooooh Funfetti!" exclamation. See? Fun.
There may be a few steps to creating all the elements of the perfect birthday cake, but each of them is quite simple. And you can make the cake in stages, and have it ready to assemble the day you plan to serve it.
Why make gluten free birthday cake from scratch?
When you're looking for a gluten free birthday cake, it's not like you can just go to most local grocery stores and order a cake that you can feel comfortable serving. Plus, when you make a cake yourself, you can make it precisely as you like it, tailoring all the flavors to the tastes of the birthday boy or girl.
Gluten free birthday cake ingredient notes
What's the best gluten free flour for making cakes?
The best gluten free flour blend for making a light and airy funfetti layer cake is a combination of Better Batter gluten free flour and cornstarch makes for a blend that behaves like a gf cake flour. If you'd prefer, you can use Cup4Cup gluten free flour in place of both the all purpose gluten free flour blend and cornstarch, gram for gram.
Measuring gluten free flour
Always measure dry ingredients, especially your gluten free flour blend, by weight using a simple digital kitchen scale. There is no standard size for dry measuring cups that ensures the "right" measurement by which I developed the cake recipe, and human error is simply unavoidable in any of the possible methods of measuring flour by the cup—no matter how experienced the baker!
More gf birthday cake ingredient notes
Baking soda and baking powder – To balance the acidity in the buttermilk, the baking soda is activated the moment the liquid is added, so work quickly once you've made the batter. The baking powder is double-acting, so it's activated by liquid first, then by the heat of the oven.
Salt – To enhance the buttery, vanilla flavor of this cake, don't forget the salt! Coarse salt like kosher salt is best for baking since it's easier to measure precisely, unlike table salt which is easy to overmeasure.
Buttermilk, at room temperature – the thickness and acidity of buttermilk are essential to the tender crumb of this cake. If you don't have buttermilk on hand, you can "make" your own by combining half sour cream or plain yogurt and half milk, by volume. Don't try just "souring" some regular milk with lemon juice; that's just not going to perform the same at all.
Eggs – Most of the eggs in this recipe are egg whites only, which provide structure and rise, and the full egg adds some richness. They all help bind the cake together.
Pure vanilla extract – To bring out the other flavors, and add the flavor of vanilla, don't forget the vanilla extract. Cake without vanilla is surprisingly flat in flavor.
Butter – For richness, room temperature butter in baking can't be beat. Be sure to whip it well with the sugar for extra lightness in the crumb. And begin with your unsalted butter at room temperature, so there are no clumps of cold fat in your baking.
Sugar – A sweetener and a tenderizer, the sugar in this cake recipe is just right.
Edible rainbow confetti (gluten free sprinkles) – For an instant party, edible confetti in classic colors is color-fast, so it won't bleed into the cake. See below for details on sourcing!
Tips for making a gluten free funfetti cake
Use parchment paper to prevent sticking
I always line the bottoms of my round baking pans with a circle of parchment paper. It helps prevent the cake from sticking to even a nonstick or well-greased pan, and also aids the cake in baking evenly.
Use room-temperature ingredients
When any of your ingredients are cold, they will prevent the fat in the recipe (like in the butter, egg yolk, and buttermilk) from blending evenly with the other ingredients. Even if your butter is at cool room temperature (your finger should leave an indentation in the butter, but not feel greasy when you pull it away) and other ingredients are cold, the butter will clump when the colder ingredients touch it.
Bigger isn't always better
I prefer to make 8-inch round cakes instead of 9-inch cakes or larger. I never make a square or rectangular cake for a birthday celebration.
Round is festive. Rectangles are, well, square (as in boring). This is, of course, my opinion, but I assume you came here for that? If not, just scroll down to the recipe.

Edible confetti is way better than rainbow sprinkles or nonpareils
In the past, I've bought edible confetti made by AmeriColor brand on Amazon. A small container lasts me quite a while. Rainbow is the best.
I've been having some trouble finding AmeriColor sprinkles lately, but I've found a few shops on Etsy that sell gluten free rainbow confetti. Rather than my posting links for those shops here, since Etsy links tend to expire often, I recommend searching for "edible gluten free confetti"; "edible gluten free quins"; or "edible gluten free sequins" on Etsy.
Sweetapolita's Sprinkle Shop is an online shop run by a food blogger that has carried edible rainbow sequins that are gluten free. I had linked to her edible gluten free confetti, and then the link expired. I say just visit her site (Sweetapolita.com) and see if she has any edible gluten free rainbow confetti (also called "quins").
Rainbow confetti colors tend to be super vibrant, and they don't bleed. Classic sprinkles ("jimmies, if you're from Philly!) or nonpareils will begin to bleed nearly the moment you mix them into the cake batter. You don't want your vanilla cake to look like a clown crime scene.
How to frost and decorate a beautiful gf birthday cake
I've made so many gluten free cakes with you on the blog. Generally, I figure that you'll find your basic buttercream frosting recipes elsewhere and don't come to me for my cake-decorating skillz. I'm no cake decorator.
But I've decorated enough cakes over the years that I can certainly do a passable job. I thought you might like to see how I make my layer cakes since I have no shortage of opinions.
Frosting vs. icing
I really like to use a sour cream chocolate frosting for a filler and a crumb coat (the thin layer of frosting all around a layer cake that seals in the crumbs so they don't speckle your frosting). It's sweet and chocolatey without being too rich, so it doesn't overwhelm your vanilla-cake-only people.
You can then, of course, finish the cake with a second layer of the same sour cream chocolate frosting. I prefer to finish the cake with a richer, chocolate icing.
It's easier to make a smooth finish on the cake with the chocolate icing, and the additional confetti sprinkled on top of the cake stands out a bit more on the icing than on the frosting. The icing also adds a bit of richness.
How to frost like a pro
You do not have to be a professional to ice a birthday cake. The tricks to frosting and/or icing a cake smoothly are twofold.
First, your frostings must be super smooth and everything must be at the proper temperature. The sour cream chocolate frosting here must be at room temperature. If you've refrigerated it, you'll have to leave it out at room temperature for hours so that it comes to temperature evenly.
The chocolate icing must be scoopable, and you can err on the side of chilled. The cakes should be at room temperature, but can also be chilled.
Second, you need a flat edge for smoothing the frosting. I've used everything from a tool made specifically for cake decorating to a plastic bowl scraper and even a bench scraper. A spinning cake turntable is nice, but not essential.
And always remember that strategically-placed decorations can hide a multitude of mistakes!
How to store a gluten free birthday cake
If you have leftover slices of frosted and iced birthday cake, they'll keep quite well at room temperature for at least a couple days. Just be sure to wrap them tightly in some sort of wrap and keep them out of the sun.
Freezing gluten free birthday cake
For longer-term storage, wrap each leftover slice of gf birthday cake tightly in freezer-safe wrap (like Glad Press 'n' Seal) and freeze them individually. Defrost at room temperature (not in the refrigerator, which tends to be quite drying).
Making a gluten free funfetti cake in advance
When making your cake for a party you can make it in advance in a couple different ways:
Bake the individual cake rounds, let them cool completely, then wrap tightly in freezer-safe wrap and freeze flat for up to 2 months. Then, defrost at room temperature, fill with frosting, ice, and serve.
Bake both layers cake, fill them with frosting, wrap very tightly and freeze for up to 2 months. Defrost at room temperature, ice, and serve.
Saving time with a gluten free birthday cake mix
If you'd like to make quick work of making the base cake layers, try assembling the dry ingredients, whisking them together, and storing them in a sealed container in a cool, dry pantry. Then, proceed with the recipe as written when you're ready to make the cakes.
Gluten free birthday cake substitutions
Dairy free, gluten free birthday cake
There is dairy in every aspect of this cake, I'm afraid. The cake itself calls for unsalted butter, which I think should be able to be replaced with a dairy free butter like Miyoko's Kitchen brand or Melt brand vegan butter. I do not recommend Earth Balance buttery sticks because of the high salt and moisture content.
In place of buttermilk in the cake recipe, try using half unsweetened dairy free milk and half plain nondairy yogurt. I find that to be the closest approximation of buttermilk, dairy-containing or dairy-free when you can't use buttermilk or just don't have it on hand.
In the frosting and icing recipes, you can try replacing the butter with Spectrum nonhydrogenated vegetable shortening, butter flavor. The sour cream can probably be replaced in each case with nondairy sour cream, but the icing may not set up properly.
Egg free, gluten free birthday cake
I'm afraid I don't think you can make this recipe egg-free. I'm tempted to suggest aquafaba (the brine from a can of chickpeas) in place of the egg whites, but I understand from many of you that that hasn't been very successful in baking. I can't think of another egg substitute that might work.
About the cornstarch in this gluten free birthday cake
If you are using a higher starch all purpose gluten free flour blend like Cup4Cup (or my mock Cup4Cup), replace the cornstarch in this recipe with an additional 54 grams of your flour blend. If you can't have corn, you can use arrowroot powder in its place.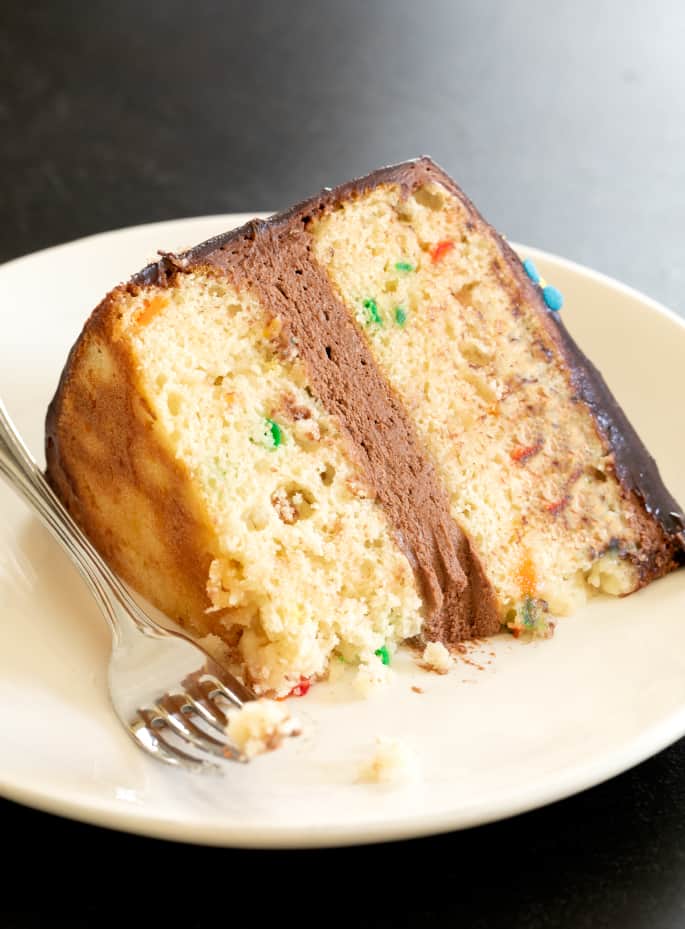 More incredible gluten free cakes
If you're looking for a layer cake, but you're not sold on the idea of a vanilla funfetti cake, here are some other gluten free layer cake recipes on the blog. Each of the cakes below can be made with the same frosting and icing as in this gf funfetti cake, or with the assigned frosting in each individual recipe:
FAQs
What is a funfetti cake?
Funfetti is just a yellow cake with edible confetti pieces mixed in (fun + confetti = funfetti!). I believe that Pillsbury coined the term—but Pillsbury gluten free baking mixes are really poor quality and you should avoid using them!
Is store-bought funfetti frosting gluten free?
"Pillsbury Funfetti® Vanilla Flavored Frosting" is labeled gluten free, and can definitely be used as a substitute for the frosting and/or the icing in this cake. I prefer to keep the frosting confetti-free, and add the edible sprinkles to the cake alone, though.
Are sprinkles gluten free?
Some sprinkles are gluten free, but you definitely need to do research to determine which ones are safe. See above for a discussion of how to find gluten free edible confetti for use in this recipe.
How do you keep a gluten free cake moist?
This gluten free cake is kept moist with the right balance of ingredients, measured by weight, with a well-chosen gluten free flour blend. If you use a gluten free flour blend that I recommend against, like King Arthur Flour gf flour blends, your cake will not turn out moist.
If you omit xanthan gum (and your gf flour blend doesn't already have that added), your cake will be drier and tend to age much more quickly. Plus, the buttermilk in the cake helps keep the cake moist and the crumb tender, and the method of beating the butter, then adding the other ingredients in batches, is key.
Can I use this gluten free birthday cake recipe to make cupcakes?
Generally, I don't like to use cake recipes to make cakes and cupcakes interchangeably, since a cupcake is exposed to significantly more heat more quickly than a cake, so they tend to bake quite differently. Instead, try my gluten free funfetti cupcake recipe.
How do I make a gluten free chocolate birthday cake?
Instead of the base cake here, you can use our recipe for one bowl gluten free chocolate cake, but double it for 2 layers. Add the edible gf confetti as directed here, and bake the cakes for more time in 8-inch round cake pans.
Why did my gluten free birthday cake sink?
Cakes that puff in the oven and sink as they cool are usually not fully baked inside, usually due to a too-hot oven which baked the outside long before the inside could be completely set. As the cake cools, the hot air of the oven escapes and sinks in on itself.
Pay careful attention to the proper doneness test in any recipe, and be sure to gauge oven temperature properly using a standalone oven thermometer, as most ovens fall out of calibration without warning.
Print
Classic Gluten Free Birthday Cake
Bring a smile to the face of a loved one when you make a gluten free birthday cake. This gf funfetti cake is so tender and moist, but also fun and festive.
Keyword
gluten free birthday cake, gluten free chocolate frosting, gluten free funfetti cake
Cooling time for icing
30
minutes
Servings
1
layer cake (8-inches)
Equipment
Stand mixer or handheld mixer
Ingredients
For the cake
2

cups

all purpose gluten free flour blend

(I used Better Batter; click thru for appropriate blends)

1

teaspoon

xanthan gum

(omit if your blend already contains it)

6

tablespoons

cornstarch

½

teaspoon

baking soda

2

teaspoons

baking powder

½

teaspoon

kosher salt

1.33

cups

buttermilk

at room temperature

4

egg whites

at room temperature

1

whole egg

at room temperature

2

teaspoons

pure vanilla extract

10

tablespoons

unsalted butter

at room temperature

1.5

cups

granulated sugar

3

tablespoons

edible gluten free rainbow confetti

plus more for decorating
For the chocolate icing
6

tablespoons

unsalted butter

chopped

1.125

cups

granulated sugar

.875

cup

unsweetened cocoa powder

(Dutch-processed is best, but natural works)

⅛

teaspoon

kosher salt

1

cup

heavy whipping cream

6

tablespoons

full fat sour cream

1

teaspoon

pure vanilla extract
For the chocolate sour cream frosting
12

tablespoons

unsalted butter

at room temperature

½

cup

unsweetened cocoa powder

(natural or Dutch-processed is fine)

4

cups

confectioners' sugar

1

teaspoon

kosher salt

¾

cup

full fat sour cream

at room temperature

1

teaspoon

pure vanilla extract
Instructions
You may want to make the chocolate icing below before you even make the cake. It's easy to make and has to cool before you can use it.
Make the cakes.
Preheat your oven to 350°F. Grease 2 8-inch round cake pans and line the bottom of each with a round of parchment paper (trace the perimeter of the cake pan on the parchment, then cut out the circle). Set the pans aside.

Into a medium-size bowl, sift the flour, xanthan gum, cornstarch, baking soda, and baking powder. Add the salt, and whisk to combine well, then set the dry ingredients aside.

In a measuring cup or bowl with a pour spout, combine the buttermilk, egg whites, egg, and vanilla, whisk to combine well and set it aside.

In the bowl of a stand mixer fitted with the paddle attachment or a large bowl with a handheld mixer, beat the butter and sugar on medium-high speed for at least 3 minutes. Stop the mixer at least once to scrape the entire mixture off the sides and bottom of the bowl, or until very light and fluffy.

To the large bowl with the butter and sugar mixture, add the dry ingredients in 4 equal portions, alternating with the buttermilk and egg mixture in 3 parts, beginning and ending with the dry ingredients, mixing to combine in between additions.

The batter should be very thickly pourable and relatively smooth. Add the edible confetti, and beat once more until the confetti is evenly distributed throughout the batter.

Divide the batter evenly between the two prepared baking pans and smooth each into an even layer with an offset spatula.

Tap the bottom of each pan on the counter a few times to ensure that the batter is evenly distributed on the bottom of the pan. The edible confetti has a tendency to create pockets in the batter, which can cause the cakes to bake unevenly.

Place the baking pans in the center of the preheated oven and bake for 20 minutes.

Rotate the pans, and continue to bake until they're lightly golden brown all over, have begun to pull away from the sides of the pan, and do not jiggle in the center at all (about another 10 minutes).

Remove the cakes from the oven and allow to cool in the pans for 15 minutes before turning out onto a wire rack (and removing the parchment paper liners) to cool completely.
Make the chocolate icing.
Place the butter in a large, heavy-bottom saucepan and melt over medium-low heat. Add the sugar, cocoa powder, and salt, then the cream and sour cream, and whisk until as smooth as possible.

Reduce the heat to low and continue to cook, whisking frequently until the mixture is very smooth and no longer grainy at all. Do not let it boil.

Remove the icing from the heat and whisk in the vanilla until well-combined. Transfer the mixture to a heat-safe bowl and allow it to cool until no longer hot to the touch.

Cover and refrigerate until it holds its shape when scooped (at least 30 minutes).
Make the frosting.
In the bowl of a stand mixer fitted with the paddle attachment or a large bowl with a handheld mixer, whip the butter until light and fluffy.

Add the cocoa powder, confectioners' sugar, salt, sour cream, and vanilla, and beat on medium speed until the powder is absorbed by the butter.

Turn the mixer speed up to high and beat until very well-combined and light and fluffy but holds its shape. Set the frosting aside.
Assemble the cake.
Place one of the cake layers flat on a rotating cake stand if you have one, or a cake plate if you don't.

Line the edges of the plate or stand with 3 pieces of overlapping parchment to protect the surface from drips.

Place about 1 1/2 cups of the chocolate frosting on top of the first cake, and spread into an even layer on top, and continue a thin layer around the side of the first layer.

Place the second cake on top, and cover with the remaining chocolate frosting. Spread the frosting into an even, thin layer all around the cake, using it to fill in any gaps in between the sides of the two cakes.

You can chill the cake at this point to ensure that the icing goes on smoothly, but I often don't.

When ready, pour the cooled chocolate icing on top of the cake, and use it to cover the top and sides of the cake. Decorate with additional edible confetti, if you like. Slice and serve.
Notes
Chocolate sour cream frosting adapted lightly from Lauren's Latest.
Chocolate icing adapted from Cuisine at Home.
Vanilla cake adapted from my Very Best Gluten Free Vanilla Cake.
Originally published on the blog in 2019. Recipe unchanged; video and photos original; text augmented with lots more resources and information.
The post Classic Gluten Free Birthday Cake appeared first on Gluten Free on a Shoestring.