Whether the mercury of your thermometer is dipping into negative numbers like my home state of Minnesota, or you live in a much more comfortable climate year round, many of us firearm enthusiasts want to be able to protect ourselves regardless of the weather. As a result, we need a good sight picture in all conditions, a tactile grip that we will never slip on, and the confidence in our accuracy to defend ourselves and loved ones. There already are an abundance of concealed carry options on the market today, but nothing from the stalwart brand of Savage Arms… until now! They recently debuted their Stance micro-compact 9mm handgun that looks to be a ripe candidate for concealed carry. We're going to review the Savage Arms Stance here today to see if it is something you'd be willing to add to your safe. Let's dive in!
Savage Arms News Coverage on AllOutdoor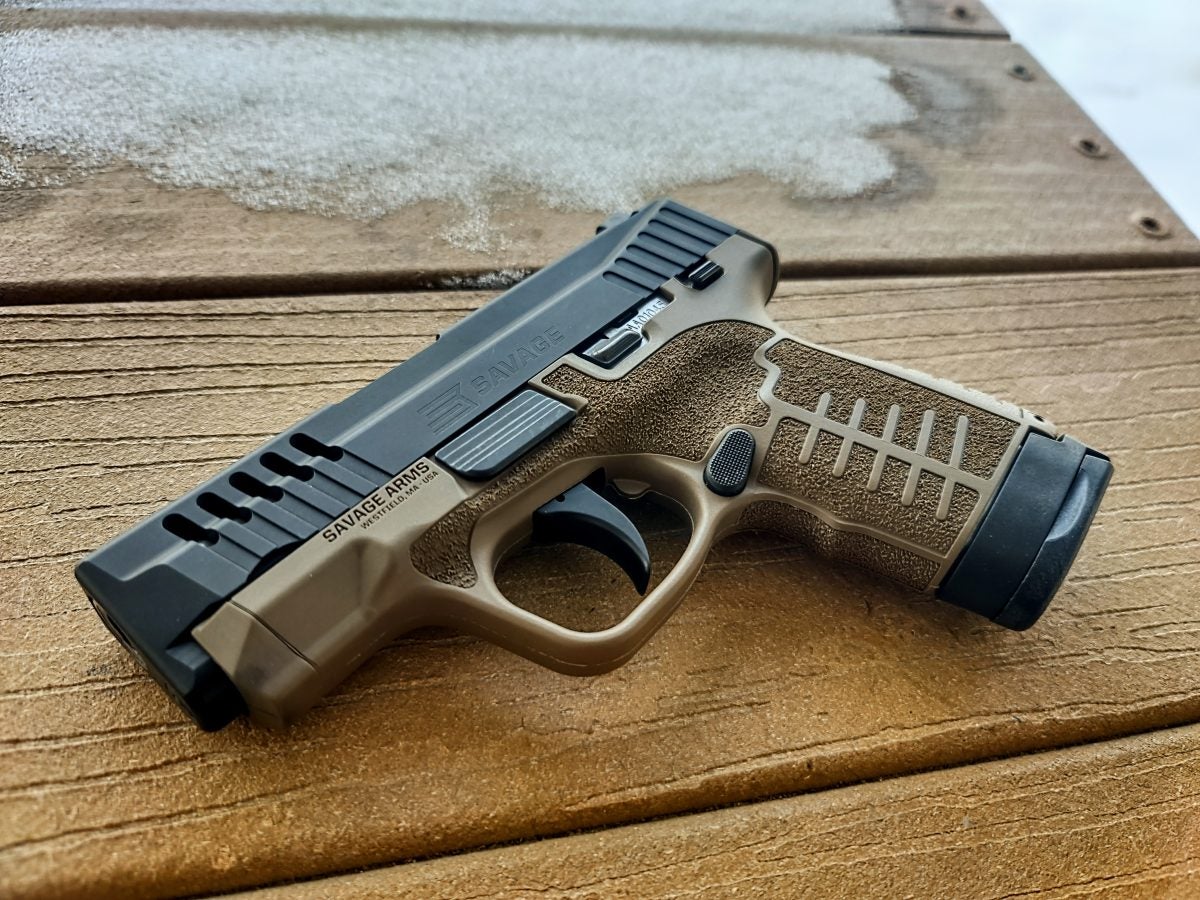 Specifications – Savage Arms Stance Micro-Compact 9mm
The Savage Arms Stance is similar in its 2-dimensional footprint to other carry pistols, but its 3-D proportions might be what sells you on it. The frame and grip envelope a standard 7-round (flush) or 8-round (extended) magazine with texturing that lends itself to superb dexterity in the most frigid of weather. I have had female friends handle this pistol as well, and they too, stated the factory stippling caught your hand well and the grip circumference was not too much for them. Savage Arms appears to have found a happy middle-ground in handling and size. The rest of the specifications for the Savage Arms Stance can be read below:
SKU: 67006
Cartridge: 9mm
Barrel: 3.2" Stainless Steel
Slide: Stainless Steel w/ Black Nitride Finish
Frame: Stainless Steel Chassis w/ Glass-Filled Nylon, FDE Grip
Sights: Snag-Free TruGlo Tritium Night Sights
Magazines: (1) 7-Round, (1) 8-Round
Overall Length: 6.2"
Overall Width: 0.96"
Overall Height: 4.6"
Rate of Twist: 1 in 1:10" RH
Weight: 1.375 Lb
The Savage Arms Stance model that we are specifically reviewing here today is a FDE (Flat Dark Earth) variant outfitted with factory night sights and has an MSRP of $548. Savage Arms offers multiple colors, sight configurations, and laser options for the Stance for consumers to pick from including Black, FDE, and Gray. All of these carry Savage's Lifetime Warranty in the rare event that it was not produced or finished to Savage's typical high standards. Further features and benefits are shared about this pistol in Savage's Press Release statement and spec list below:
Includes (2) 18° interchangeable backstraps to adjust grip size
Ambidextrous Magazine Release, Slide Catch, and Manual Safety
Stippling grip texture for 360° secure fit with finger indexing
Steel slide with beveled front for easy holstering
Ported, wide slide serrations for increased purchase
Short, crisp trigger with short reset and wide, well-rounded face
Removable chassis for interchangeable grips
Easy takedown
Includes (2) magazines and hard case for protection
"The Savage Stance refines the micro-nine into a thin, easily concealable pistol that is built to be both functional in the hand as it is easy to conceal. With its aggressive surface textures, advanced slide serrations and ergonomic grip, Stance is designed to be comfortable when holstered and formidable when it needs to be. There's a new option for everyday carry. Stance is Savage."
First Impressions – Savage Arms Stance Micro-Compact 9mm
When I first popped open the box of the Savage Arms Stance I have to admit I was authentically impressed. Before receiving this pistol for review, I was aware it was on the market, but I had not done a nerdy, deep-dive into what it was. I liked that fact that it comes with 2 different backstraps so you can tailor the contours of the grip to your liking. Also, the stippling/texturing was moderately aggressive so when it is sinisterly cold in Minnesota or my palms are sweaty, I can still maintain ample purchase to control this firearm.
The extra wide and deeply cut slide serrations not only look cool, modern, and somewhat futuristic, but they also do a phenomenal job affording you a solid grip to rack and manipulate the firearm. Overall, the handling out of the box for the Savage Arms Stance was great so I looked forward to sending some lead down range to realize how it truly performs.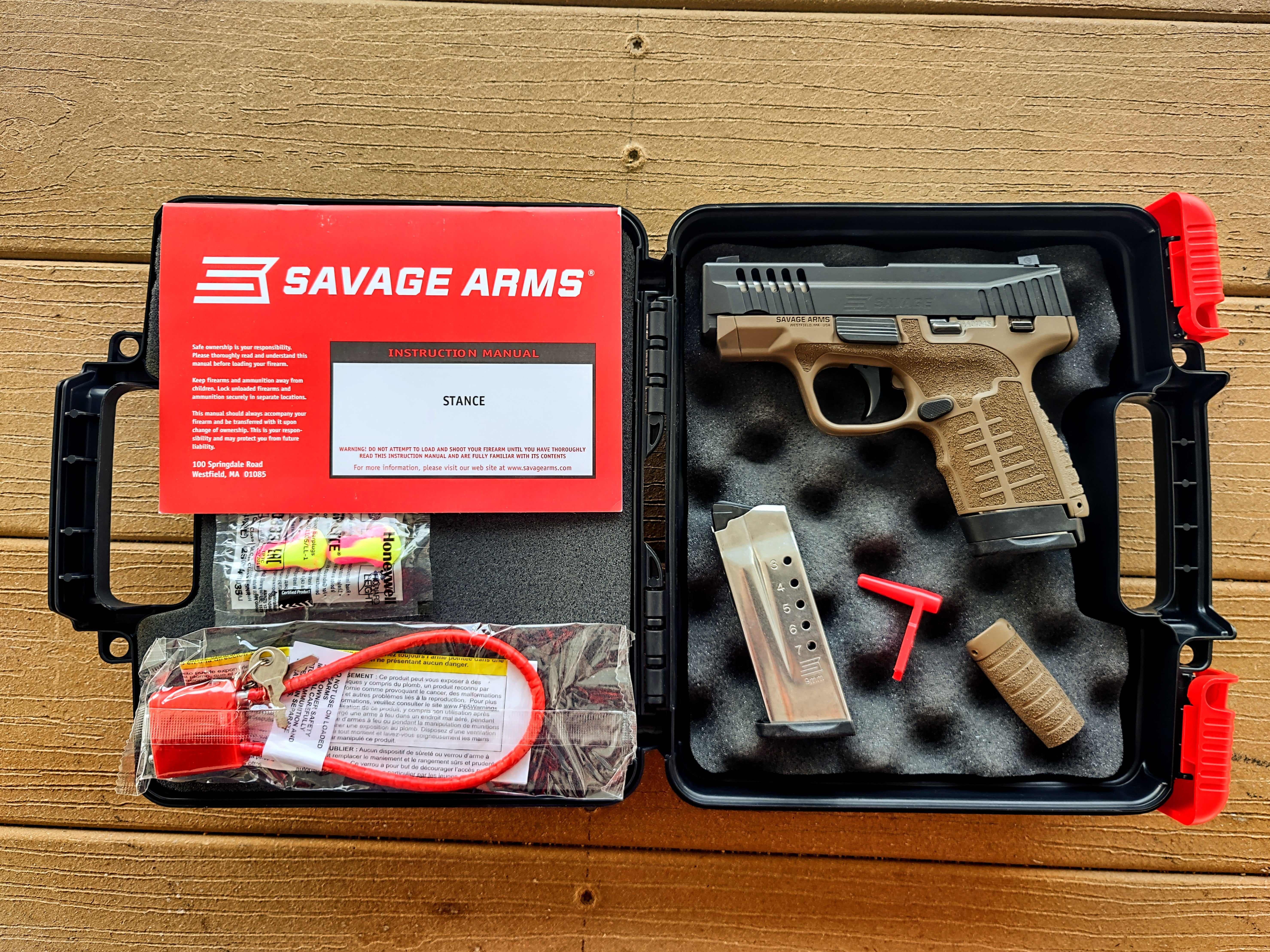 Range Time – Savage Arms Stance Micro-Compact 9mm
Once I got to the range I had a much better understanding of the Savage Arms Stance and what it was all about. The flush fit magazine is a little too short for my liking. You need to have a strong attention and focus to your grip in order to maintain a decent grouping with the 7-round, flush fit magazine. The 8-round extended magazine grouped really well, is much more comfortable, and easy to control. I was more accurate and it was a lot easier to maintain a positive grip.
Also, I'm more of a fan of the aggressive stippling and texturing patterns than I initially thought after shooting the Savage Arms Stance. I appreciate the dexterity and feel of this pistol, but honestly they could have gone even more aggressive to my tastes. All of the deep slide machining cuts look cool (even though the barrel is not ported), and they also add adequate grip for racking and manipulating the pistol.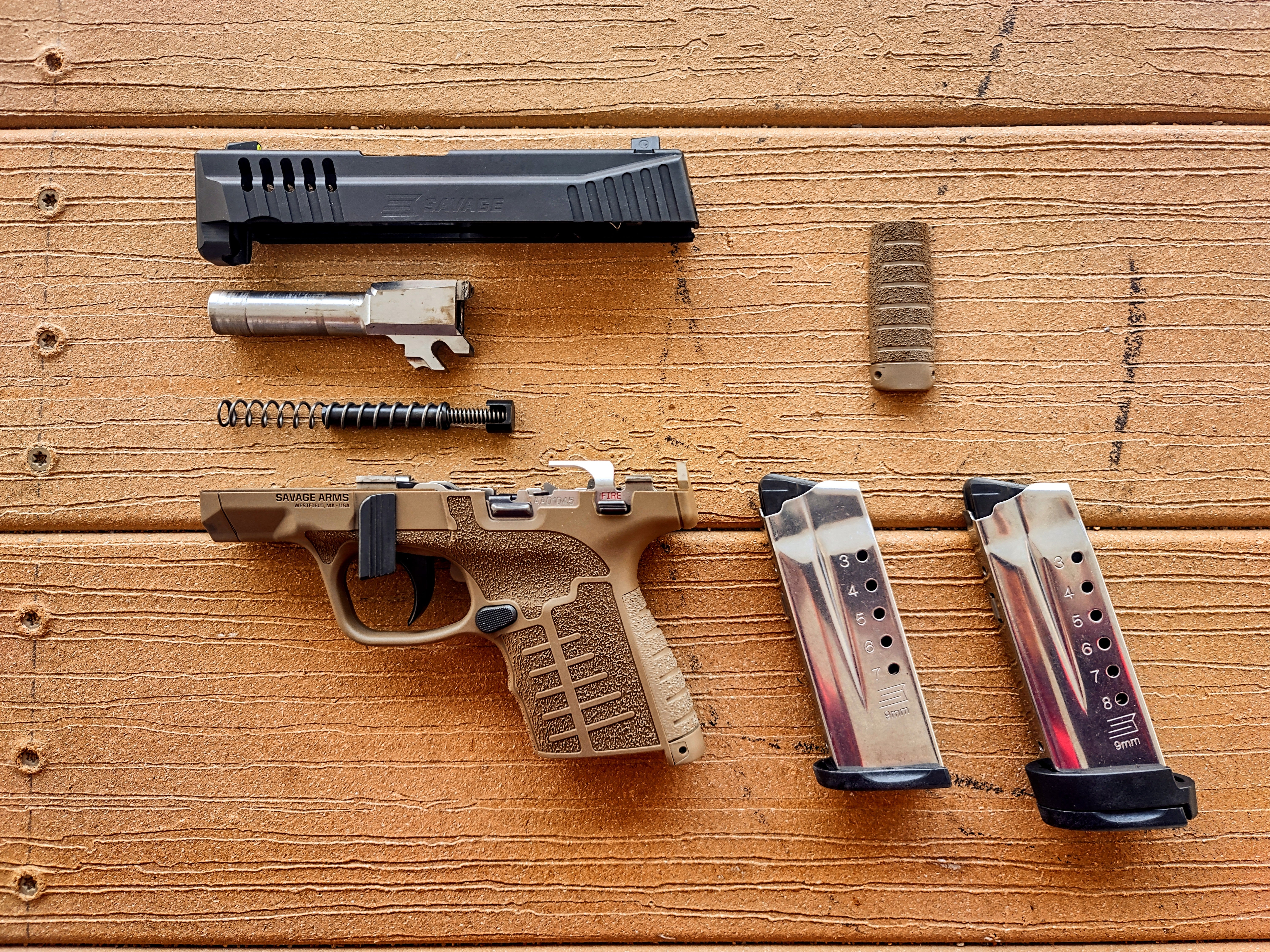 The pistol is outfitted with factory night sights which appeared well during the day especially with the snowy backdrop of Minnesota. When the sun comes out it can be incredibly blinding with all the white snow and the night sights still were easy to see and gave a great sight picture.
The trigger is a bit heavy, but it breaks cleanly. When it comes to defensive pistols I view them through the lens of "they are not a precision tool." We are not bullseye shooting in a stress-free environment. So, a trigger that leans towards ~6 Lb in pull weight is of no concern to me. It is better to have some definitive take-up on a carry gun than to have one so light that it goes off when you are not ready.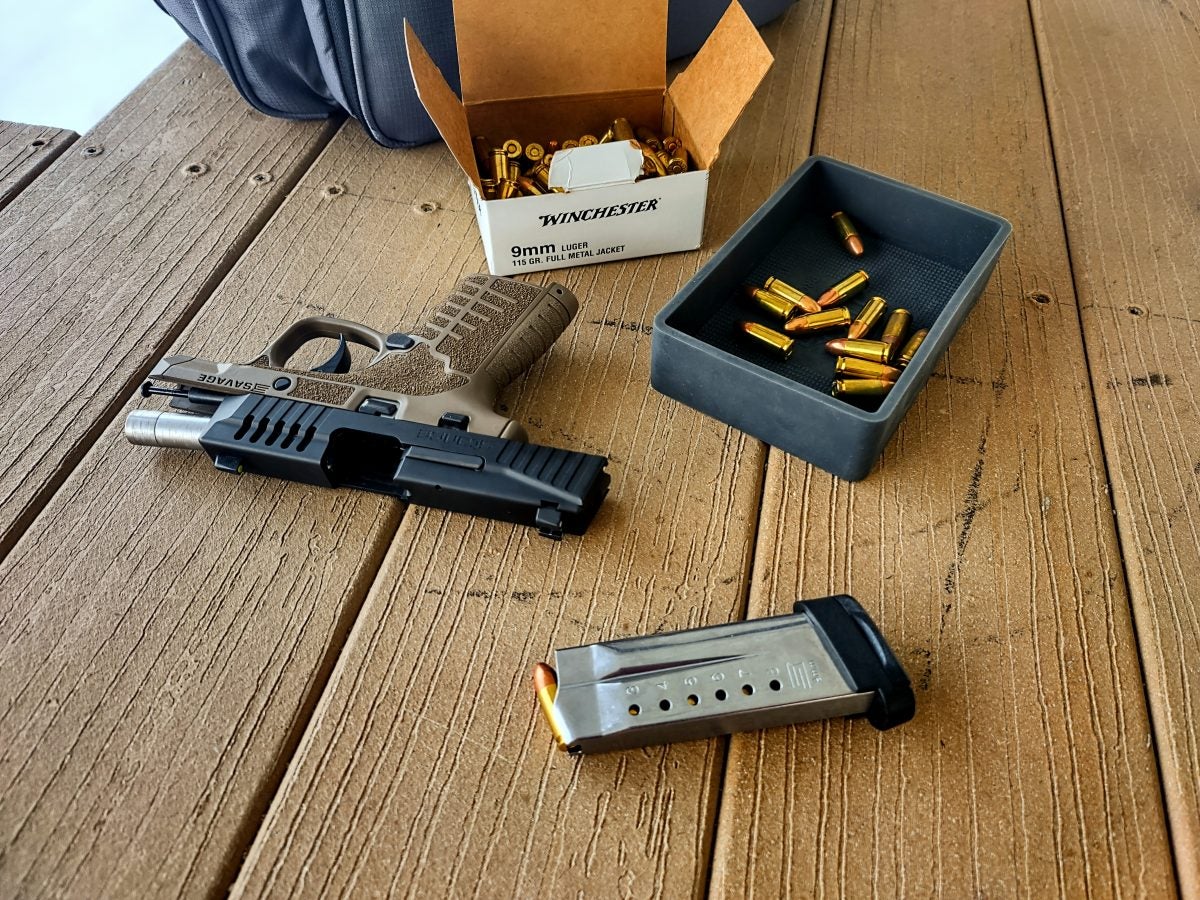 Field stripping the pistol for maintenance is pretty simple which I appreciated a lot. You simply remove the magazine, flip down the take down lever, and the slide strips off without the need of having to pull the trigger. Then, if you are accumulating aggressive debris on a range day or need to troubleshoot the firearm for any reason, it is very easy to dive into the guts and diagnose the issue.
Final Thoughts – Savage Arms Stance Micro-Compact 9mm
So, what are my final thoughts on the Savage Arms Stance?… Overall, the gun ran flawlessly and functioned perfectly except for 2 rounds of 9mm that failed-to-fire from a quite tarnished package of Winchester white box 9mm. So, I would more than likely be willing to attribute that failure to the old tarnished ammo then the firearm itself because it ate the rest of that same ammo just fine. I loved the stippling and handling of this pistol as well as the sights Savage chose to outfit the Stance with. The only other suggestion I'd like to see on the Savage Arms Stance is an optics-ready version – which I would assuredly guess – is soon on the way. For anyone who is looking to add another concealed carry pistol to their fold, the Savage Arms Stance looks to be a great contender. I would definitely consider it.
In closing, I want to say thank you to Savage Arms for allowing AllOutdoor and myself the opportunity to try out their NEW Savage Arms Stance Micro-Compact 9mm. That is greatly appreciated. Also, we would like to know what all of you guys and gals think? Do you believe that the Savage Arms Stance Micro-Compact 9mm is something worth spending your money on? As always, let us know all of your thoughts in the Comments below! We always appreciate your feedback.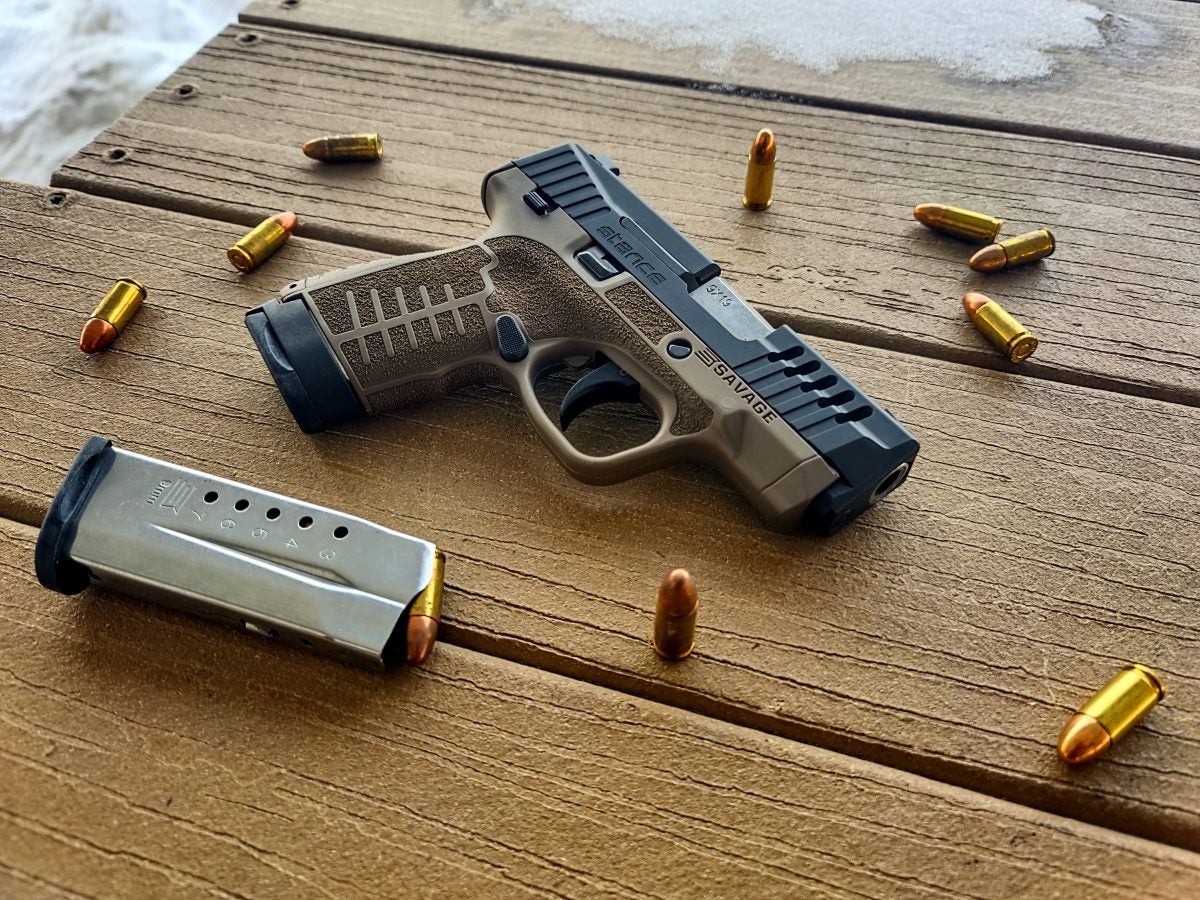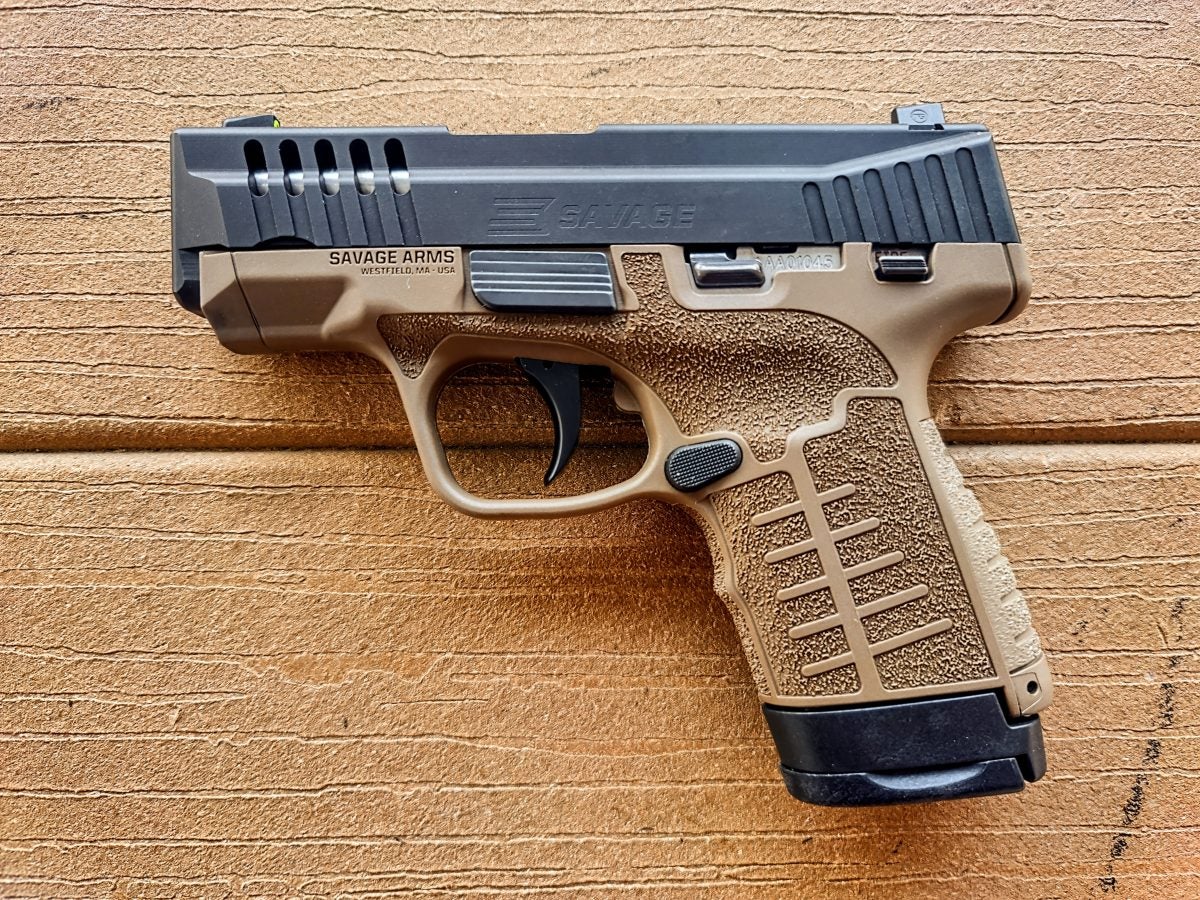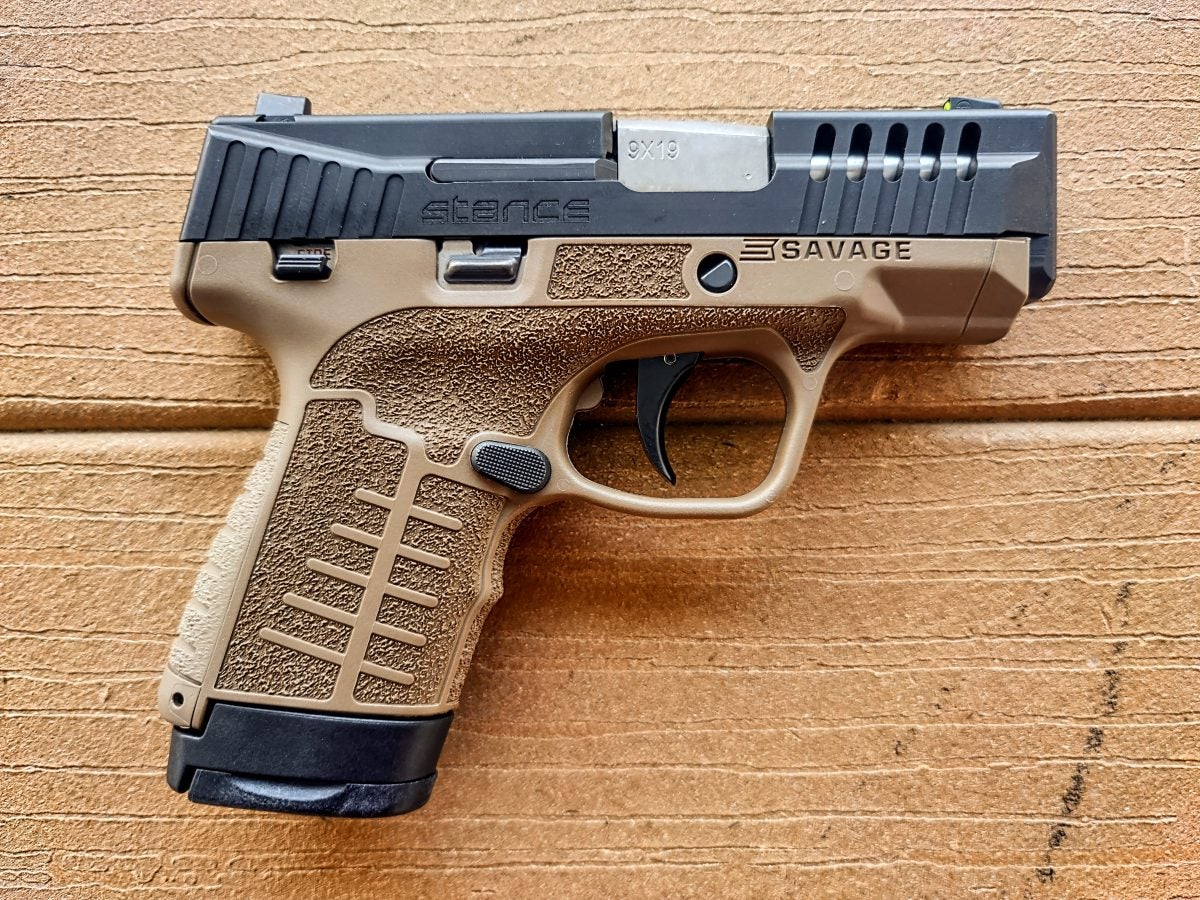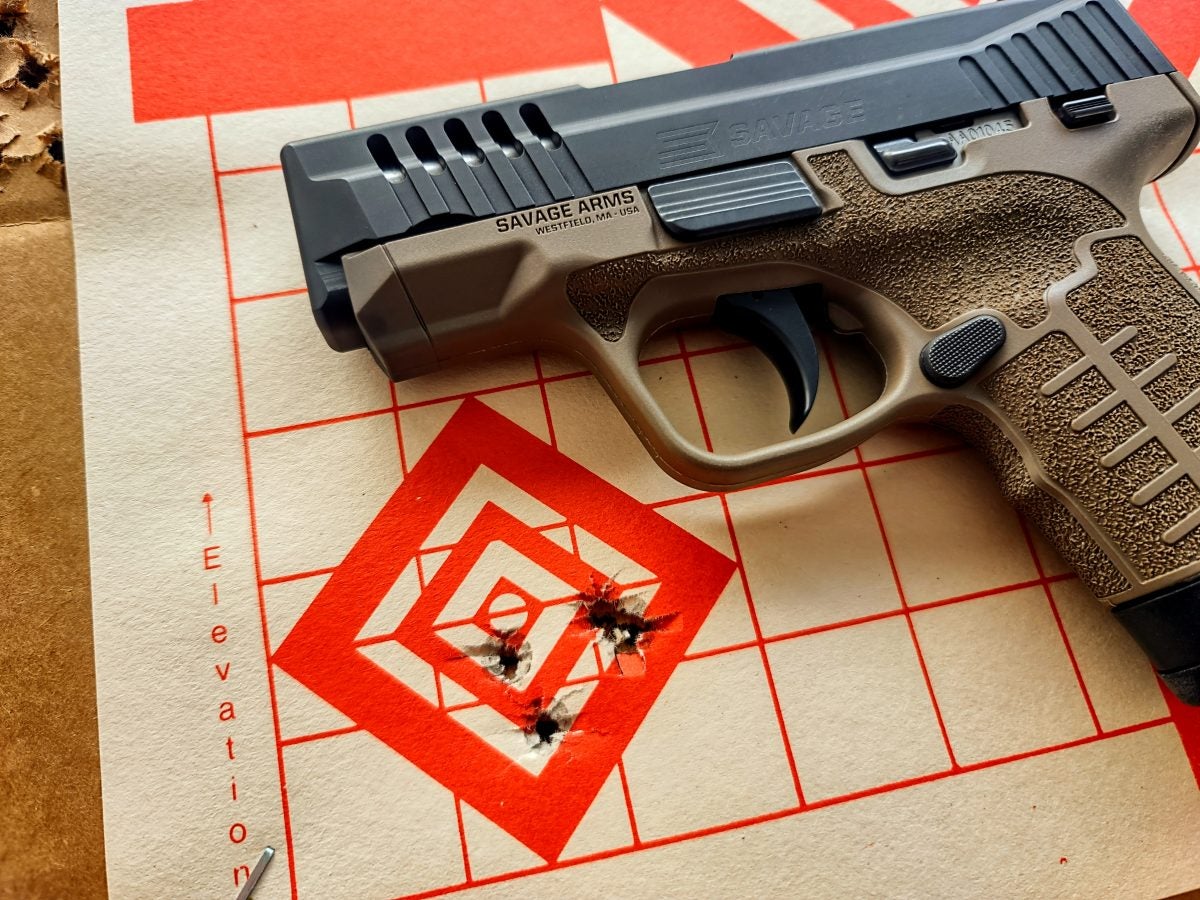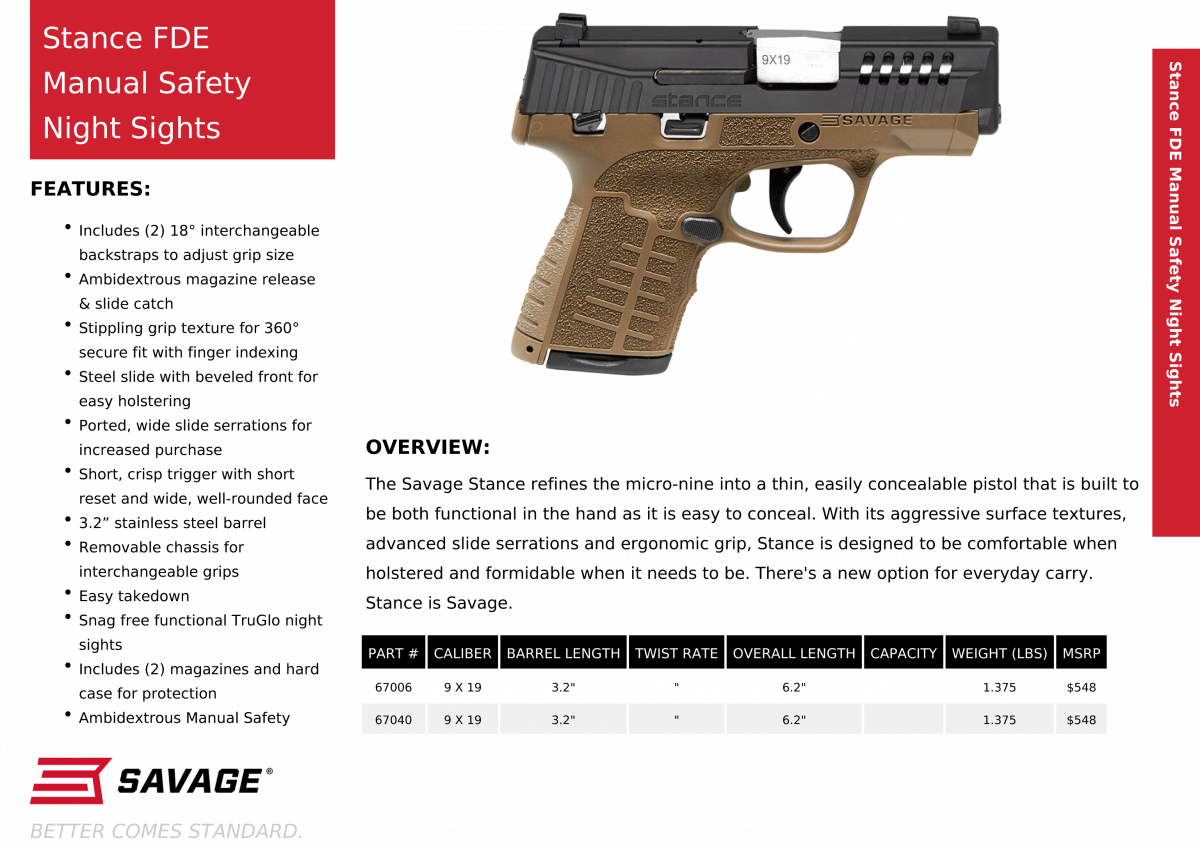 The post AllOutdoor Review: Savage Arms Stance Micro-Compact 9mm appeared first on AllOutdoor.com.