Whether you're a master chef or you're the type that likes instant and easy meals, we can't deny that preparing food in an organized and well-laid-out kitchen is the dream. Doing anything in a messy, cluttered space just leads to chaos and confusion. So if the kitchen is the heart of the home, let's also make sure that it is an organized and clean space.
Not only will you be happy to prepare food and cook in a clean organized space but you will find yourself wanting to spend more time in the kitchen if it is a place of tidiness and order. Here are some awesome quick and easy organization ideas for the kitchen.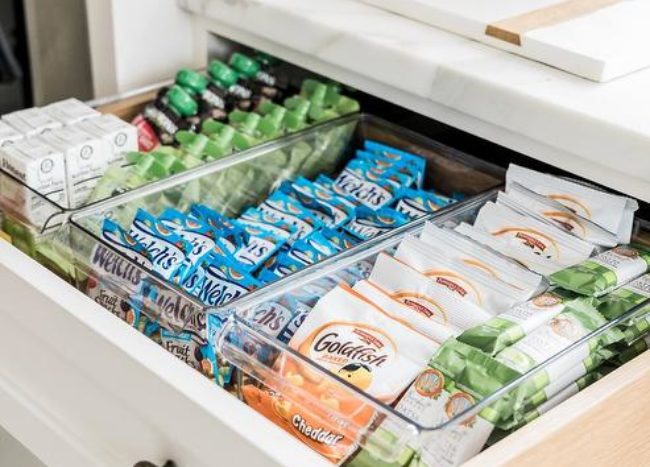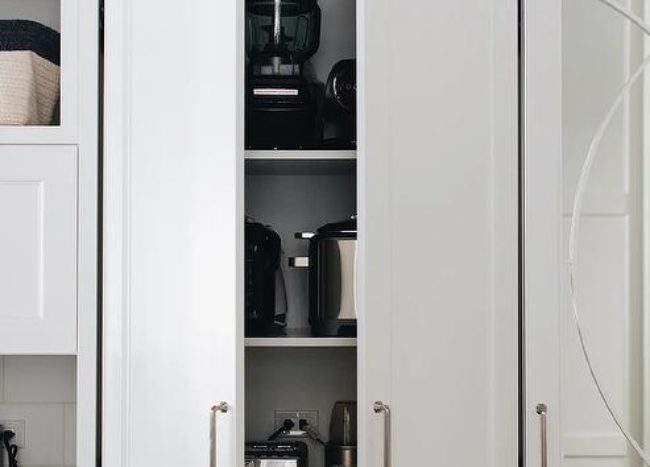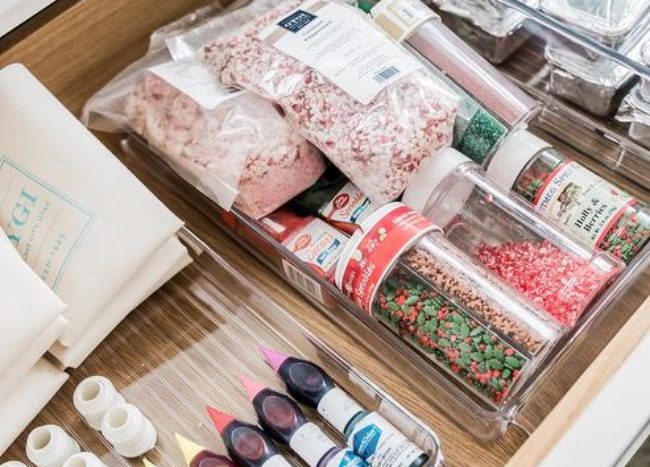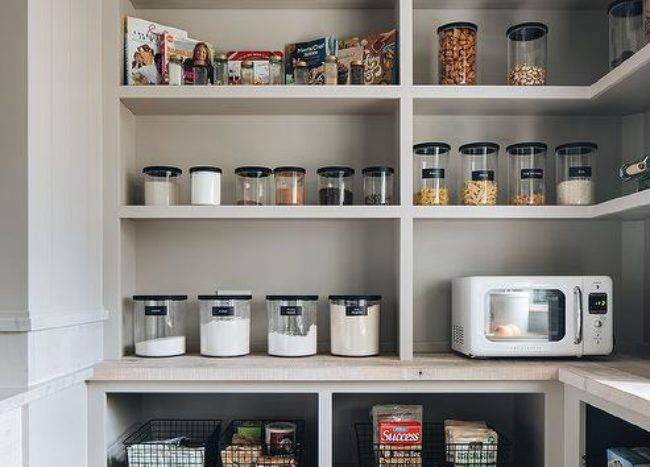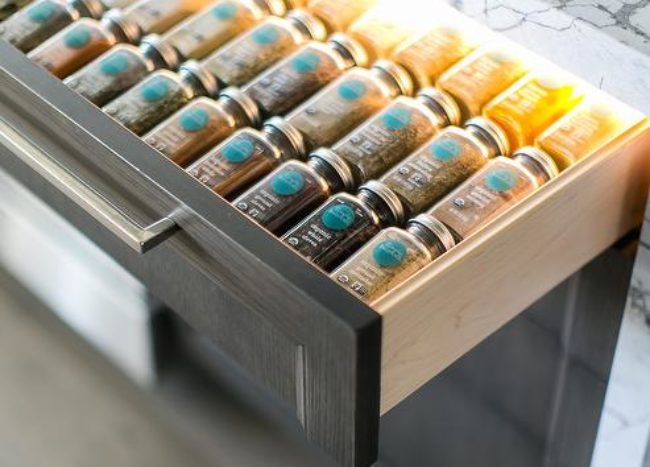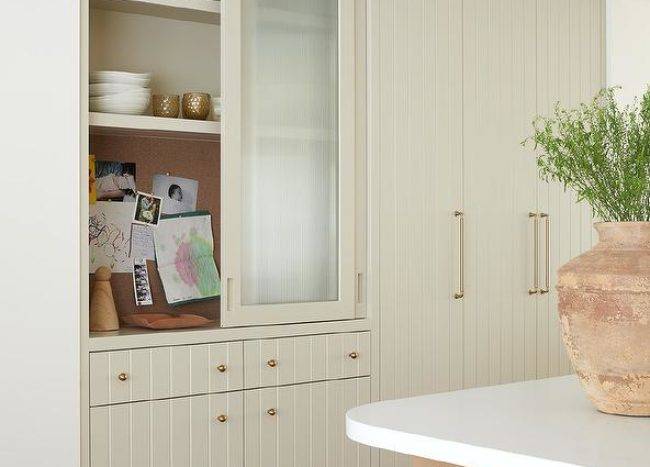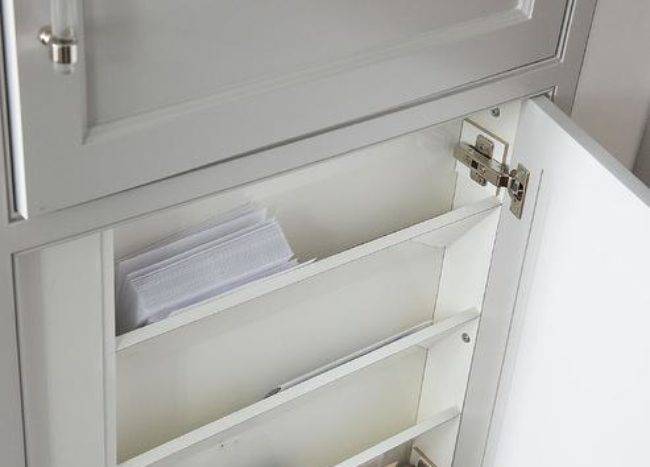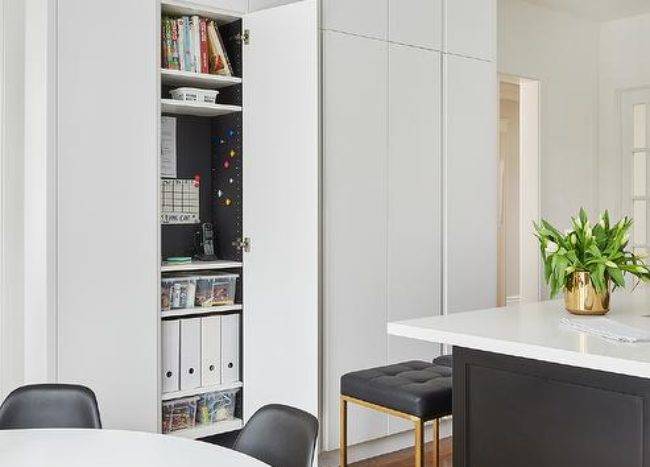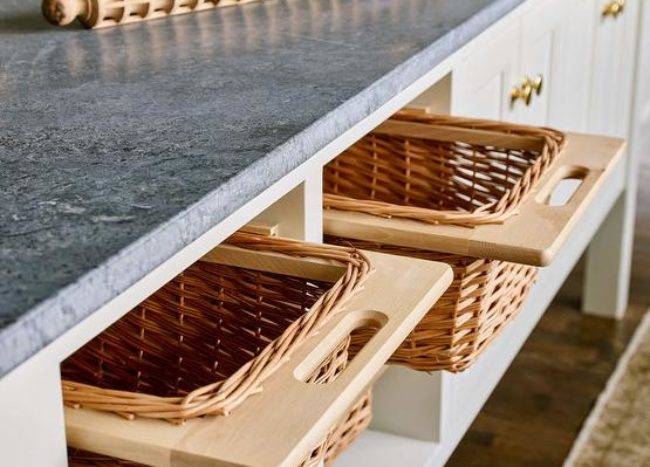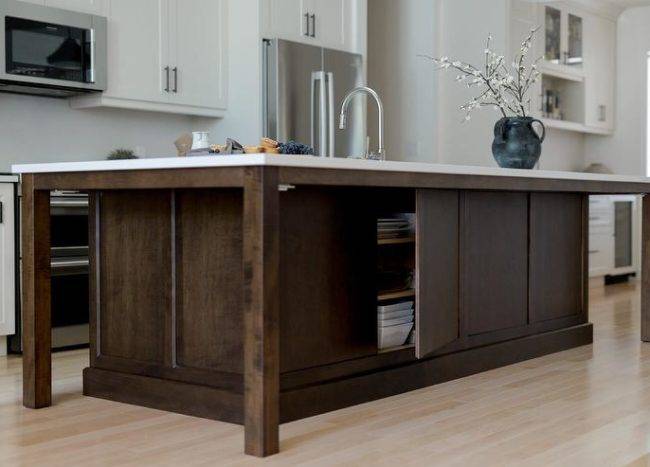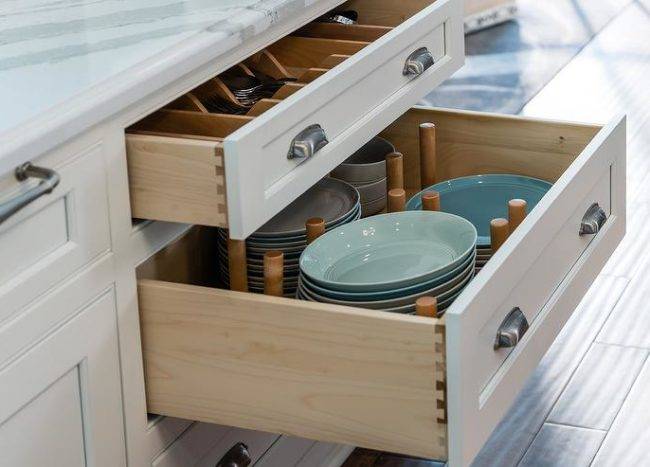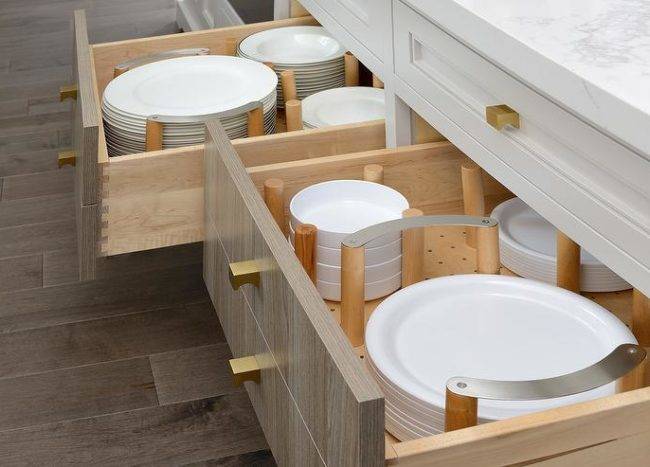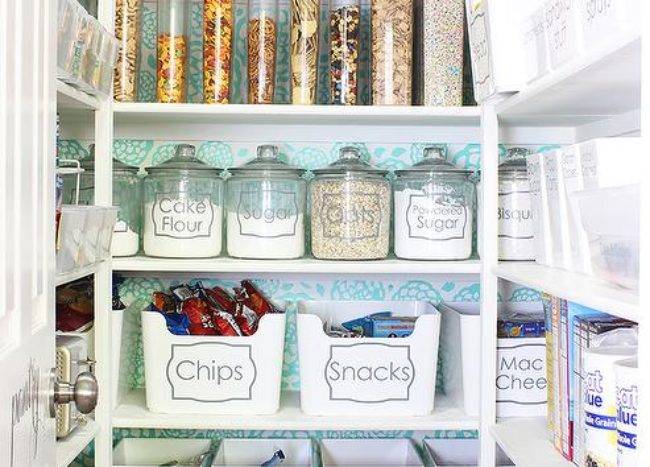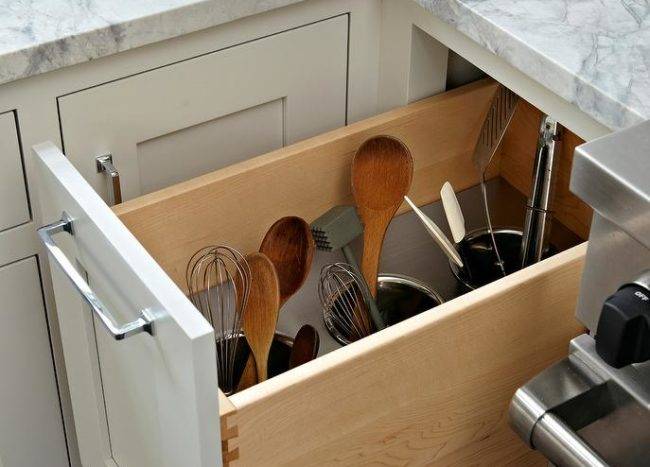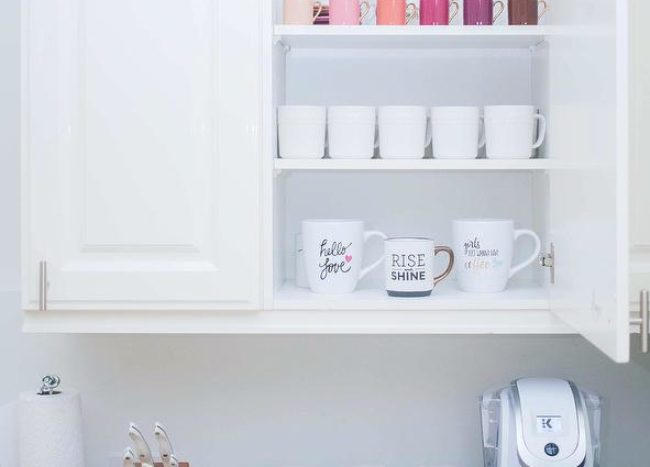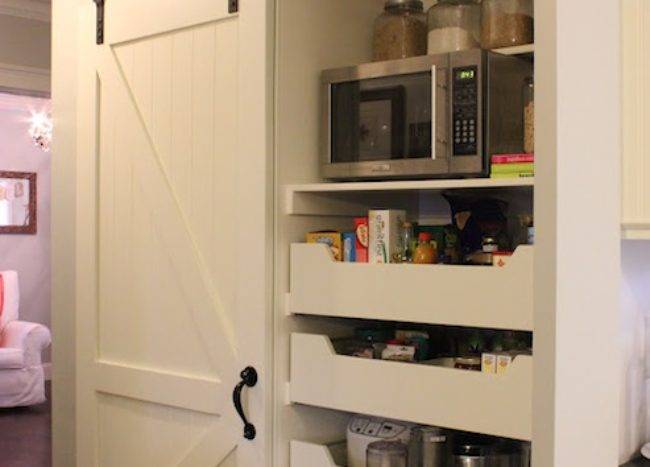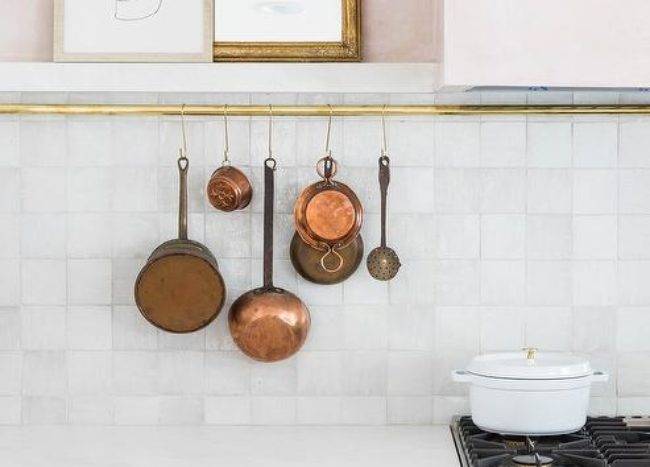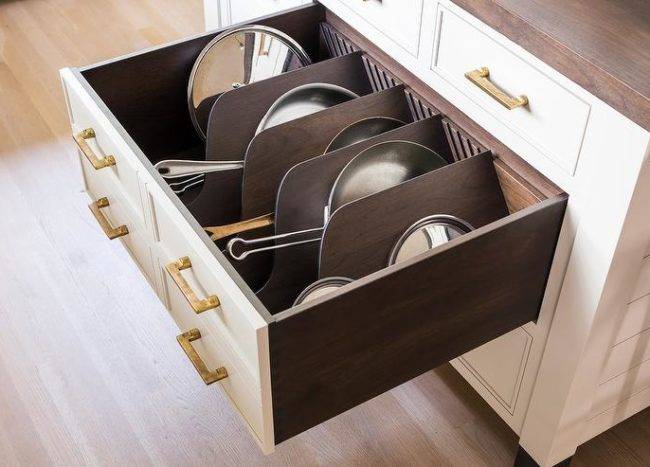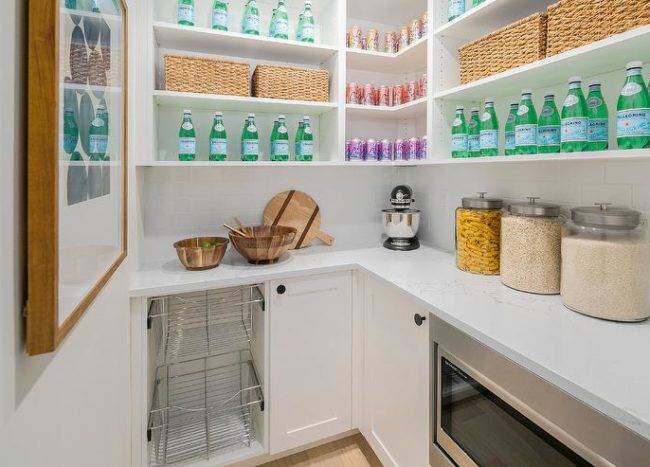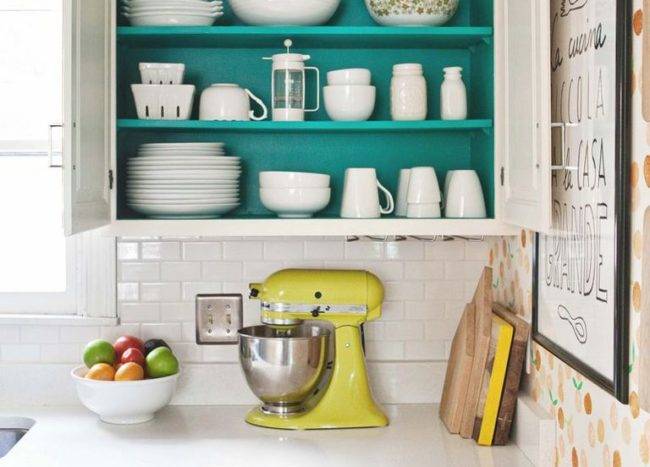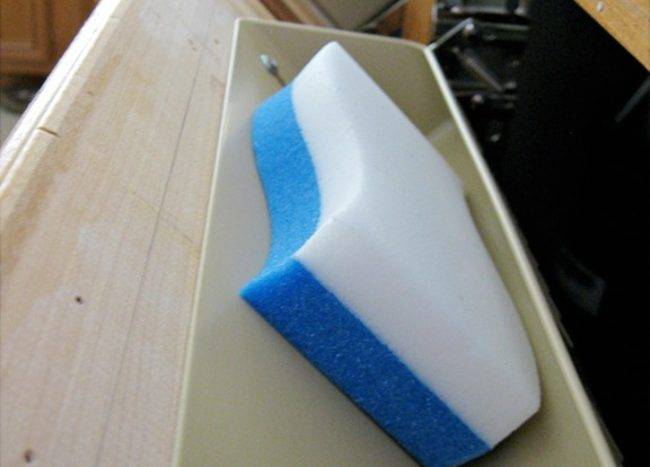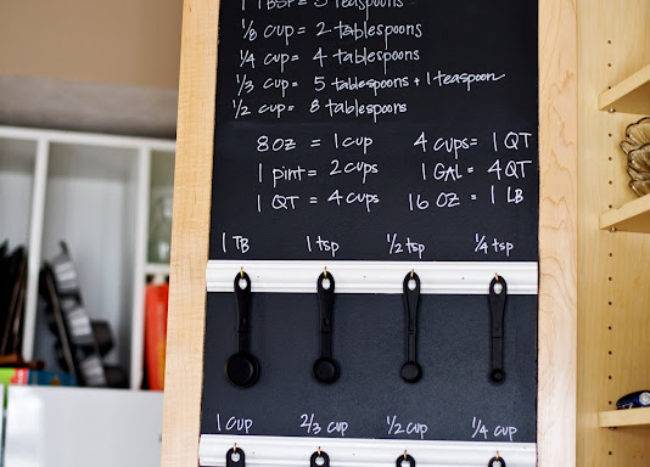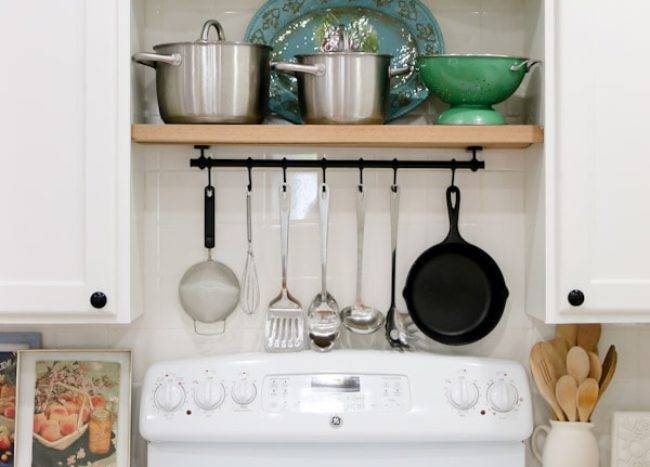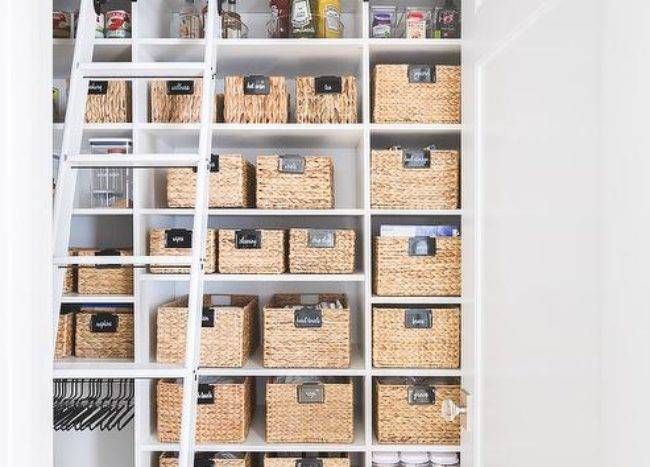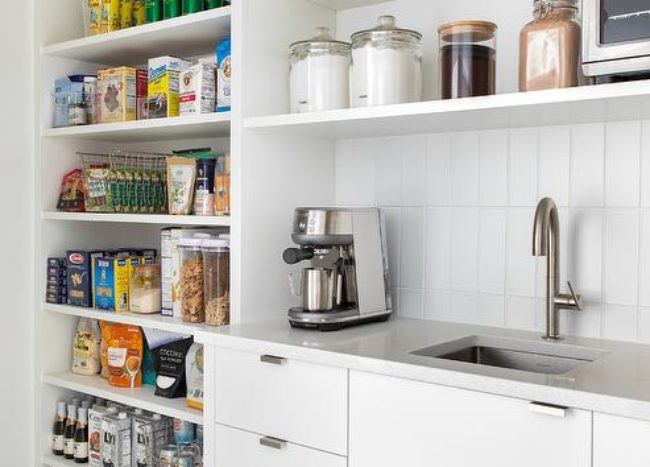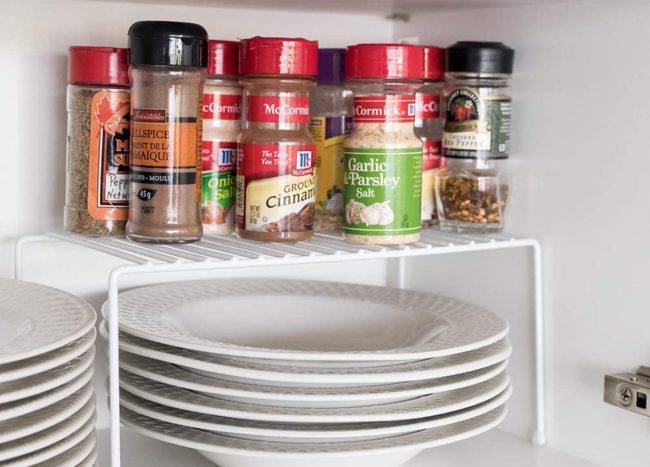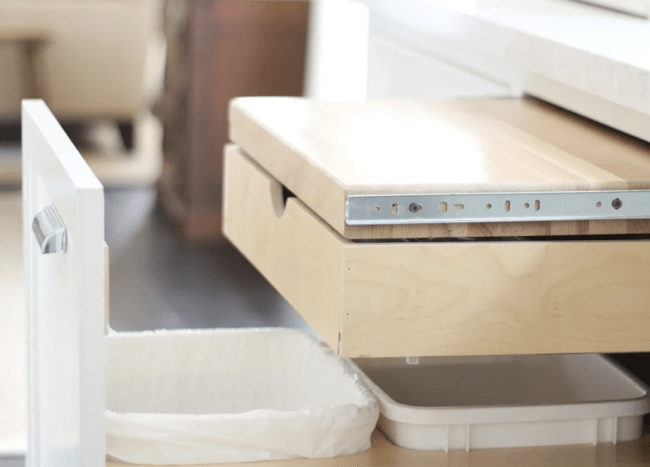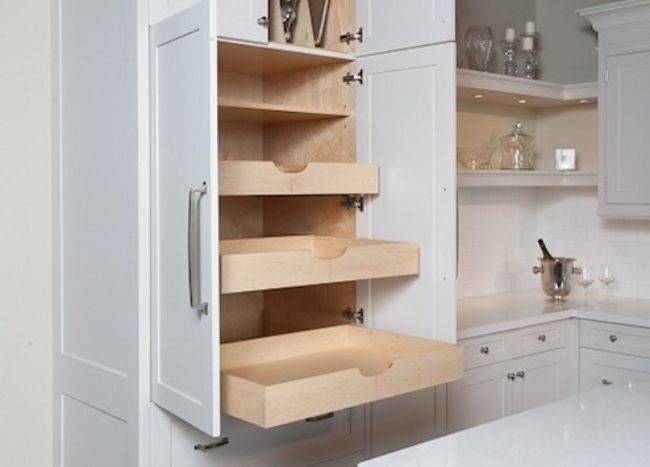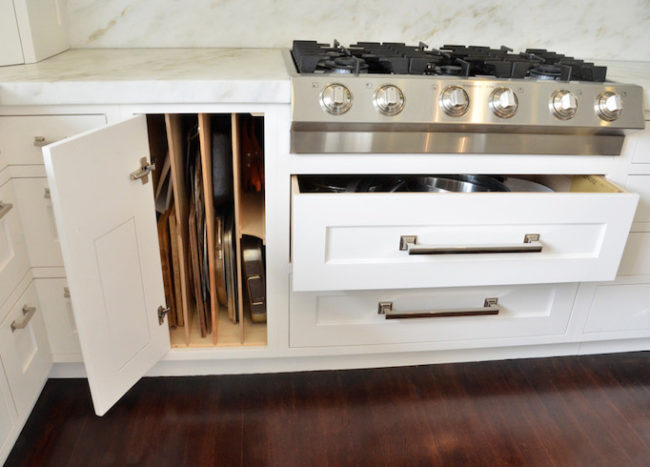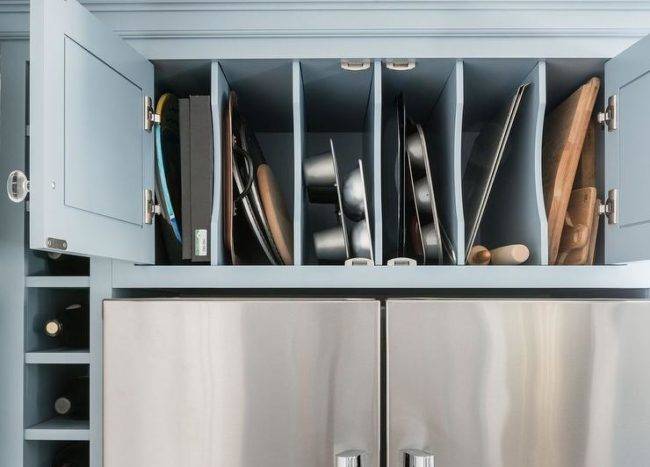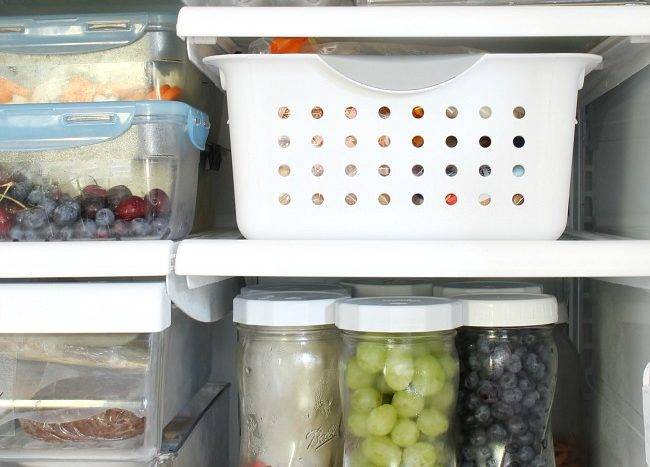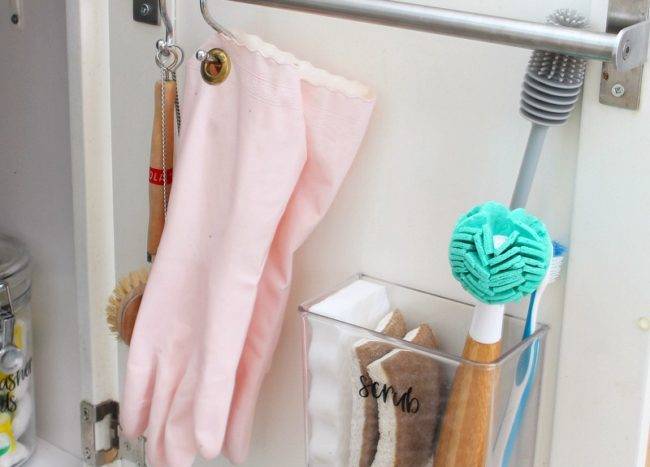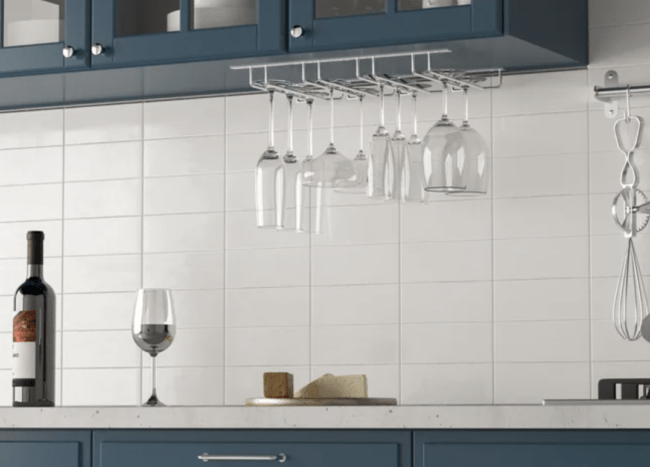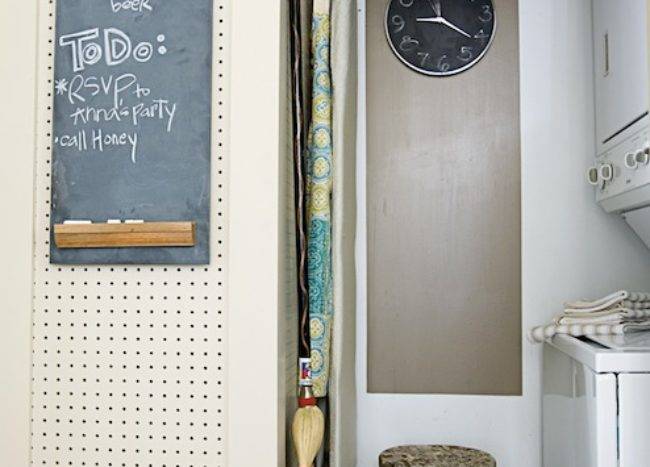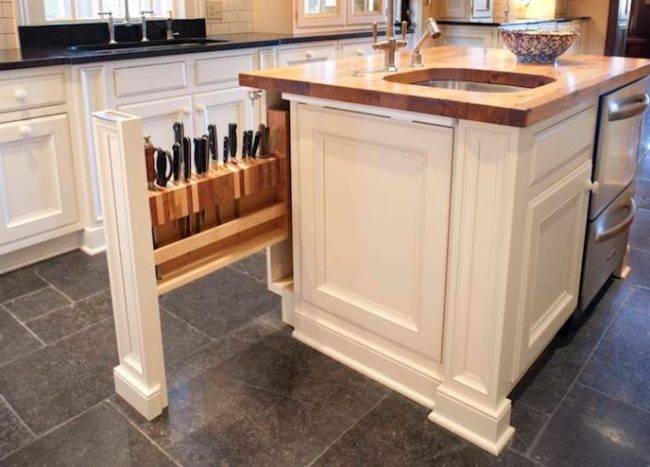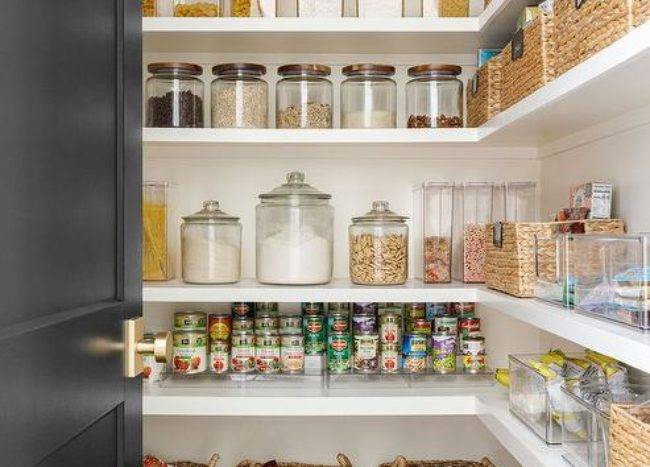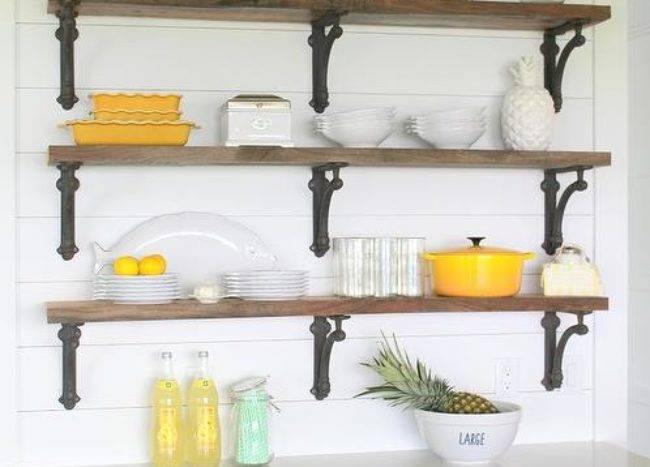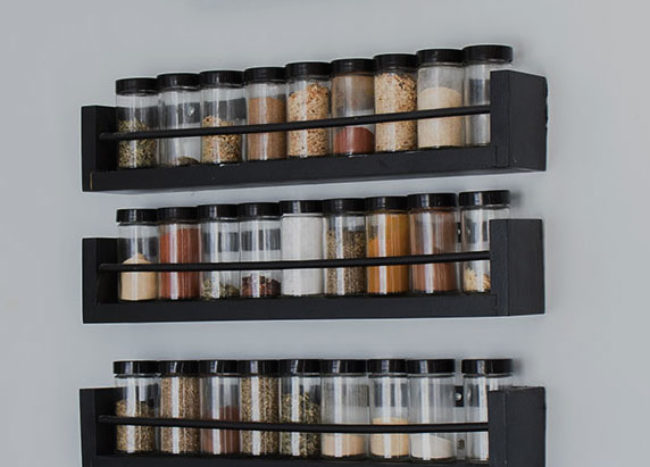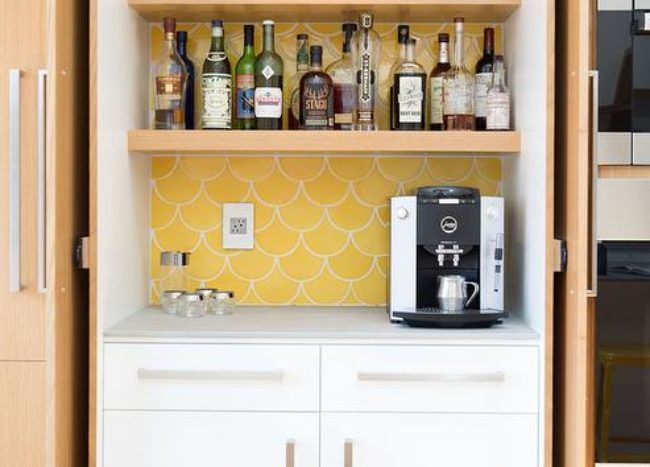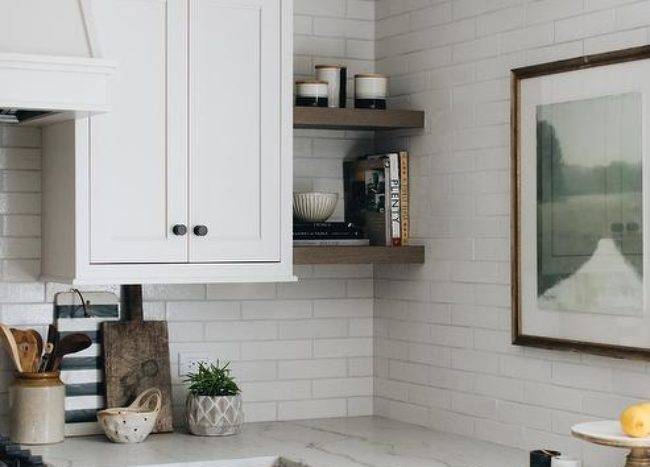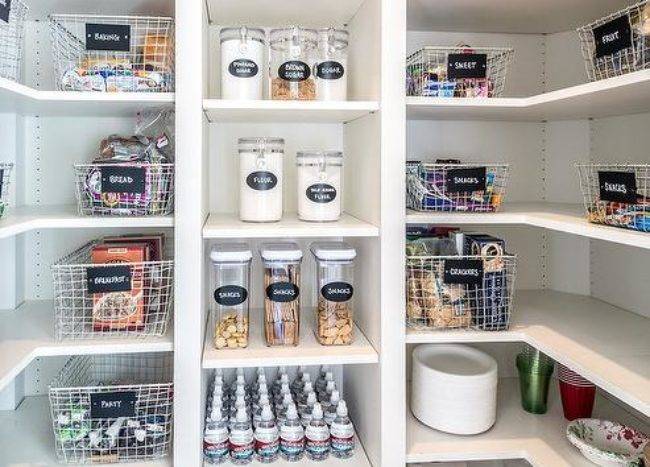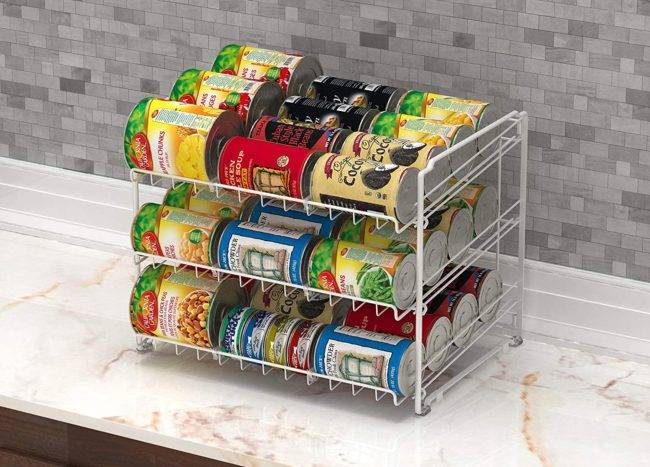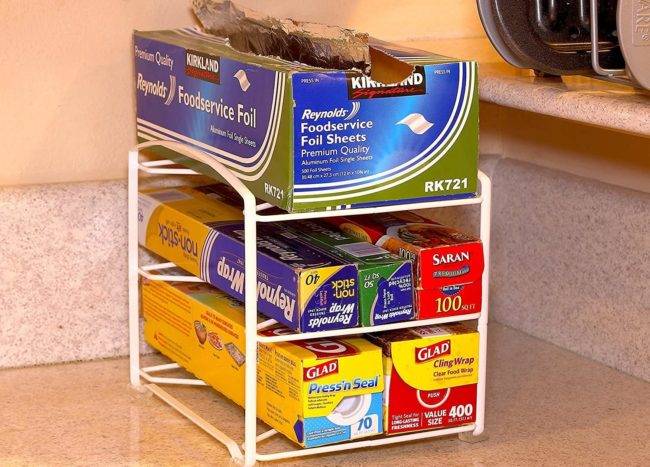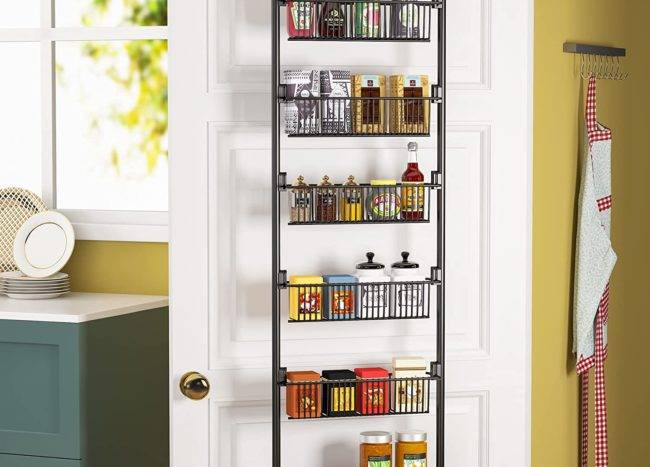 Snack Drawers
Don't clutter your pantry with tiny snacks. Keep your snacks organized in your cupboard drawers instead. You can get well-made plastic bins for your pull-out drawers that are made to hold all your small-sized package snacks so that you can leave your pantry for larger items that need to be stored.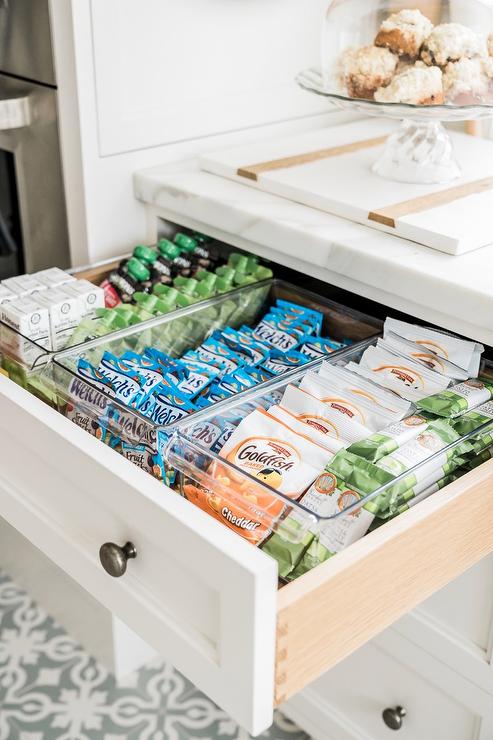 You can also do a baking supply drawer, too!
You could really apply this concept to any set of materials or supplies that you use in your kitchen. An organized drawer for any set type of things is a great idea. Drawers are easy to organize and can be kept clean with plastic bins for set things.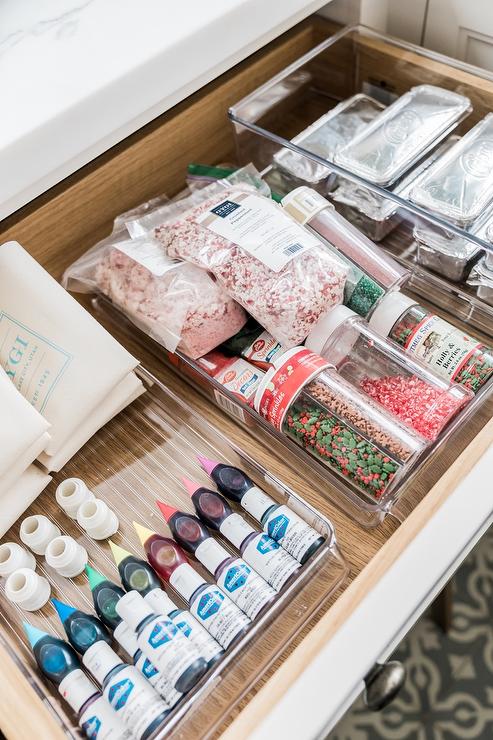 Appliances Cabinet
Designate a special cabinet specifically for appliances. Not only will this keep your counters clutter-free, but you will also have all your small appliances in one easy-to-find place. This is important for the organization of your kitchen but also frees up more counter space for everyday cooking and preparing of food.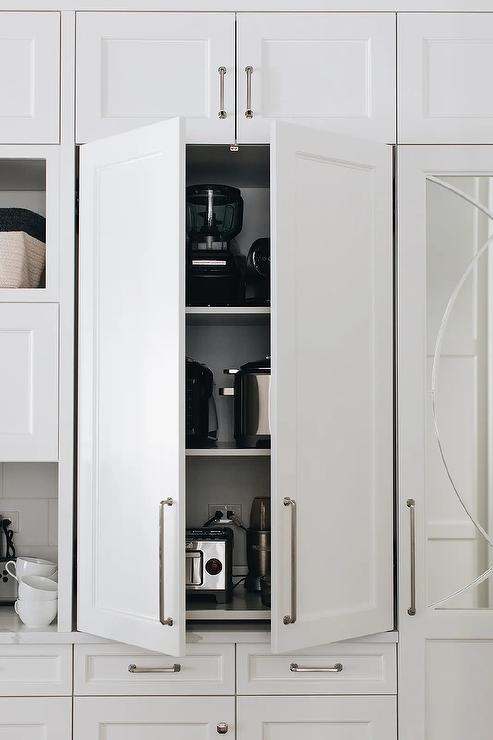 Use Clear Jars in the Pantry
For items like spices, flour, kinds of pasta, etc, use clear jars with labels. This will make items easier to see and find for quick access. Your eyes will be immediately drawn to what you are looking for rather than having to look for labels and text on bags of food items just thrown in a pantry.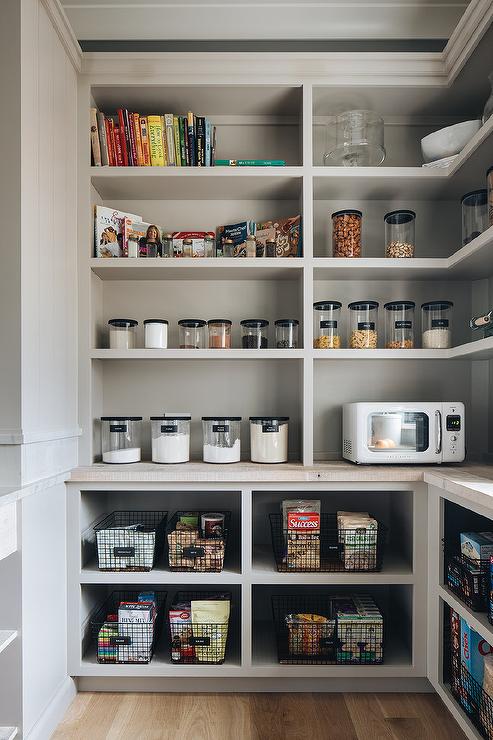 As well as jars, you can also use large plastic buckets or totes with labels to store snacks and other individual items.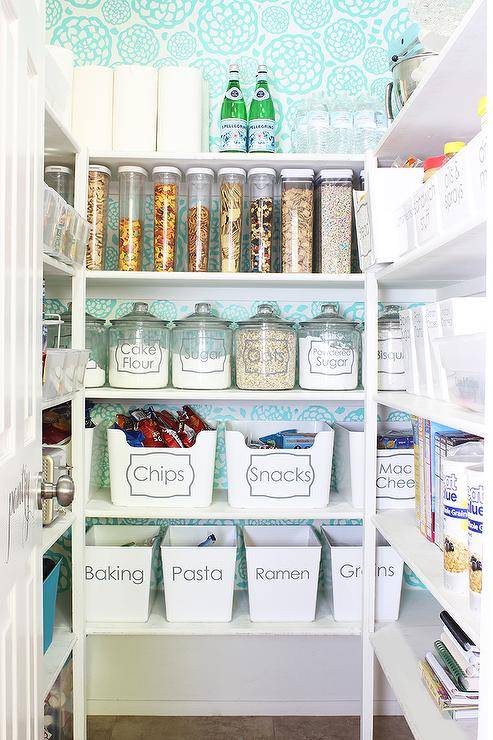 Spice Drawer
Use a spice drawer instead of placing spices in the cupboard. Not only will this keep your spices organized but they are easier to find and read this way. Burying spices in the back of a cupboard never helped any chef. You can build or buy orgnzier to suit what you already have or buy a whole system ready to go that will come complete with pretty matching jars that you can empty your spices into.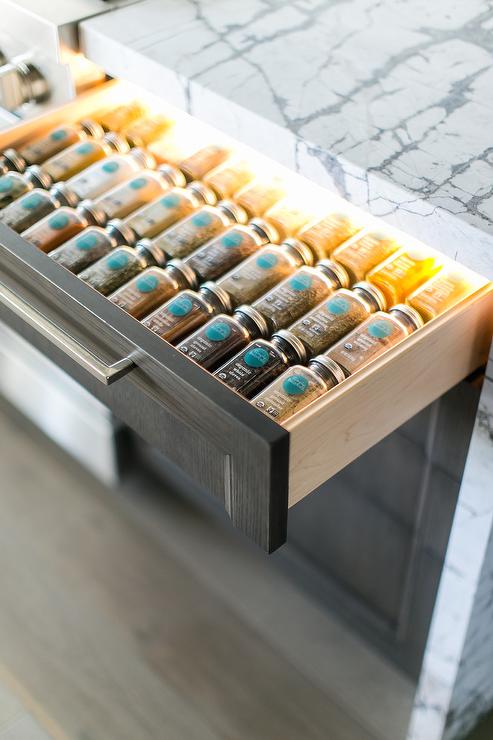 Wall Mounted Spice Rack
If a spice drawer isn't your thing, or maybe you can't spare any drawer space you may want to opt for a wall-mounted spice rack. Just make sure that it is hung near the stove. This will help keep you organized and tidy when cooking.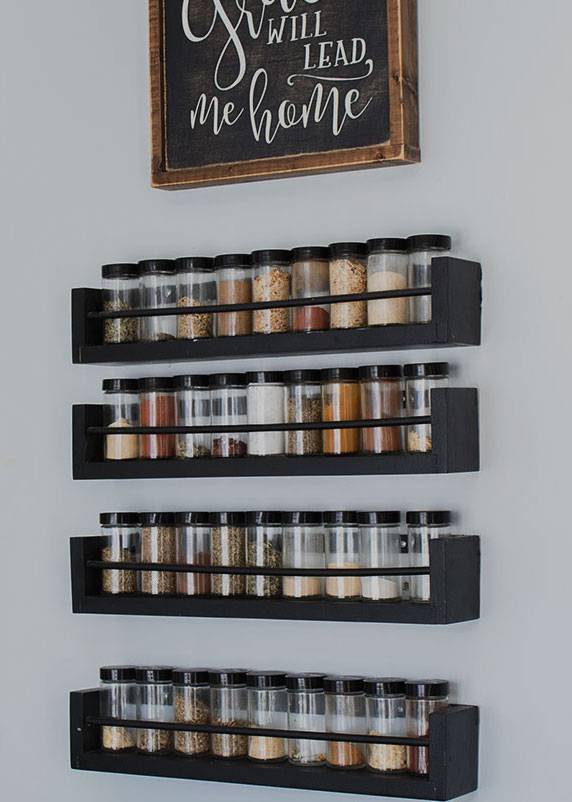 Hidden Command Center
Part of staying organized is having a calendar readily available and a command center and in most homes, the best spot for this is the hub of the home and that is the kitchen. The downside to that is command centers can look quite messy and cluttered so find a spot in your kitchen where it can be hidden. I like the idea of storing it behind a frosted glass cupboard.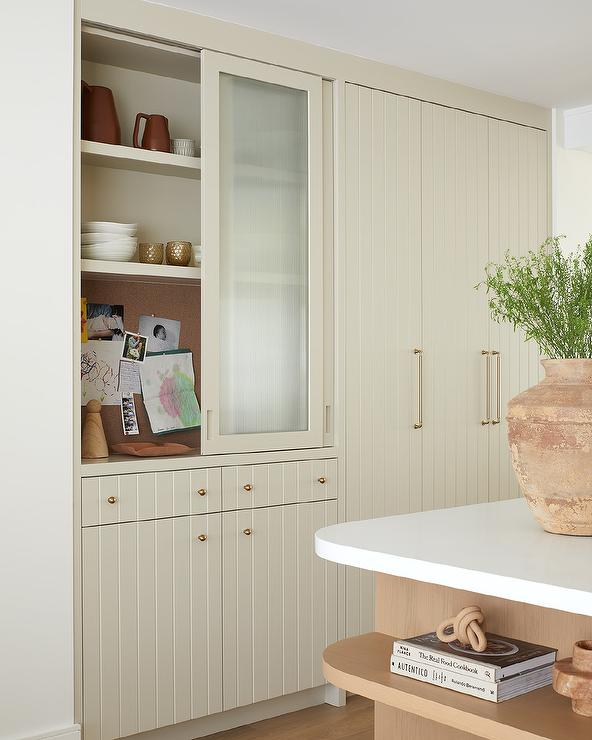 Hidden command centers are also great spots in tall skinny cabinetry.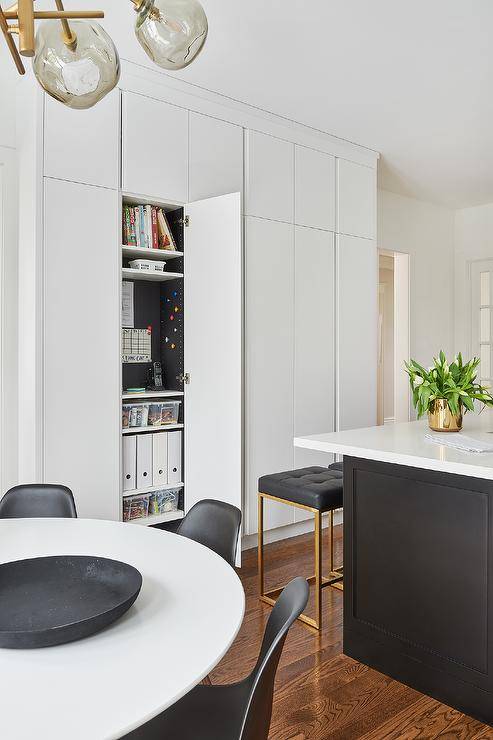 Use Pegboard
When constructing your command center don't forget to use pegboard. It is so handy for hanging things up and is sure to help you keep organized.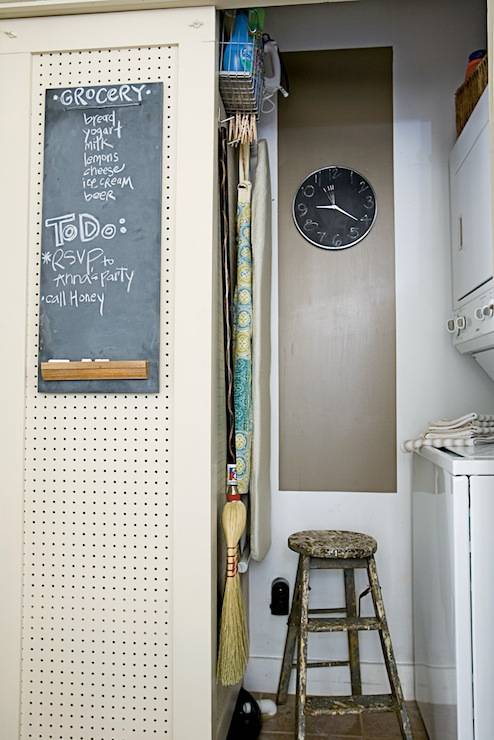 Hidden Mail Center
The hidden command center is also a great spot to store bills and important mail but you can take this idea a step further and have a designated spot just for the mail. This is a great idea here for a thin cupboard — install slanted mail holders directly inside the cupboard or for deeper cupboards, you could put this design on hinges so it opens to reveal more storage behind it.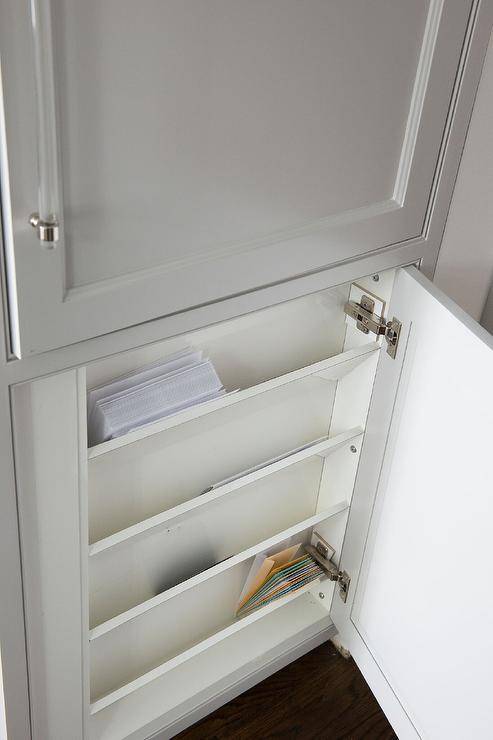 Pull Out Veggie Bins
Ditch the counter fruit bowls and store your fruit and veggies in neat stowed away baskets under your counter or island. The ones pictured here a specifically made for this purpose with their modern wood handles but you could certainly use any type of basket that you like.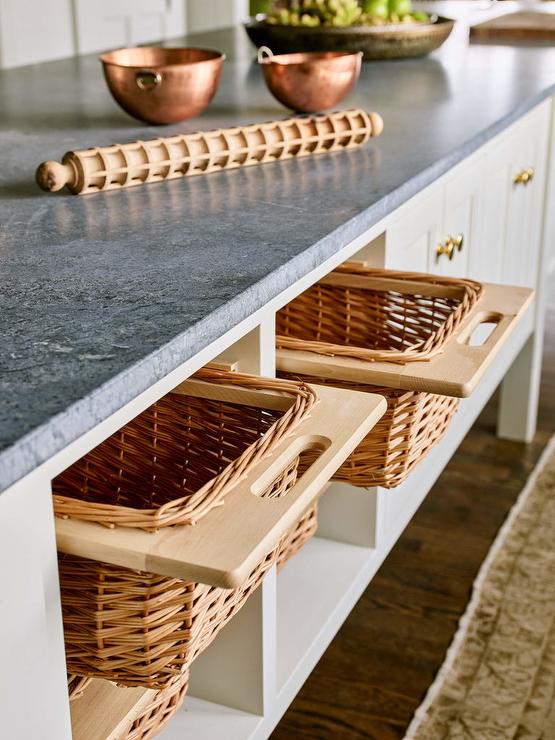 Store Items in the Back of Your Island
In some cases, organizational issues in a kitchen come from a lack of space. If you have an island or a considering installing one make use of the space on the backside of the island by installing hidden cupboards. This is a fantastic way to give your kitchen more space without sacrificing style.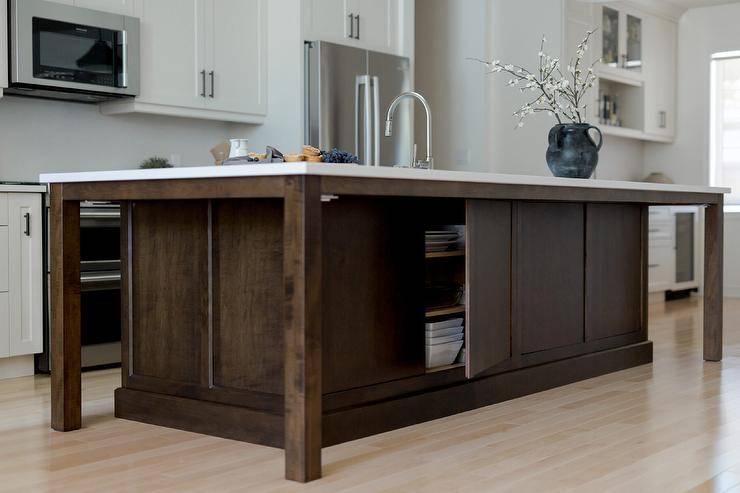 Peg Plate Dividers
Keep plates and bowls organized in a drawer with peg plate dividers. If you're designing a new kitchen you can get these built right into your drawers or you can purchase removable ones.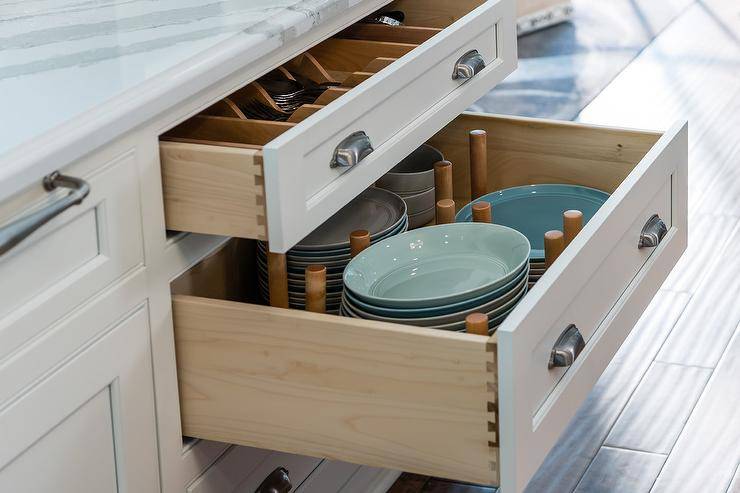 You can get peg dividers in a variety of shapes and sizes and this type of organization system can be completely customized to suit the dishes that you have.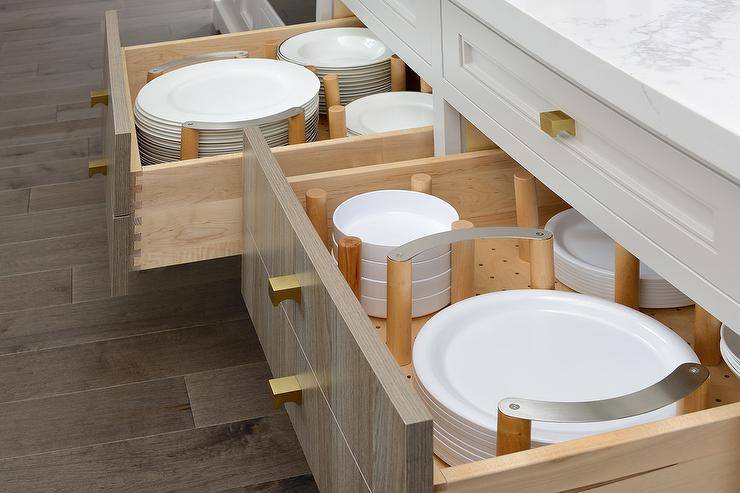 Tucked Away Large Utensil Storage
For larger utensils like wooden spoons, spatulas, and whisks you can store them organized and neatly in a drawer with built-in holders. This will not only make your larger utensils easier to find but keeps them off the counter for a less cluttered-looking kitchen counter.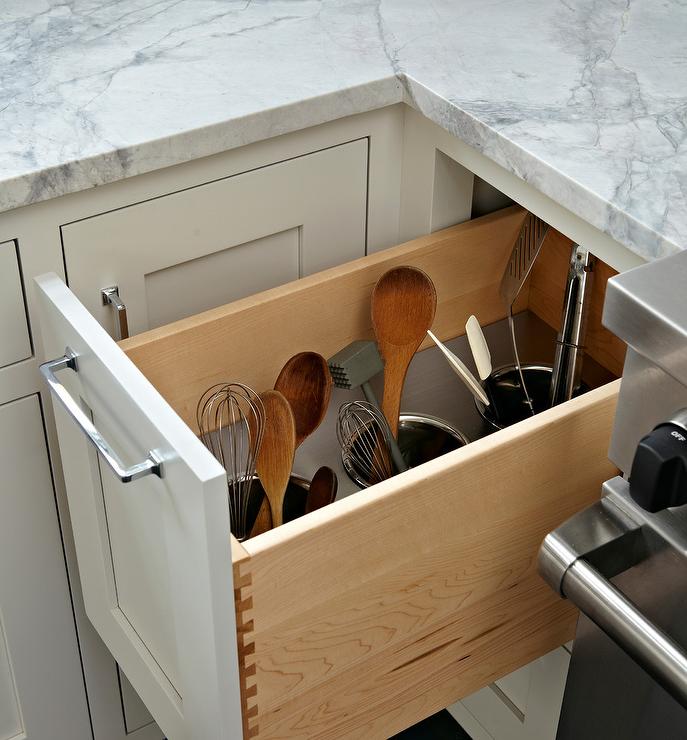 Built-In Knife Block
A built-in knife block is a great way to keep knives stored away safely and in an organized fashion.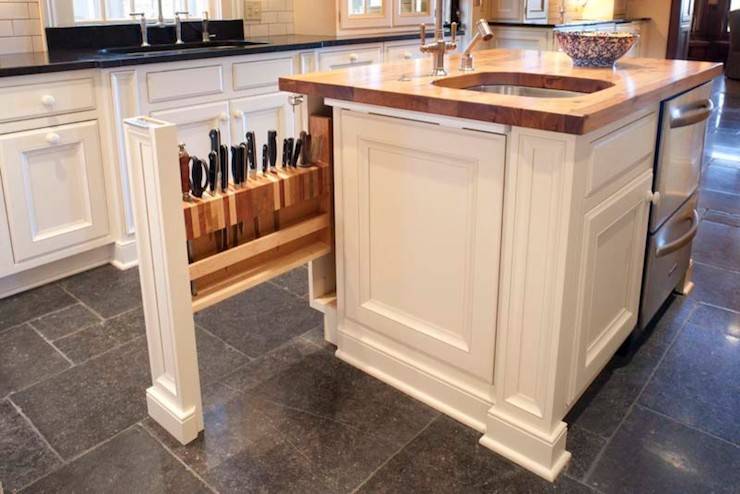 Make a Beverage Station
Make a set spot in your kitchen for beverages. Whether you enjoy coffee or tea, having a set spot where you can go to quickly make your morning beverage that is organized and beautiful will help you get your day off to a good start.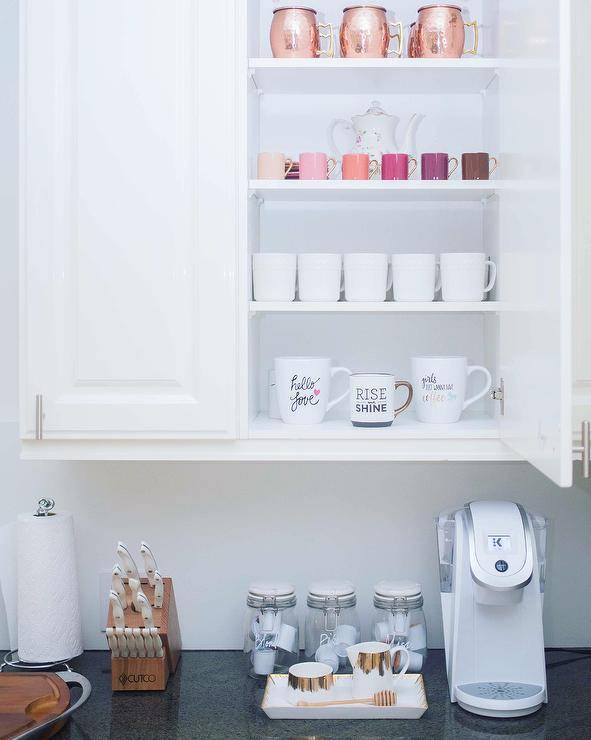 Beverage stations aren't just for coffee, though. You can make beverage stations for wine and liquor, too.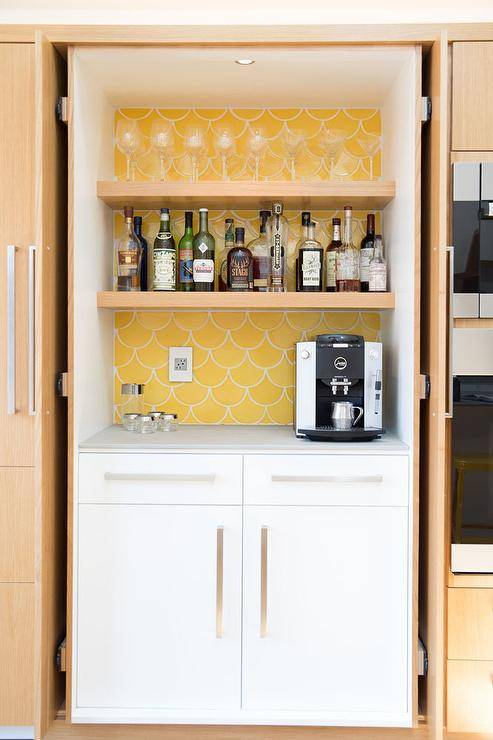 Make a Pantry Where There Was None
If your kitchen is short on space, turn an old coat closet into a pantry. You can also add in a modern farmhouse touch by replacing the old door with a modern sliding barn door.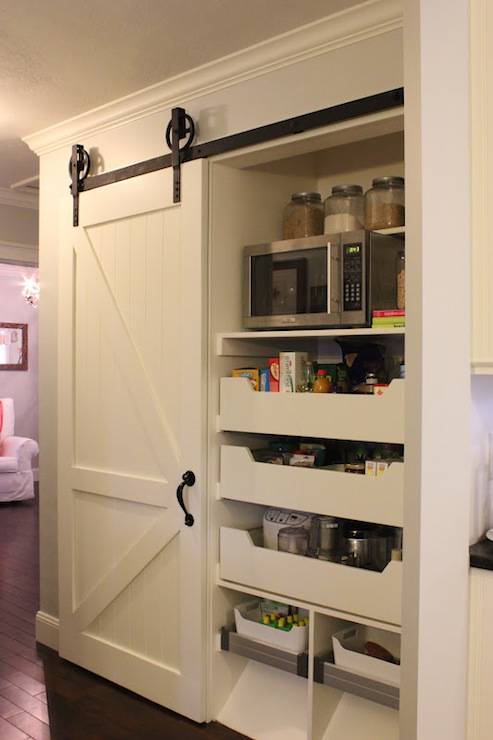 Store Pans Sideways
To make more room in your cupboards, store your pans sideways. They take up less room this way, plus it looks way more organized.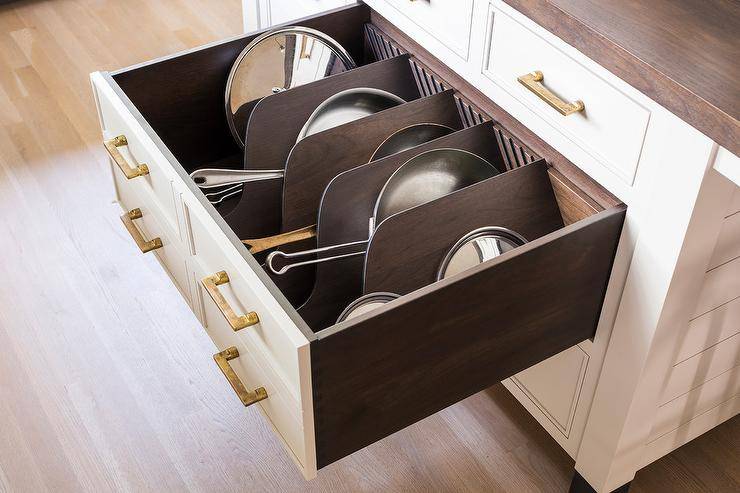 You can also hang your pans above your stove on a gorgeous pan rack. This will also turn your everyday kitchen items into a little bit of elegant decor. This is especially great if you have pretty copper pans.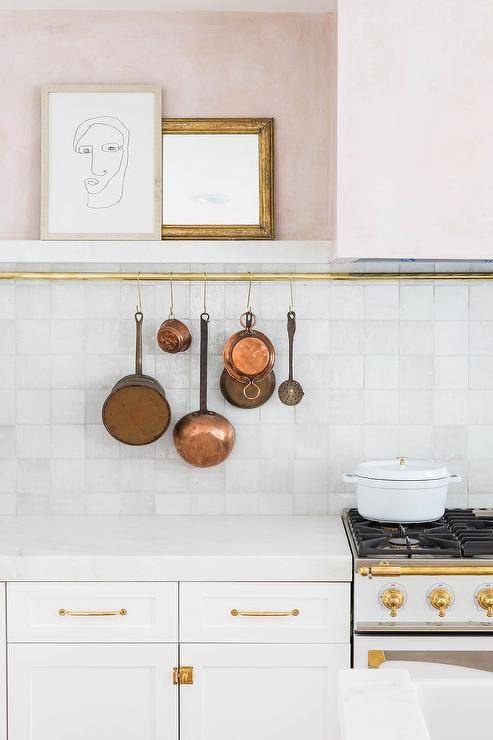 Use Color to Your Advantage
If you group items by color and place them in an organized fashion you can enjoy the benefits of open shelving without the look of clutter. You can do this with your pantry items or as well with dishes. Layer in some gorgeous seagrass baskets to break up the open shelving and to store items that you don't want on display.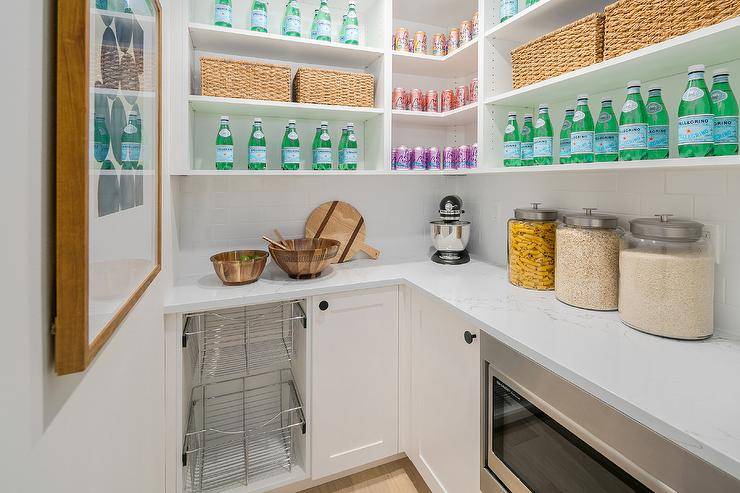 Make Use of Vertical Height
Store baskets on top of your cupboards. This will give you extra storage for items you don't use as often and free up space in prime real estate inside your cupboards.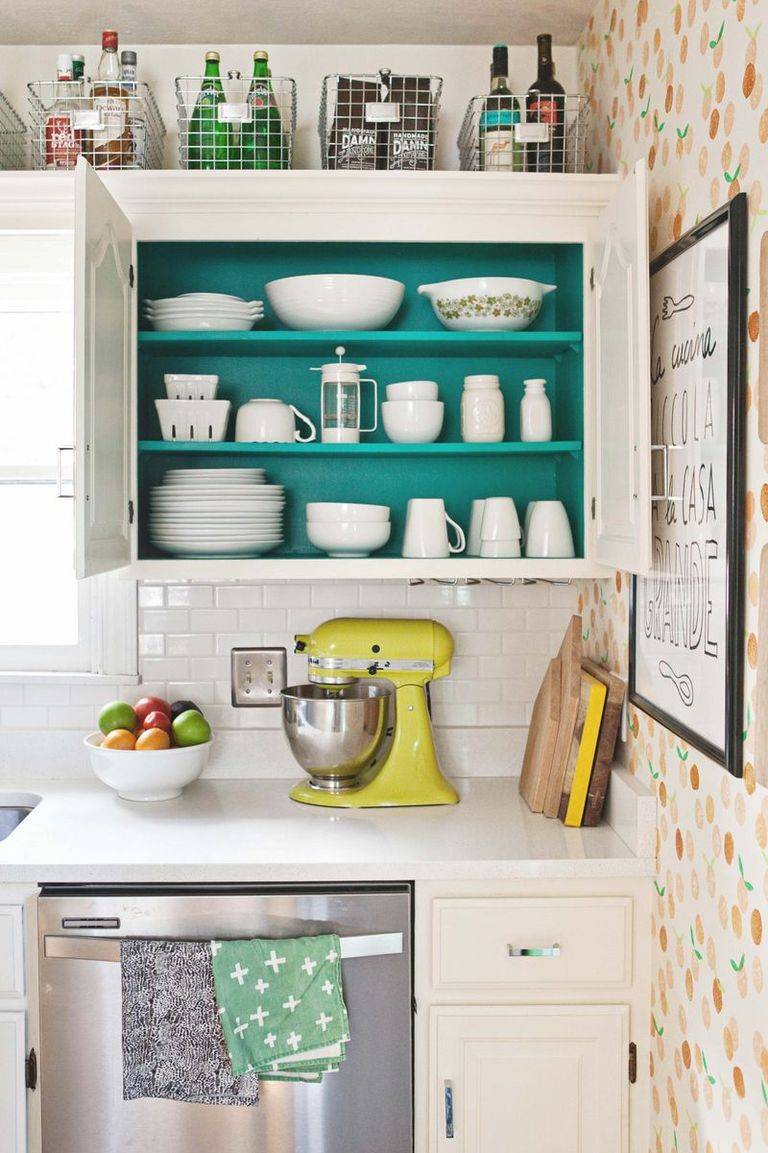 Add a Sink Tip Out
The little fake "drawer" under your kitchen sink can actually be made into a sink tip out. Maybe your kitchen already has this but if not with a little simple carpentry it is easy to do. Once completed you can use this to store sponges and cloths.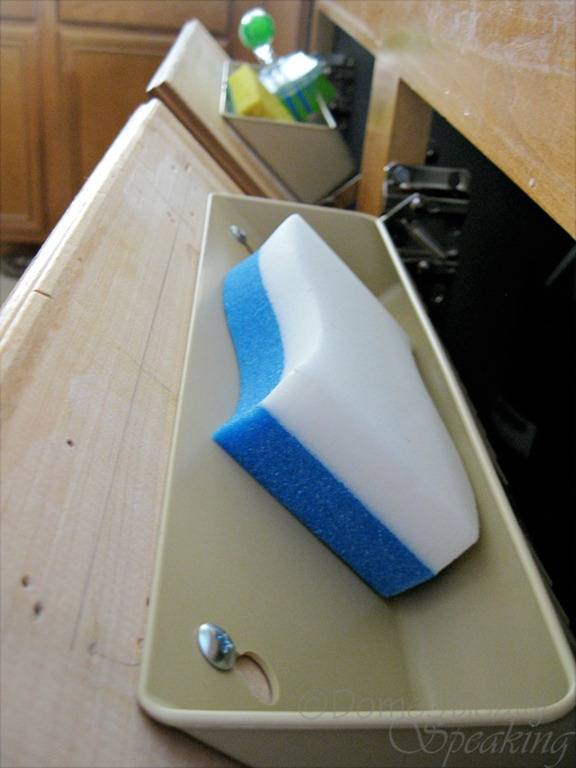 Use the Backside of Your Cupboard Doors
Make use of the backside of your cupboard doors. They can be handy spots to hang your measuring cups or other small items that can be hung. You can also use it as a spot to mark down good need-to-know information for baking.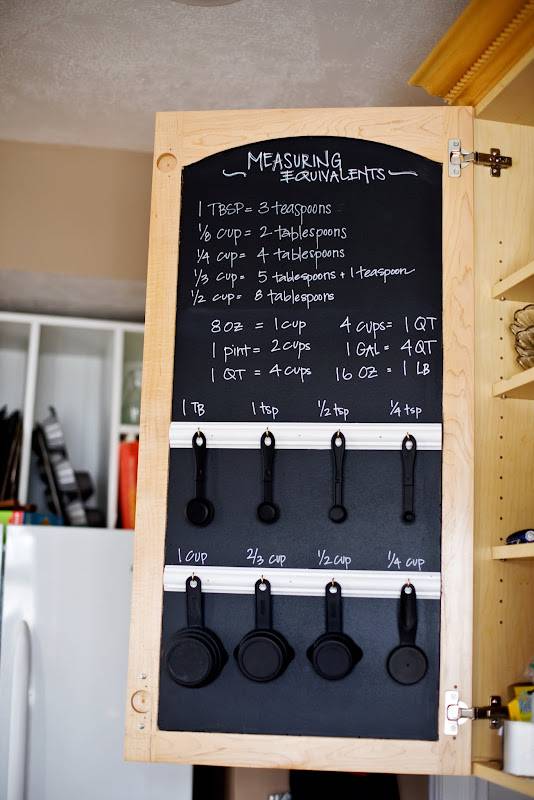 Make Use of Space Above Stove
Part of being organized is having everything you need right at hand. If you store your pots and cooking utensils right above the stove you will never be fumbling around the kitchen while cooking. This also makes clean-up easier, too.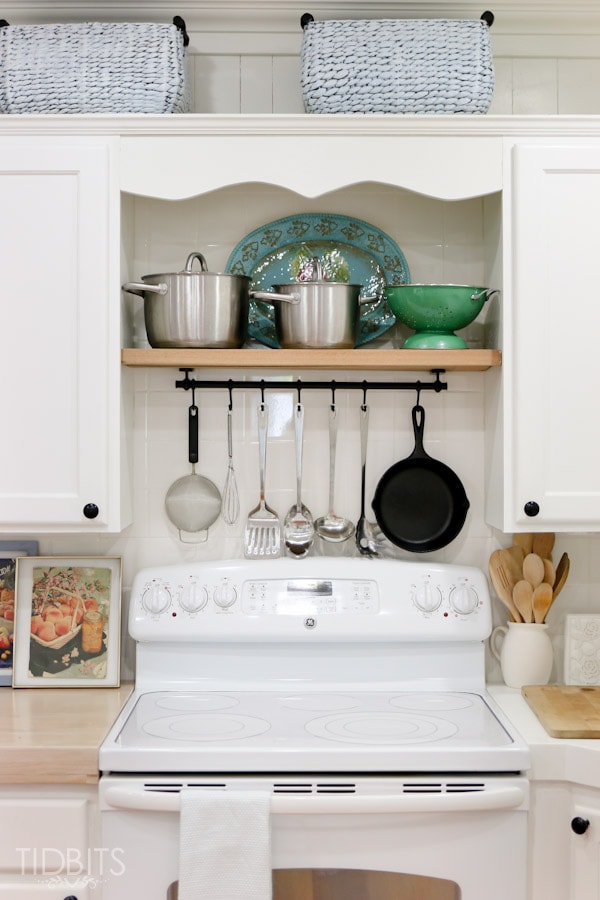 Use Towel Racks in Many Places
Towel racks are perfect to hang on the inside of the cupboards to hang cleaning tools and towels. A great spot is under the sink. This will free up space in drawers in cupboards and also makes it so that your towels and scrub brushes are at the ready right by the sink.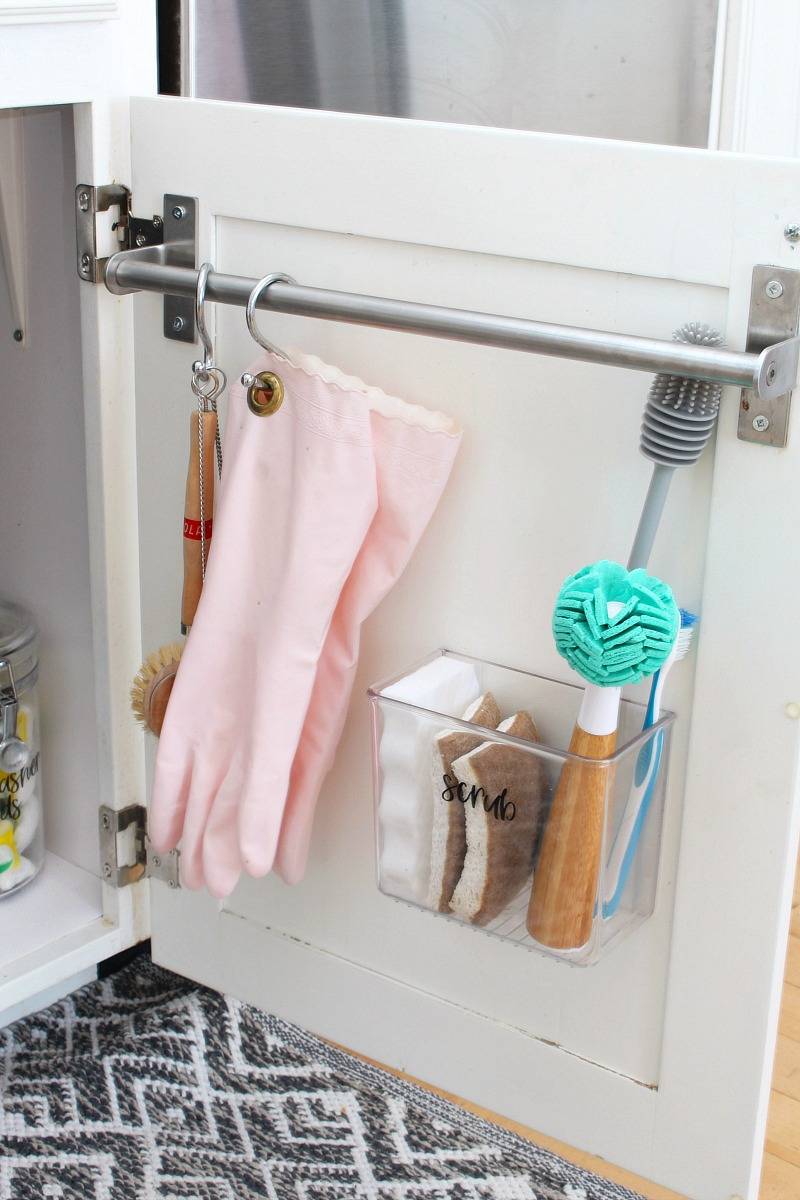 Always Use Baskets and Bins
When storing things away in a pantry or cupboard always use baskets or bins — especially if your cupboards are deep. This will ensure that you are not fumbling around looking for items and it makes putting away groceries less of a chore. If everything has a place then you are less likely to become unorganized.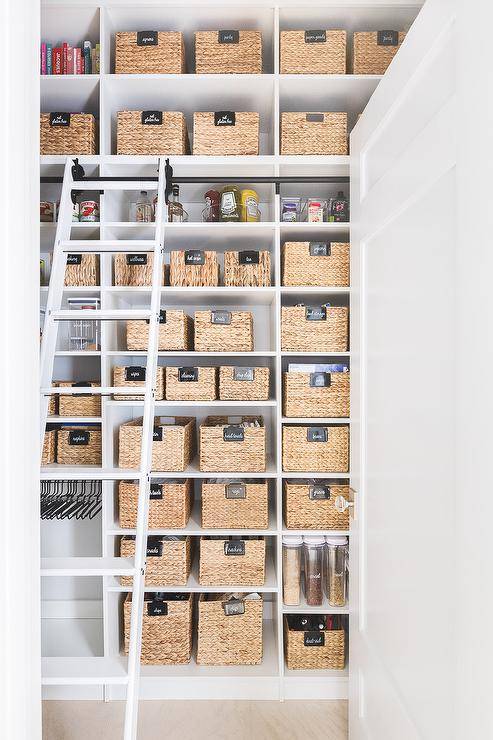 Follow the First In, First Out Rule
Organize your pantry or food cupboards like a store and this will help keep down on food wastage. Place newer bought items to the back of the pantry and older items up front. You should also do this inside the fridge as well.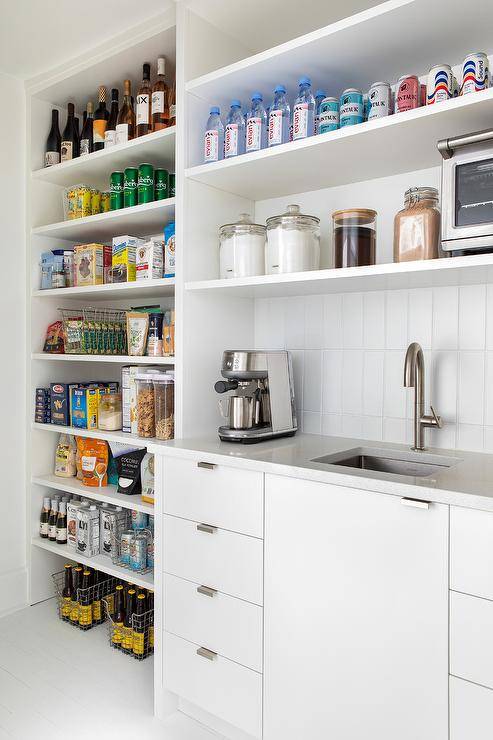 Use Wire Shelf Risers
Turn on shelf into two with this handy organizational storage hack. Make the most use of vertical space in tall cupboards by using wire shelf risers. This is great for pantries as well as storing dishes. This is a very easy and cost effective way to gain more space inside your cupboards.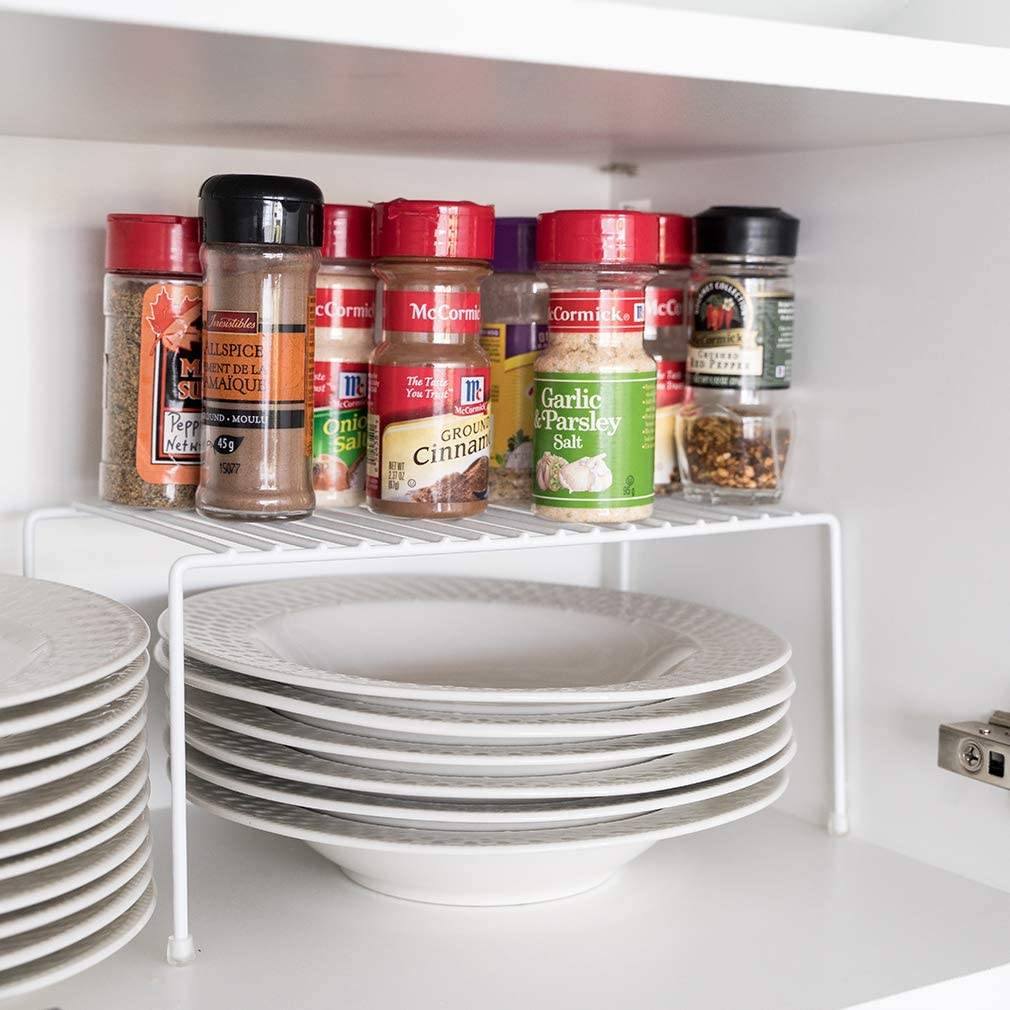 Make A Slide Out Prep Station
Being able to chop, prepare and have a garbage can right below your workspace is a game-changer in the kitchen. Also, something that you can clean and slide away when not in use is also a huge bonus.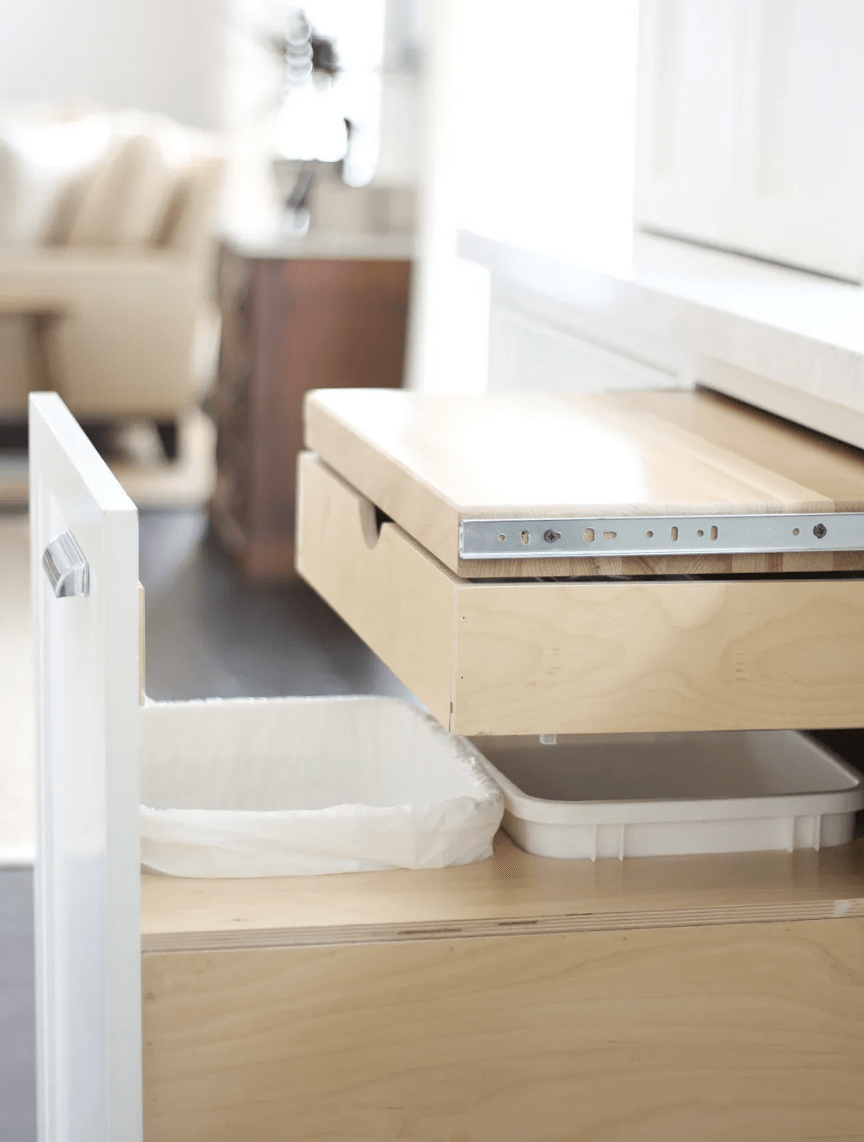 Pull Out Shelves
Part of keeping organized in the kitchen is being able to see what you have. When you just toss things to the back of a cupboard, you tend to pile up other things on top or in the way. It will be much easier to stay organized if you have shelves that pull out. If your cabinetry is already constructed and taking out your old shelves seems like a daunting task you can get simple inserts that pull out and that are easy to install.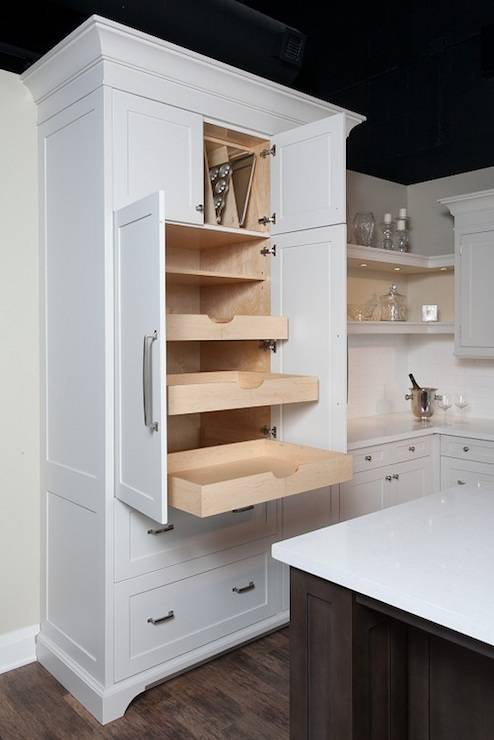 Dividers
Use dividers inside cabinetry to maximize space so that items like pots, pans, and cutting boards take up less room. Not only will you be giving yourself more space in the kitchen but your items are more likely to stay organized.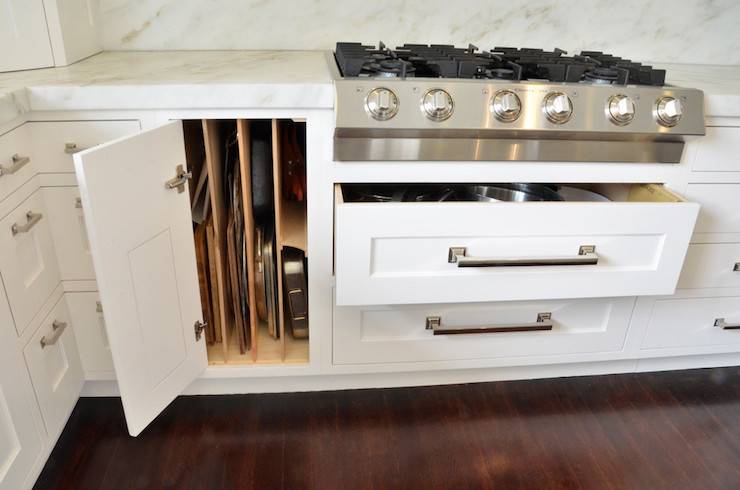 A great spot for dividers is in the cupboards over the fridge.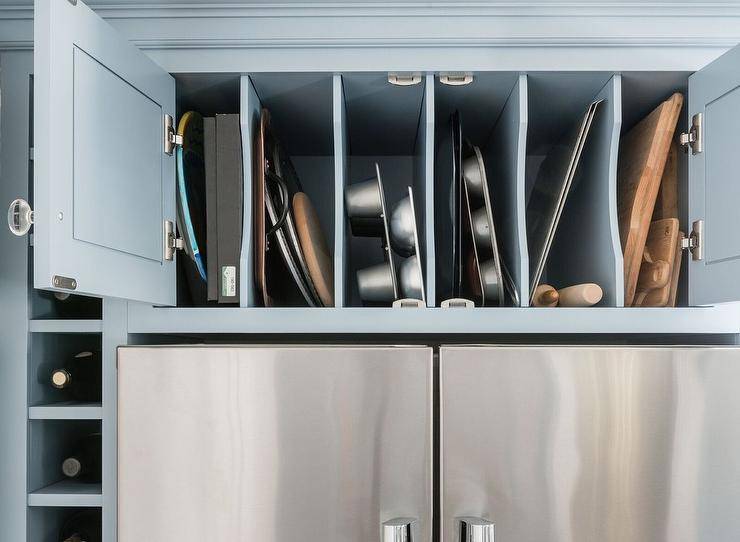 Use a Lazy Susan
Lazy Susans are great organizational tools, especially in the kitchen. You can use them inside the fridge, the pantry, and cabinetry. Store items on a Lazy Susan and you can easily turn it around to access all the items on it. I like the idea of using a Lazy Susan in the fridge for smaller condiments that would otherwise get lost in the door of a fridge.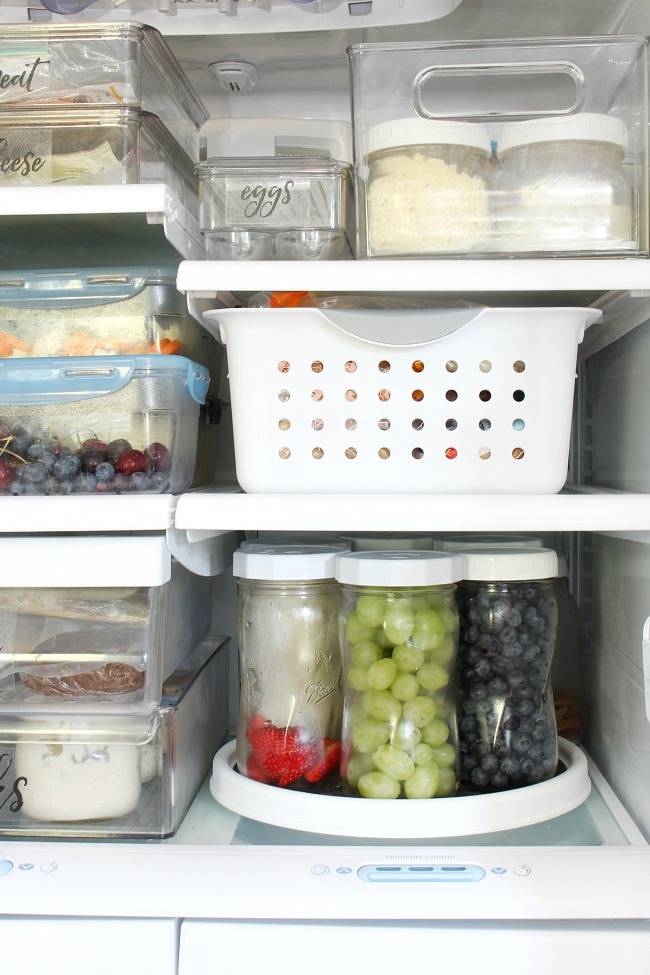 Make Use of Under Cupboard Space
Mount a hanging wine glass holder under your cupboards to keep hard-to-store items like wine glasses organized.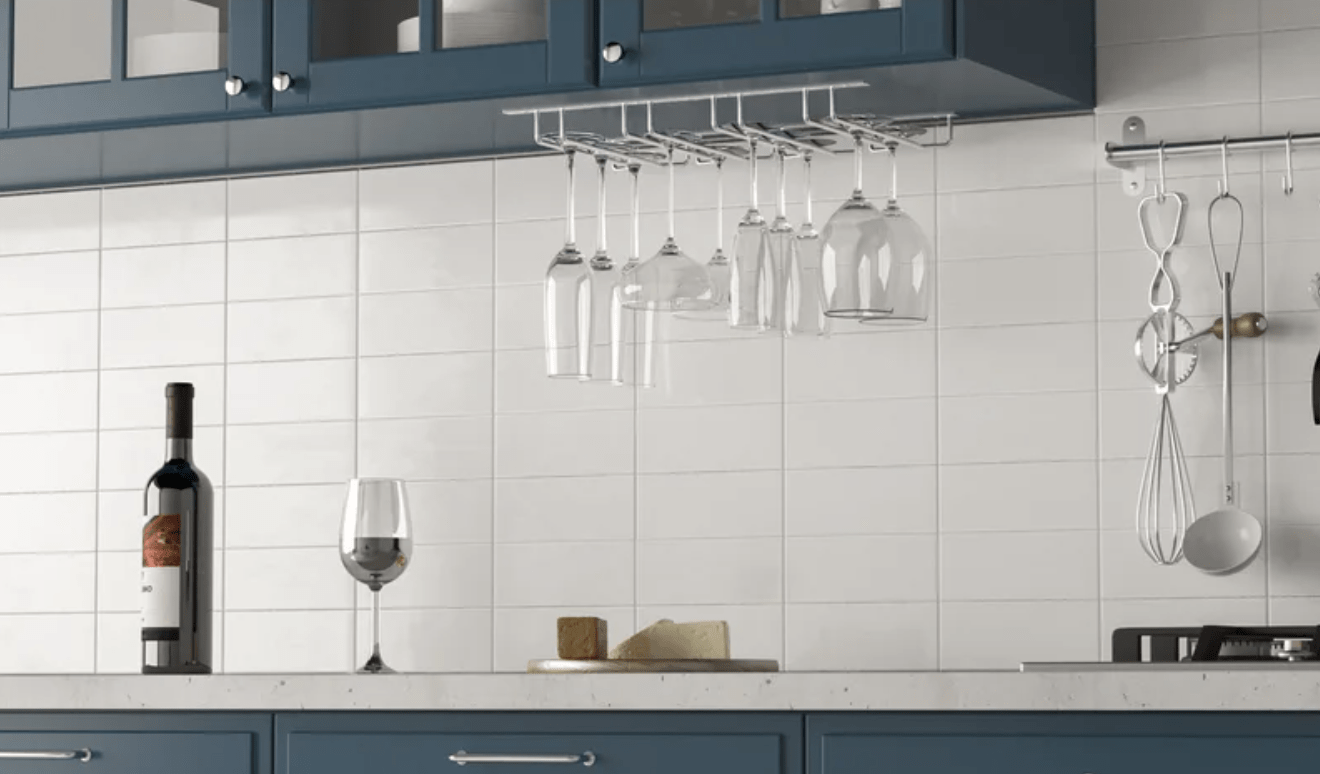 Use Baskets High and Low
Don't just think about where you can reach. Keep organization in your mind when storing items both high and low and using baskets will help with this. Placing baskets in storage places up high, like above fridges and upper cabinetry will allow you to pull down things in bunches rather than sifting through things at higher heights, and then when it comes to putting these items back you're more likely to stay organized if you place it back in a basket rather than just tossing it back up in a cupboard.
For lower storage, the same rules apply except for this time you're being over to reach for your items instead of reaching up.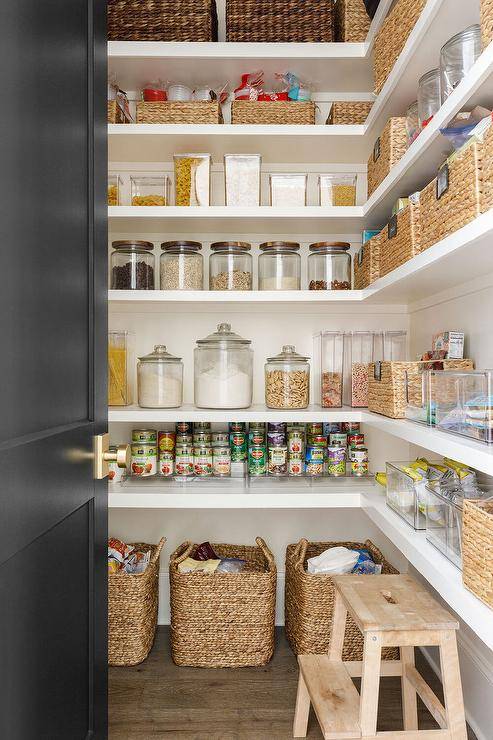 Make Smart Use of Open Shelving
Organizing doesn't have to be all practical and non-beauty. Open shelving is a beautiful statement but most homeowners are leary about it because they are afraid that it's not practical and just for decor. I think quite contrary. Open shelving forces you to be organized and keep your shelves clutter-free. Just make sure you're using your open shelving correctly.
Use your open shelving to store pretty glasses and your fancy dishware. This also frees up cupboard space for being organized with items that you don't want on display.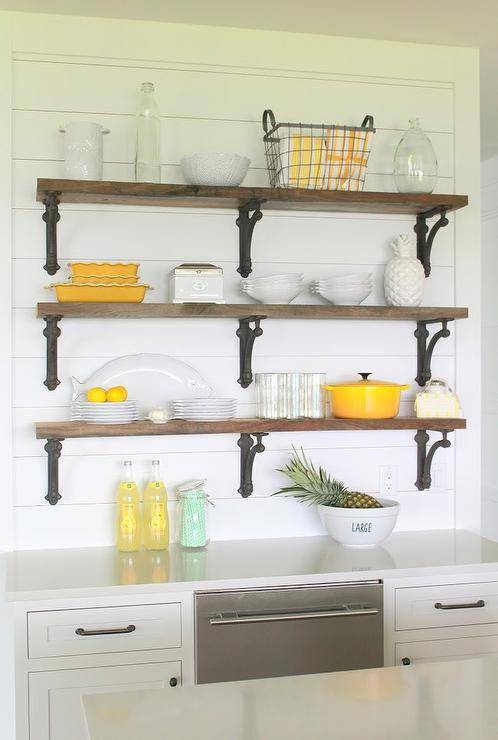 Corner Shelves
If you have a small corner if your kitchen with unused real estate consider installing a few corner shelves this makes a great space to store cookbooks and other items that aren't used as often. This will keep them out of the way and help you stay organized.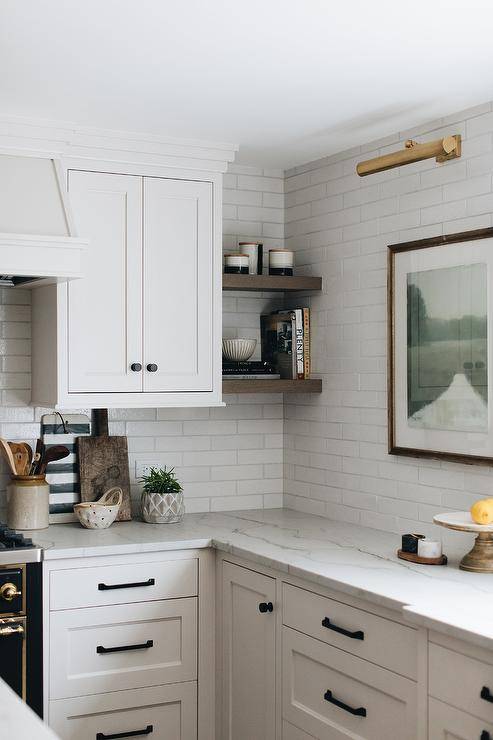 Wire Baskets
Wire baskets are great for both inside the pantry and cupboards. You can also use wire baskets in the fridge and freezer. Group like food items together to keep them organized and easy to find.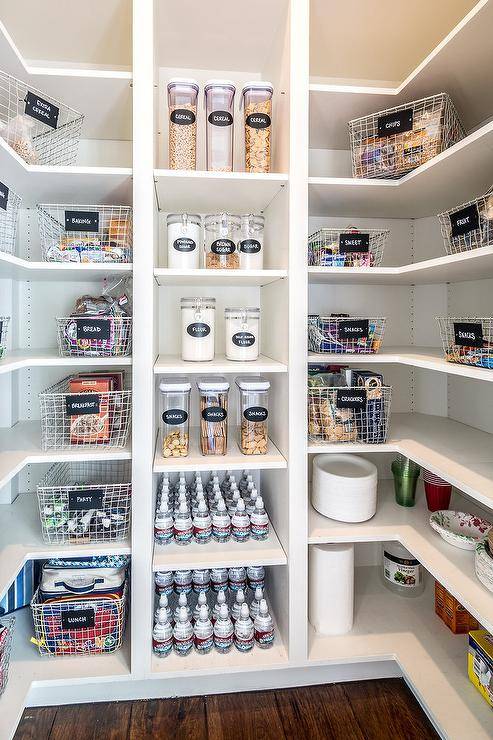 Work With Organizers That Were Made For Food Storage
You know the old saying, "right tool for the right job" — well this is especially true when it comes to organizing. Life is certainly easier when we have the right tools. There are several items that you can get for your pantry and cupboards that work so well to organize foods.
Soup Holder
Cans of soup take up so much space and they are always falling over when stacked. A soup holder specifically designed to hold cans of soup neatly and organized is just what every pantry needs.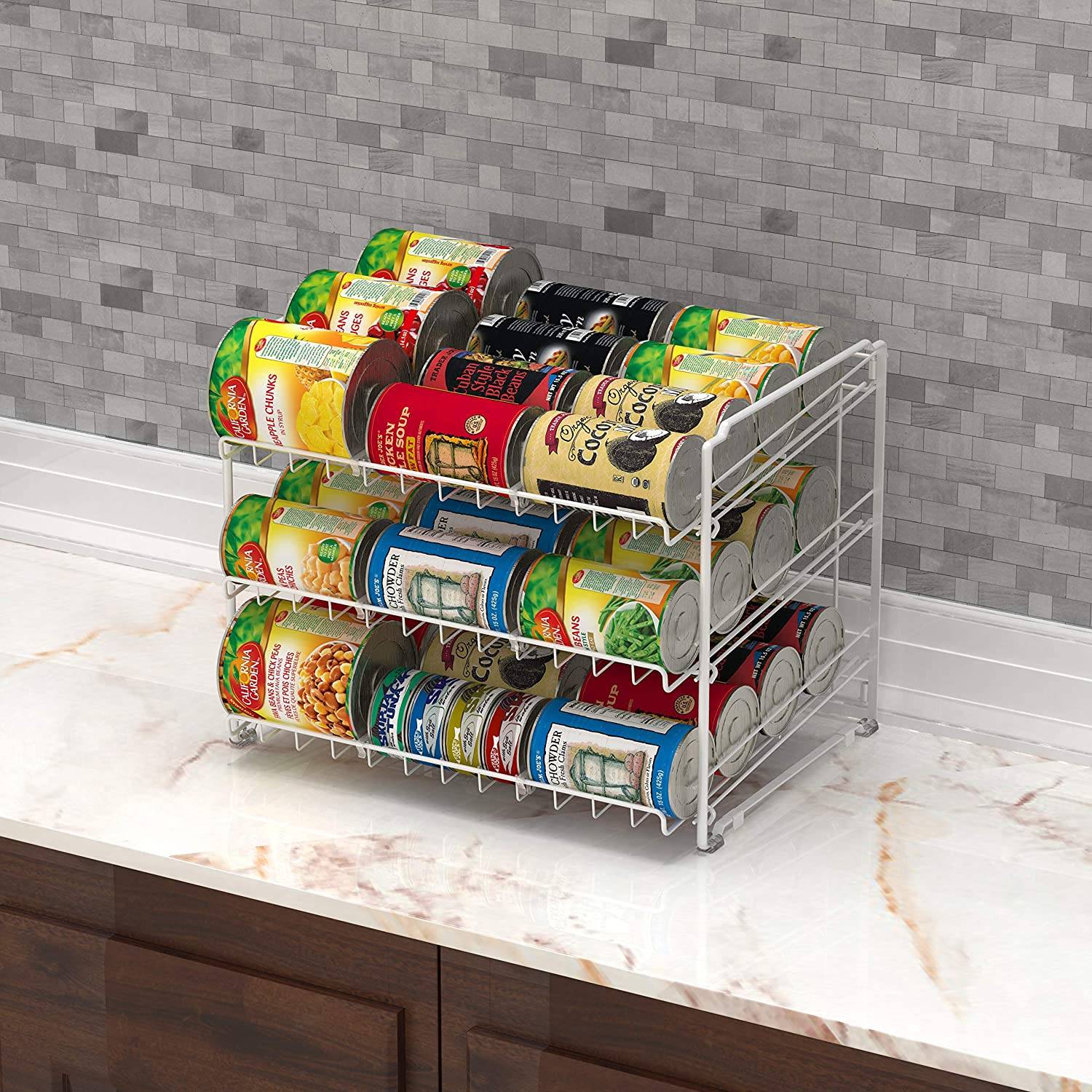 Plastic Wrap Holder
Get a wire holder that works specifically for plastic wrap and aluminum foil. These items take up less space this way in the pantry and will be easier to find.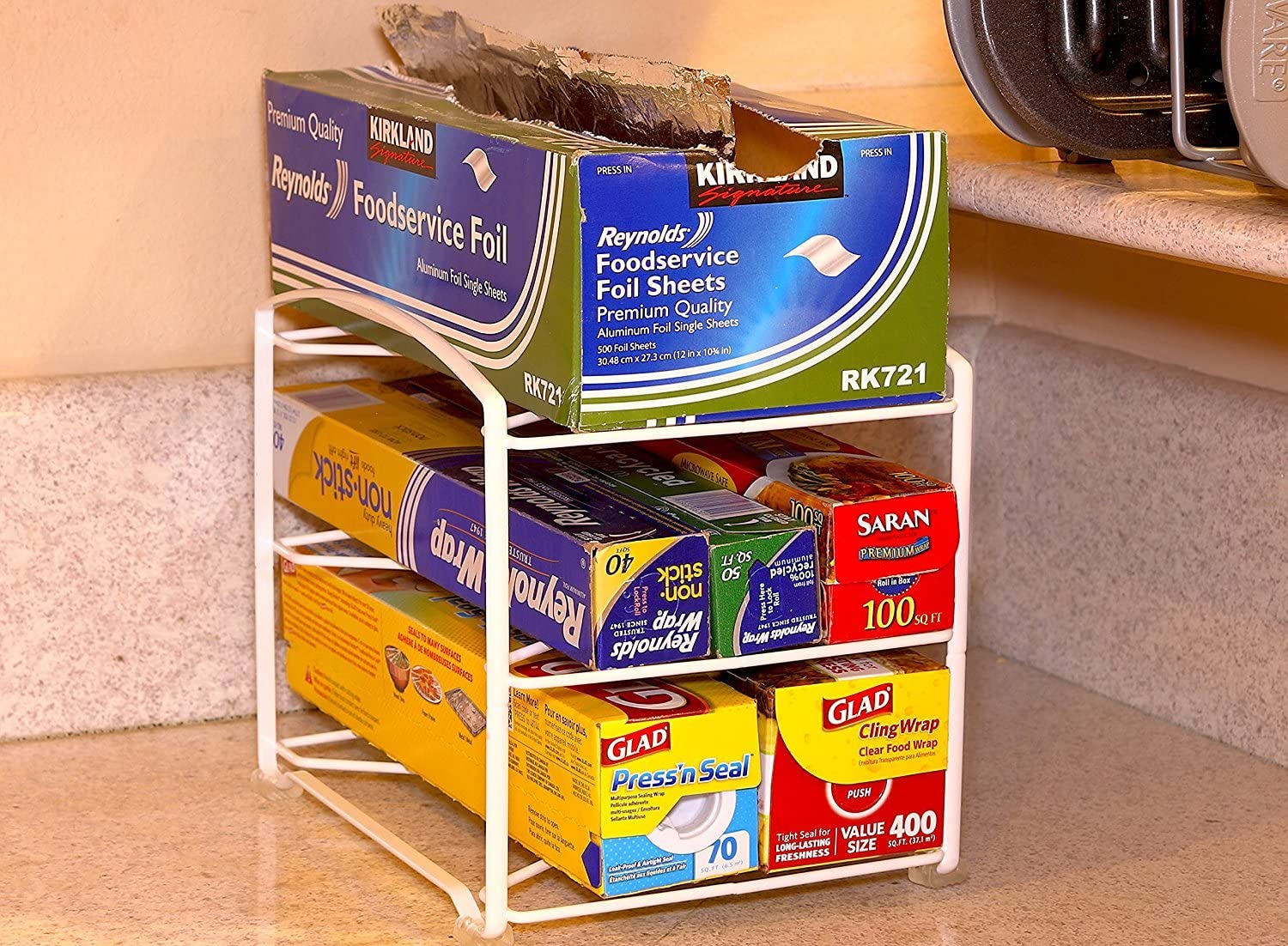 Over-the-Door Storage
You can also make use of the back of the pantry door by getting an over-the-door storage holder. Store smaller items in here that would otherwise get misplaced or lost on pantry shelves.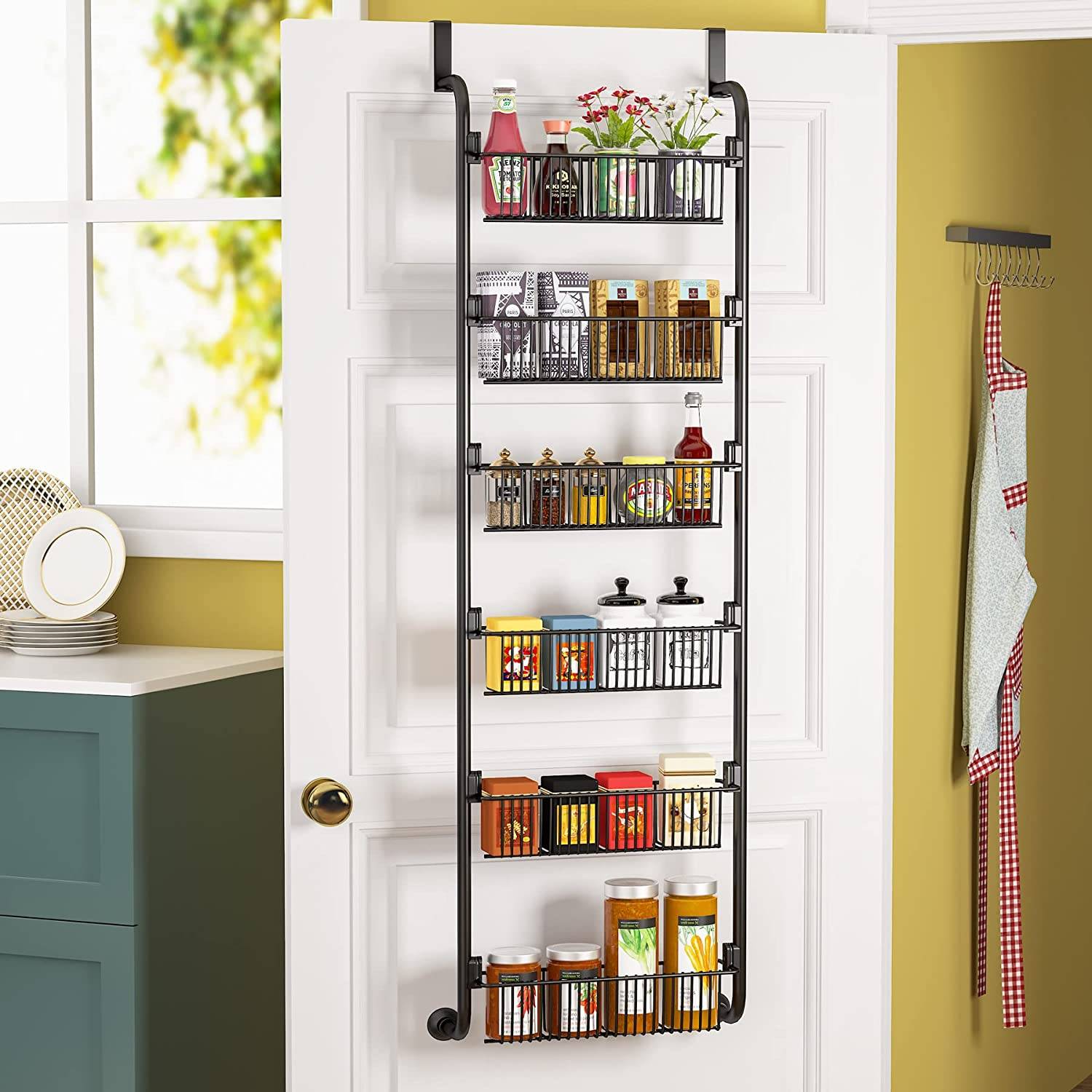 If you're in an organizing mood here are some other articles you may enjoy:
You're reading 45 Best Kitchen Organization Ideas, originally posted on Decoist. If you enjoyed this post, be sure to follow Decoist on Twitter, Facebook and Pinterest.