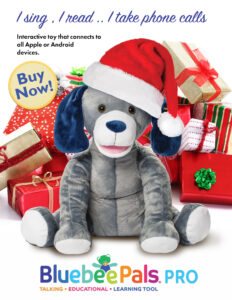 20% off Bluebee Pals: COUPON CODE-  bluebee20
It's the season for holiday gifting! It can be especially difficult to select quality gifts for young children, and even more difficult to find gifts with excellent educational value that also have that "fun" factor! Look no further…Bluebee Pals are the perfect gift choice for children! They are uniquely suited to engage the interest of little learners, they easily support reading and educational activities, and they make charming friends! Bluebee Pals make stories come to life, encourage listening, speaking, language development, good social skills, and more! They work with any tablet or smartphone, to deliver not only hours, but also years of enjoyment. If the child on your list is also receiving a tablet for the holidays, or already has access to a tablet, a Bluebee Pal gift would be a perfect match!https://www.bluebeepals.com/store/
Bluebee Pals are softly huggable, lovable, plush interactive learning tools/toys that connect via Bluetooth to all iOS and Android devices. They wirelessly pair with all apps with a narrative, which provides endless educational opportunities and entertainment for children of all ability levels. Bluebee's mouth and head realistically move while speaking, making reading, educational apps, games, and activities so much fun!
Which Bluebee Pal will you choose? Hudson the dog, Riley the zebra, Leo the Lion, Lily the lamb, Sammy the bear, or Parker the monkey?http://bluebeepals.com
With Bluebee, children become immediately more engaged and attentive, and eagerly look forward to focused learning opportunities
20% off Bluebee Pals: COUPON CODE– bluebee20- Enter at Shop Cart
http://!https://www.bluebeepals.com/store/
The post Bluebee Pals In Stock for Holiday Presents appeared first on Bluebee Pals®.