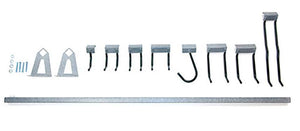 Monkey Bar Storage Yard Tool Rack, Large
Regular price
$0.00
$0.00
Brand: Monkey Bars
Color: Grey
Features:
Holds up to 200 lbs.
Hooks slide on bar for easy adjustability
Steel components all powder coated
3-inch hooks can be placed backward for storing items used less often
Does not include yard tools
Publisher: Monkey Bar Storage
Details:
Organize all your yard tools with the monkey bar large yard tool rack. This rack will securely store 12-20 yard tools off the floor. Only 4 screws into 2 studs 48" apart, and you're finished. No longer do you have to hang yard tools on nails on the wall where studs exist; this gives you the versatility to store everything off the ground and regain valuable floor space. This rack does not limit you on the size of yard tools; you can hang a wheel barrow, shovels, rakes, weed eaters, leaf blowers, and hedge clippers.
UPC: 88021155305
EAN: 857299004048
Package Dimensions: 52.5 x 4.5 x 3.0 inches