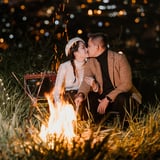 With eclipse season and Mercury retrograde in full swing, Aries season - which spanned April 20 to April 19 - probably feels like it was forever ago. But while the sun's time in the sign of the Ram may be over, other planets are dancing through the cardinal fire sign this spring, amping your ability to assert yourself and be more playful. From May 24 to July 5, Mars, the planet of action, energy, and sex, will move into Aries - where it's right at home.
Extra comfy in the sign it rules, Mars's effect is more powerful than it might be when it's moving through another sign. Due to this cosmic boost, prepare to feel Aries's headstrong energy more than ever before.
What Does It Mean When Mars Is in Aries?
Mars in Aries energy fuels motivation and cranks up our desire to win and get after anything we've been craving. Since Mars is the warrior of the sky, and Aries is intent on coming out on top, no matter the cost, this combo can stoke your inner fire - for better or worse. You might find yourself feeling more competitive and confident, but also more impulsive and aggressive. During this time, it may be easier to tap into any anger that's been boiling to the surface, which, if handled with care, can be truly therapeutic.
All of these effects could feel a bit like energetic whiplash, given that Mars's time in Aries feels almost 180 degrees from its trip through Pisces. In the sign of the Fish, the planet of action is super sleepy, dreamy, and spiritual, while it was there from April 14 to May 24. During this time, your sex life might have taken on a more deeply nurturing and sensitive vibe, as opposed to setting off shimmering fireworks.
But now, with Mars in Aries, it'll be easier to more boldly share - and pursue - what you need between the sheets. As you aim to fulfill your hottest desires, you may also find yourself feeling more playful, passionate, courageous, and spontaneous.
Mars in Aries: What to Expect in 2022
Mars will move through Aries from May 24 to July 5. And as it enjoys time on its home base, it'll connect with other planets and set the stage for a variety of noteworthy astrological events.
On May 29, Mars will form a fiery conjunction to Jupiter, the planet of luck and abundance, which recently kicked off a months-long stay in Aries. Jupiter expands everything it comes in contact with, so in this case, it'll turn up the volume on Mars's desire to come out on top. However, it bears noting that with Mercury still retrograde until June 3, it might be tough to gain the kind of immediate traction that Aries is always aiming for.
On June 15, Mars will pair up with Chiron, which is also moving through Aries. The asteroid, known as "the wounded healer," speaks to our ability to heal ourselves, then guide others along the same path. And in connecting with Mars, underlying anger and pain could be triggered - but we'll have a unique opportunity to work through it in a productive way.
Mars in Aries will also square off against Pluto, the planet of death, rebirth, and transformation, in fellow cardinal sign Capricorn on July 1. This volatile aspect could give way to power struggles, so it may be a moment in which it's best to have heightened awareness and tread lightly, especially while interacting with higher-ups.
Read on for how Mars in Aries will affect your birth chart and zodiac sign. Be sure to read not only your sun sign, but your rising and moon signs as well.
Aries (March 20-April 19)
Mars in your sign can have you feeling like even more of a go-getter than you are on the regular. You'll get the sense that you can start fresh and kick off a whole new chapter in whatever area of your life that's been stagnant, whether that's your career, your fitness routine, or your love life. You'll also be fired up to make bold moves that bolster your personal brand, too, like polishing up your résumé, or launching a new website.
Just be aware of your tendency to expect results STAT. With Mercury retrograde lasting until June 3, communication, technology, or transportation will be moving at a pace that's downright frustrating for you. Once it goes direct, you can hit the ground running.
Taurus (April 20-May 20)
Mars's time in Aries lights up your twelfth house of spirituality, which can make this period a bit sleepier for you than for others. Instead of fueling efforts to plow ahead, it'll actually inspire you to take it easy, making recharging your mental and emotional health even more of a priority.
You've likely been doing this ever since Venus, your ruler, moved into this same sector, on May 2. While Venus might've inspired you to carve out extra time for self-care, Mars will ask you to take your restorative game to the next level by meditating more, tracking your dreams, or working on your sleep hygiene.
Gemini (May 21-June 20)
Ever since May 10, Mercury's retrograde might be bringing friends and lovers from the past back in droves. But now, Mars's move through your eleventh house of friendship will spur you to do something with all of that intellectual and social stimulation.
You might want to plan an adventurous trip with friends you haven't seen in a while, join forces on a group project, or head up a charitable effort that requires all hands on deck. You'll be more motivated to take the reins and step into a position of power, but that energy is best balanced with teamwork and cooperation.
Cancer (June 21-July 22)
Eclipse season takes even more of a toll on you, Cancer, because the moon is your ruler. So if you've felt like the spring has been a stressful time, and you could use an energy shift, you're in luck. Mars's time in Aries breathes a new go-getter energy into your career efforts, because the planet of action will be moving through your tenth house of career. Whether you've been meaning to or not, you could be stepping into the spotlight, finding yourself asked to take more of a leadership role on the job, and - fingers crossed - earning more recognition for all your hard work.
Leo (July 23-Aug. 22)
With Mars moving through your ninth house of adventure, you're going to be all about taking leaps of faith this spring, Leo. As one of the fixed signs, you tend to stick to what you know, often struggling to adapt, even when the moment calls for it. But with the planet of action in a fellow fire sign, you'll be inspired to throw this tendency to the wind as you possibly research, book, and enjoy long-distance trips and educational opportunities. This transit is also conducive to honing your skill set between the sheets and expressing your wildest fantasies.
Virgo (Aug. 23-Sept. 22)
While it moves through Aries, Mars brings more energy and vibrance to your eighth house of intimate bonds, potentially supercharging your desire to connect with your significant other or someone special. This transit was made for vulnerability, so know that you can make the most of it by opening up about everything from old wounds to steamy desires. By doing so, you'll see how that shifts the dynamic within your most intimate bonds - likely in a way that has you feeling more emotionally and physically gratified.
Libra (Sept. 23-Oct. 22)
You've already gotten comfy with your ruler, Venus, moving through Aries, and bringing even more focus to your one-on-one relationships. But now Mars will move through the same zone, shining the spotlight on any head-butting that's been happening between you and your SO, dearest friend, colleague, or loved one.
While you might be tempted to avoid confrontation, this transit can actually set the stage for healthy conflict resolution if you're willing to acknowledge and face any ongoing tension. And once messenger Mercury moves forward in your eighth house of intimate bonds on June 3, it'll be easier to get on the same page.
Scorpio (Oct. 23-Nov. 21)
Mars's trip through Aries falls in your sixth house of daily routine and wellness, Scorp. No doubt this last lunar eclipse and full moon in your sign was a doozy, taking a massive toll on your energy. You may have lost sleep or just felt totally wiped.
However, you can look forward to slowly recovering and feeling more fired up - especially because Mars is one of your corulers. You can more readily check off all your daily to-dos and bring more balance to your daily grind. This can be trying a thrilling new workout, or taking on more advanced responsibilities on the job.
Sagittarius (Nov. 22-Dec. 21)
With Mars in Aries - and in your fifth house of romance - prepare to likely experience playful sexting marathons and impromptu date nights, Sag. You're already wired to tell it like it is have no issues expressing your needs, but this transit can take that energy to a whole new level.
You'll also have extra energy to pour into artistic, self-expressive activities and spending time with kids during this time. And with Mercury retrograde slowing your daily routine down a bit until June 3, you might even be tempted to put work on the back burner to head out on a trip or romantic getaway.
Capricorn (Dec. 22-Jan. 19)
Mars in Aries brings elevated focus to your domestic world, Cap, which is a bit of a change of pace for you, as your head is often in your work game. That's because the planet of action is moving through your fourth house of home life, where romantic Venus has been in since May 2.
You may have had creative interior design projects on the brain lately, and now, with Mars there, you can take concrete steps to getting them done. The same is true for any ongoing conflicts with loved ones - it'll be even easier than usual to adopt a proactive approach now. This might also be a moment in which you're fired up to take point on planning an active family get-together.
Aquarius (Jan. 20-Feb. 18)
With Mars moving through Aries, and therefore, your third house of communication, you're even more social - and potentially spread a bit too thin. You want to say "yes" to all the things. But while your mental energy might allow for a heavily packed schedule now, it'll be crucial to ensure that you're firing on all cylinders physically. So don't hesitate to build in plenty of time-outs for self-care.
Pisces (Feb. 19-March 20)
With Mars in your second house of income, you'll be psyched to pursue moneymaking opportunities that speak to your personal values. You have amplified energy to bring your skills to the table, to express your most brilliant ideas and beliefs, and to ask for what you're worth in return.
But because you're so compassionate, and Mercury retrograde could result in a bevy of requests for you to meet other people's needs, you'll want to use this time - especially until June 3 - to get extra clear on how you want to exert your energy. And if you find that results in taking home a higher paycheck, or simply setting better boundaries, this transit can be a boon for your self-worth.