By using this site, you agree to our Terms of Use. This post may contain affiliate links. Read our disclosure policy.  
Follow us on Instagram for more fun ideas for kids!
Calm Strips are the new fidget spinner to reducing stress and anxiety in children and adults. It's no wonder they got a deal on Shark Tank.
I recently saw Calm Strips on Shark Tank, a clever sensory tool to calm kids (and adults), and bought some recently to try on my 10-year-old son who has anxiety. Read our review below. 
Unlike loud or distracting fidget sensory toys, Calm Strips are discreet and silent so can easily be used in the classroom or wherever you are.
How did Calm Strips come about?
Michael Malkin used to work for Apple, when his social anxiety was sometimes too much to handle. He'd often do things to cope that would be too loud for the work environment he was in, used to use a fidget spinner, and sometimes even wrapped his finger in painter's tape. He needed something that would reduce his levels of stress and fidgeting at work, but something more discreet, and with that, Calm Strips were created.
In episode 1314 of Shark Tank, Michael Malkin and Luce Fuller introduced and presented their Calm Strips to the investors. After careful negotiation of numbers and investment, Robert Herjavec decides to invest.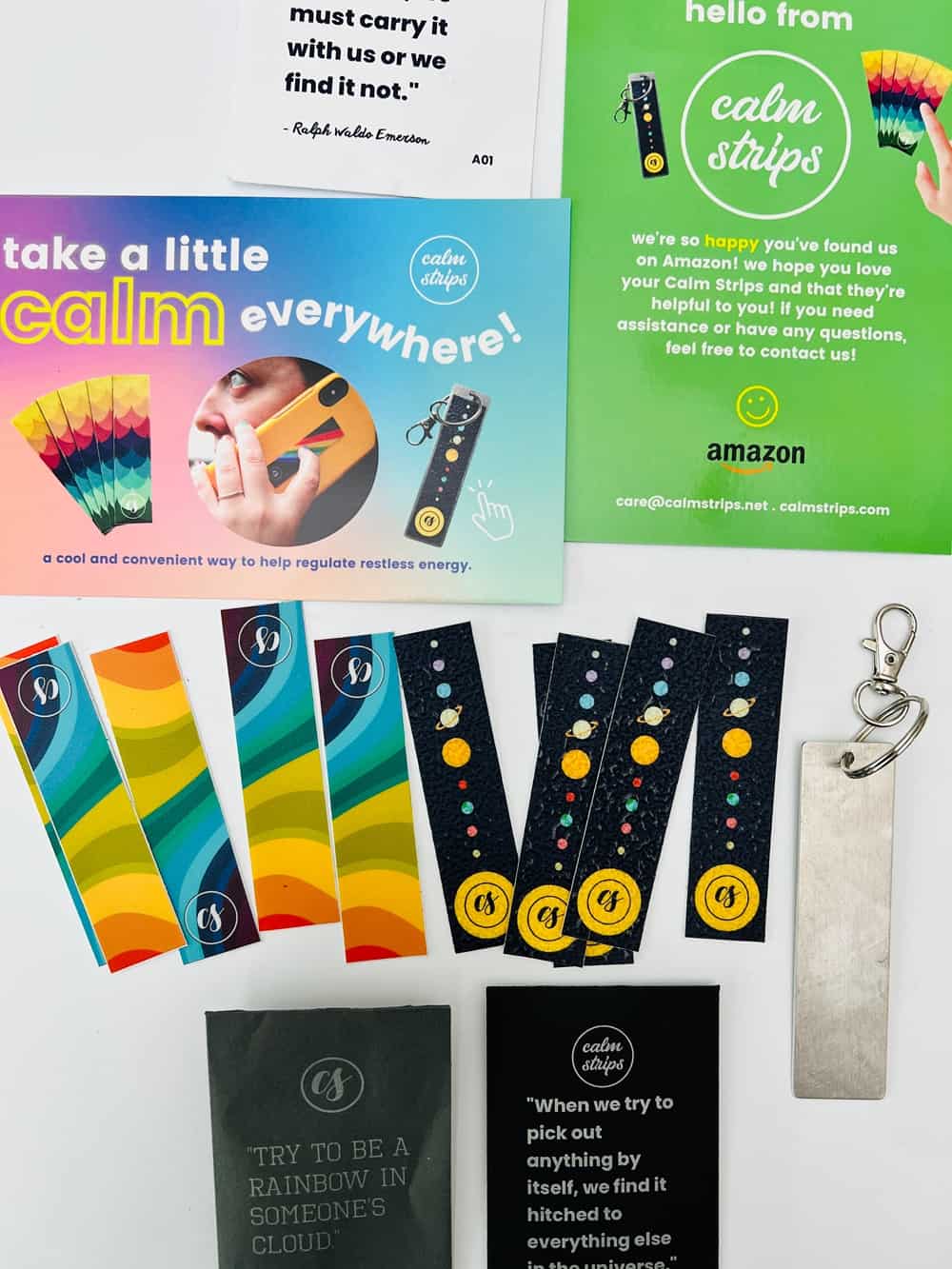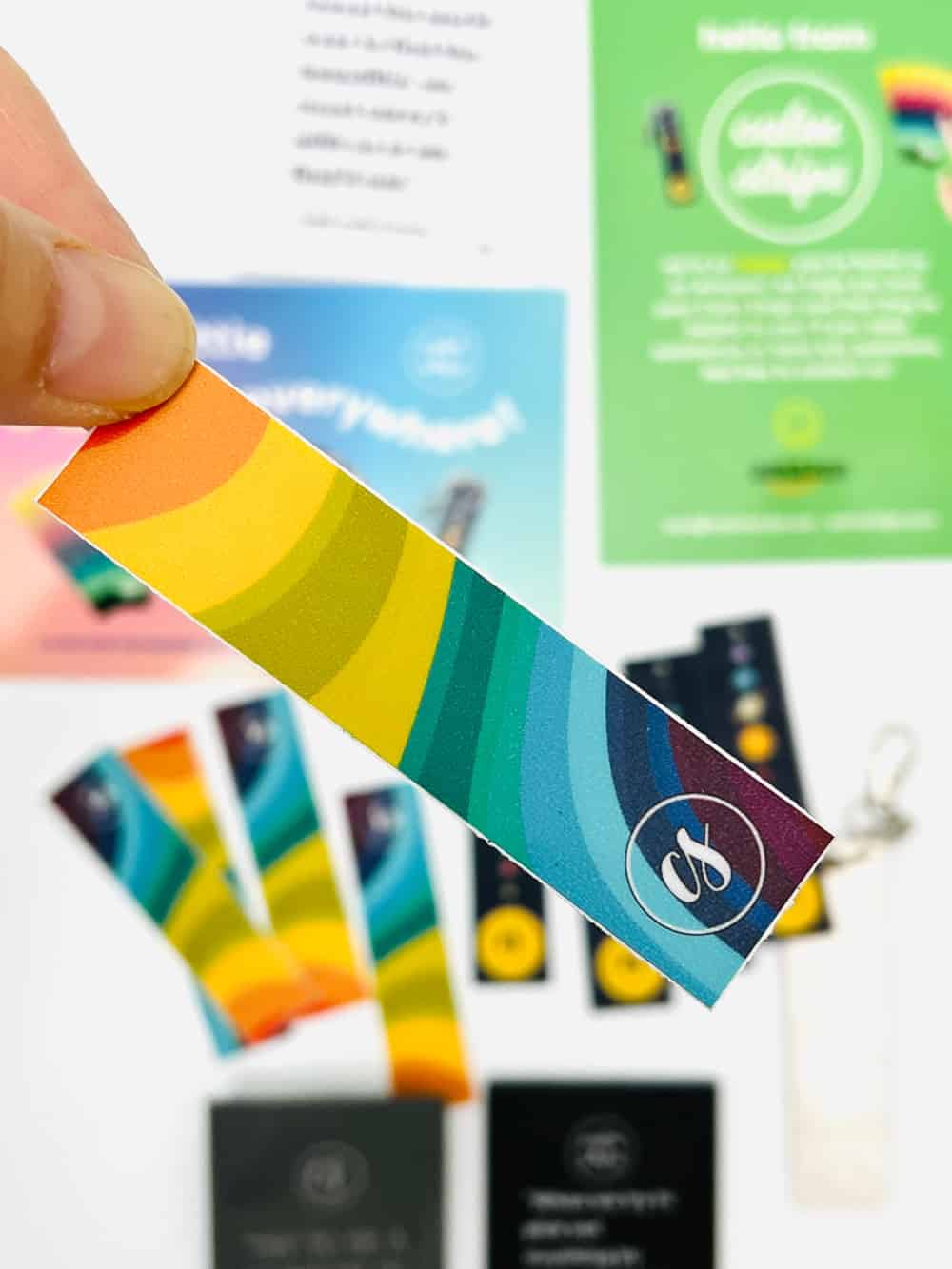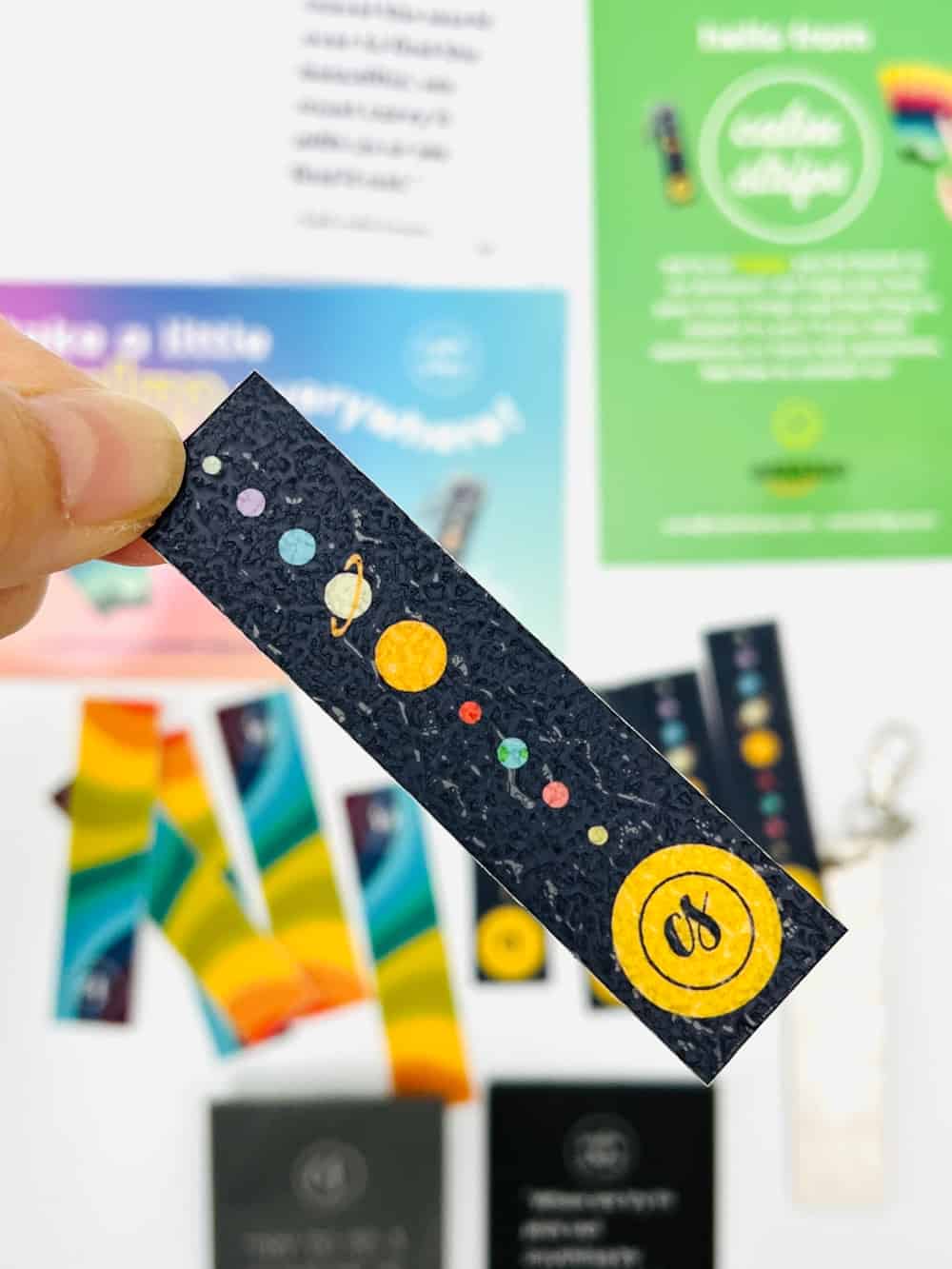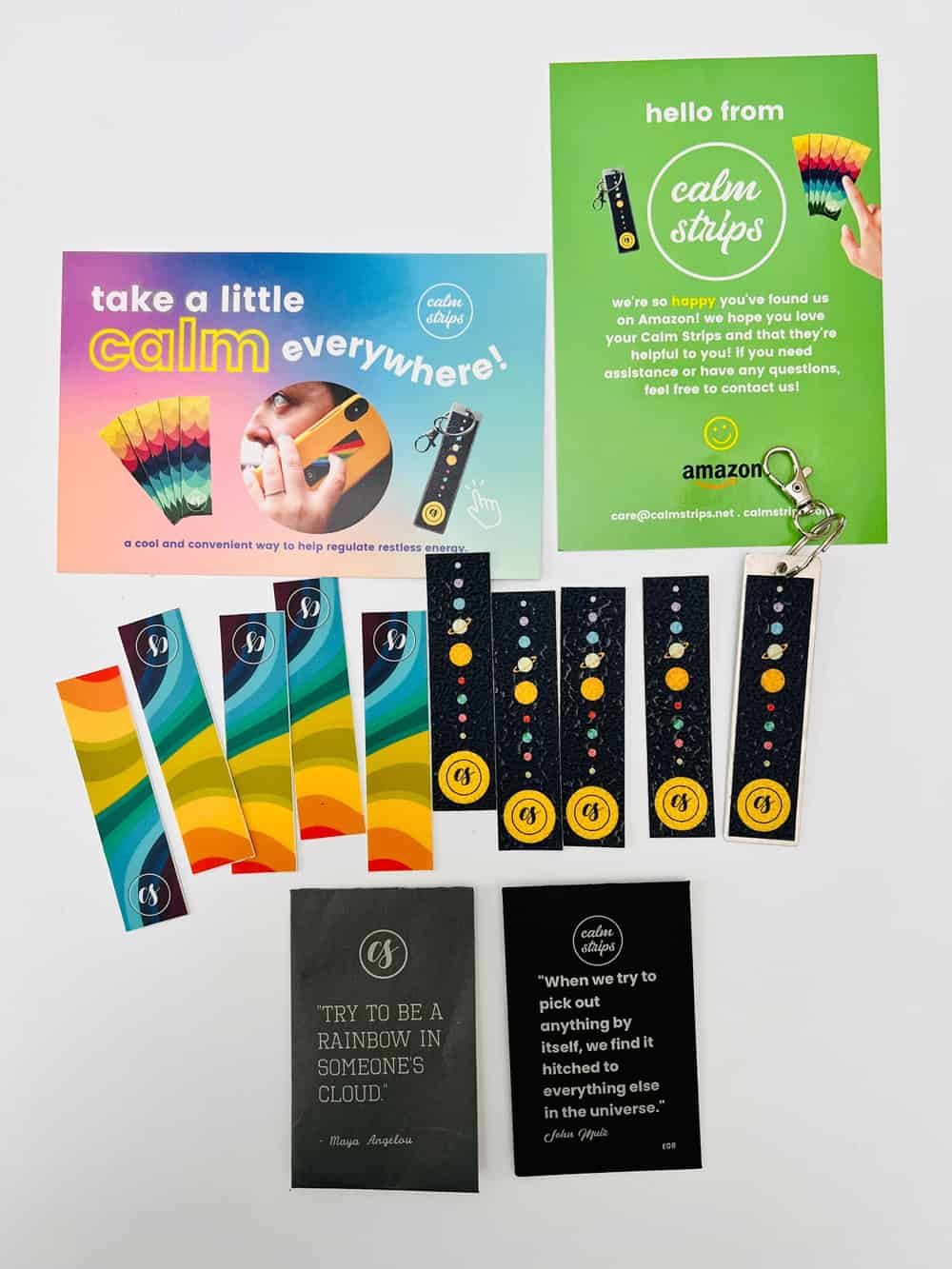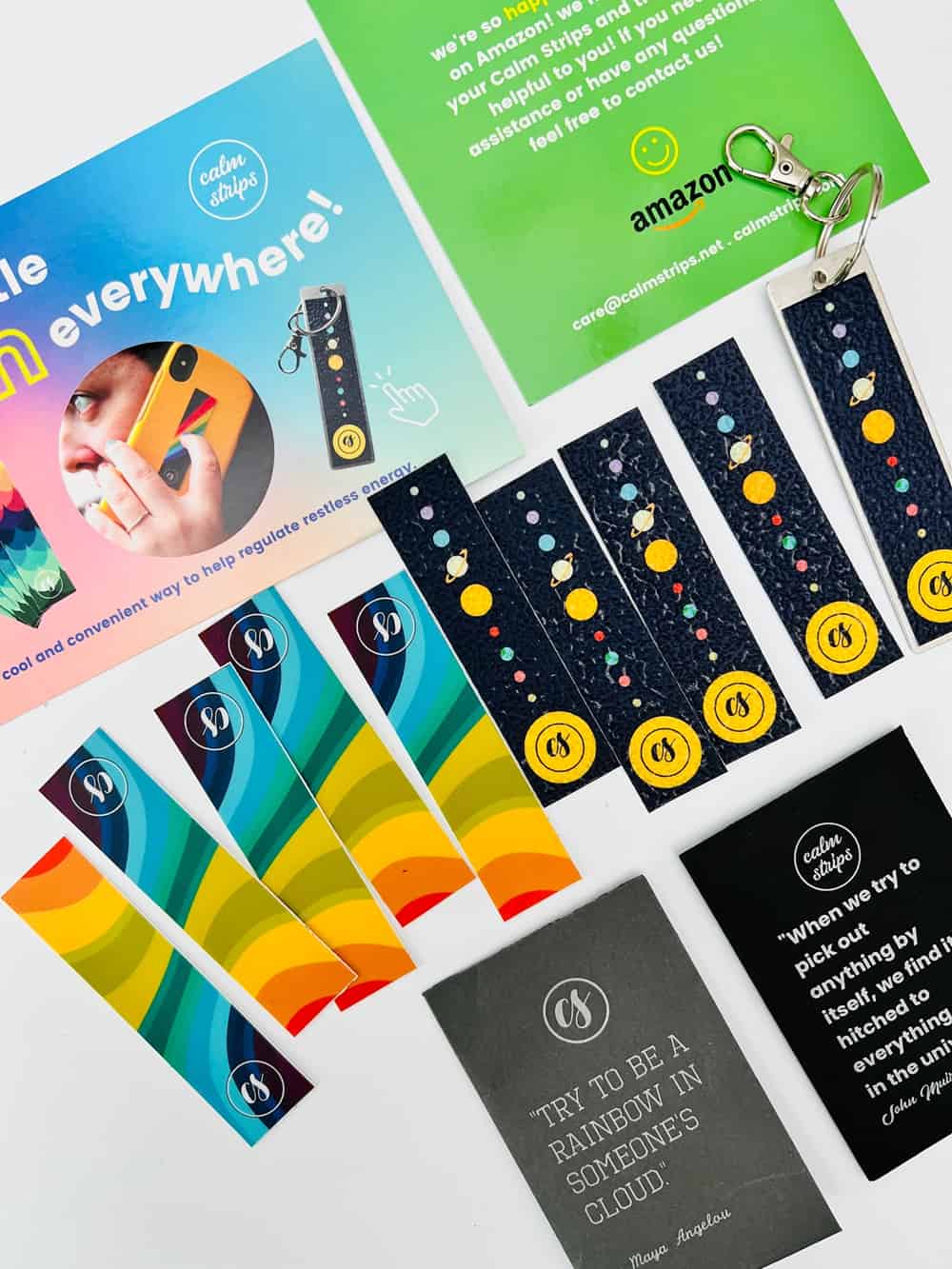 What are Calm Strips?
Calm Strips are a reusable, textured, adhesive strip used to increase focus, reduce fidgeting, and regulate active or restless energy. They're 3.2″ long and 0.8″ wide strips created from a very durable vinyl polymer that can last for 4 years or more and are latex-free. The adhesive on the backside is high-quality, but also allows the strips to be used repeatedly and removed easily without leaving adhesive residue. The strips are not only removable, but also reusable!
Who are these fidget strips for?
They're honestly for everyone adults or children ages 6 and up. They're used mostly by students, teachers, those that feel any level of anxiety or stress, fidgety individuals, anyone who has BFRB (body-focused repetitive behavior) ADD, ADHD, or ASD.
What are the two textures of this sensory tool?
The strips come in 2 different textures, Soft Sand and River Rocks. Soft Sand is a subtle, grainy texture, while River Rocks is more bumpy and less uniform or smoother than Soft Sand. River Rocks texture is ideal for anyone looking for a more robust texture. Soft Sand texture is ideal for those individuals looking for a gentle sensory experience, perfect for scratching and picking. Both textures are gentle on skin and soothing to the touch.
Both textures are also water resistant and can be cleaned as needed with a damp cloth and household cleaner.
How do you use Calm Strips?
PEEL, STICK, TOUCH, SCRATCH, or PICK
Calm Strips can easily be applied to a phone case, laptop, notebook, bed frame, water bottle and more. They will not, however, stick to paper or skin.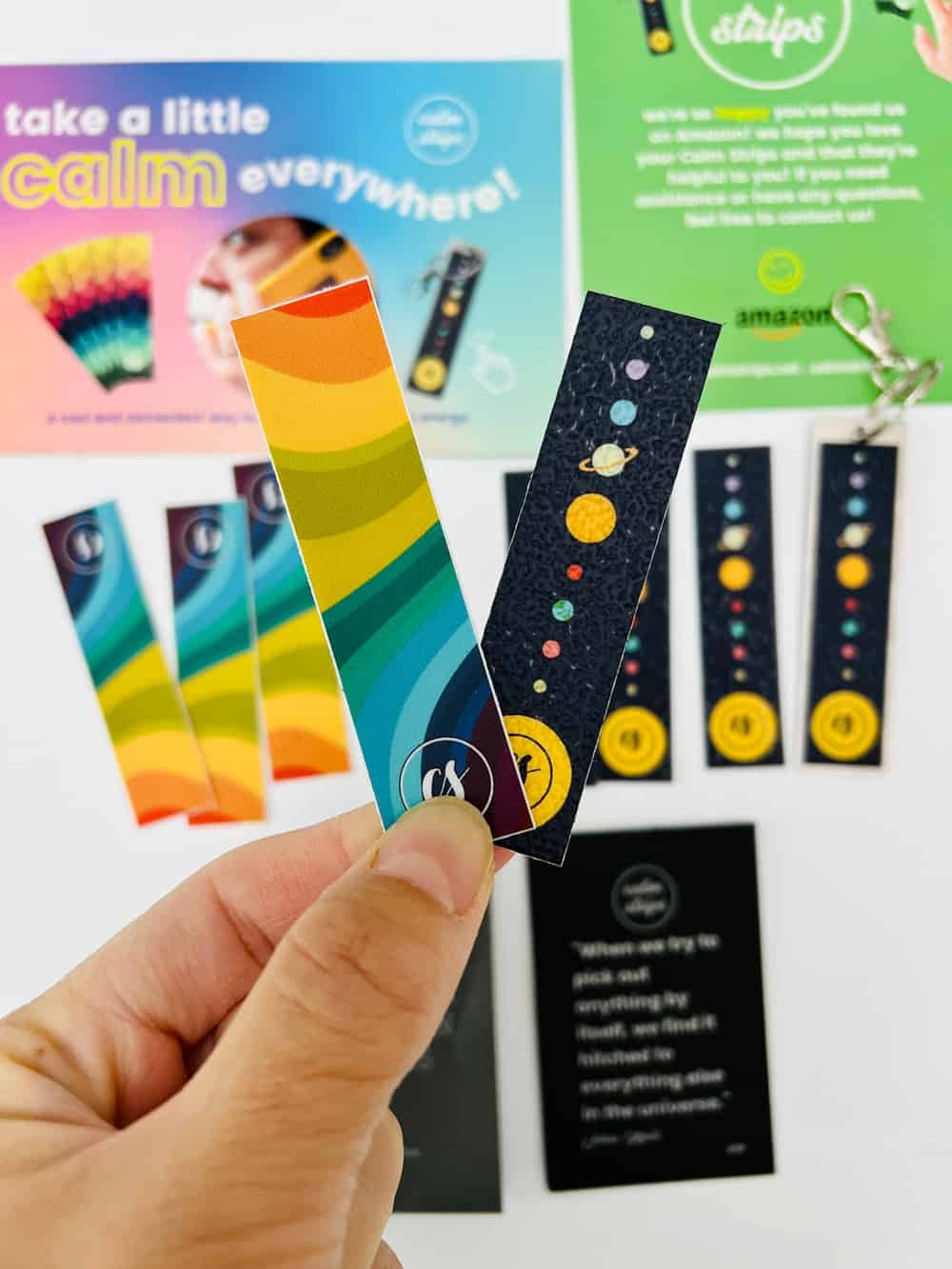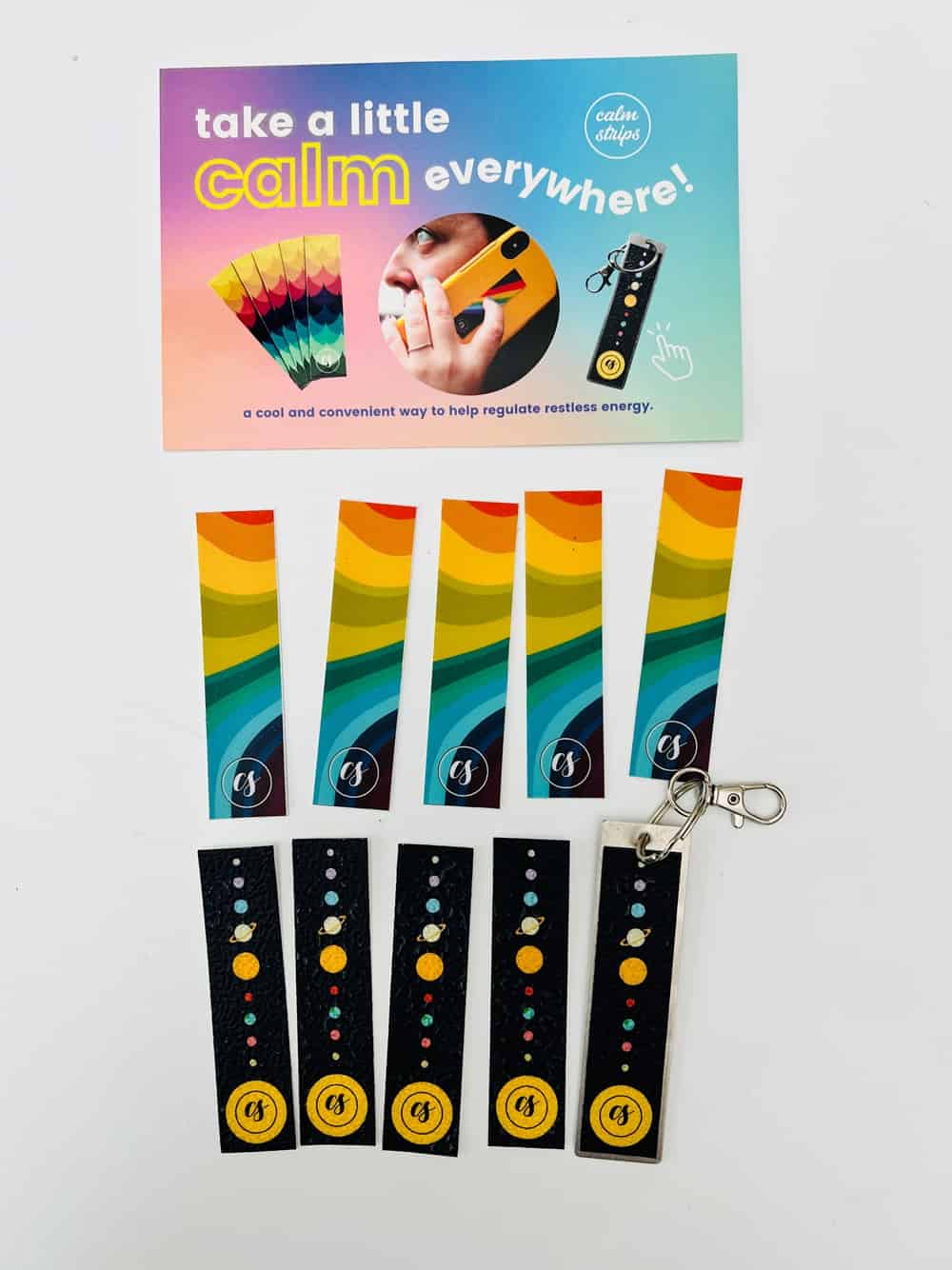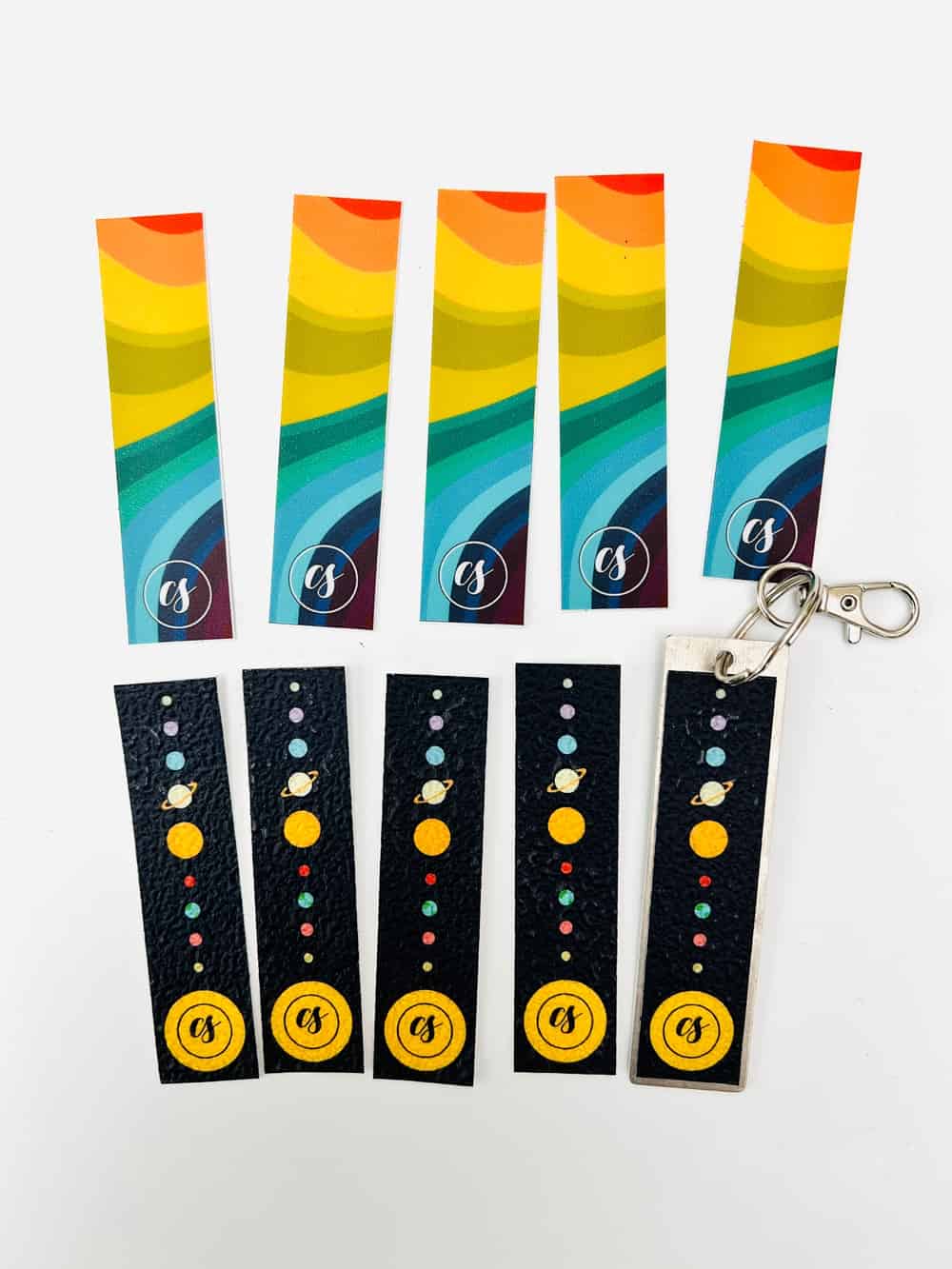 My honest review of Calm Strips 
The river rock is definitely my son's favorite because it has more of a texture vs. the subtler sand one. However, he loved both designs. The rainbow is cheerful and the moon super cool, especially for a 10-year-old boy who's already into space. The keychain is great for on-the-go, my son immediately attached it to his backpack.
He also placed the Calm Strips on his bunk bed so he has something to help soothe him when he's napping or winding down to sleep. The other strips he added to some of his devices like his iPad or gaming consoles. He loves playing games but can sometimes get frustrated while playing so I love that these strips are there as a tool to help calm him down.
He also placed them on his Chromebook which he uses at school. 
I don't think these strips alone can do the trick to calm down a child entirely but for the value and quality, you get they are a great additional tool and resource. I also love how discreet and easy they are to apply everywhere without worrying about losing them or being a distraction compared to fidget spinners; which you can't easily bring to school and can lose easily. 
How can I purchase the strips?
We got our Calm Strips easily on Amazon here. There are educational packs for the classroom, larger quantities in the form of school packs, carry tags, a variety of patterns, and different set options.  Some patterns include Living Colors, Hot Lava, Prismatic, Summer Storm, The System, Sunflower, and many more wonderful designs.
You Might Also Like
Rainbow Soap Foam Sensory Play
The post We Tried Calm Strips The Sensory Tool For Kids That Got On Shark Tank appeared first on hello, Wonderful.