The Janet Huckabee Arkansas River Valley Nature Center is a year-round destination for exploring, fishing, learning, and making family memories in Fort Smith. But, in the fall months when temperatures are cooler, colors change, and everyone enjoys the outdoors, Arkansas Game and Fish Commission Nature Centers are at peak experience potential.
The Arkansas Game and Fish Commission explores its mission to manage fish and wildlife resources through educational opportunities at the Arkansas Nature Centers. Nine centers around the state each offer unique access to regional ecosystems and natural elements. A bigger goal is that each venue offers a classroom, museum, and playground experience for learning and exploring.
Janet Huckabee is the wife of Arkansas' 44th governor, Mike Huckabee. During her time as First Lady of Arkansas, she traveled the Arkansas portion of the Arkansas River by jet ski to support the conservation sales tax. Her commitment to preserving Arkansas's beauty extended to assisting the Arkansas Game and Fish Commission with eagle excursions, boating safety classes, bear tagging, and anti-littering campaigns. She committed to exploring Arkansas by visiting all Arkansas state parks and navigating all Arkansas rivers, even floating, kayaking and canoeing several of them.
The Arkansas River Valley Nature Center is the perfect location to bear her name!
The center sits on 170 acres of wooded area that belonged to Fort Chaffee. Established in 1941, this area of Barling, on the outskirts of Fort Smith, served as an army training camp and POW and refugee camps for several international wars. Wells Lake was built on the property in 1940 to provide water during the fort's construction. And many of the walls and historical stone structures in the vicinity were created by the POWs, WPA and the Civilian Conservation Corp (CCC).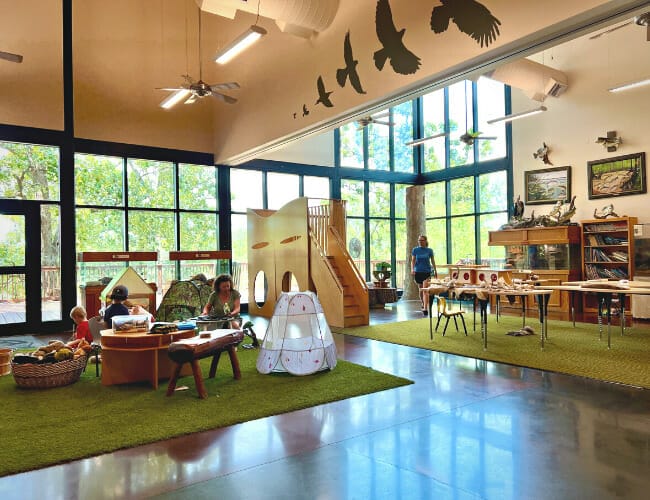 11 Unique experiences at the Janet Huckabee Arkansas River Valley Nature Center
Wells Lake is one of the main features differentiating this location from others around the state. With the onsite lake stocked with largemouth bass, sunfish, and rainbow trout, visitors can rent fishing equipment on the property. Children under 16 can fish for free, or teens and adults can purchase an Arkansas fishing license at the main desk. Visitors must provide their own bait.
A 1,200-gallon aquarium meets you at the first exhibit. Full of flathead catfish and alligator gar, it gives visitors an up-close experience with fish native to the River Valley.
Watch birds feed on berries and nuts under the trees. A few stocked feeders increase activity and create an environment for chipmunks, geese, ducks, and songbirds to share the same space. An interactive display teaches about bird migration patterns and song-making. Watch for the scissor-tailed flycatcher, a unique visitor during certain times of the year.
Interact with wildlife through windows, aquarium walls, animal habitats, models, and preserved natural spaces. So many species of animals are on display, so encourage kids to explore through scavenger hunt experiences, getting low, pulling levers at eye level, or even looking up through the skies.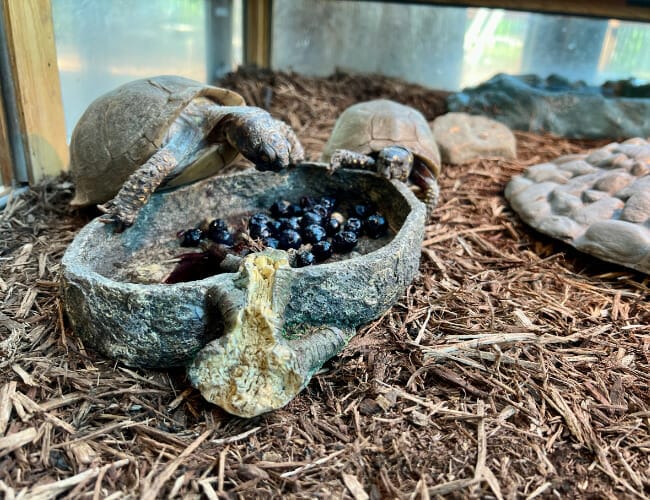 Critter Crunch – do not miss animal feeding time. Check the center's calendar for daily and weekly feeding times. Toward the end of the day, caged animals receive snacks, and you can sometimes observe venomous and non-venomous snake feedings by trained staff and interns.
Mock fishing experience – With a practice fishing pole, kids can catch and release or catch and remove the fish from the pole and take them to a measuring station. This interactive learning experience creates early practices of responsible fishing and water safety.
The outdoor deck provides a unique space for quiet and viewing the nature center grounds. Rocking chairs covered by shady oak trees allow visitors to watch lake fishing and the resident Canadian geese. It is a perfect place to enjoy a quiet moment outdoors.
Six trails leave behind the Visitor Center, including the Wells Lake Trail, a half-mile ADA-compliant paved path circling the lake for viewing blue herons and geese. Other trails meander along creeks and wooded lands, including the nearby Hardwoods Tree Museum path.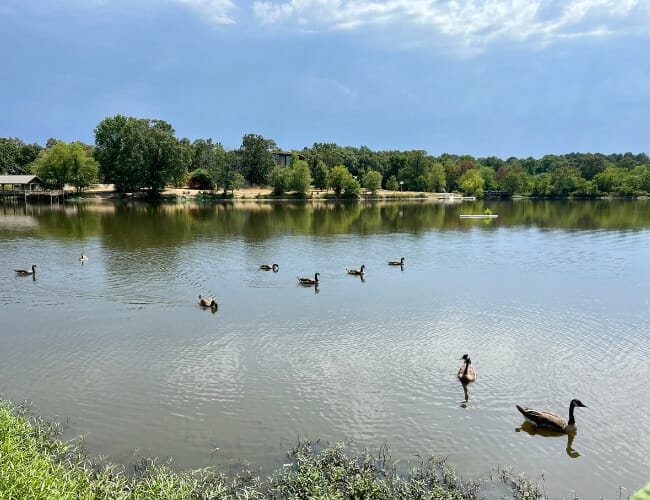 Safety training – local classes, are offered on marksmanship, boating and paddling safety, wild edibles, Dutch oven workshops, aquatics safety, and cooking deer meat. Some courses are for the general public, and others offer professional development certifications.
Multipurpose rooms for community events – this unique space is great for offsite training, professional development or quarterly meetings. In addition, the change of scenery could provide a creative outlet for your group.
The center provides educational resources for classroom and homeschool curriculum and onsite visit guided field trip experiences for groups.
Arkansas River Valley Nature Center
8300 Wells Lake Road | Fort Smith
479-452-3993
Website | Facebook | Email
Other regional Arkansas nature centers are located in Pine Bluff, Jonesboro, Little Rock, Springdale, Columbus, Casscoe, Ponca and Yellville.
Cover image used with permission from the Arkansas River Valley Nature Center.
Via Only In Arkansas.