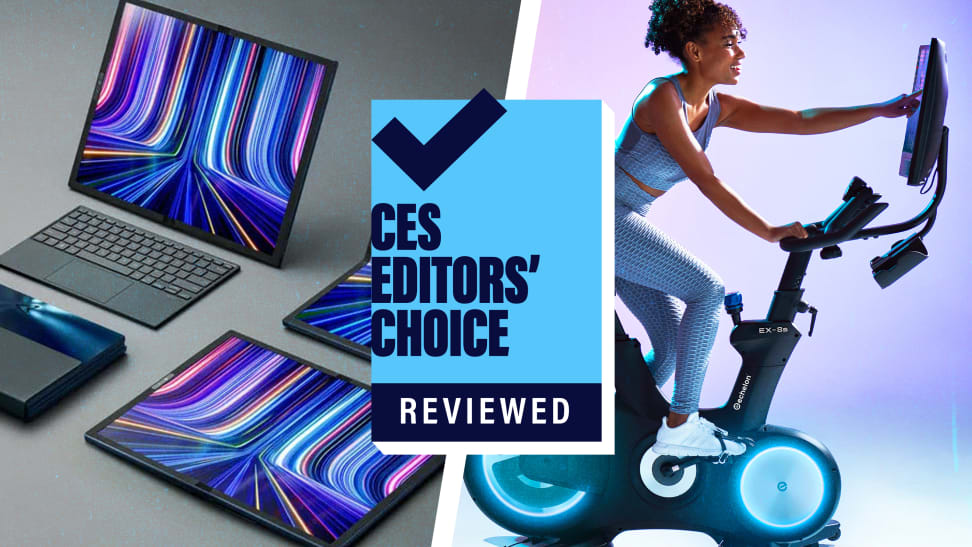 — Recommendations are independently chosen by Reviewed's editors. Purchases you make through our links may earn us a commission.
The 2022 CES show was, perhaps, not the joyous return to normalcy that some were expecting. Due to the covid resurgence, scores of would-be attendees dropped out at the last minute and opted for a virtual experience, including the staff here at Reviewed. So we plunked ourselves down in front of our laptops and took a days-long deep dive into the new batch of gadgets debuting at the show.
As ever, we were bowled over by the ingenuity of brands big and small alike. Of the thousands of CES debuts, we're awarding just 55 of the products that stood out to us—those that excelled in innovation, core technology, design, and/or value. They range from the large and flashy to the humble but clever and we're confident that you'll be buying them when they hit shelves later this year.

In addition to the many categories we've previously covered, this year we're highlighting products that address the needs of the disabled and aging communities—accessible designs that allow everyone to thrive in dignity and comfort.

Welcome to Reviewed's CES 2022 Editors' Choice awards!
TVs & Home Theater
Sony Z9K
Sony's Master Series Z9K will be the company's blue-ribbon entry amongst the crop of 2022 TVs. Available in 75- and 85-inch sizes, the Z9K TVs deliver all of Sony's best video and audio enhancements in one fell swoop: The new Cognitive Processor XR powers a mini-LED backlight for premium contrast performance, while quantum dots will elevate color saturation to drool-worthy levels across maxed-out 8K resolution. But the Z9K doesn't stop there—it's also getting anti-reflective and viewing-angle-widening tech as well as a suite of audio-focused upgrades, including four frame tweeters around the perimeter of the screen to join the standard front-firing speakers and subwoofers. Naturally, the Z9K TVs are also crafted to boast minimalist, posh designs, and their stands can even be configured across three settings: narrow, standard, and soundbar. We expect the high-falutin' Z9K TVs to fetch a pretty penny once pricing is announced, but we also expect them to drop jaws.
Samsung New Eco Remote
Last year, Samsung made waves in the eco-sustainability space by launching a solar-powered remote that came standard with many of its TVs, eliminating potential millions of wasteful batteries from its production ecosystem. The new Samsung Eco Remote, joining the company's 2022 TV lineup, goes a step beyond the previous model's ability to stay charged up via sunlight, ambient light, or USB-C—it can charge itself up by harvesting otherwise wasted energy from a Wi-Fi router up to 40 meters away, meaning even if you live in a fuligin cave, you can keep it charged by way of a device you likely already own. Considering Samsung is a global leader in TV sales, the New Eco Remote's subtle but impactful contribution to a greener future is commendable, and we're jazzed to hear that it's now a viable product for any home, whether it's a greenhouse or a haunted coal mine.
LG C2
The C2 OLED TV (available in six sizes ranging from 42 to 83 inches) is building on several years of established success, offering top-shelf 4K picture quality and a laundry list of extra features. This year, LG's "C" series is outfitted with display technology that was previously only available in LG's tippy-top Gallery OLED models. Dubbed "OLED evo," the suite of hardware and software enhancements promises brighter highlights and better picture processing. We expect the C2 to be as much of a gaming success story as its predecessor, too, thanks to its universal support across all HDMI inputs for 4K gaming at 120fps as well as some key gaming features like Variable Refresh Rate and Auto Low Latency Mode. But perhaps the most exciting aspect of the LG C2 is that it'll be available in a relatively small 42-inch model, making it a fantastic option for PC gamers or folks who want a smaller secondary TV. If you're the betting type, it would be wise to put your money on the C2 for end-of-year accolades in 2022.
Hisense U8H
The Hisense U8H is a souped-up version of last year's U8G, which was one of our favorite LED TVs of 2021 due to its stellar picture and ultra-competitive price. The U8H, one of a number of new TVs for 2022, looks to improve upon that success with its upgraded display technology; while the U8G used traditional full-array backlight tech, the U8H brings mini-LEDs to the table. With these, the U8H is almost guaranteed to have tighter contrast control than its predecessor. The U8H also boasts quantum dots, next-generation gaming features such as VRR and ALLM, a native 120Hz refresh rate, and a reported peak brightness of around 1,500 nits. Consider us excited.
LG S95QR
We've seen an explosion of Dolby Atmos soundbars of late, but LG's S95QR stands out from the crowd, and not just for its potent 810 watts of power. Dubbed a 9.1.5-channel bar by the brand, the four-piece SQ95R offers four traditional upfiring channels to bounce sound off your ceiling for hemispheric immersion when enjoying Dolby Atmos content, as well as a unique, center-channel upfiring driver up front which LG claims will improve voice clarity and "place the sound in the center of the TV." This leads us to believe the driver will primarily showcase center-channel dialogue, but we'll have to wait until we can try it for ourselves. Either way, it's an intriguing new take on a category that continues to evolve.
Laptops & Computing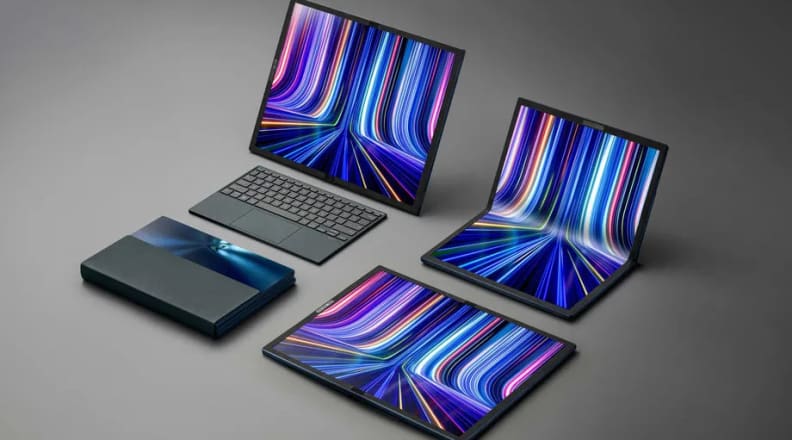 Asus Zenbook 17 Fold OLED
There were a lot of great laptops on display at CES this year. Foldable laptops are about as common as foldable phones (as in, not very), but Asus' Zenbook 17 Fold OLED makes a convincing argument that they should be a wider trend. The entire 17.3-inch laptop is a foldable screen that you can prop up to use it as a full display, bend it in half vertically to use it as a laptop, or lay it flat to use it as a large tablet. The Zenbook 17 Fold OLED is configured with a 12th-gen Intel Core i7-1250U Processor, 16GB of RAM, and 1TB of SSD storage, and Bluetooth, so it's a speedy laptop on top of being an incredibly cool one.
Asus ROG Flow Z13
Asus' ROG Flow Z13 is the little sibling to Asus's 2-in-1 gaming laptop, the ROG Flow X13, but the Z13 model is a gaming tablet. (Yes, you read that right.) The ROG Flow X13 has a detachable keyboard, a 13.4-inch touchscreen display, and can be configured with up to a 12th-gen Intel Core i9-12900H CPU, 16GB of RAM, and an NVIDIA GeForce RTX 3050 Ti GPU. Asus also sells an optional RTX 3080 external GPU that can connect to it, in case you want to play more demanding games on the go. As far as PC gaming goes, this is one of the most unique and innovative form factors we've ever seen.
HP Elite Dragonfly Chromebook
The Elite Dragonfly series of laptops from HP are designed for business users who need a machine that's portable, flexible, secure, and offers excellent design. This new model is the first Chromebook in the Elite Dragonfly lineup, giving business users a non-Windows alternative that should be just as functional as HP's other high-end business machines, assuming you don't need to run local Windows apps. Price is still TBD, though we expect to learn more before it starts shipping in April 2022.
Dell XPS 13 Plus
Dell's XPS 13 has been the default premium Windows laptop for so long that it's difficult to remember how groundbreaking the original design was. The new XPS 13 Plus seeks to recapture some of that magic with several spectacular design changes, including a keyboard that runs seamlessly from edge to edge, a capacitive touch bar instead of the classic function row, and a haptic touchpad that runs across the entire bottom of the deck instead of limiting it to a small patch of glass. All these modifications leave little room for error on Dell's part, but we're excited to see if the engineers can stick the landing on this one.
MSI Stealth GS77
What stands out the most about MSI's newest Stealth GS77 gaming laptop is how the company plans to keep it cool—enter MSI's Phase-Change Liquid Metal Pad. Instead of applying traditional thermal paste on the CPU, MSI uses a conductive metal pad that turns into a liquid once the laptop reaches a certain temperature. Liquid metal is highly effective at managing heat, but if any of it leaks on your motherboard it can fry your components, so applying it is tricky. MSI's Phase-Change Liquid Metal Pad solves that issue by making the liquid metal safer and easier to replace, not to mention it will keep the Stealth GS77 super cool, even with an Intel Core i9-12900H inside.
Computing & Mobile
AMD Ryzen 7 5800X3D
AMD's Ryzen 7 5800X3D is the first consumer desktop gaming processor to use 3D chip stacking technology. Normally a processor's dies (i.e., small blocks of integrated circuits that perform specific functions) are placed side by side. But when stacked on top of each other, it not only increases processing speed, it leaves extra room on the physical chip to add more cache, or temporary storage. More cache increases the processing speed, and all that extra speed translates to faster loading times and higher frame rates while gaming. As a bonus, the Ryzen 7 5800X3D also fits into existing AMD motherboards!
LG DualUp Monitor
LG's new DualUp Monitor 28MQ780 is the answer to a question that ultra-wide, curved, and multi-screen displays have been quietly asking for years: What's the best way to multi-task? That answer comes in the form of a new design: two screens stacked on top of each other. You end up with a screen that sounds bizarre on paper—16:18 aspect ratio, 2560x2880 resolution—but that is essentially two 16:9, 1440p screens in one. LG claims this orientation is not only an excellent alternative to the usual "two entirely different monitors side-by-side on your desk," but that it will reduce gradual neck pain from looking side-to-side all day long. The DualUp could be ideal for professionals that need to make adjustments and watch outputs simultaneously, such as graphic designers or video editors, and it also seems like a great way to save space and promote productivity. In this era of remote work, display innovations like this are worth getting excited about.
Samsung Galaxy S21 FE 5G
The Samsung Galaxy S21 FE 5G smartphone takes most of last year's superb Galaxy S21 and puts it in a more affordable package. You're getting the same processor as the S21, as well as a 5G radio, 120Hz screen, and a large 4,500mAh battery. It'll be an ideal phone for anyone that wants flagship-level performance but wants to keep their budget in check. The S21 FE 5G will start shipping this month with a retail price of $700—on par with previous FE Samsung phones and well below the S21's launch price.
Gaming
Samsung Odyssey Ark monitor
We love a good practical computer monitor—but the Samsung Odyssey Ark is the kind of ridiculous CES product that gamers' dreams are made of. With a massive, curved, 55-inch display, the Ark is poised somewhere between productivity and pure fun, delivering a premium Neo QLED display (read: mini-LEDs and quantum dots) that's as ergonomic as it is jaw-droppingly huge. The 1000R curved screen boasts big flexibility not just by way of traditional tilting and height adjustment, but by being able to intelligently rotate between landscape and portrait orientation while using Multiview functionality to reallocate windows and inputs on the fly. And despite its size, the 55-inch screen delivers a traditional 16:9 aspect ratio, making it more viable for tasks like web browsing, media viewing, or console gaming compared to an ultra-wide layout. It also ships with a sleek wireless dial controller to make it easier to change settings (plus, you legit might not be able to reach the buttons). Two by two or otherwise, this is one Ark we want to get on pronto.
HyperX Cloud Alpha Wireless
We loved the original HyperX Cloud Alpha gaming headset for its comfortable design, clear audio quality, and stellar virtual surround capabilities so, naturally, we were excited to see the Cloud Alpha Wireless show up during CES this year. However, this one's real claim to fame comes from a very unexpected place: its battery life. HyperX boasts that the Cloud Alpha Wireless delivers up to 300 hours of battery life—easily 10 times the battery life of the average wireless gaming headset. Considering how confident we are that the Cloud Alpha Wireless will be a well-kitted gaming headset, thanks to its DTS:X surround sound and noise-canceling detachable microphone, it's some seriously frosty icing on an already tasty cake to be able to enjoy an entire month's worth of workdays off of a single charge.
Sony PlayStation VR2
Given the smash success of Sony's Playstation 5, it's no surprise that Sony would want to update its virtual reality headset as well. Though the PS VR2's development was revealed a few months back, Sony is finally, officially announcing the specs to expect and that it will be out later this year. Sony hasn't yet revealed how the new headset will look—if the design differs from the current one much at all—but we're looking forward to seeing how it shapes up later this year.
JBL Quantum True Wireless
Gamers are no strangers to JBL's Quantum headset lineup, but the company's first-ever foray into the true wireless form factor has us excited for something totally new. While true wireless buds have become mainstream outside of the gaming realm, they have yet to supplant the hefty cans that dominate most gaming battle stations, but the JBL Quantum True Wireless might just change that. For a reasonable $149.95, the Quantum TWS deliver JBL's signature spatial surround audio, adaptive noise canceling, a form of transparency mode, beamforming microphones, IPX5 water resistance, compatibility with smart assistants, and an impressive 24 hours of battery life. The Quantum TWS also connect via a USB-C dongle or Bluetooth 5.2, making for welcome flexibility and low-latency connectivity. If any true wireless buds have a shot in the crowded gaming headset space, it's these.
Smart Home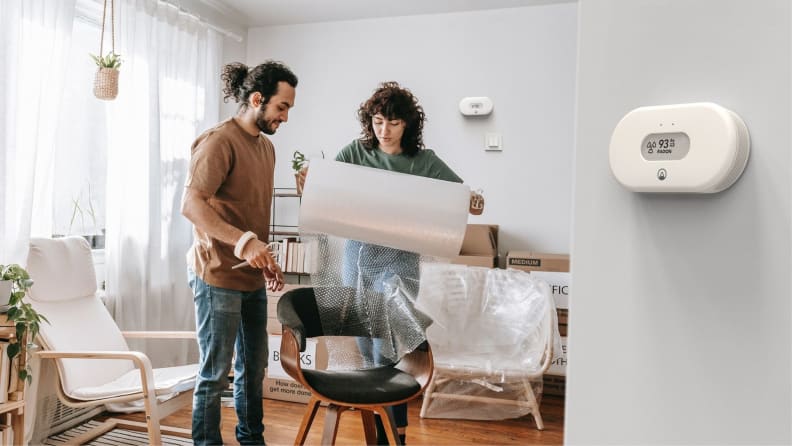 Airthings View Radon Detector
Radon is an odorless gas that can be just as dangerous as smoke, but because it's colorless, it can be hard to monitor. View Radon by Airthings claims to be one of the most advanced radon detectors out there. It works by measuring the air quality and alerting you to unsafe measurements, with initial results in 24 hours. The wall-mounted View Radon provides a 24-hour reading, as well as long-term data about your home's indoor air quality. It works with Alexa or Google Assistant so you can ask your smart assistant to report radon levels in different rooms of your home. View Radon will be available for $199.99 later this year.
Kohler PerfectFill
The Kohler PerfectFill drain system is a futuristic way to upgrade your bathing experience, filling up the tub to your desired depth and temperature and then draining it without ever having to lay a finger on the faucet. In addition to the standalone digital wall controller and Kohler app, the smart bathing tech works with voice control via smart assistants Alexa or Google Assistant. The system is compatible with other Kohler digital valves, spouts, and tubs. PerfectFill will be available to order later this year and will be sold as an entire system (valve, system controller, and drain) starting at $2,700.
Arlo Security System
The new Arlo Security System may be the most expansive yet, featuring an all-in-one multi-sensor that can detect motion, window/door openings, water leaks, light and temperature changes, and smoke/carbon monoxide alarms. The DIY system also comes with a security hub and integrated keypad with a backlight to help manage the system near an entry/exit way. The hub, which features a built-in siren and sensors, supports near-field communication technology, allowing you to arm or disarm the system in seconds using your phone. Though it will be available to buy later this year, no pricing information is available yet.
Schlage Encode Plus Smart Wi-Fi Deadbolt
Schlage makes the best smart locks we've ever tested and they're back at it again with something Apple fans will love: compatibility with Apple Home Keys in Apple Wallet. This means you can tap your iPhone or Apple Watch to unlock the deadbolt without having to open up your phone or punch in a code on the keypad. The Schlage Encode Plus also works for voice control with Siri, Alexa, and Google Assistant, and can be managed remotely using the Schlage app for iOS and Android. The deadbolt will be available later this spring for $299.99.
Eufy Security Video Doorbell Dual (Battery Powered)
It's all eyes on the new Eufy Security Video Doorbell Dual (Battery Powered), which features not one, but two cameras (2K and 1080p). The top camera has a 160-degree field that offers a head-to-toe view, while the bottom camera has a narrower, downward-facing view to keep a watchful eye on packages and other front-porch deliveries. Other features include facial recognition, package alerts, free local storage, and compatibility with Alexa and Google Assistant. The dual-camera doorbell is expected to be released in February for $259.99.
Moen Smart Faucet with Motion Control
The Moen Smart Faucet with Motion Control for kitchens and large sinks has a built-in sensor located on its side that responds to basic hand-gesture controls for a completely touch-free experience. With a few swipes, you can adjust the water temperature and flow without coming into contact with the faucet. It works with Alexa and Google Assistant, allowing you to effortlessly request specific water temperatures and measurements, and can also be managed and customized in the Moen app. The faucet comes in several styles, with or without handles, starting at $675 later this year.
Sengled Wi-Fi Video-Sync TV Light Strips
Sengled's new Wi-Fi Video-Sync TV Light Strips uniquely uses a small camera—not a security camera—to capture ambient light coming from what's displayed on the TV screen. In turn, this helps the light strips change color in real-time, making for a fun and immersive lighting experience that's ideal for gaming, movie nights, and more. Sengled's strips are compatible with Alexa and Google Assistant, so you can use voice control to activate lighting presets like "game night," and change the color to one of 16 million different options (including tunable whites). The Wi-Fi Video-Sync TV Light Strip will be available later this year for $119.99.
Accessibility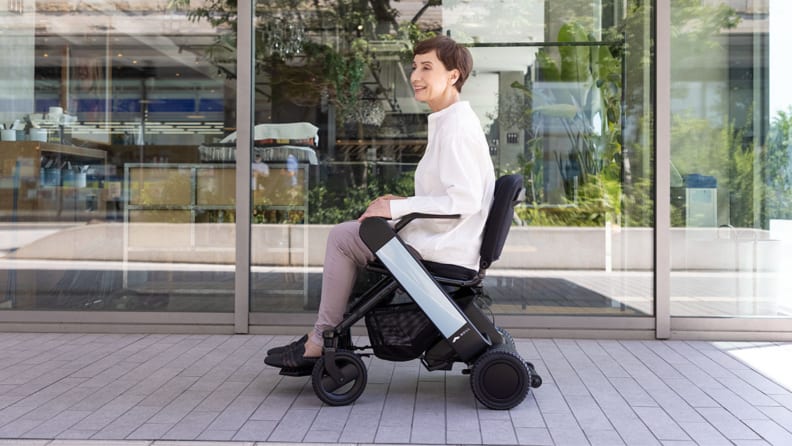 Whill Model Fi
The Whill Model Fi personal electric vehicle is so much more than a power wheelchair. Its decidedly futuristic design is slim enough at 21.9 inches to fit in the narrowest of spaces, and the width between armrests can be adjusted to either 16 or 28 inches. It's lightweight and foldable, and it can even be driven and locked remotely with an app. While some of these features may sound like bells and whistles, the extra tech on board can take a lot of the hassle out of day-to-day travel. The Model Fi will be available for public purchase in the spring of 2022 for $2,899.
Lili Lamp
People with dyslexia have two dominant eyes, which means their brains try to process two overlaid images. This can cause readers to see a mirror effect on the page, making it difficult to decipher letters and words. The Lili Lamp works to combat this by producing "imperceptible lights and flashes" that negate that mirror effect. Lili's app allows users to adjust the settings to find the optimal lighting for them, and the company offers free support for setup. Plus, the whole lamp is small enough to fit in a purse for help on-the-go. Lili Lamp is available for shipping worldwide for €349, or $395.
Tover Magic Table
The Tover Magic Table claims to harness "the power of purposeful play" through its interactive light projector. A gaming system designed for people with dementia and intellectual disabilities, the projector mounts to the ceiling above a table where the gamers can sit and interact with the moving projections. The games are designed to stimulate brain activity and connection, and a subscription service provides unlimited access to games and 24/7 support from the company. Geared toward assisted-living facilities, the Tover Magic Table retails for $11,600, which includes two years of subscription service, warranty, service, and the unit itself.
32ºN adaptive focus sunglasses
Offering a convenient alternative between switching back and forth from sunglasses to reading glasses to everyday glasses, Deep Optics 32ºN adaptive focus sunglasses can adapt their focus with a simple touch. Swipe your finger across the frames' temple piece and the lens itself can adjust the prescription, thanks to its pixelated liquid crystal layers that respond to a built-in processor. The accompanying app can make modifications to the amount of magnification and even test your vision to see if your prescription might need tweaking. Available in four frame colors, the lenses cost $499 and are available for preorder, shipping later this year.
Dignity Lifts WL1 toilet lift and washlet
Dignity Lifts produces toilet seat lifts that assist people in lowering onto and rising from the toilet. The concept is not unlike that of power-lift recliners. And while a high-tech toilet seat may sound frivolous, the newest Dignity Lift, the WL1, uses current technology to make the toileting process so much easier for people with mobility limitations. The seat is warmed, so you're comfortable as it lowers you onto the toilet. When you're done, the bidet can make sure all is clean with a warm-water sprayer, a built-in dryer takes care of excess water, and the seat lifts you back up to a standing position. The WL1 will be available in May for $2,999.
Eargo 6 hearing aids
It seems like there's a new hearing device on the market every day, but the Eargo 6 brings something unique to the table. While most of its features have existed in other aids in some shape or form (water resistance, auto-adjustment, a small form factor), the Eargo 6 has responded to current events with something called "Mask Mode." Turning on mask mode helps to negate the muffling effect that mask-wearing causes, and as masks make it tougher for the hard of hearing to interpret sounds, this is a welcome consideration. The Eargo 6 costs $2,950 and ships by January 17 of this year.
Headphones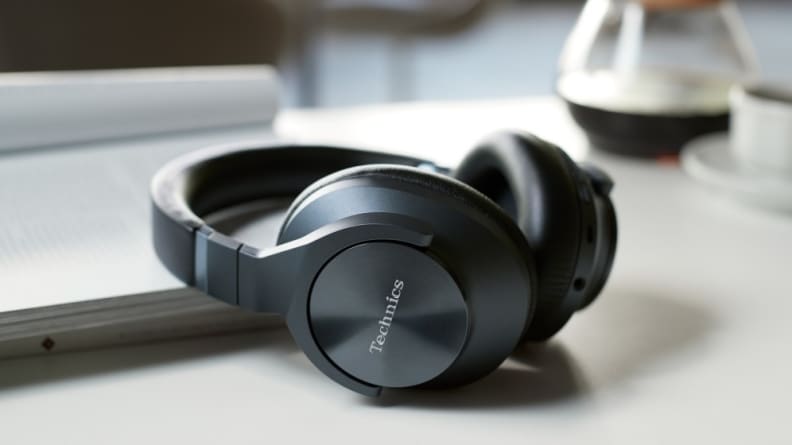 Technics EAH-A800
Technics has been making a big splash with its latest noise-canceling earbuds, which offer impressive audio performance and some of the best noise canceling in the business. The EAH-A800 look to continue that trend, offering impressive features such as high-resolution Bluetooth streaming from compatible devices and a sleek and stylish design that should put them in serious competition with top picks like Sony's WH-1000XM4. While Technics hasn't revealed pricing yet, if the headphones stay below $350—and bring the kind of performance we've come to expect from the brand—they'll be a dark-horse favorite for 2022.
Jabra Elite 4 Active
With active noise canceling, transparency mode, a durable IP57 dust and water-resistance rating, and a price of just $119, Jabra's Elite 4 Active are coming for the AirPods 2 and every other pair of mid-tier earbuds. While we don't expect the Elite 4 to compete with our favorite flagship models, they offer a deep draft of top-tier features at a price that would have been unthinkable from a brand like Jabra just a few years ago. If you've been sleeping on true wireless earbuds, the Elite Active 4 suggest this may be your year to wake up to the tech.
Mark Levinson No 5909
As the "first portable offering" from Harman's storied luxury audio brand, the $999 No 5909 headphones come with a pedigree few can match. But the real reason they're worthy of accolades is that they're a gorgeous bit of audiophile art in the sheepskin cloak of a pair of travel cans. With 30-plus hours of battery, high-resolution circuitry, Bluetooth support from compatible devices, and three-phase adaptive noise canceling among their feature set, the No 5909 look very respectable on paper. But we expect their aluminum frame, beryllium drivers, and leather-covered ear cups to deliver sterling sound first and foremost, and sometimes you just have to give it up for headphones that strive for audiophile glory.
Fitness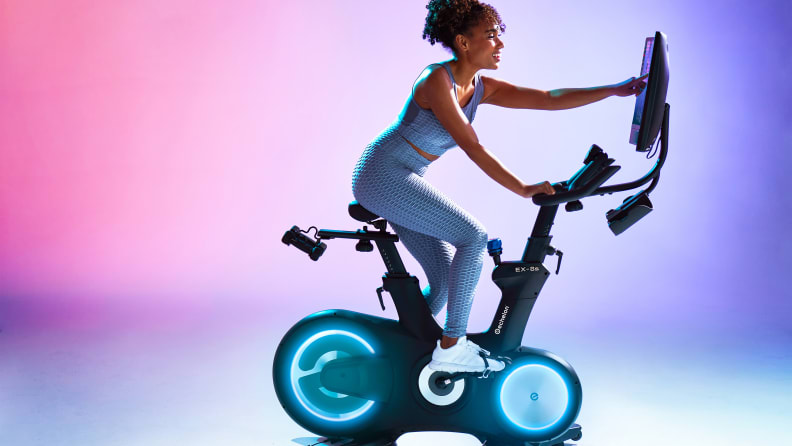 Echelon EX-8s
Echelon aims to bring a more immersive spin class-like experience to its connected exercise bike lineup with the Echelon EX-8s. With a curved 24-inch touchscreen and an upgraded dual-speaker system, the EX-8s offers surround sound and visuals with less screen glare than you might have from a flat display. The EX-8s also makes cycling more user-friendly with an upgraded handle design that puts the resistance controls near your hands, not along the frame, where reaching down during out-of-saddle peddling can be awkward. The Echelon EX-8s is available for pre-order through January 15 for $2,399, with shipping expected to start in February.
Apeman Seeker R1
Cyclists can stay safe on the roads with Apeman's new rearview e-mirror camera for bicycles. The Seeker R1 attaches to the back of a bike and records traffic behind you and in your periphery, which can be streamed to your handlebar-mounted smartphone in real time. With your phone acting as a smart dashboard, the Seeker R1 makes it easier to steer clear of cars and safely make turns and change lanes. The Seeker R1 also has great safety features for evening rides—it automatically lights up when the sun goes down, and projects a laser light bike lane on your sides to warn oncoming motorists of your boundaries. Apeman hasn't announced a launch date but is offering Seeker R1 for a preorder price of $289 with a future retail price of $399.
Garmin Venu 2 Plus
From top-of-the-line fitness tracking to easy-to-use smartwatch features, Garmin's new watch promises to do it all. The Venu 2 Plus boasts Garmin's industry-topping, built-in GPS to makes it easy to record workouts, in addition to sleep tracking, stress tracking, and more. But the most notable improvements to the Venu 2 Plus is its voice activation, thanks to an added speaker and microphone. You can now take calls, dictate text messages, and use your phone's voice assistant right from your wrist, putting the Venu 2 Plus in fierce competition with some of our favorite smartwatches like the Apple Watch Series 7 and the Samsung Galaxy Watch 4.The Venu 2 Plus also showcases a battery that lasts up to nine days in smartwatch mode—a longevity that those competitors can't touch. The Garmin Venu 2 Plus is available now for $449.99.
Beauty & Grooming
Panasonic Arc6 6-Blade Shaver
The Panasonic Arc6 aims to change the game for lazy beard-growers. The six-blade electric shaver features two new "thick stubble" blades that tackle coarser, longer strands, as well as two "finish" and two "lift" blades. Its powerful motor claims faster, cleaner results with 84,000 cross-cutting actions per minute (compared to 70,000 the Arc5 promised). The shaver also boasts a head that moves in 10 directions and blades that move vertically and horizontally to adjust to hair density and the curves of faces and necks. All of this means that each stroke of the shaver covers a 10% greater surface area than the Arc5, per Panasonic. The Arc6 will be available with a charging cable for $399.99 or with a charging dock for $499.99 on Amazon in April.
Ninu Perfume
Soon you'll only need to clear out one spot on your dresser to have access to 100 fragrances. Ninu, dubbed the world's first smart perfume, is a cylindrical canister that contains three glass cartridges filled with complementary base notes, such as "floral," "fresh," and "oriental," from German fragrance brand Moellhausen. Using the company's corresponding app on your phone, you can change the scent ratio and the fragrance intensity to create and save your own customized fragrance. The smart perfume will be available in masculine, feminine, and unisex designs, all of which will be available in June for an estimated $259.
Sleep Tech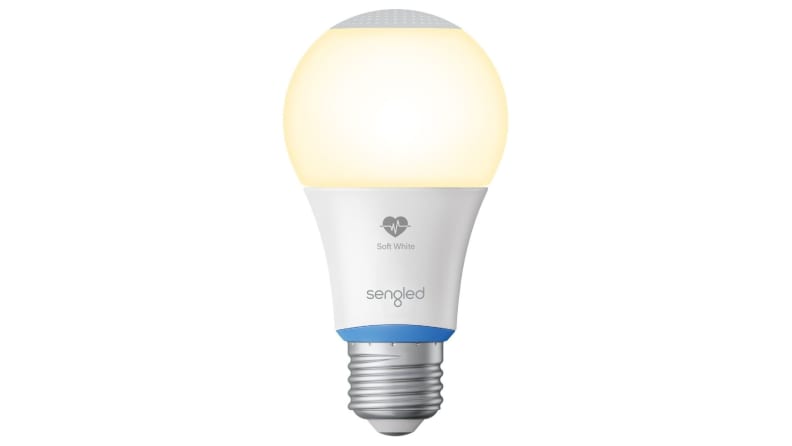 Sengled Smart Health Monitoring Light
Plenty of devices offer sleep tracking. But it's unlikely you've come across something like Sengled's recently announced Smart Health Monitoring Light, a bulb that can be used to monitor a spectrum of health measures from your nightstand lamp. The lightbulb uses radar paired with "AI algorithms" to allow users to track various biometrics during sleep, such as heart rate and body temperature. It can even "change certain colors to notify you if your specific vital sign is outside of the parameters you have set," says Kenneth Camp, product innovation director at Sengled. As a Bluetooth-enabled device, it will be able to connect with the Sengled app on your smartphone and other Smart Health Monitoring lights. The Smart Health Monitoring Light is expected to be available in the fourth quarter of 2022, with no price yet announced.
Sleepme's Dock Pro with the Chilipad Pro pad
The right temperature is essential for good sleep. We tested Sleepme's Chilipad Sleep System, which controls your temperature through a cooling pad, and saw room for improvement. The company's new version, Dock Pro with the Chilipad Pro pad, addresses some of our quibbles. It's a cooler, quieter, and tubeless system. It can be used as a standalone, but in spring 2022, users will be able to pair it with Sleepme's Insight sleep tracker and companion app and allow the tracker's AI algorithm to respond to your body's changes and control the temperature overnight. The company is offering January bundle pricing of $1,299, which includes 12 months of the SleepMe+ tracking membership.
Pet Tech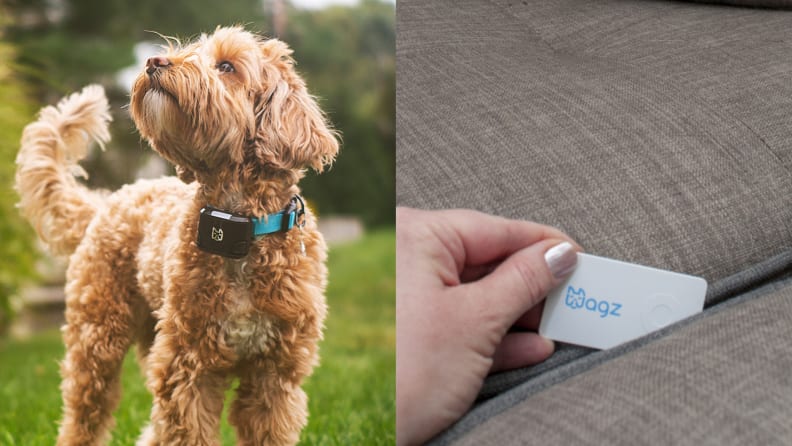 Wagz Tagz
Smart dog collar company Wagz adds to its geofencing repertoire with the introduction of Tagz. This indoor-use accessory is positioned as an "invisible gate" to train a dog to stay off the furniture or keep out of certain rooms without installing a physical barrier. The Tagz themselves look like keyless entry cards you might use at your office, and their size and shape makes them easy to tuck beneath couch cushions or affix to doorways. When a Wagz collar-wearing pup gets too close, a vibration—not an electric shock—lets them know to steer clear. Tagz will be available in March with no price yet announced, and you'll need the $250 Wagz Freedom collar as well.
Pluto Square Modern Cat Litter Cube
As a solution to the endless and unpleasant chore of providing the family feline with a clean latrine, self-cleaning "smart" litter boxes are not new. But the Kickstarter-funded Pluto Square aims to improve on the design, with thoughtful details such as an "open air" retractable hood and step-up-and-in access that aims to (actually) keep litter inside. It's also appreciably less bulky and more aesthetically appealing than its competitors. Pluto Square is currently available for preorder at Indigogo for $219 with a ship date of March.
Kitchen & Cooking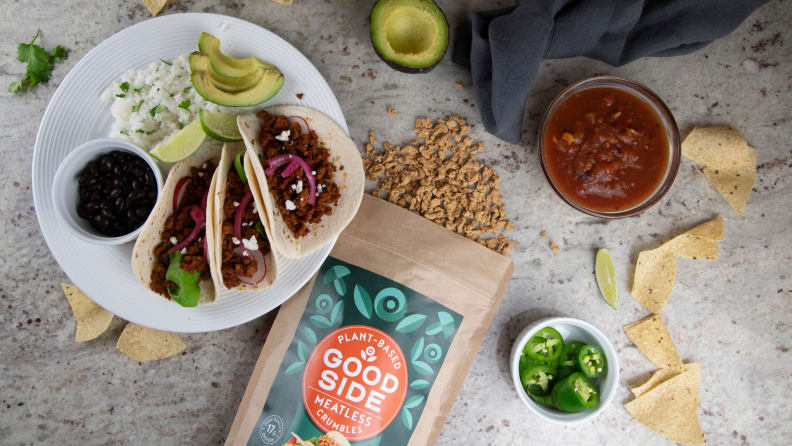 Goodside Foods Meatless Crumbles
Goodside Foods has debuted the latest in plant-based innovation with its Meatless Crumbles, a shelf-stable meat alternative containing only three ingredients: pea and rice protein, pea fiber, and pea protein. The main blend is fermented by shiitake mushroom roots, which Goodside claims makes the product easier to digest than others on the market. Its ability to be a shelf-stable pantry item also sets it apart; just add water and it subs in for ground beef in dishes from tacos to chili to bolognese. And it's relatively affordable—one $10.99 bag contains 11 servings of 17g of protein each.
Steambox
Steambox is a self-heating lunchbox that uses steam to warm on-the-go meals, a more convenient alternative to microwaves that promises to make those leftovers taste even fresher. With just a flick of a switch and some water in the heating element, Steambox gets to work heating at five-minute intervals to your custom specifications. The box is sleek, with a lid made of 100% real bamboo and a food-grade stainless steel interior. It's also chargeable; each full battery allows for 50 minutes of steaming, or two to three heated meals. What's more, a forthcoming app will allow users to control the box from their phones. It's available for pre-order for $119, with the first batch shipping in April.
Brü Maker
Billed as "the world's first automated tea machine," the Brü Maker is more than just an electric kettle. It's designed to offer convenience for tea lovers as well as sustainability, by minimizing excess water and waste through traditional capsule brewing methods. How it works: First, its stainless steel spoon and sieve insert the desired amount of either loose leaf or bagged tea. Then the dial and screen guide users through a customized cup, where they can adjust the water amount, brew time, and desired temperature. The machine then counts down the time until the cuppa is ready to enjoy. Available in four colors, Brü Maker will retail for $299 when it hits the market in early 2022.
Appliances & Cleaning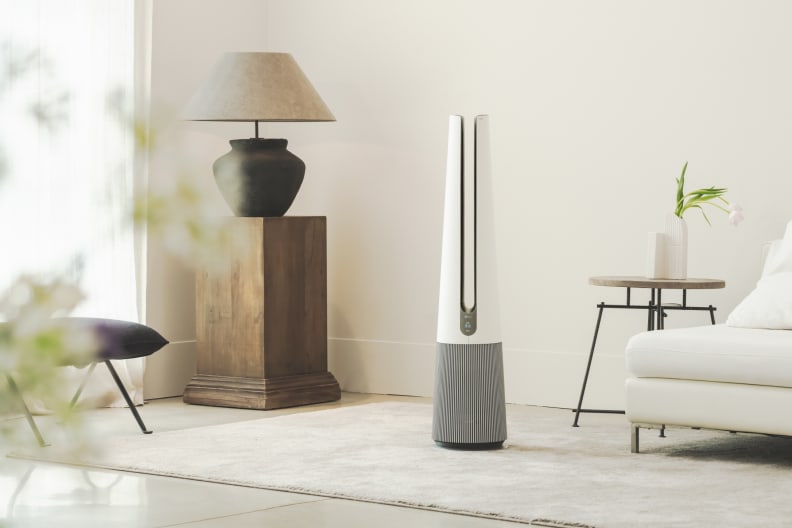 LG PuriCare AeroTower
LG's new futuristic air purifier looks like a device plucked from the Dubai skyline and modeled for your living room. The PuriCare AeroTower features HEPA filtration, UV nano-bacteria-killing technology, and a particulate-matter sensor. Unique within the air purifier space, the PuriCare AeroTower offers three airflow modes—direct, wide, and diffusion—all of which can be set to one of 10 intensity levels. Premium models even have cooling fans and heating fans. When it hits store shelves in February, the LG PuriCare AeroTower will be available in either beige or silver.
Mosqitter
Kyiv-based, women-led company Mosqitter unveils a first-of-a-kind mosquito zapper that's meant to eradicate the pesky insects from the surrounding environment without using chemicals to kill them. Instead, the Mosqitter lures the female mosquitoes (the ones that bite) using software that imitates human beings and then traps them. But, what's really cool about this machine is that ultimately it will have the capability to examine the trapped mosquitoes and use its data to detect and track mosquito-borne illness across the world. Consumers can look for Mosqitter in the U.S. market during the second half of 2022 with prices starting at $950.
Ecovacs Deebot X1
Ecovacs robot vacuums are always top performers when we test them in our labs, and its brand new Deebot X1 series looks to continue the trend. This vacuum and mop hybrid offers complete floor-care coverage with a huge innovation: YIKO, a natural language processor that allows consumers to command the vacuum using voice. It's essentially like using Alexa or Google Home, but without the added hassle of syncing it to an existing smart-home integration. Starting in March, consumers will have to choose between the Deebot X1 Omni, the Deebot X1 Turbo and the most affordable Deebot X1 Plus, starting at $1,149.
Daan Tech Bob Global Dishwasher
For couples or roommates who live in a tight space that doesn't afford luxuries like a kitchen table, Daan Tech's new pint-sized dishwasher named Bob Global sits on a countertop or corner rolling cart and doesn't need to be hooked up to a faucet—ever. Using one gallon of water in a tank, Bob Global runs a 20-minute cycle complete with UV-C sanitation and cleans two place settings at a time. Consumers can purchase the Bob Global in summer 2022 for $299.
LG FX Washer and Dryer
The latest laundry solution from the megabrand, the LG FX Washer and Dryer, uses AI technology to customize its performance for efficiency. Load in clothes and the washer analyzes the quantity, fabric type, and soil level, and self-adjusts its settings and dispenses a correct amount of detergent. When the cycle is done, the washer communicates with the dryer so it can prepare accordingly and also pre-heat. Additional downloads are available, including one for families with pets, which claims to remove up to 99% of pet-produced allergens from your laundry. The LG FX is expected to hit the market in September 2022, with the FX Washer and Electric Dryer priced at $1,599 each and the FX Gas Dryer costing $1,699.
Parenting & Kids' Tech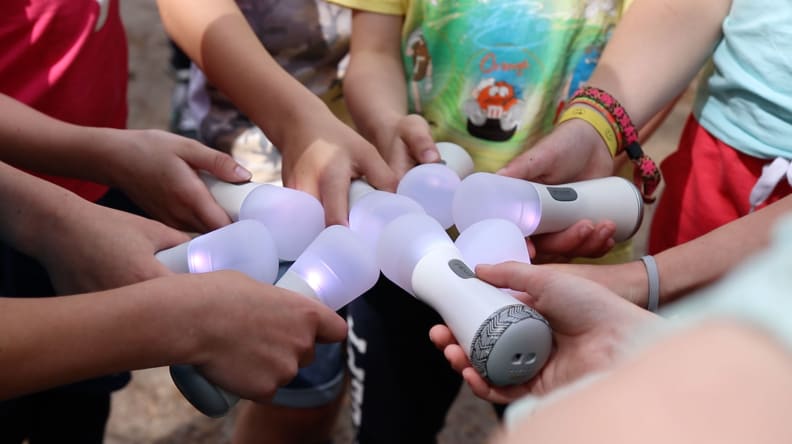 Picoo
Picoo is a portable and screen-free gaming system that gets kids outside and engaged in physical activity. In order to play, kids use their controller to scan a game card, then follow the audio and LED light cues to start the game. Picoo controllers detect and measure movement so they can sense when players are near or far from one another, and it automatically creates teams when a game starts, ensuring that no one has to suffer the indignity of being the last kid picked. The Picoo Starter Kit is available now for $249.
Cubtale
Cubtale aims to make managing a newborn's day simpler. Its care tracking buttons—or "Cubs"—make it possible to keep track of a baby's daily activities without having to pull out a smartphone. Parents and caregivers simply push a button on the Cub when they change, feed, or put a baby down, and the information is sent via WiFi to the free companion app. There's even a wearable Cub designed for breastfeeding parents that enables them to record which side the baby fed on and for how long. Cubtale is currently available for preorder. The box of three Cubs costs $139, a box of five Cubs is $269, and the Breastfeeding Cub is $79.
Ultimate Squishy Human Body
Composed of 10 removable organs and 15 removable bones, muscles, and body parts, the Ultimate Squishy Human Body is an educational toy that's also lots of fun. Place the incredibly realistic-looking squishy organs on the SmartScanner to learn fun facts or answer quiz questions, or to hear the sounds the different body parts make. The Ultimate Squishy Human Body also comes with an "Organ-izer" chart, assembly sheet, and an illustrated book containing further information about the human body. The Ultimate Squishy Human Body will be available in February and will retail for $99.99.
LoCoMoGo
The thing that sets LoCoMoGo apart from most other coding toys is that it teaches young children foundational coding concepts entirely through hands-on play. LoCoMoGo takes the traditional train set and turns it into a coding toy that grows with your child. There are no plastic tracks here; instead, kids use electrical tape to design their own route, which the LoCoMo-tive will follow. As children get older, new train cars can be added to introduce new coding concepts, eventually working up to more advanced coding skills using the LoCoMoGo app. LoCoMoGo is expected to be available in the third quarter of 2022 and will retail for approximately $300.
Nfant Thrive Feeding System
Figuring out how much breastmilk or formula a baby drinks during a feeding can be stressful. The Nfant Thrive Feeding System aims to change that with their sensor-embedded bottles and breastfeeding pads. Both products connect via Bluetooth to a smartphone app and provide realtime data on how much a baby consumes. The Thrive Smart Bottle system also includes a selection of control flow nipples that—combined with the data from the sensor—can help parents determine the one that works best for their bundle of joy. The Thrive Smart Bottle is expected to be available in the second quarter of 2022, while the Thrive Breast Sensor is expected to be released in the third quarter of 2022. Both will retail for approximately $250.
The product experts at Reviewed have all your shopping needs covered. Follow Reviewed on Facebook, Twitter, Instagram, TikTok, or Flipboard for the latest deals, product reviews, and more.

Prices were accurate at the time this article was published but may change over time.