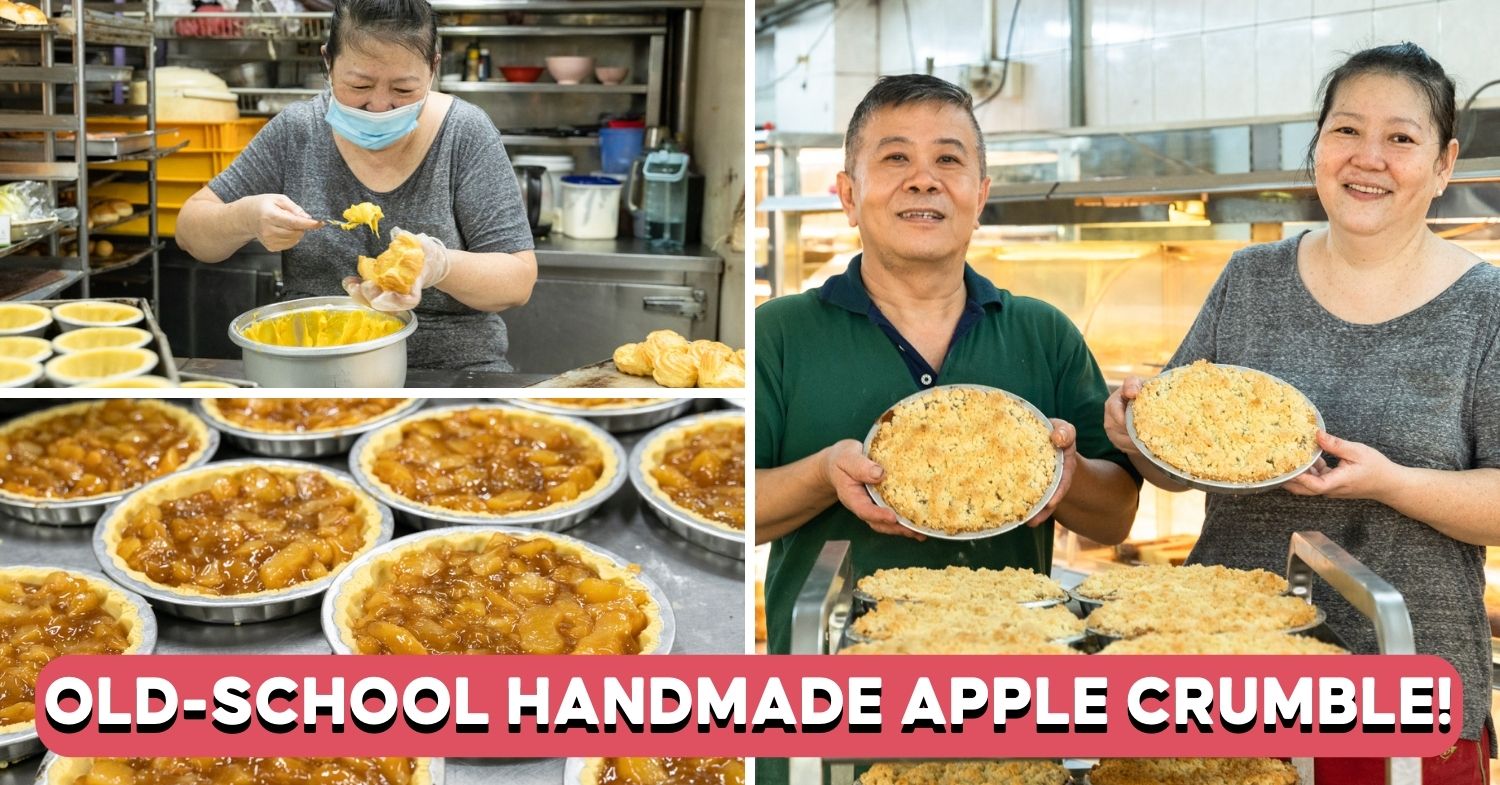 Big Bakery in Tai Seng has handmade old-school apple pies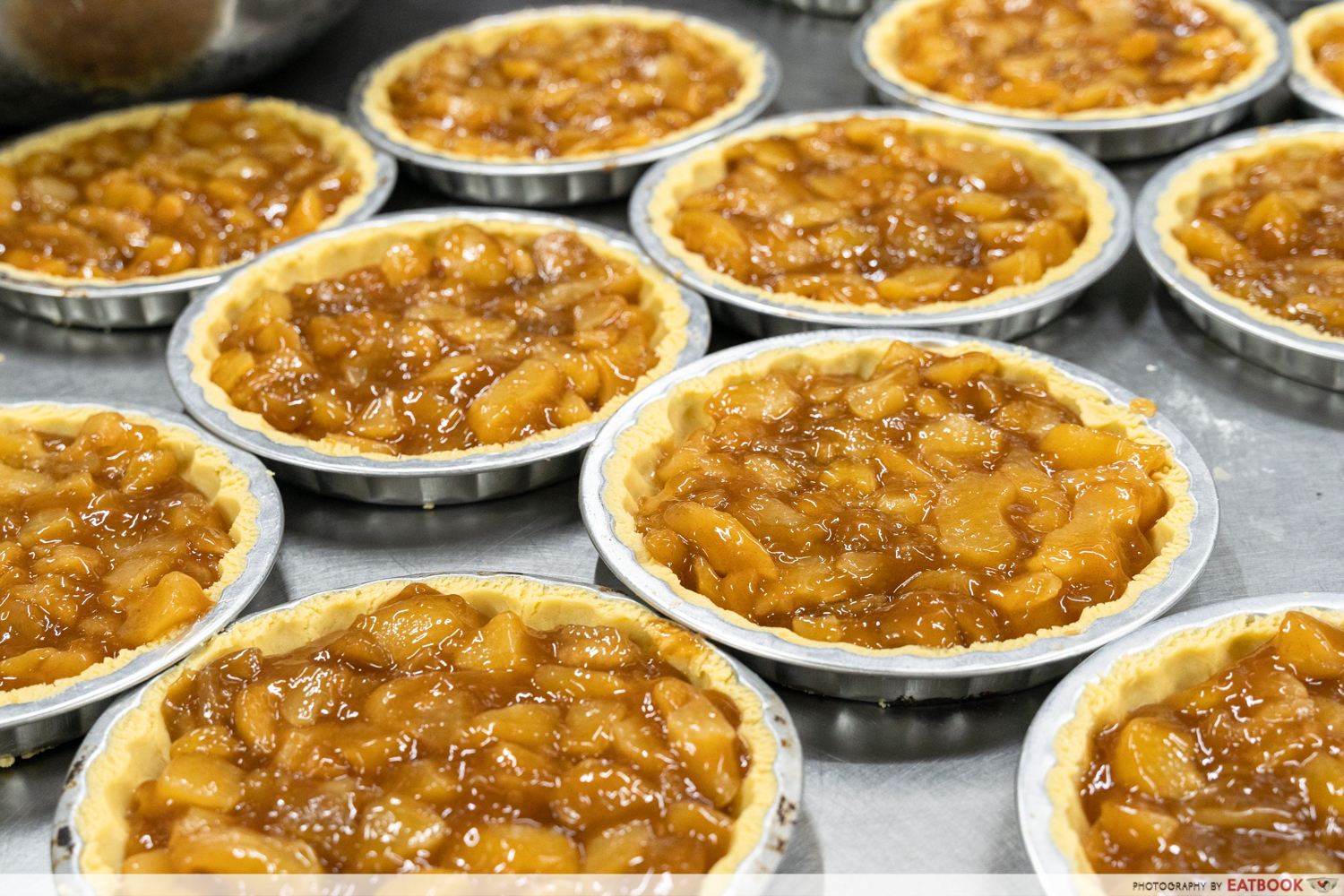 The F&B industry is a tough one, and it takes an aligning of many stars for any business to break even, much less succeed and stay in the game. We've previously featured some of Singapore's traditional bakeries, but one that missed the list was 30-plus-year-old Big Bakery, an unassuming bakery just across the road from Tai Seng MRT Station.
Blink and you'd miss it, Big Bakery is tucked between a kopitiam and provision shops in a ramshackle row of old shophouses along the busy Upper Paya Lebar Road. Shrubbery and awnings that stretch out towards the road block much of the shop from view; the faded, weatherworn signboard above is shielded from sight by yet another tree.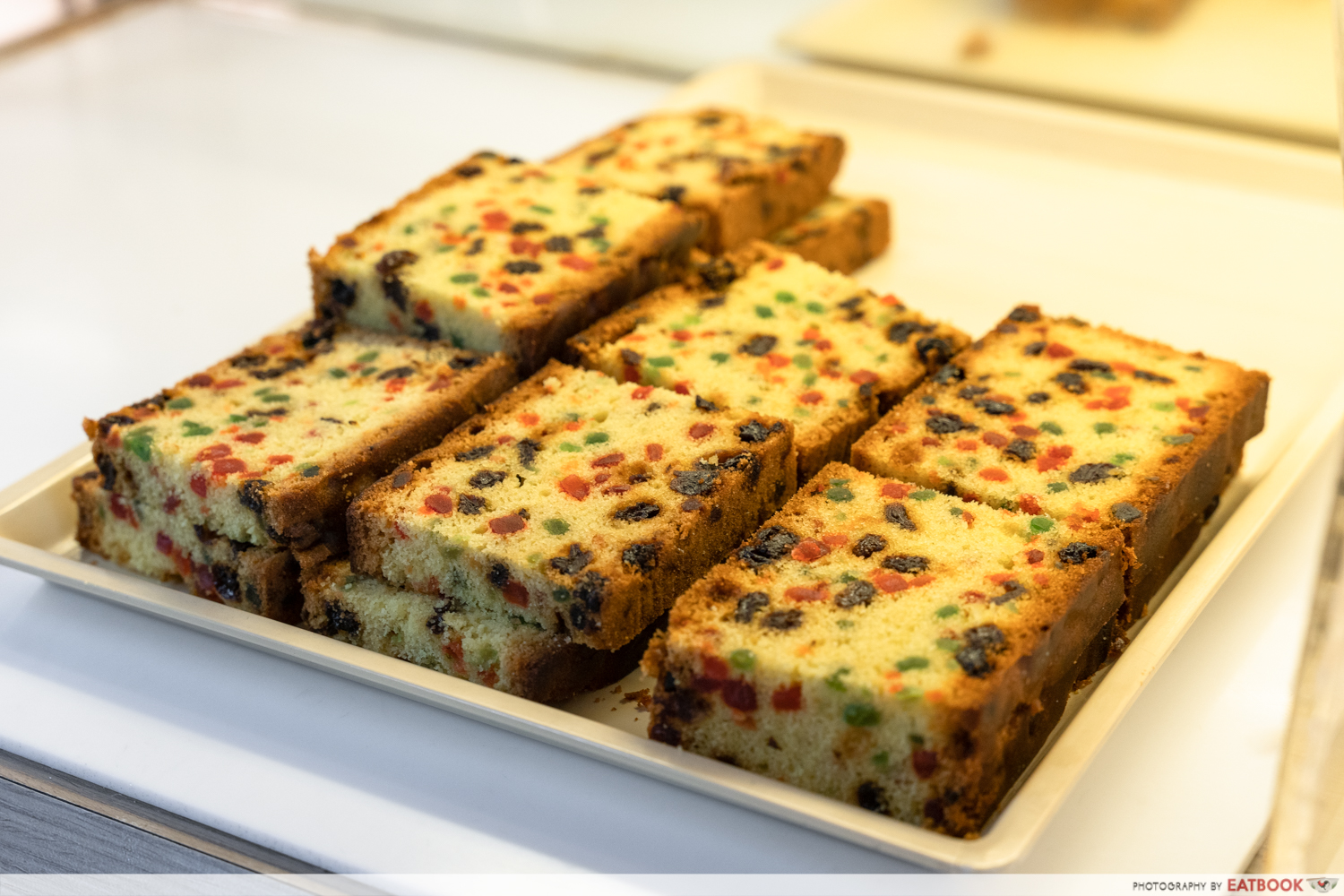 Look past all that, and you'll find more than 30 years of sheer grit and dogged courage, distilled into the lovingly made apple crumbles, cream puffs, and old-school bakes that grace the shelves of this humble bakery each day.
Two people, one Big Bakery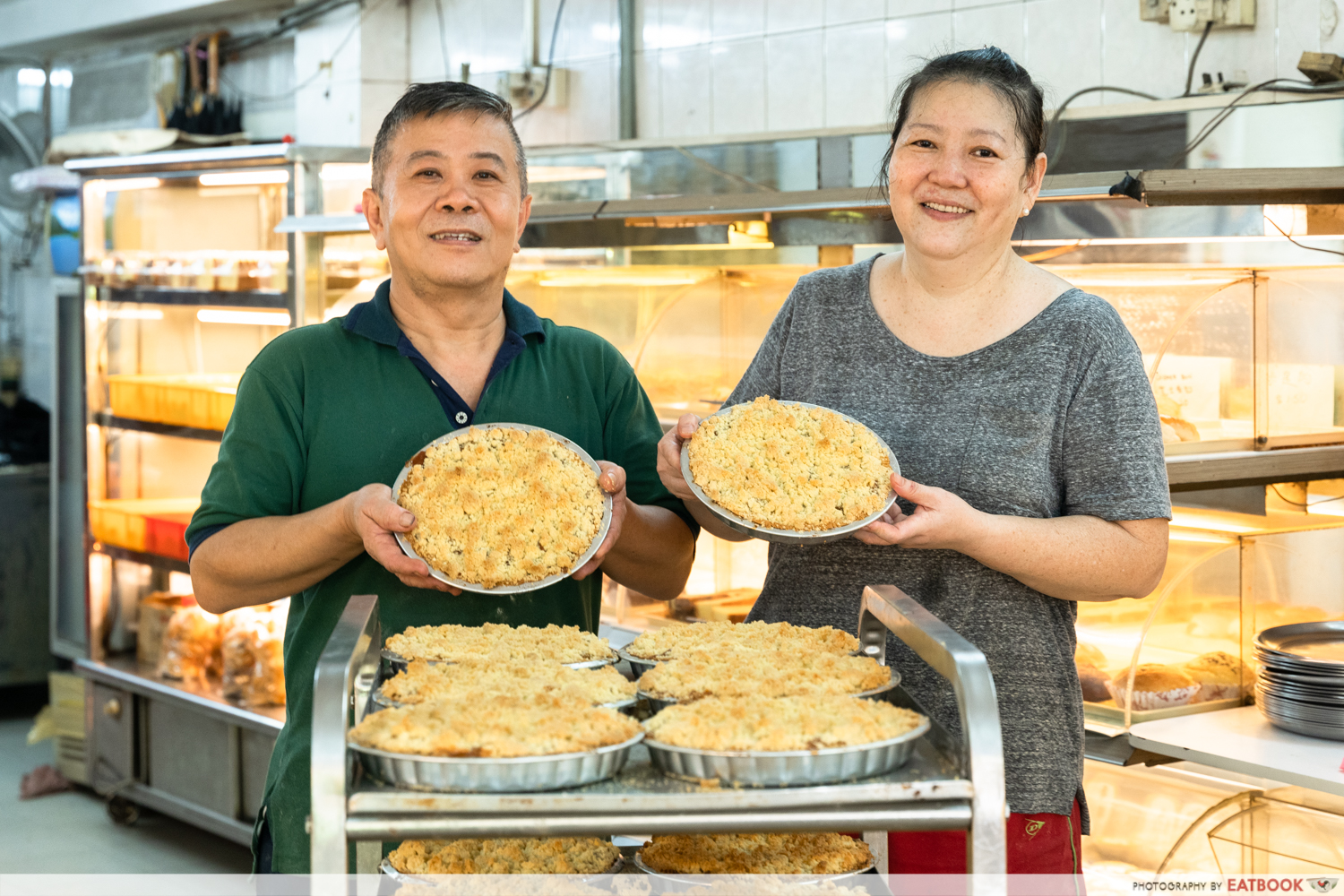 The story of Big Bakery exists because of two people: 60-year-old Mr Tan Li Hin and his wife, Candy, who live, breathe, and are their bakery. They're products of a harsher, bygone era, where circumstances forced them to start working at the ages of 12 and 16 respectively—and have been toiling ever since.
"I made $80 a month working 14…18 hours a day,"
"I made $80 a month working 14…18 hours a day," says Mr Tan matter-of-factly. Apprenticed to a baker in Tampines, he laboured and saved, till he and three friends hoofed it off to Taiwan and Hong Kong to get professionally certified at their craft.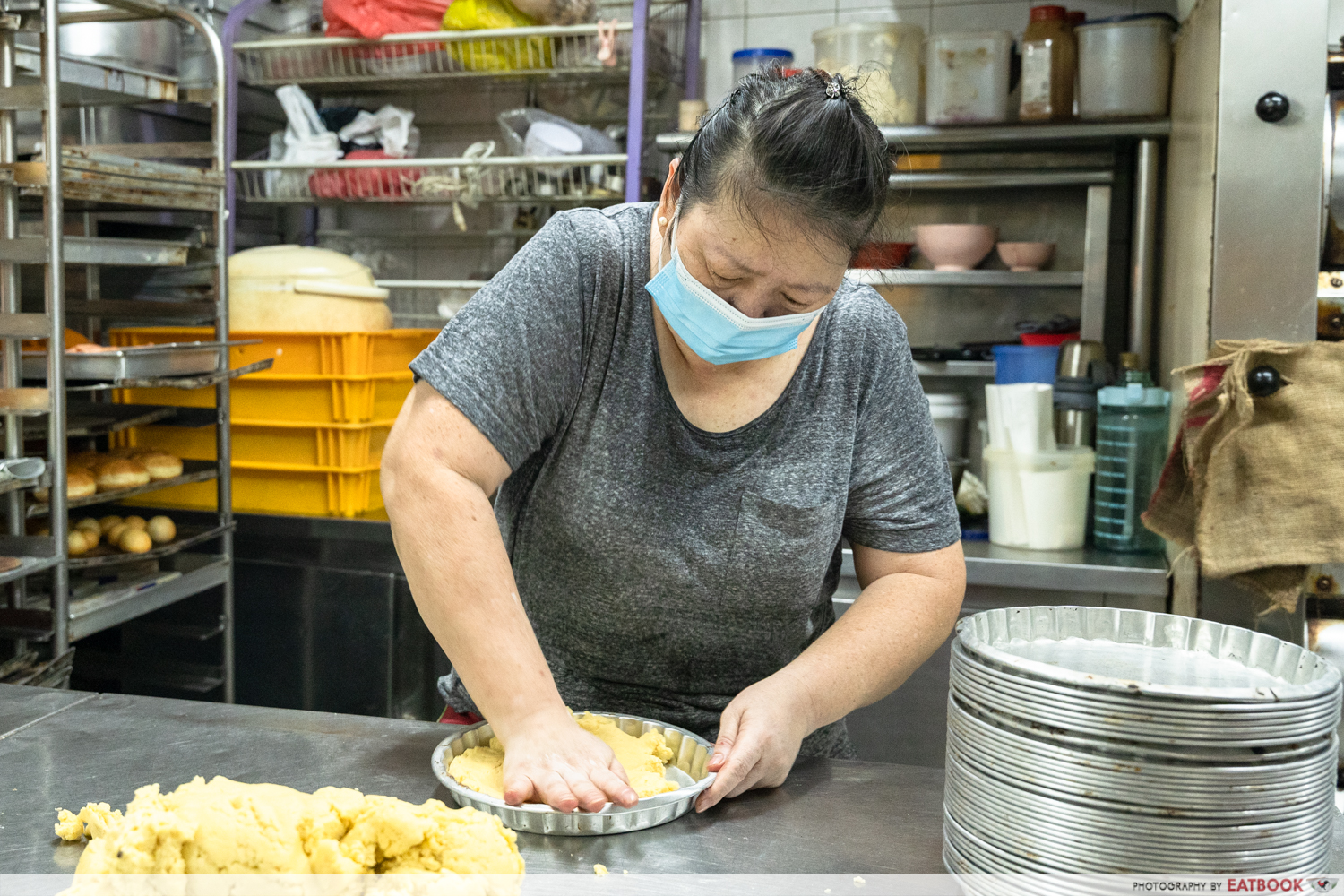 Meanwhile, Candy's own journey wasn't very much different, though it saw her work in the kitchens of the Westin hotel as a dim sum chef, after having learned the art of kueh- and bao-making from her own grandmother.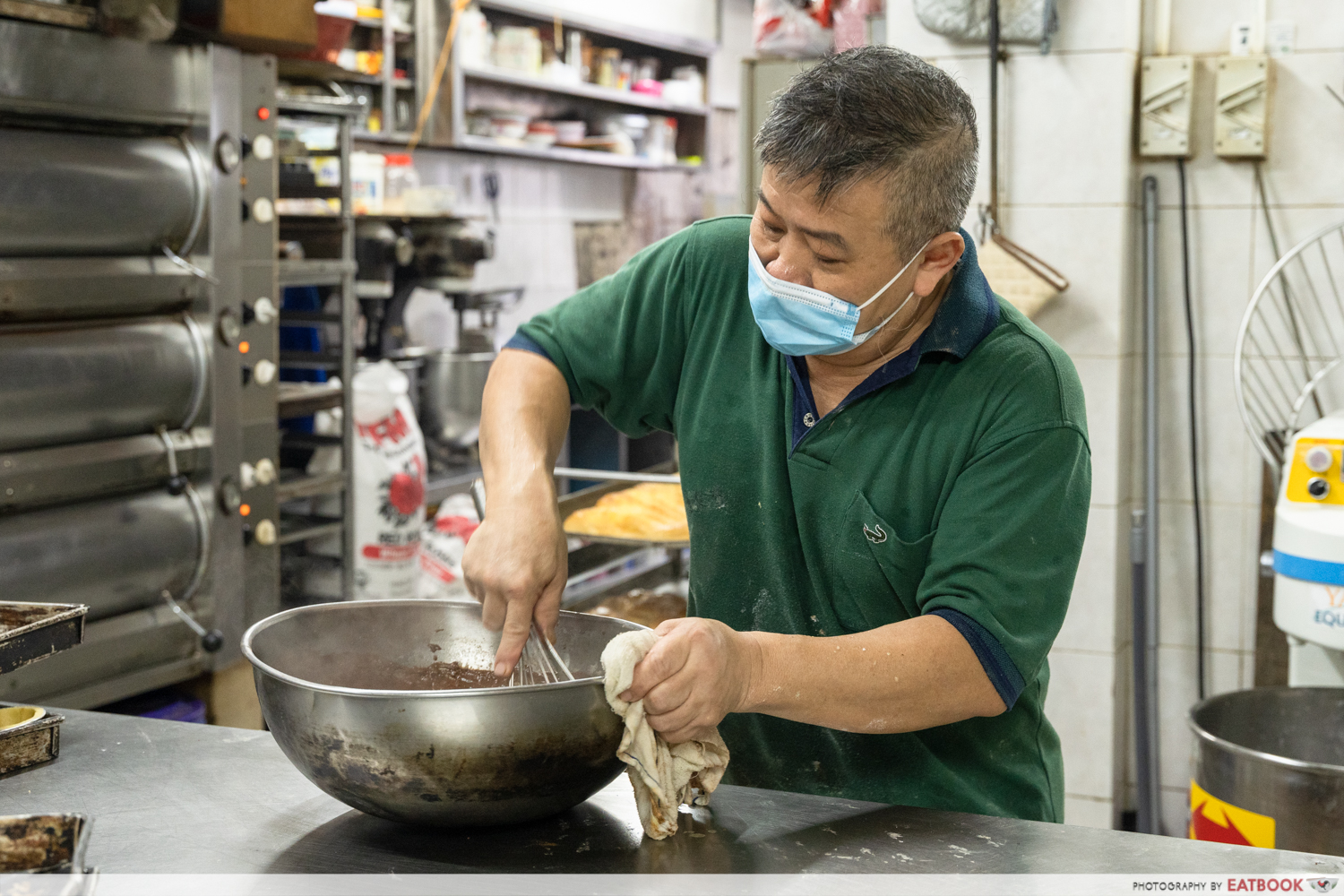 Lai Hin and Candy's stories culminated in Big Bakery, which came about when Lai Hin later took over his old master's bakery upon his retirement. When the lease on that store ran out, they moved to their current Upper Paya Lebar space with the help of a business partner—a relationship that was later dissolved.
No romance behind its name
The recipes from his master's bakery, which had been around for more than 50 years, were kept alive, but Lai Hin and his wife decided to take on a new name. This stumped the illiterate couple when they went to register the business at ACRA (Accounting and Corporate Regulatory Authority).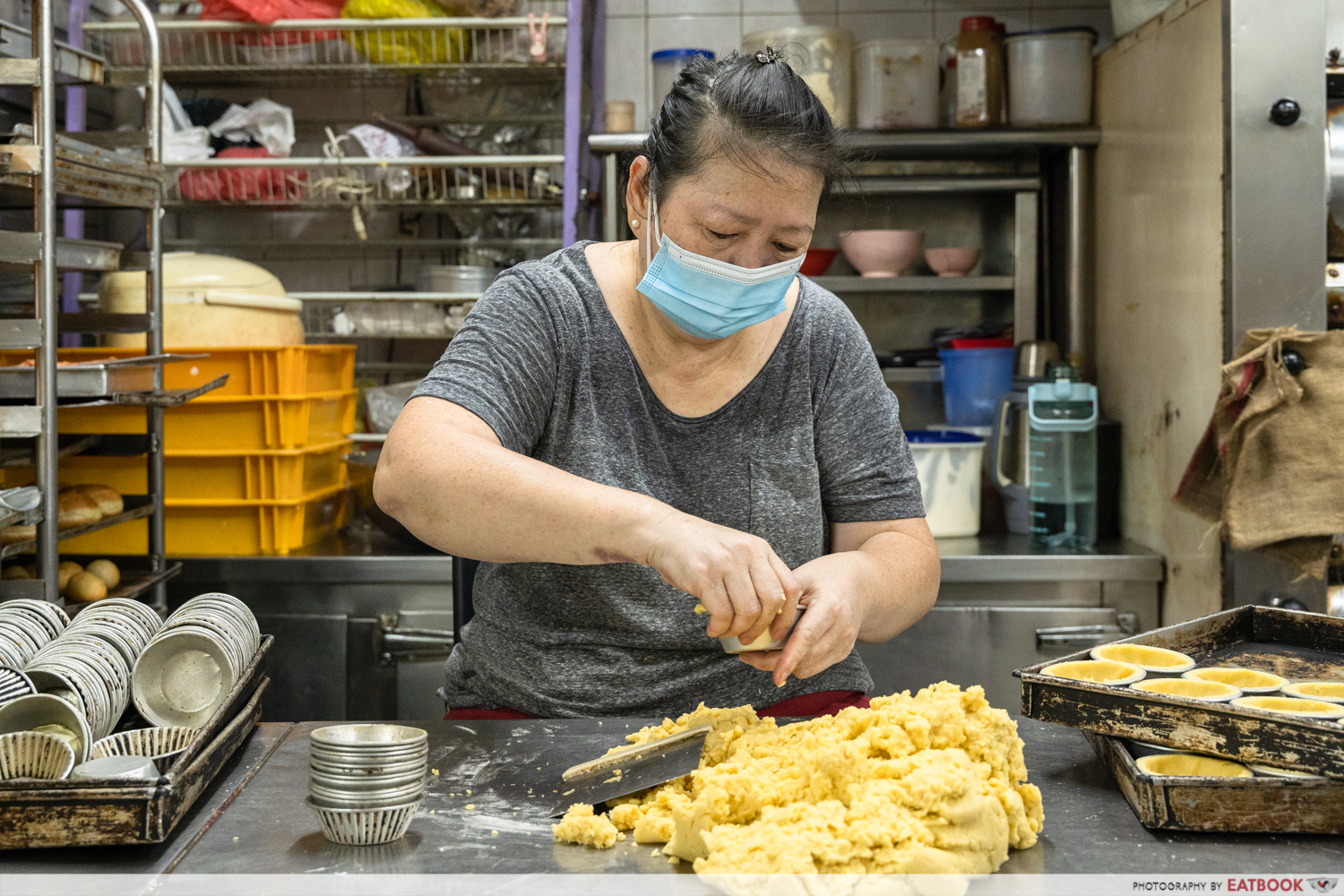 "What about Big Bakery?" suggested the ACRA officer handling their case, "It's three letters: easy to remember, and hopefully your business lives up to it too!" And so, Big Bakery was born. The couple hasn't had a break since, working six days a week—seven during festive periods—around the year, stoic and steadfast as they come.
The day starts for Lai Hin and Candy at 3am, when they head to the markets for their ingredients and get cracking on the day's baking. The bakery's doors open at 5am, and stay open till seven in the evening, with both of them in charge of different bakes, pushed out over the day according to the crowds that roll in at each time: Candy's got it down to a science. "At Christmas, I'm lucky if I get two hours of sleep!" she quips, cheery as always.
Choon Seng Teochew Porridge: Famous Farrer Park Teochew Mui Stall That Existed Before World War 2
It never rains, but storms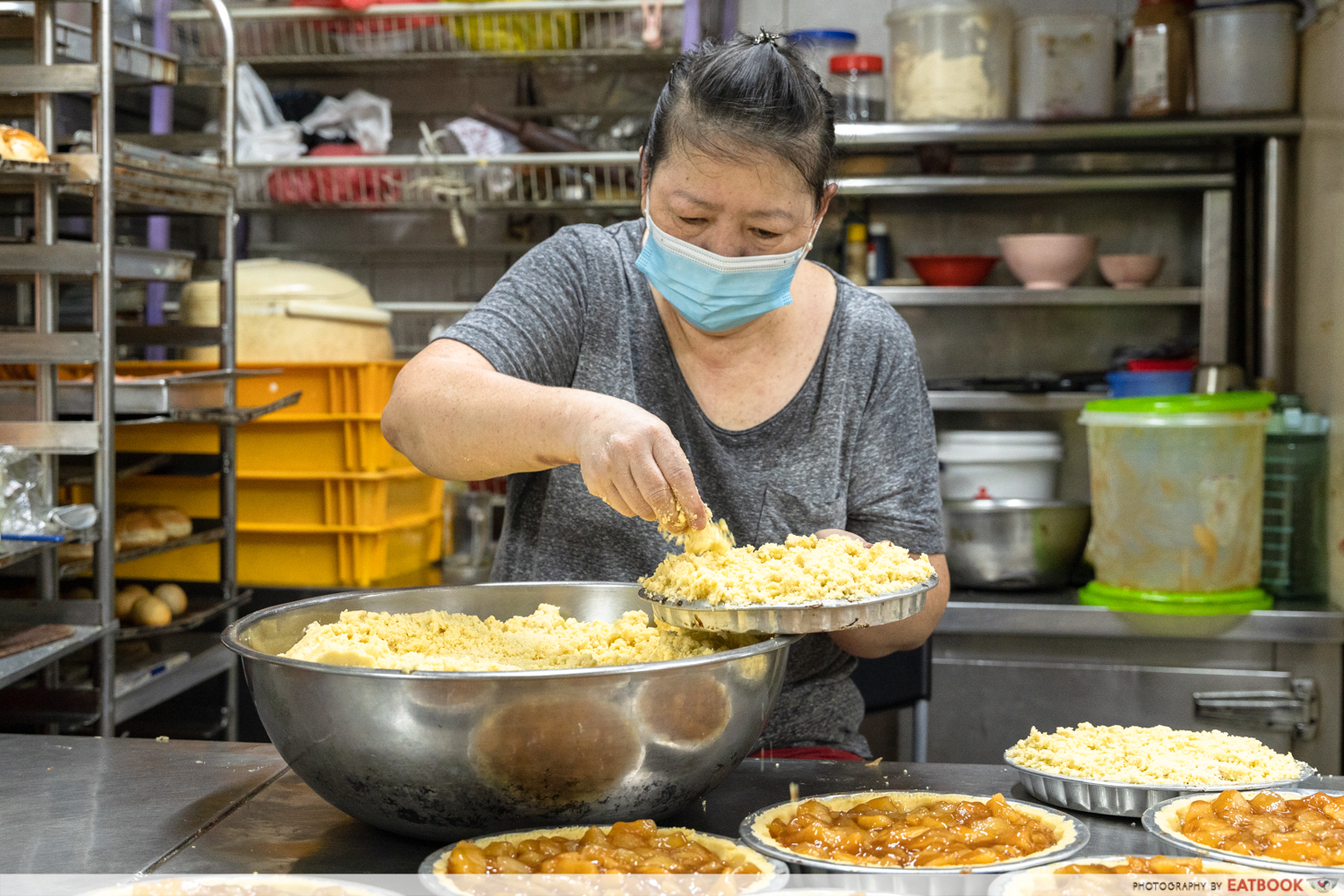 That cheer may well have tided the couple, and the business, through the storms that have come their way. First came the construction of the Circle Line, a massive, nine-year project that saw the entire stretch of shops blocked off from the main road. Everyone vacated their shops, save Lai Hin and Candy, who dug in their heels and stayed open in spite of it all.
Most days, they were lucky to have made $100, if at all. Candy started making her grandmother's bao and soon kueh, as well as fried bee hoon at breakfast, in a bid to stay afloat. They turned to catering, painstakingly churning out hundreds and thousands of mini tarts and more for corporate events; they switched up their suppliers for halal-friendly ones, so that they could also cater to Muslim weddings.
For Chinese New Year, the husband-and-wife team would bake 30,000 pineapple tarts to sell to Giant—to meet the production deadline, all the sleep they got was hour-long naps in the apartment above the bakery in between baking.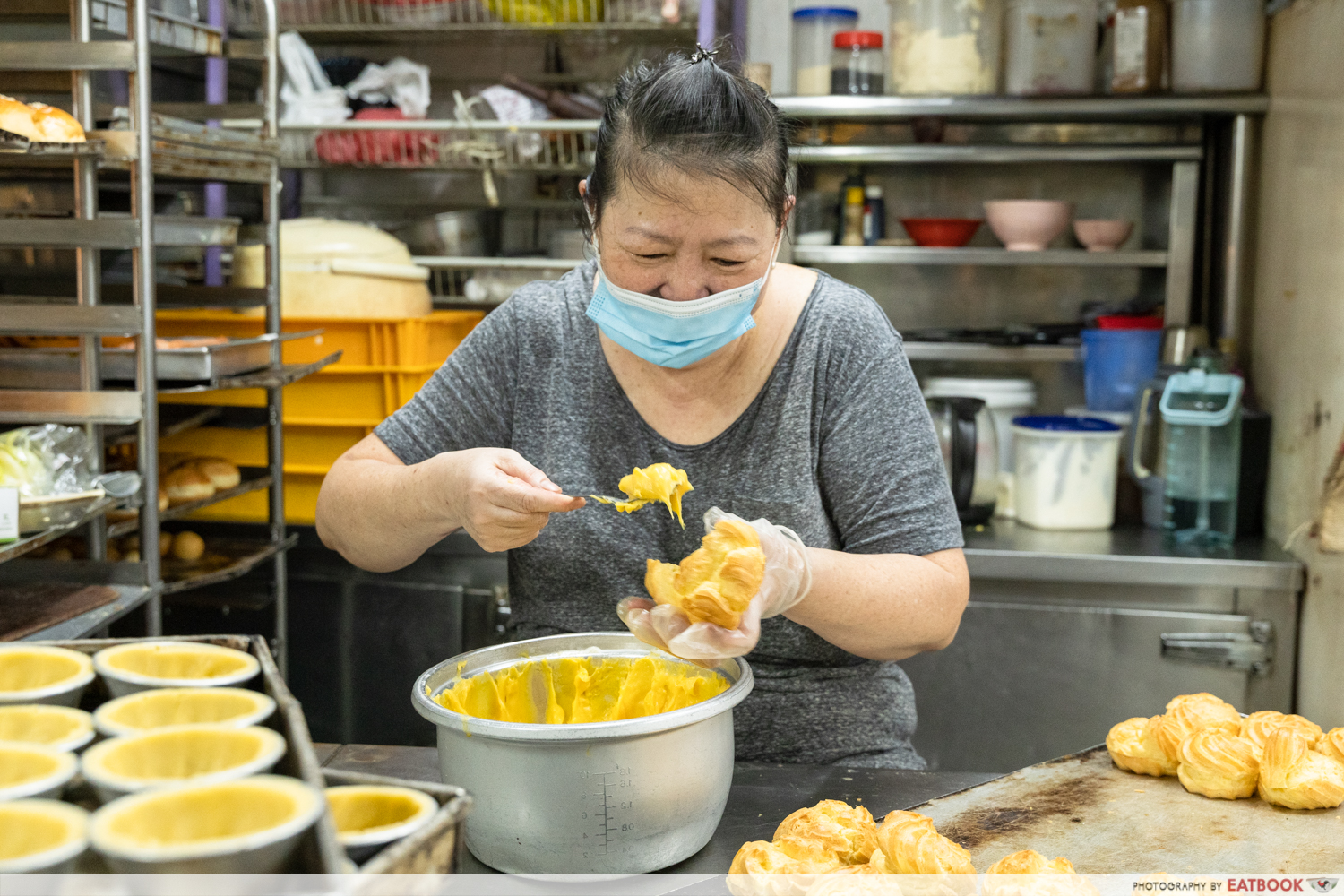 The books wouldn't balance, and so the air-conditioning in the shop had to go; with it went their glass doors, but they couldn't afford for these to be professionally removed—Lai Hin and Candy took hammers to the doors themselves, and buried the broken glass under the tree in front of Big Bakery.
"We used to get grandparents and parents bringing their kids here every day after school to buy doughnuts and all—after COVID, sometimes they come, sometimes they don't."
And some years after the completion of the Circle Line, COVID-19 struck. Between the Circuit Breakers and WFH-norm, the bakery once again fell into dire straits, but the prices of their bakes have barely risen. Much of the pre-dawn crowd are blue-collar workers from the industrial estates nearby, and the couple can't bring themselves to charge them more.
Their burgers, which are most popular with the office workers, are equally affordable—it's a house-baked breakfast bun sandwiching salad, fresh from the market, and a protein. Watching Candy put these homely burgers together day after day, it's almost as if her nameless, faceless customers are the children she's never had.
Even when office workers started returning, it was hard to determine the quantities they had to bake, since WFO was staggered, optional, and unpredictable across all the offices around the bakery. Candy smiles and shrugs sadly, "We used to get grandparents and parents bringing their kids here every day after school to buy doughnuts and all—after COVID, sometimes they come, sometimes they don't."
Che' Rose Nasi Padang: The 60-Year-Old Toa Payoh Stall Part Of Singapore's Nasi Padang Empire
The road ahead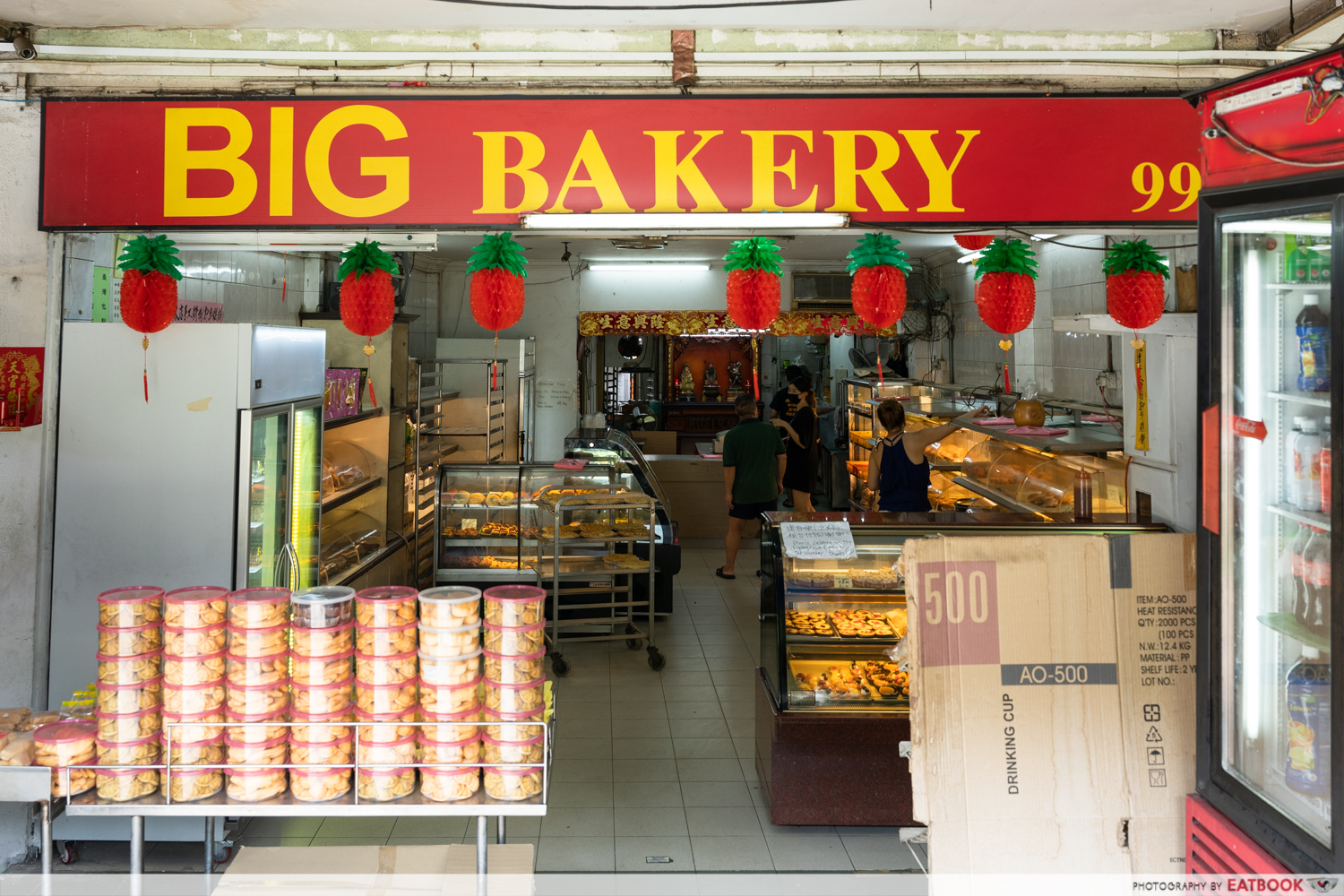 Everything that's baked in Big Bakery passes through the work-hardened hands of this stout-hearted pair. We saw Lai Hin, forearm-deep in cake batter in place of a mixer—"you can feel the consistency of the batter this way"—and Candy slicing the dough for each doughnut with the base of her palm. 30-odd years of doing this mean they're both riddled with aches and strains; still they trudge on for the customers who've seen them through it all.
Why not relocate to a more central location, we asked. The rent would be triple, the space would be smaller, they would need to work even harder, they both say. Though it seems rather humanly impossible that they could work any harder than they already do. "We have a car, a house, we live comfortably. We'll just take things slowly as they come."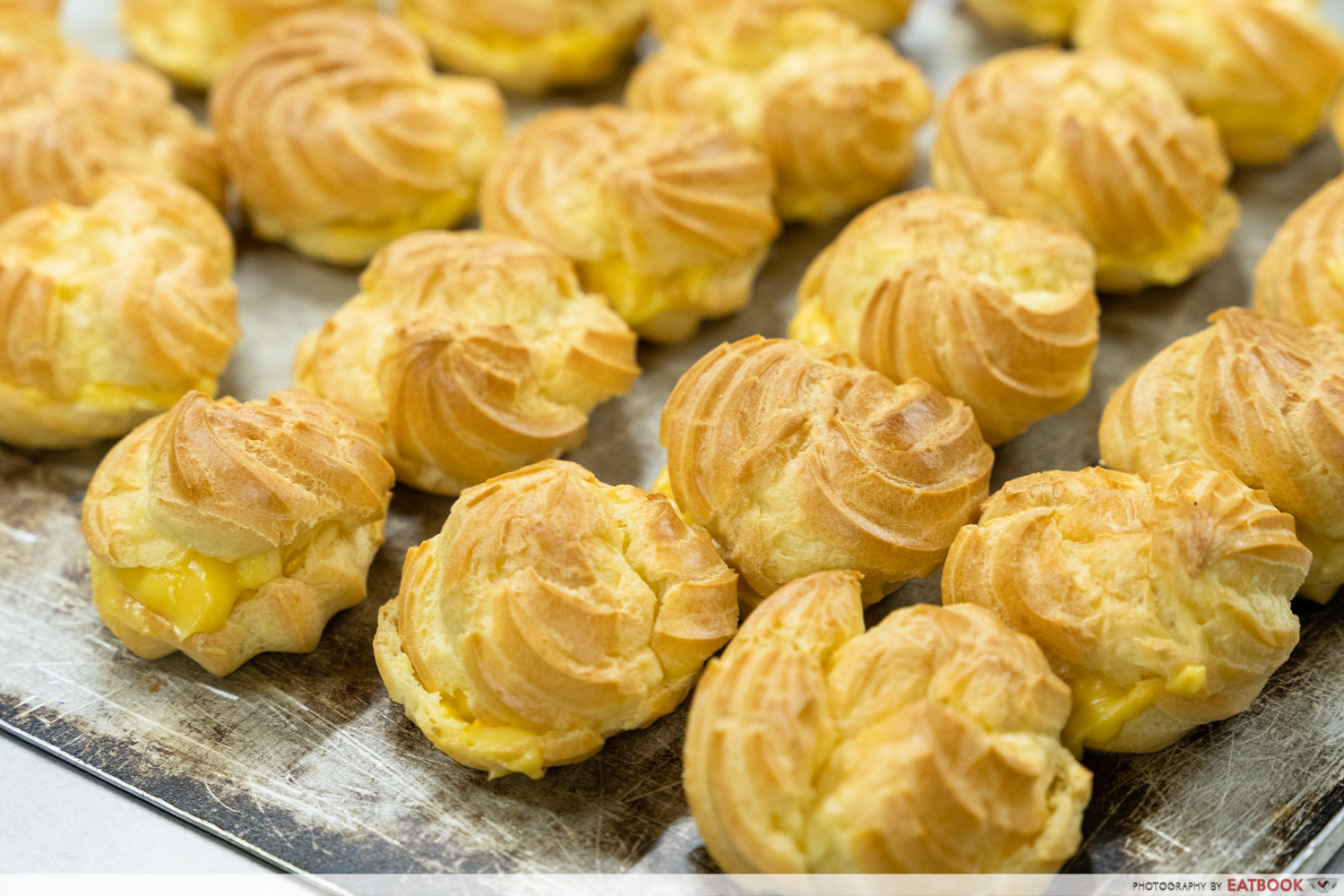 Once upon a time, Candy reminisces wistfully, they used to make mini doughnuts for tea time snacks in kindergartens, but that came to an end when the ministry implemented rules about the consumption of healthy food in educational institutions.
"It's not easy. Nobody wants to do it because our job is too tough. You have to have the heart for it, and you have to be resilient."
She gave me a doughnut to try for myself, and I have to say: you truly don't get doughnuts like these elsewhere. Or old-school custard puffs, or butter cakes, or apple crumble pies, if we're making a list. I bought some to bring home, and they took my mother back to days long gone.
After having had help that ran off with their recipes to set up shop with lower prices, Lai Hin and Candy are hesitant to impart their skills to just anyone. These days, Candy's nephew has come in from Malaysia to help the couple run the bakery. Whether he decides to carry on the business or gives it up in time will be up to him, but for now, the couple will teach him whatever they can, and continue to bake.
"It's not easy. Nobody wants to do it because our job is too tough. You have to have the heart for it, and you have to be resilient." If we had but a fraction of the gumption they both have.
If these old-school bakes aren't quite your fancy, read our story on Choon Seng Teochew Porridge, who've been around since before World War Two. Otherwise, Che' Rose Nasi Padang is a 60-year-old stall that can be traced back to Singapore's earliest nasi padang hawkers.
Address: 99 Upper Paya Lebar Road, Singapore 534825
Opening hours: Mon-Fri 5am to 7pm, Sat 6am to 3pm
Tel: 6383 2510
Website
Big Bakery is not a halal-certified eatery
Photos taken by John Lery Villanueva
This was an independent visit by Eatbook.sg
The post Big Bakery: Old-School Apple Crumble Made By Hand At This 30-Year-Old Bakery appeared first on EatBook.sg - Local Singapore Food Guide And Review Site.