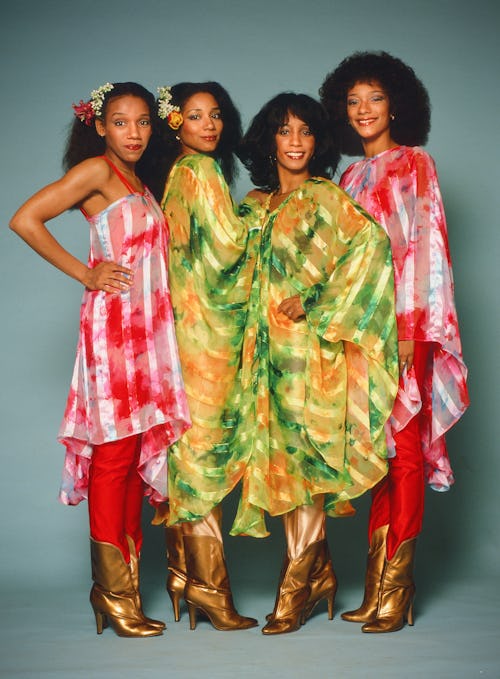 When Anita Pointer of the legendary Pointer Sisters died of cancer at 74 on December 31, 2022, she was remembered warmly and widely for her and her sisters' extraordinary achievements.
The late pop icon was remembered for The Pointer Sisters' hit "Fairytale", which won a Grammy for Best Country Performance by a Duo or Group with Vocal, and the sultry, slow-burning "Slow Hand", which was covered by Conway Twitty. She was also heralded for The Pointer Sisters' smash Bruce Springsteen cover "Fire" and a slew of infectious pop hits that went on to become oldies radio staples, like "He's So Shy", "Jump (For My Love)" and "So Excited."
The Pointer Sisters won three Grammys and have a star on the Hollywood Walk of Fame but one of their most important contributions to pop culture has flown under the radar because they essentially worked as uncredited session musicians rather than superstars. We're talking about the Pointer Sisters' iconic vocals for "Pinball Number Count", a series of animated Sesame Street shorts designed to teach children numbers and counting that has endured as a signature piece of animation from arguably the greatest children's television show ever and one of the most sadistically catchy ear-worms of all time.
Indeed, there's a pretty good chance you'll spend the next few hours, or days, with the uniquely infectious ditty rattling around your subconscious. I'm sorry and also you're welcome. Here's what it looked like and sounded like:
Even if the words "Pinball Number Count" are unfamiliar there is a VERY good chance that you're VERY familiar with the jingle itself, which manages to transform 1-2-3-4-5-6-7-8-9-10-11-12 into a timeless, irresistible anthem on par with anything Rick James, James Brown and George Clinton ever created. The Pointer Sisters made 1-2-3-4-5-6-7-8-9-10-11-12 feel like some of the funkiest lyrics ever composed.
It's a transcendent exercise in gritty, atmospheric funk that's jazzy both sonically and in its perfect, perfectly laid-back fusion of song and cartoon. "Pinball Number Count" epitomizes what made the Sesame Street of the 1970s so remarkable.
Ferocious jams with deceptively white-bread names like "Pinball Number Count" brought the street and the funk to Sesame Street. Despite being created to help children learn, when "Pinball Number Count" was introduced in 1976 it was as hip as anything that appeared on Saturday Night Live, perhaps the hippest show at the time.
The segments all begin with a hand launching the ball and end with it leaving play. They all share certain commonalities but each of the eleven distinct segments has a theme that sets it apart. The sisters highlight a different number in each segment, for example, and the segments all prominently feature either a steel drum, saxophone, or electric guitar solo despite lasting only about a minute and sending audiences on one hell of a ride.
The segment devoted to seven, for example, takes audiences on an expansive trip around the world, complete with nods to the Taj Mahal, the Sphinx, the Swiss mountains, Spanish bullfights, and English bobbies while the final segment keeps things closer to home with a deeply groovy journey through some of our nation's top tourist attractions, including The Statue of Liberty, The Golden Gate Bridge, Old Faithful, and the Washington Monument.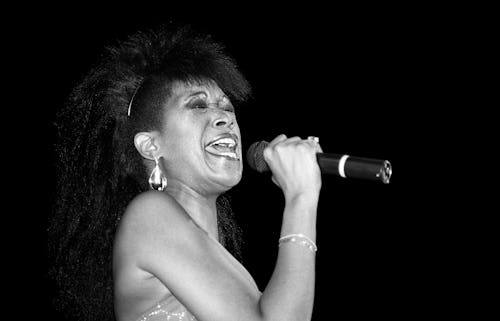 In keeping with the segment's deep grounding in jazz, these elegant animated masterpieces are all about repetition and deviation. They revolve around a common theme but find glorious variations within it. "Pinball Number Count" is trippy and kaleidoscopic in a way both young children and stoned adults can enjoy it over and over again.
If anything, "Pinball Number Count" made learning too much fun by spoiling kids with educational cartoons that weren't dazzling masterpieces of sight and sound.
Sesame Street has rerun the "Pinball Number Count" countless times since its creation. It's one of the show's signature pieces and high-water marks, right up there with "C is for Cookie" and "Rubber Duckie." It's found a receptive new audience via YouTube. Sesame Street even launched an online game based on this decades-old cartoons via its website a few years back.
Anita Pointer may be gone but the music she and her sisters created will live on, particularly their essential contributions to an endlessly re-watchable series of cartoons that did a whole lot more than teach children how to count.
Sesame Street is streaming on HBO Max.