So you've created a Facebook group in your niche and you have some members.
Awesome job!
Sometimes promoting your group and attracting members can be a challenge for new Facebook groups.
But yet, with all of these members, your group is a ghost town with tumbleweeds blowing across your content.
Why isn't anyone engaging with your posts?
Where are the likes, comments, and shares?
It's one thing to create a group and post stuff and another to come up with Facebook interaction posts that will have your members talking.
But that's okay!
Because I'm going to give you some Facebook group ideas that are guaranteed to increase engagement and post performance.
I've have a Facebook group with almost 15k mom bloggers!
I've been growing this group for many years and excited to see how the next five years will turn out!
Are you ready to get started?
Facebook Group Ideas You Need To Try:
1. Welcome Post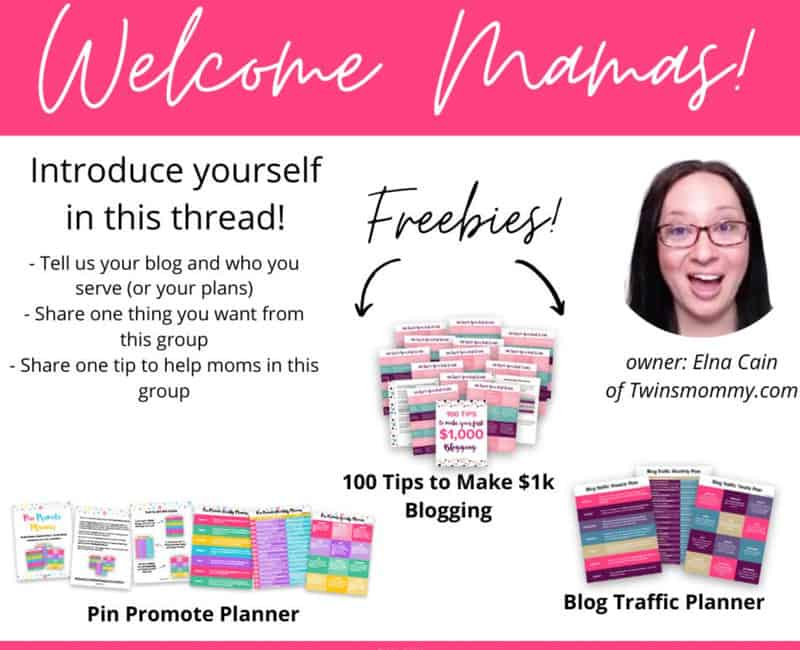 Tag all your new members in a welcome post!
These engagement posts will have other group members welcoming the newbies.
In your Facebook group, click on "Write Welcome Post" under the "Members" tab, and FB will automatically tag all new members.
I have a welcome post but don't always use it! 
2. Give a Shout Out to Your Top Contributors
A gesture of acknowledgment, such as a "thank you" post to your top contributors, will make them feel special and encourage them to continue engaging with the group.
And other members may increase their engagement to get their own shoutout!
In the Admin section of your group, click on "Membership," and you'll see a list of the top contributors!
3. Ask Questions
Start conversations with your group members by asking questions that will get them talking. You can ask questions to get input on future content or have them share something about themselves.
Some examples of questions you can ask are:
What would you do with the extra time if you didn't have to sleep?
What job would you be terrible at?
What is something you can never seem to finish?
What is everyone doing this weekend?
4. Facebook Lives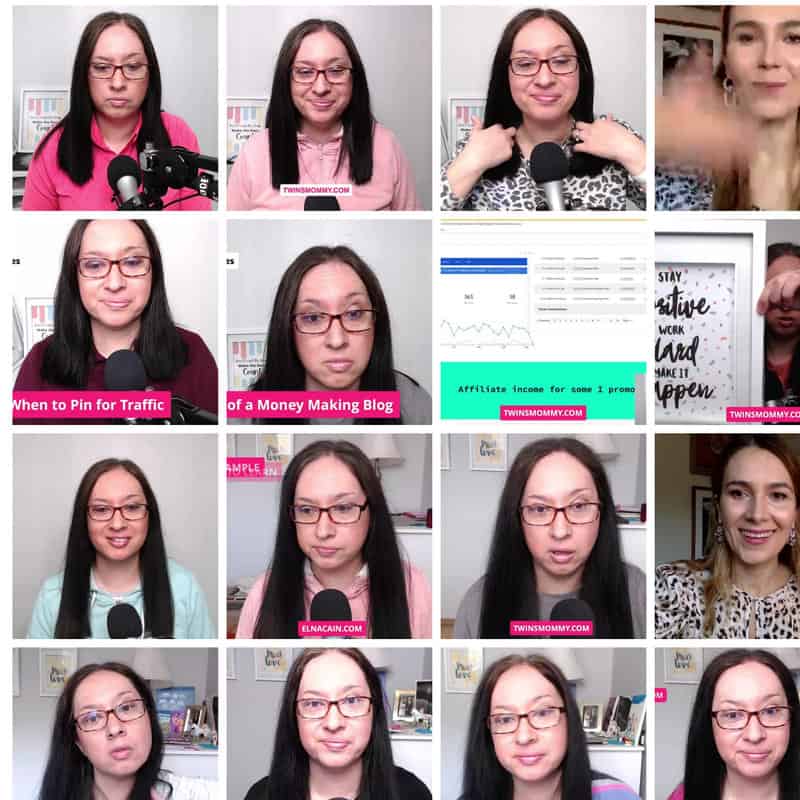 Posting a Facebook live, such as a Q&A session, will help to create high-performing posts in your group.
Create an announcement about your live a few days before your video.
You can even ask members to suggest topics for you to talk about.
I love doing Facebook lives because it's a great chance to engage with your group members directly!
5. Videos
Apart from posting FB lives, you can create video content for your Facebook groups.
You can do presentations on a topic, a how-to video, educational videos, and more!
This will help increase engagement in your group.
6. Share a Behind-The-Scenes Post
You can use Facebook engagement posts like a behind-the-scenes photo to give your members a glimpse into your life or business.
You can show how you make your products, introduce your employees (even if they are your pets!), or show how you accomplish your goals.
7. Question Games for FB Groups
Why not play fun question games to increase engagement in your Facebook group?
You can post a "would you rather" question and then have members comment and ask the next question.
You can also play a "Caption This" game and ask your members to caption a random picture.
8. Share Trending Topics
Post trending topics and stories to improve reach and engagement in your Facebook group.
This will increase your chances of appearing in feeds and have more members commenting on and sharing your posts.
9. Contests and Giveaways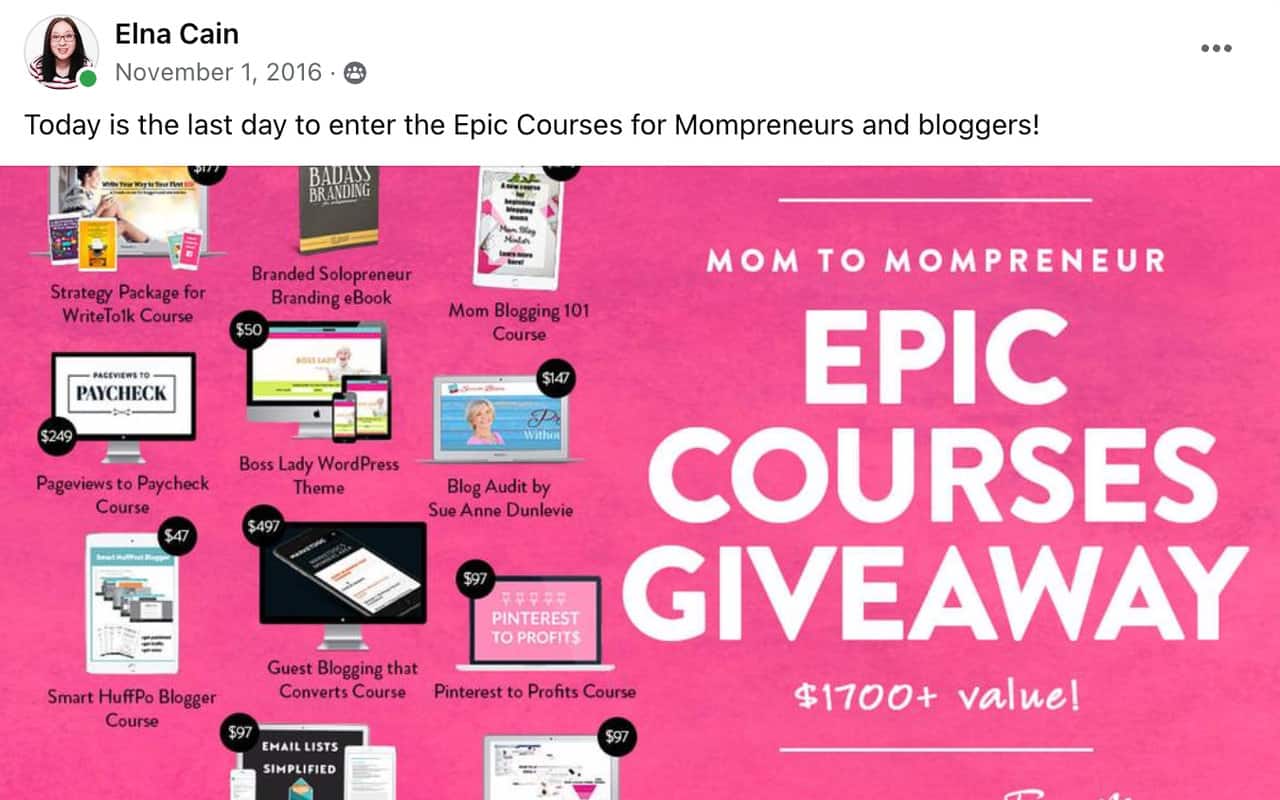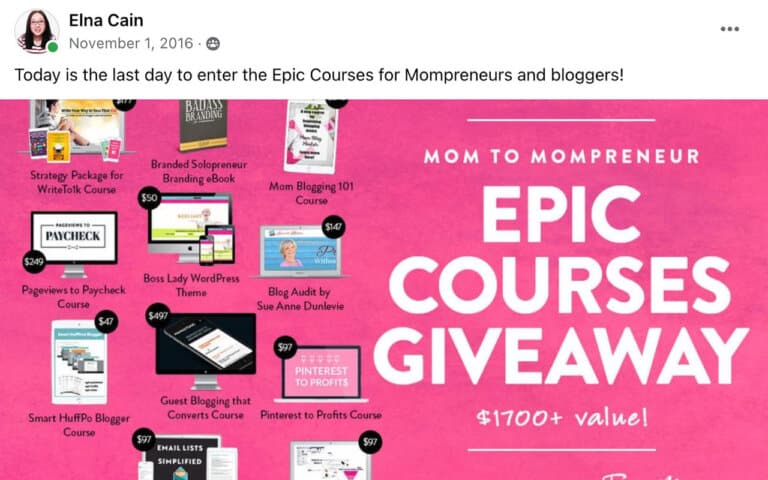 Everyone gets excited over contests and giveaways!
The reward can be anything from gift cards to free content.
You can ask a question and have your members comment for their chance to win something.
To grow your FB group, you can also ask members to like and share your posts.
While I didn't host a group giveaway, I did host a giveaway on this blog and shared it with my group!
10. Branded Graphics
Using Canva, you can create some unique Facebook images to match your brand and increase your engagement.
You can use these images to post quotes, ask questions, or share motivational sayings.
11. Post a Poll
Polls are great Facebook interaction posts. People love polls because they quickly share their opinion with very little effort.
And you may be surprised to find that people will also comment on poll posts!
To create a poll, click on "Write Something", scroll down, and select "Poll."
12. Share a Story
Increasing your FB group engagement is all about creating a connection with your members. You can do this by sharing a story about your life.
This could be how you got started in your industry, how you reached your goals, and the struggles you overcame.
13. Success Posts
A feel-good post is a great way to increase engagement and get your members to comment.
Every week, write a post that encourages your members to share their recent successes. This can be a general question or specific to your niche.
14. Promotion Days
While you don't want your Facebook group plugged up with self-promotion, you can use one of these engagement posts for Facebook to get people talking.
Once a week, create a post where people can comment and promote their products and services.
15. Post Product Photos
If you are trying to increase the sales of a product in your group, it only makes sense to share photos in your Facebook engagement posts.
Highlight your product in a unique way that shows its features and benefits.
16. Share A Meme
If you look at the highly shared content on Facebook, it's mostly memes, right?
So why not get in on this?
Look for popular memes and post them to your group. People will naturally share these!
17. Inspirational Quotes
Inspirational quotes are still highly popular on social media platforms. You can use quotes you find online or ones that you come up with yourself!
Pop it on an eye-catching graphic and you've created a clickable, shareable, and engaging post.
18. Infographics
Who doesn't love a good infographic? This is one of those Facebook group ideas that have probably been around as long as Facebook groups!
Infographics are long data visualizations that provide a lot of information in a way that is easy to read and understand.
You can easily use Canva to create these. Check out my video here for more ideas!
19. Seasonal Posts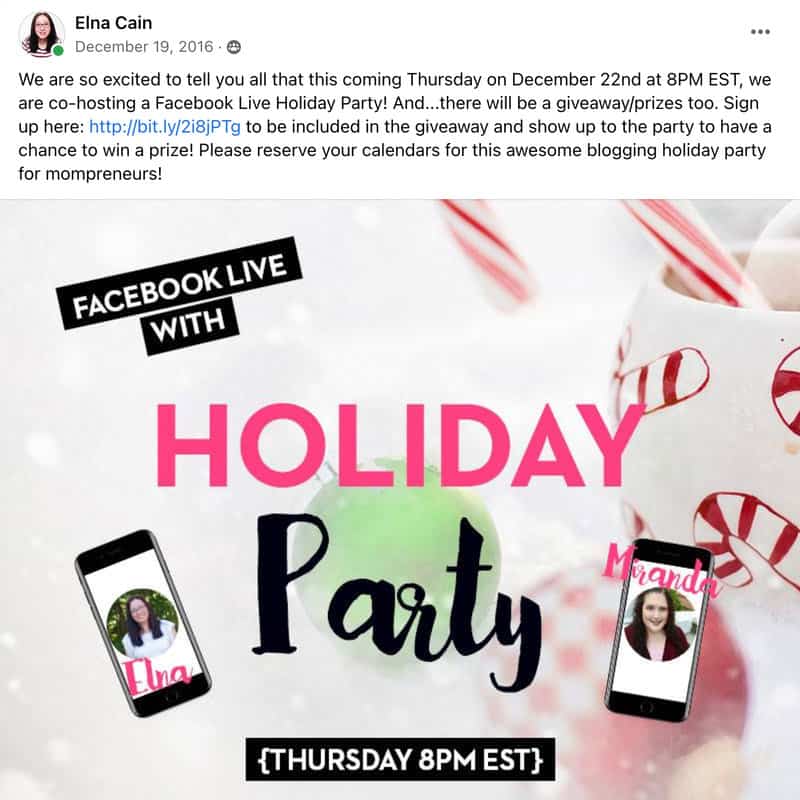 Take advantage of the different seasons or holidays by posting useful content and useful products during these times of the year.
For example, you can share a gift guide around Christmas time or ask your members to share their summer vacation bucket lists.
One of the things I did early on was host a Holiday Live! I was sharing the group with another bloggers and we thought we'd do a Live Holiday Party to get to know the others in the group and do some ice breaking games!
It was fun times!
20. Share Blog Posts
This engagement post for Facebook may seem obvious, but if you have a blog, you should be sharing your content with your members.
Not only will this help drive traffic to your site, but you can also gain some useful insight from your members and increase engagement as they comment, like, and share.
21. Book Recommendations
If you want to show your members that you know what you're talking about, share some books in your niche that you liked and found influential.
Not only will they see you as an expert but also love the valuable resources!
22. Page Recommendations
If there's a Facebook page or website that you like, share it with your members!
This way, you are giving your members relevant and valuable information.
Plus, if you tag the page or site owner in your post, it's a wonderful way to network with others in your niche!
23. Highlight Your Tagline
Increasing your Facebook group's engagement is increasing awareness – particularly brand awareness.
You want your posts to be easily recognizable and memorable. Coming up with a catching tagline for your group will help make your content more distinct!
Include this tagline in every post and your members will take notice.
24. Tips & Tricks
No matter your group's niche, I'm sure there's some insider info and useful tips you can share with your members.
People love learning how they can make their lives easier, so these engagement posts for Facebook will help increase reach!
25. Expert Tips
Instead of posting random tips, be the expert! Share what you know about your industry or product.
Show your group how you can help them and offer them valuable information.
26. Throwback Posts
Remember when TBT (Throw Back Thursday) was a big thing? You can still use this Facebook engagement post to get your members talking!
Post an old photo of yourself or one from the beginning of your business. Ask your members to do the same.
27. Create a Special Post Day
I already mentioned Throwback Thursday as a Facebook group idea but you can also create your own special day throughout the week.
This gives your members something to look forward to!
For example, you can have a Tip Tuesday or Funny Meme Friday.
28. Think About the Day of the Week
Speaking of days, you can really increase your engagement if you think about what you are posting on each day of the week – and this all comes down to knowing your audience.
Say you have a FB group for mom. They are more likely to gravitate toward helpful information during the week but more lighthearted and humorous content on the weekends.
29. Themed Post Series
Pick a theme and base a series of posts on it that includes pictures, posts, videos, whatever!
Space them out over a week and keep the theme consistent, relating all of the posts to each other.
These types of engagement posts for Facebook are memorable and will help increase your group engagement.
30. Share Your Accomplishments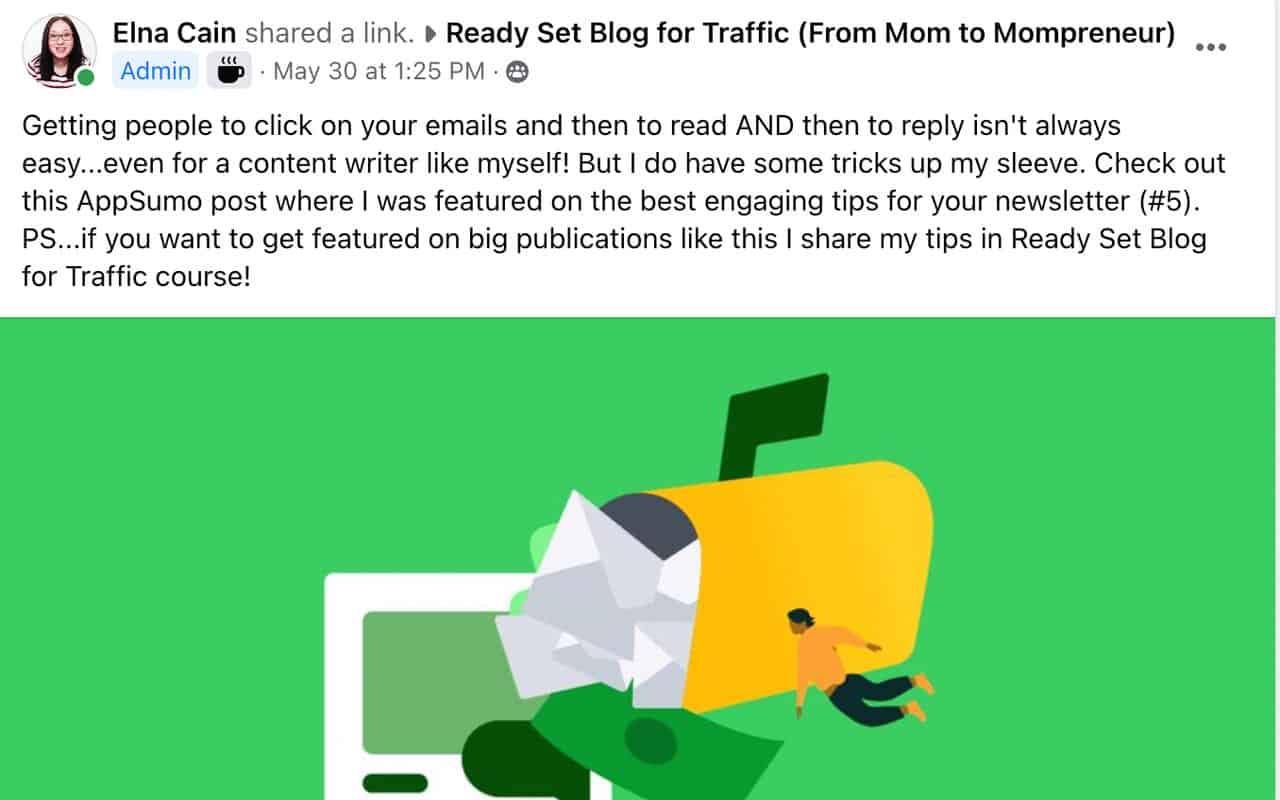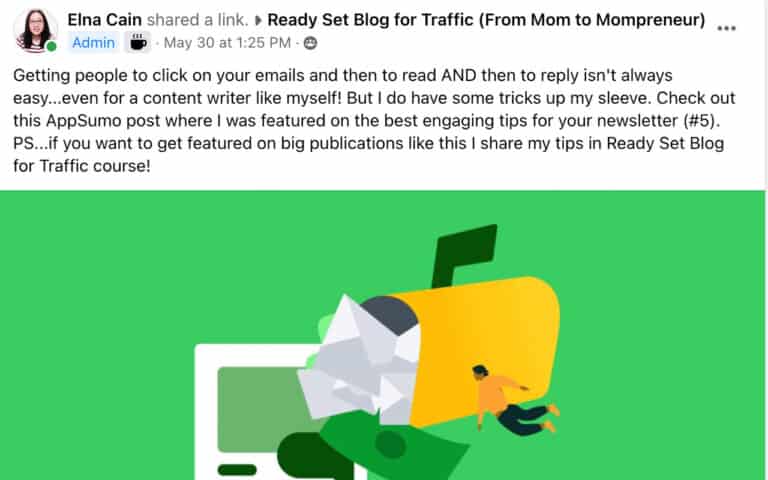 You can boost your brand and trust by sharing any awards or nominations you receive.
Plus, it shows that your members are important enough to share your accomplishments with!
I don't do this often, but every now and then I'll share a post where I was featured in or a content piece I wrote for a brand!
31. Pet and Kid Pictures
Okay, this may be a cop-out Facebook engagement post, but who doesn't love sharing pictures of their pets and kids?
Ask your members to share pictures of their pets and kids. Not only will this have your group members commenting, but they'll also respond to each other and increase your engagement.
32. Testimonials
If your Facebook group is based on a product or service you provide, post some feedback and testimonials you have received from your customers and clients.
It doesn't have to be braggy. Just give thanks and a shoutout to the person providing the testimonial.
33. Use Hashtags
Hashtags are not reserved for Twitter and Instagram users. Facebook loves hashtags too!
Hashtags are searchable and clickable and can help your group increase its reach and rake in some extra engagement.
34. Strategize Your Posting Times
Apart from Facebook group ideas to increase your engagement, when you post is equally important!
Check to see when your audience is online and engaged, and schedule your posts accordingly.
You can check your Facebook group metrics by going to your group admin tools and looking for "Insights." This will show you engagement metrics and popular days and times.
35. Test Different Posting Frequencies
There's no one formula to figure out how often you should be posting to your Facebook groups, so it's up to you to test different posting frequencies.
I would suggest trying to post as often as you can and pare down the frequency until you find what works for you and your schedule.
Engagement Posts to Rock Your Facebook Group!
Engaging your members with your posts creates a snowball effect that you want for your Facebook group!
As more members comment, react, and share, the more new members will come flocking to your group.
Before you know it, you are rocking a successful Facebook group that everyone will want to join!
If you want to see what other successful Facebook groups are doing, check out my post on useful Facebook groups for mom bloggers.
I know these 35 Facebook group ideas are going to make that happen, but – did I miss any?
Do you have any Facebook engagement posts to add to this list?
Let me know in the comments!
And don't forget to pin for later!