Toddlers have boundless energy, no doubt about it. Keep your little one busy and happy with these addictively fun, mess-free toddler activities!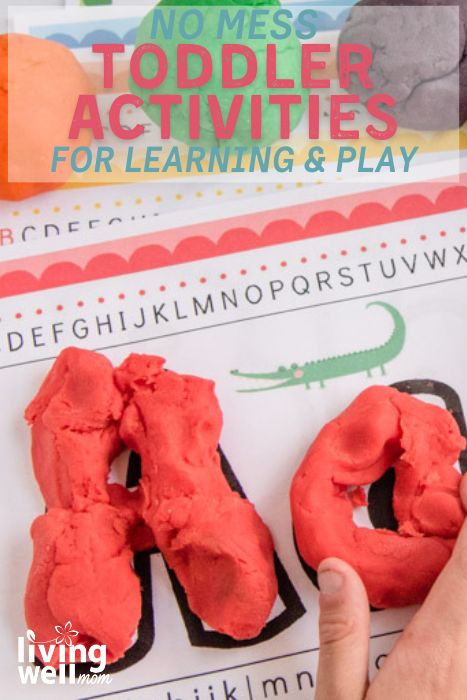 Once kids get on their feet, they like to keep us running just as much as they do. It's true, isn't it?
If you have a toddler, you know just how busy they can be. Sometimes it's easier to plan out activities to keep their little minds and fingers busy, or else they'll still keep busy, just in their own way that we don't prefer!
I came up with a list of toddler-friendly activities, but this isn't a typical list with sensory bins and messy finger painting. While those are super fun activities that everyone loves, sometimes we moms (or dads) want something that's less-messy, you know? 
So today, I've got 27 mess-free toddler activities for both you and your little one to enjoy. Or maybe they're just low-mess (because we are talking tiny little people here who seem to live for messes.) Either way, you're going to love these ideas.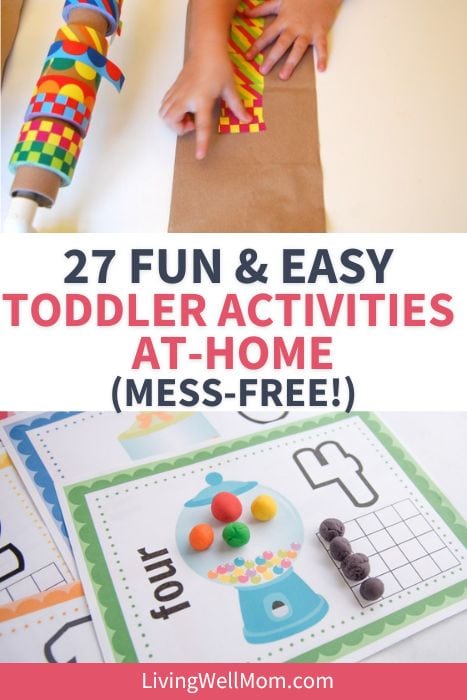 No mess toddler activities with art
From mess-free finger painting to simple pipe cleaner activities, suncatchers, and more, both you and your little one will love spending time together with these fun ideas!
Hands-on activities are some of the best for toddlers! Help your toddler strengthen their fine motor skills, learn letters, colors, numbers, and more, and keep them happy and busy so you can get stuff done with our MEGA playdough mat bundle.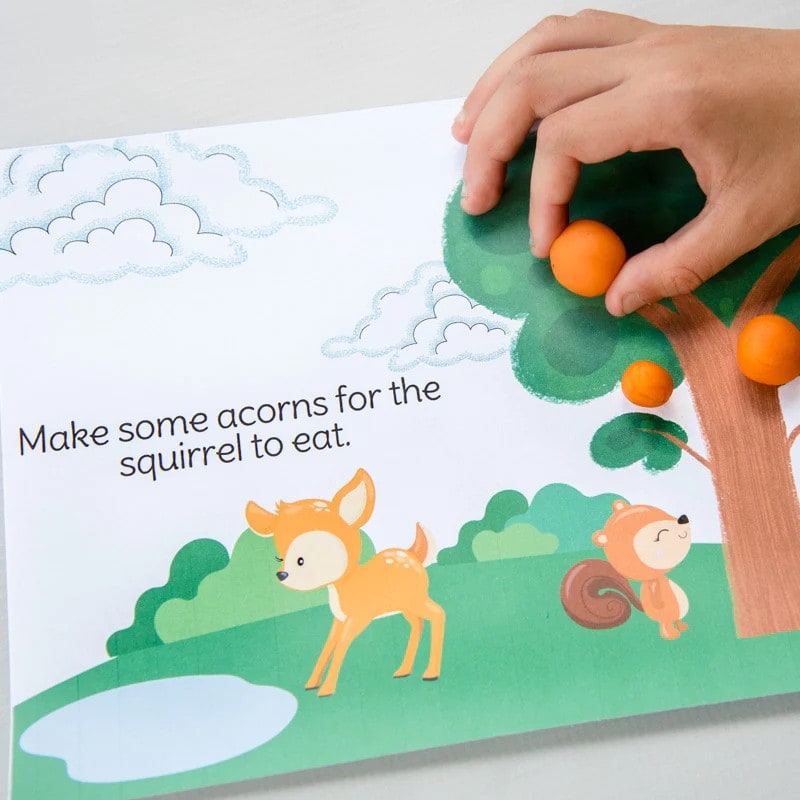 If the words "leaf painting" made your heart skip a beat with dread, you're not alone. However, this activity from The Train Driver's Wife uses toy capsules to keep the paint contained and create gorgeous leaves.
This simple idea from TinkerLab makes creating art collages easy and mess-free for toddlers! Simply use colorful patterned strips of tape that you can find at Target and let your toddler have a blast making art.
Fun at Home with Kids came up with a great way to let kids decorate the windows. Simply put a strip of contact paper on the window and let your kiddo "paint" the window with different shapes of colored tissue paper!
This activity is terrific for color recognition, shape identification, and artistic creativity as your toddler creates their own unique window mosaic.
Otherwise known as homemade Gak, this pretty homemade white slime is sparkly like snow. This easy activity won't melt all over your house, but it will keep your kids entertained for hours.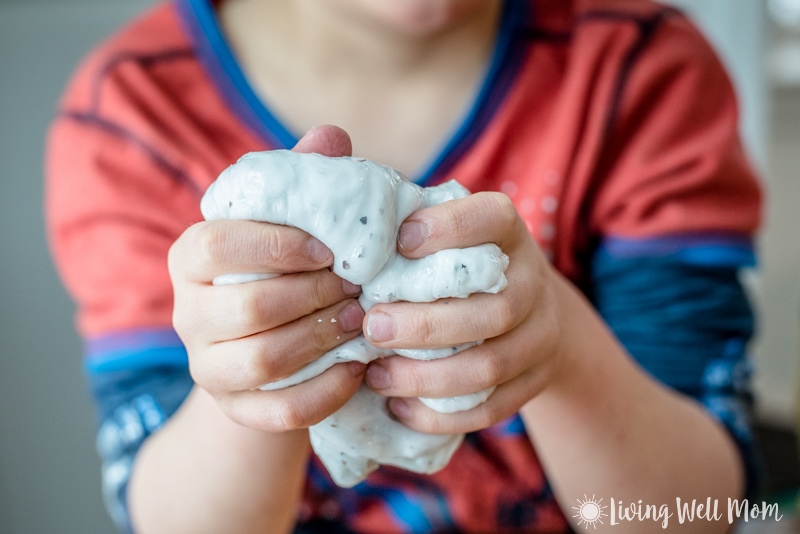 Teaching Mama used a similar technique as above, but on a table. Attach contact paper to the table and let kids make their own art by adding color elements such as thread, pom poms, pipe cleaners, google eyes, beads, and more.
Tissue paper collages are a great way to build fine motor skills! Toddler activities like this one from Where Imagination Grows are perfect for doing all year long because they can be adapted to fit the seasons (which also helps them never seem boring).
This nature mandala idea from Made in a Pinch uses flowers and other items from the yard to create a beautiful nature collage. Build gross motor skills as you search for materials to use! 
It uses contact paper for a glue-free, mess-free sensory activity that toddlers love, and that you'll want to display around your home.
Finger painting is a great activity for many reasons, not the least of which is encouraging creativity. The downside to traditional finger painting is that it's messy! I wanted to find fun ways to let my kids finger paint without spending the next 3 hours cleaning it up.
Turn finger painting into a no-mess activity with this easy genius hack.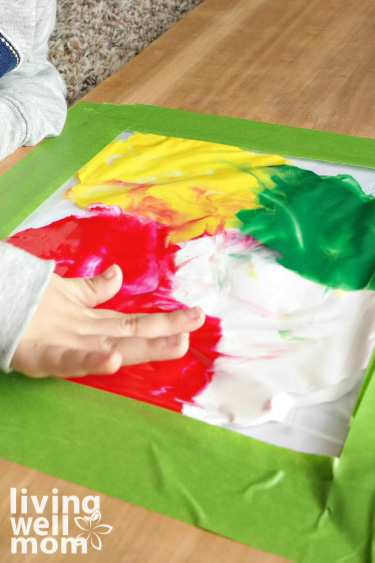 Encourage recognition of the letter "s" by making a snake collage! This activity from Serenity You uses a glue stick to attach cut pieces of green tissue paper and decorate a snake cut into an "s" shape.
Mess-free toddler activities: Crafts and games
Here are several indoor activities that are perfect for boring rainy days. Enjoy everything from working with play dough to sensory play, creative craft activities, and more!
When you want to add a bit of sunshine or color, try taking a page from Fun at Home with Kids and making suncatchers! These spring-themed flower suncatchers could easily become balloons, rainbows, or any other shape your toddler loves.
This craft from Hands on as We Grow uses simple craft supplies you probably already have to make a sparkly spring-themed tree.
Toddlers and older kids all love making suncatchers. Using contact paper makes the craft easy, mess-free, and perfect for 2 to 10-year-olds! The Suburban Mom designed this gorgeous butterfly that will brighten up any room.
No Time for Flash Cards shares another creative idea to make a butterfly. This project happens on the table and uses short strips of ribbon to make a colorful creation.
This is an activity that will take just a little bit of prep from you. But then you can give this sensory bottle to your toddler and watch their fascination as they watch the cheery items inside swirl around.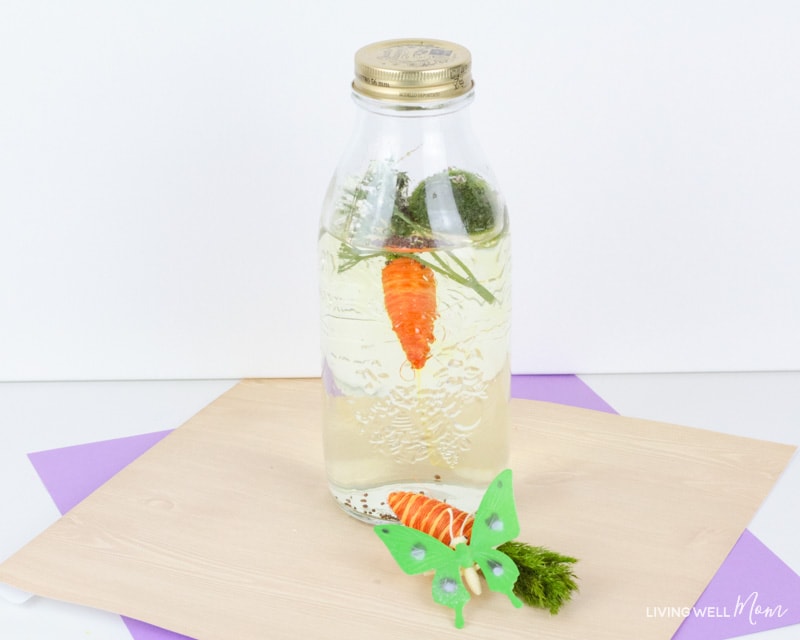 Artsy Fartsy Mama has a creative craft here that your toddler will love. Melt shaved bits of crayon onto wax paper and use it to create a unique and colorful lantern.
Note: This craft is mess-free but will require some help from you.
Toddlers love nature. Go outside with your toddler and pick flower petals and stems to make this spring-themed craft.
Note: If you don't have flowers to pick, you can also do this toddler activity from Fantastic Fun and Learning with store-bought flowers.
Construction paper and popsicle sticks are toddler activity staples. Combine them with this idea from Play and Learn Every Day to make a one-of-a-kind rocket ship, then get ready to blast off to the moon.
Genius. It's amazing what you can do with just a bag of pipe cleaners and a mesh colander! Your kids will love this toddler activity from The Realistic Mama so much that you'll have to talk them into giving it to you before going to bed.
Build recognition skills and have fun too while playing this matching game. If your kids are anything like mine, they can stay busy for hours with toddler activities and games like this one.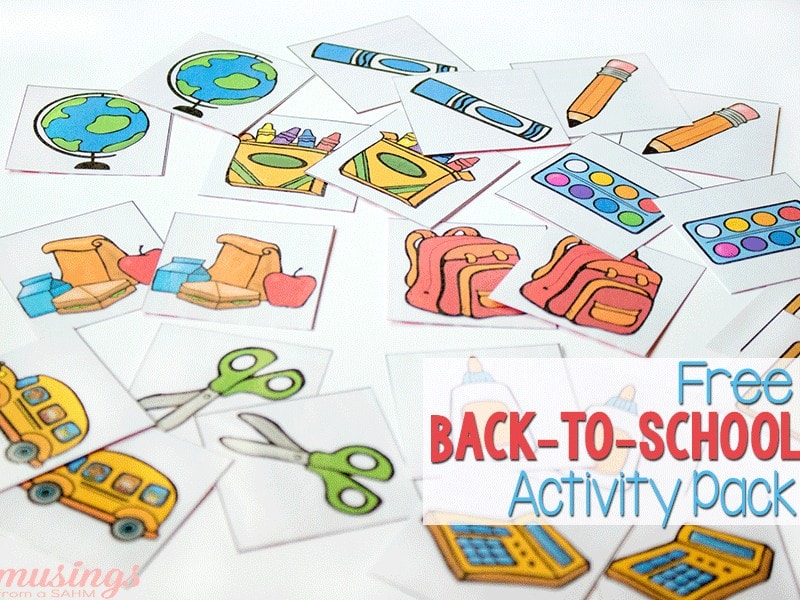 Handprint crafts and toddler activities that use cotton balls are always a hit with young kids. Help your child turn their handprint into a wooly sheep with a bit of construction paper and some cotton balls (and this idea from There's Just One Mommy).
This craft from I Heart Arts and Crafts will show you how to turn aluminum foil into shiny, colorful, gorgeous butterflies! Your tot will love these butterflies so much that this will instantly become one of their favorite activities.
Take your toddler for an imaginary hot air balloon ride with this idea from Our Kid Things. This is one of those activities that will keep them busy coloring for a while. Then assemble all the pieces together into a hot air balloon and enjoy some pretend play.
Your kiddos can play around with textures and use a different color for each part of the hot air balloon.
Make this idea from Messy Little Monster with your toddler, then use it as props when you sing the nursery rhyme! This fun toddler activity is a two-for-one.
A great winter craft doesn't need much. Turn construction paper, cotton balls, and a pipe cleaner into a set of winter mittens. Let your child decorate them any way they want!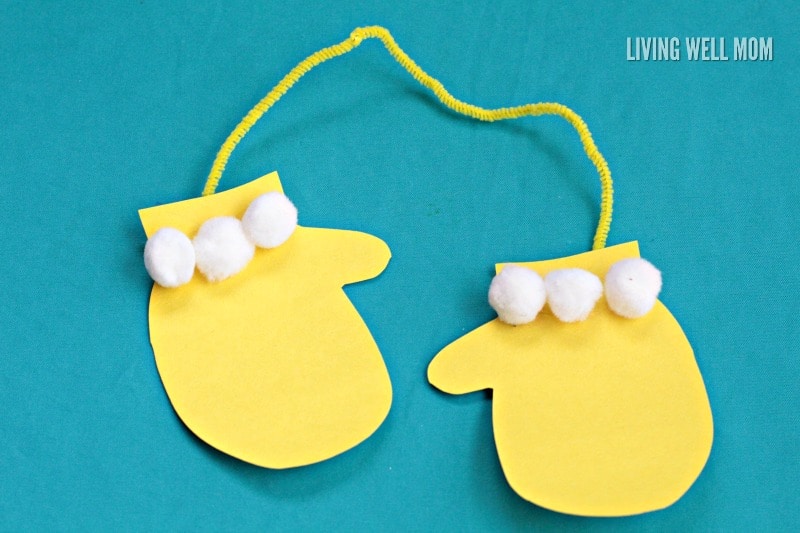 Easy toddler activities that built skills
Now that we've worked on gross motor skills and some hand-eye coordination, here are some activities to help develop other skills.
Some toddler activities are creative and crafty, while others are designed to be educational and developmental. This Winter I-Spy helps kids build visual discrimination skills as they try to find certain objects. And it also involves counting practice as they work to make sure they found all the objects.
If your child loves I-Spy activities, we have more! Check these out: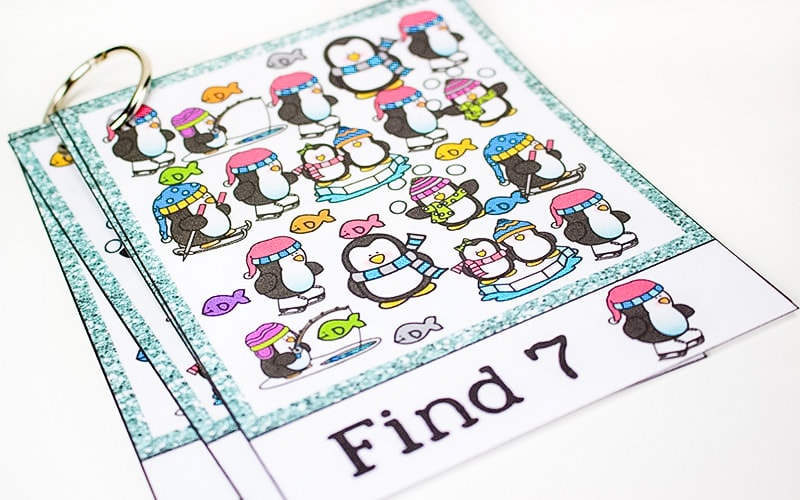 There are few activities that help build fine motor skills as well as cutting practice with toddler scissors. These cutting practice sheets are simple but incredibly effective. I designed them to deliver a reward (a metal) once they reach the end of each line.
And, of course, don't forget the celebratory dance party!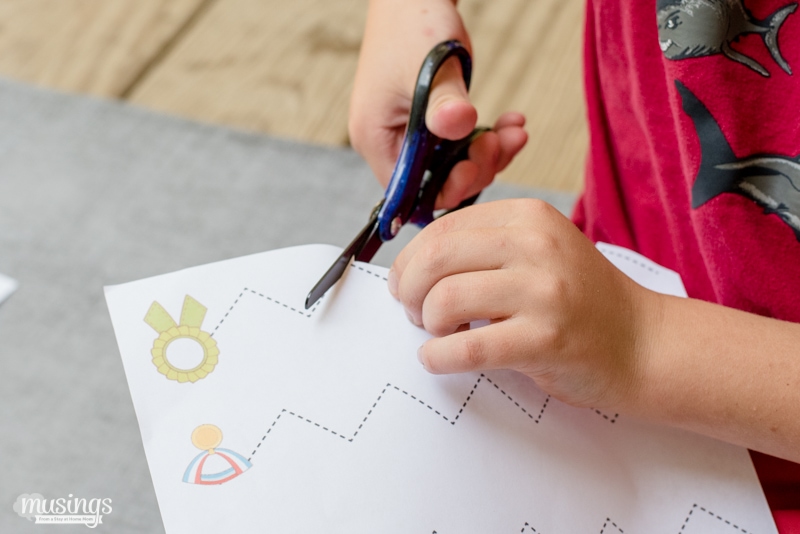 Let your kids use homemade playdough to "make and bake" cupcakes all afternoon long. They can make up all sorts of flavors (some real and some not) and decorate them for hours.
We have several more playdough mat options, too, including our:
Keep toddlers busy in a hands-on sort of way that sparks their imagination. If your child loves playdough mats, make sure to grab our MEGA playdough mat bundle!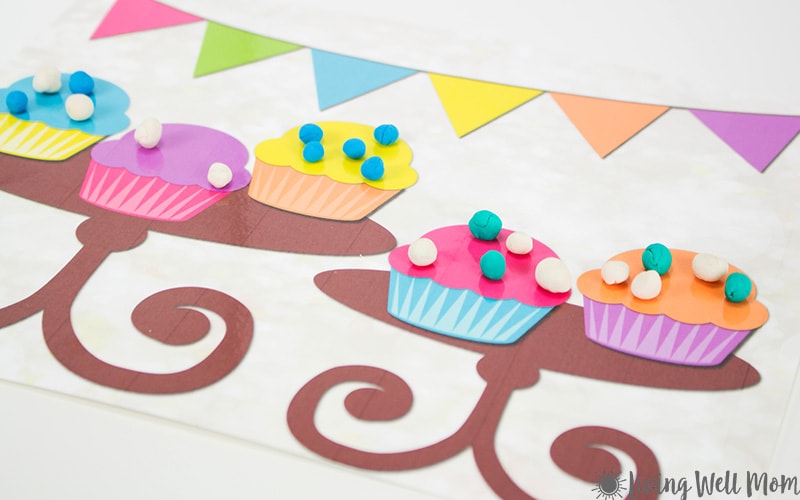 Final thoughts on no mess toddler activities
I hope you love this list of mess-free toddler activities and found several your child has never tried before!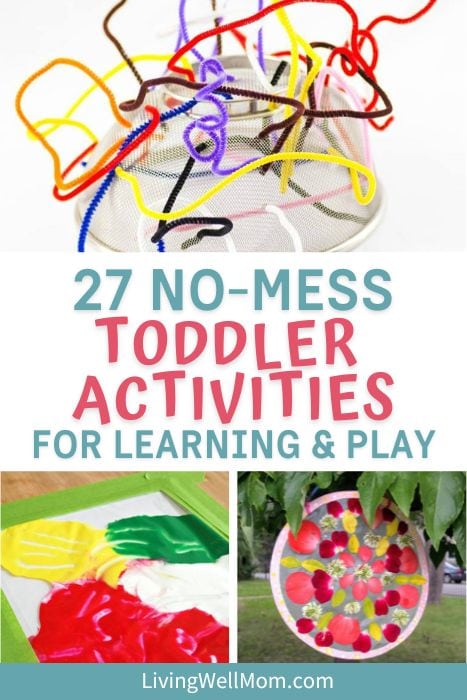 The post 27 Fun Toddler Activities (Mess-Free!) appeared first on Living Well Mom.