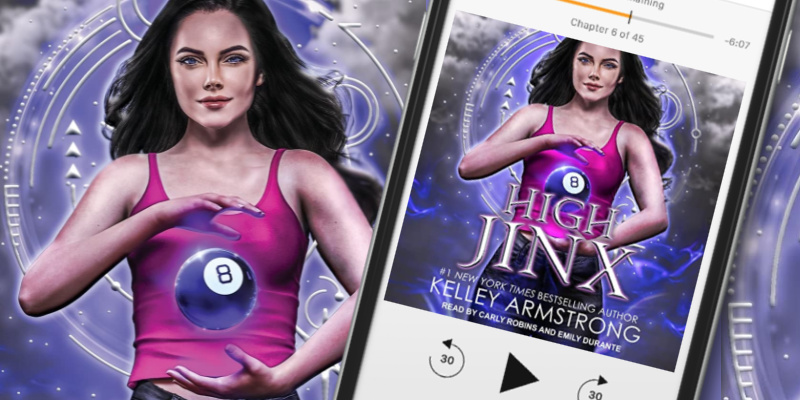 High Jinx by Kelley Armstrong is the second novel in the Cursed Luck series and concludes Aiden and Kennedy's story. With a mystery involving cursed paintings, this urban fantasy has a cozy vibe with a side of romance. I had fun listening and hope Armstrong tells more stories from this world.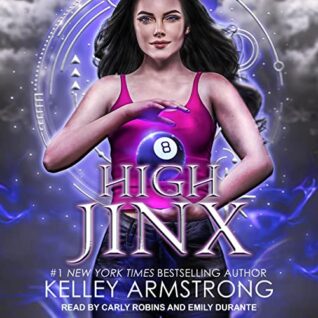 High Jinx
by
Kelley Armstrong
Series:
Cursed Luck #2
Narrator:
Emily Durante
,
Carly Robins
Length: 12 hours and 41 minutes
Genres:
Urban Fantasy
Source:
Publisher
Purchase*:
Amazon
|
Audible
*affiliate
Rating:
Narration: 4 cups Speed: 1.3x
Curse weaver Kennedy Bennett has re-settled into her beloved hometown and opened a shop selling previously hexed antiques. When she fails to win an online auction for a notorious cursed painting, Aiden Connolly—the wealthy and swoon-worthy luck worker she is not dating—swoops in to buy it for her.

Crying Girl is one of a quartet of haunted legendary paintings. Kennedy knows that the "ghosts" are actually curses—fatal ones. The paintings have been missing for years, and Kennedy is thrilled at the chance to uncurse one…until Crying Girl disappears before they can collect it.

Kennedy and Aiden soon discover that the painting hasn't been randomly whisked out of their reach. Someone used it to lure them in, and now that they've snatched the bait, they've been snared in a trap. Either the thief gets what they want…or the four paintings are going to find their way back into the world, and Kennedy and Aiden will be responsible for the deadly chaos the cursed portraits wreak
Like most urban fantasy, it is important to read the Cursed Luck series in order. It explains how curse weaver Kennedy Bennett ending up re-settling in her hometown and opened a shop selling previously hexed antiques. It also explains her romantic relationship with luck worker, Aiden Connolly.
Kennedy is trying to purchase a cursed painting, and someone is outbidding her. That is until Aiden buys it for her. What unfolds is an exciting mystery.
The Cursed Girl is part of a series of paintings with a strange curse attached to them and they are fatal. But someone is using these paintings to lure Kennedy and Aiden.
Family drama, suspense and danger await you in this fast-paced tale. I love the world Armstrong has created and loved spending more time with Kennedy and Aiden. The story takes place in our world, but the author has weaved in weavers, Greek mythology, gods, and more. It has classic Armstrong elements but offers up a lighter side.
The mystery was well done, with plenty of family issues and romantic elements. I slipped right in and lost track of time. It's fresh, quirky and fun. It has a cozy vibe which I liked and found refreshing.
Told in first person and narrated by Carly Robins and Emily Durante this series lends itself perfectly to audio. The tones, pacing and voices make listening a must.
---
High Jinx by Kelley Armstrong
Click To Tweet

---
About Kelley Armstrong
Kelley Armstrong has been telling stories since before she could write. Her earliest written efforts were disastrous. If asked for a story about girls and dolls, hers would invariably feature undead girls and evil dolls, much to her teachers' dismay. All efforts to make her produce "normal" stories failed. Today, she continues to spin tales of ghosts and demons and werewolves, while safely locked away in her basement writing dungeon. She's the author of the NYT-bestselling "Women of the Otherworld" paranormal suspense series and "Darkest Powers" young adult urban fantasy trilogy, as well as the Nadia Stafford crime series. Armstrong lives in southwestern Ontario with her husband, kids and far too many pets.
About Carly Robins
Carly Robins is an actress and voice-over artist. She can be heard on commercials, video games, and promos. Carly comes to narration with a passion for performance along with the capability to span several genres, from romance to children's literature and thrillers.
About Emily Durante
Emily Durante has been acting since the age of seven, performing in a number of stage plays professionally, in the community, and at the college level. Other performance credits include commercial and industrial voice work, educational live theater, and singing telegrams. She has been narrating audiobooks for over ten years. Her titles include the Midnight Twins trilogy by Jacquelyn Mitchard, Casting Off by Nicole R. Dickson, Impossible and Locked Inside both by Nancy Werlin, and Smooth Talking Stranger by Lisa Kleypas. She has also directed audiobooks, including the Earphones Award-winning performance of Heaven's Keep narrated by Buck Schirner. Emily resides in the Philadelphia area with her husband and two children.